Have you started decorating for Christmas? If you are looking for inspiration, here are 10 steps to a perfect Christmas tree!
With the festive season upon us, we begin the countdown towards Santa's visit on Christmas eve. If you need some inspiration, stay tuned for my Christmas posts which will help you with tips, recipes, gift bundles, 12 days of Christmas sales, Elf on the Shelf updates, gift guides to help you find that perfect Christmas gift and much more!
Decorating the Christmas tree was always my favourite part of the festive season. As far back as I can remember, mum always got the storage boxes down from the top of the cupboards that were filled with decorations. I've loved Christmas ever since I was a child, and every year was better than the last because of my mum's yummier recipes, tastier Christmas cookies, incredible food and the most beautiful handmade Christmas decorations hanging from the branches of our tree. There were lots of quilted ornaments that mum used to make with my Nan, like stockings and Christmas trees, as they were both so creative. We then added different coloured plastic baubles and figurines that we had collected over the years, candy canes, a snowman, dragon (one of my brothers), Santa reindeers, little timber stockings which we made by hand at school, even photo frames with images of us as newborns with the words 'Baby's First Christmas' written on them.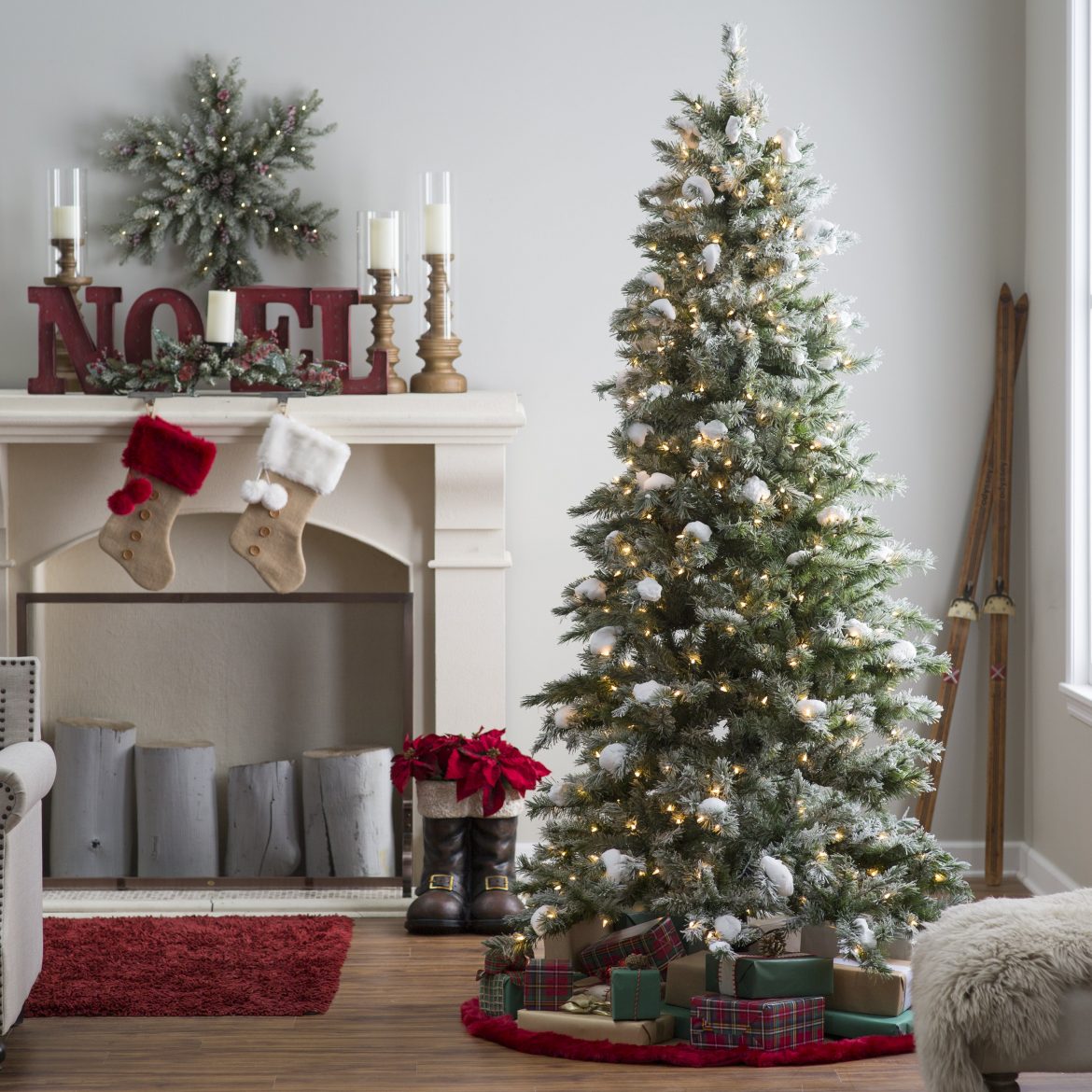 IS THERE A RIGHT WAY TO DECORATE A CHRISTMAS TREE?
We always decorated our tree without any structure or order because it was all about fun and just getting all our pretty decorations up. But have you ever wondered whether there are steps you should follow to decorate your Christmas tree so that you can get it as beautiful as possible? Sometimes when I see trees on display I think to myself, "How did they get that tree so perfectly symmetrical with all the decorations, lights and tinsel?" I did some investigating this year and spoke to friends, other mums and jumped online to see what everyone else was saying.
Here are 10 steps to decorating the perfect Christmas tree.
1. LOCATION
Find the perfect location in your home which will best compliment your tree on Christmas Day.  A tree doesn't always have to be in the lounge room, if there is a better place for it, go with it.
2. MEASURE
Measure the area so that you can find the perfect spot for your tree that is symmetrical and will look even from all angles. Christmas is such a special time of year, that this is the time you can go crazy and go over the top with your decorations!
3. TREE FLUFFING
Fluff all branches out and make sure that the tree is even from every angle. The more fluffing you do, the more beautiful your tree will look. You know what they say, the fluffier the better, lol!
4. LIGHTS
Here's an interesting step which I never knew about, but it makes sense. Place your lights on the tree first and turn them on, space them out evenly so that everything will look beautiful once finished.
5. RIBBONS OR TINSEL
Decide on whether you want ribbons or tinsel on your tree. If you do, this step should be next. Make sure you keep your lights on while adding the tinsel so you know where to fill spaces.
6. CHOOSE COLOURS
This step can be either first if you're purchasing new decorations all together, or step six if you are using your existing ornaments. Either way, choose a colour scheme wisely to complement your tree. Scroll down this post for some more ideas.
7. DECORATE
Time to decorate in the colour scheme you have chosen! Fill gaps you see and try to be consistent with your choice of colours, so that you try to avoid having the same colours next to each other, unless you're only using one shade.
8. TREE SKIRT, TRAIN OR OTHER DISPLAYS
This step is completely up to you to decide on with how far you want to go with decorating. Trains and skirts really do give your tree a beautiful effect. 
9. STAR OR ANGEL
Now, stand back, look at your masterpiece and decided whether you need an angel or a star on top. Some even choose ribbons. Again it's up to you what works best for your tree design. Some families have a tradition where each member of the family takes turns each year to put the star or angel on top of the tree. 
10. MORE DECORATIONS
And last but not least, fill any gaps you have left with ornaments, or just leave the tree as it is. 
Everyone has a unique way of dressing their Christmas tree, and creating their annual masterpiece. Creating those memories with your family are special and the time spent together, is priceless.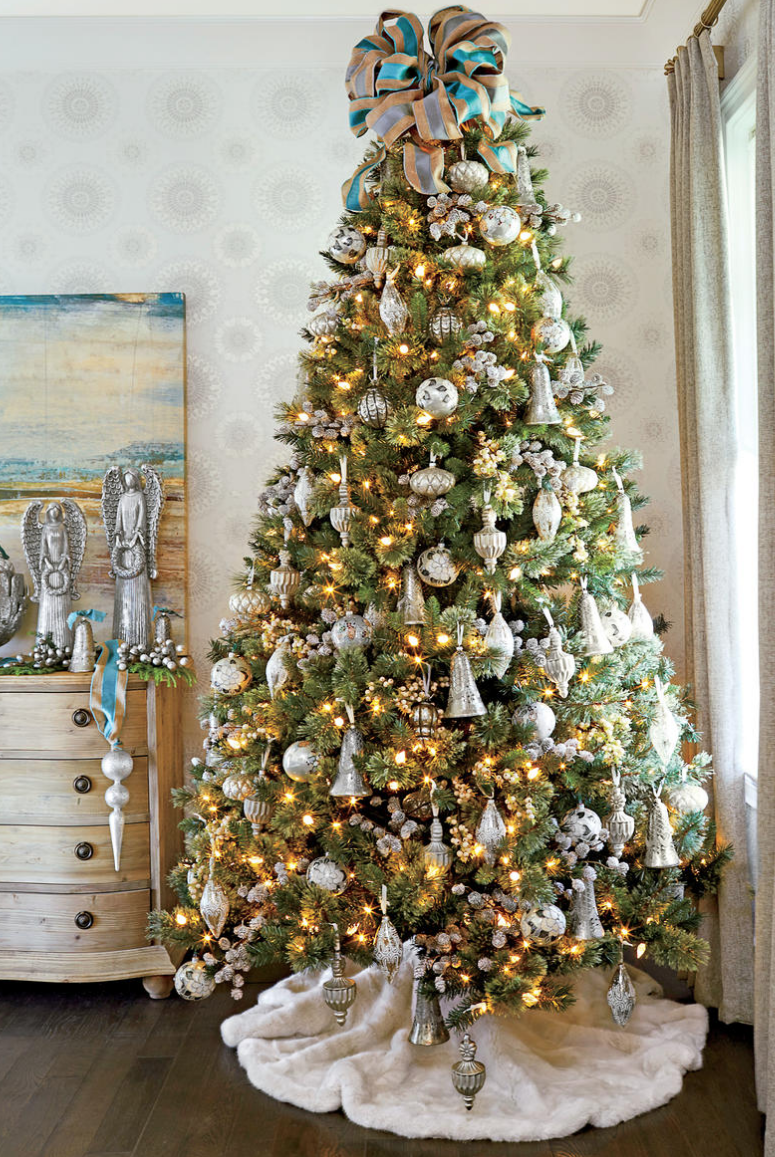 HOME-MADE DRIED ORANGE, GRAPEFRUIT, BLOOD ORANGE AND LEMON CHRISTMAS DECORATIONS
As a child, my mum was always into home-made projects and ideas. I remember a friend of mine used to make lots of things for their tree, like popcorn chains instead of tinsel, dried up or dehydrated orange and lemon slices as baubles and vanilla sticks tied with red or green ribbon to the tree. The smell of the citrus fruit around the house would be amazing!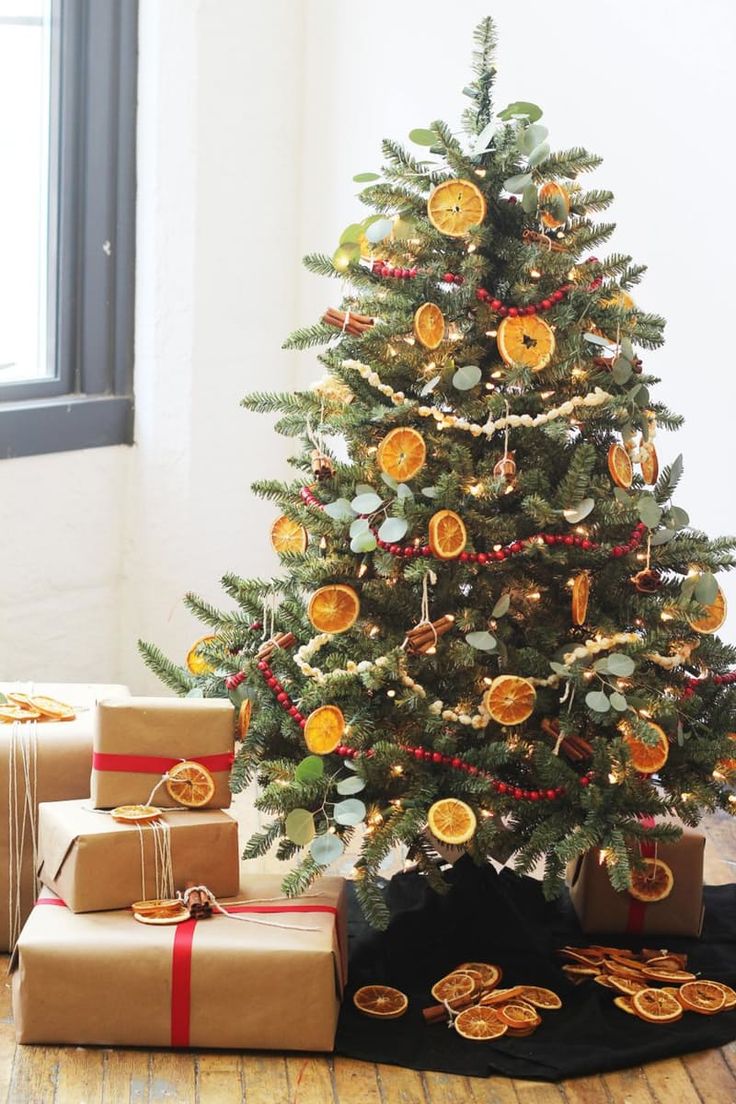 Image credit New York Big Event
If you want to try to make your own citrus decorations, you will need:
1 orange
1 lemon
1 blood orange
1 grapefruit
ribbon
scissors
chopping boards
knife
oven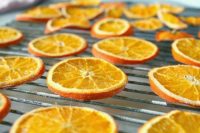 image credit Barri-Jayne makes
Preheat oven at 65 degrees Celcius. Using your knife, chop up the citrus fruit into slices and place them on the metal racks inside your oven at the same temperature and dehydrate them for about four to six hours. Once the slices seem dry enough, cut some ribbon or string up and thread it through each slice so that you can hang the fruit onto the Christmas tree. The aroma is beautiful from the fruit and the slices will dry even more as they hang.  It really is such an old-fashioned, yet beautiful way to add a special touch to your family Christmas tree. Here's another version of how to make Dried Orange Slices from Barri-Jayne makes.
GINGERBREAD MEN CHRISTMAS DECORATIONS
Who doesn't love gingerbread men hanging from their Christmas tree branches! You could get some decorations, but the smell of fresh gingerbread is always incredible when it's baking. The problem with edible decorations is that the kids usually eat them in the first few days of hanging them up and there is nothing left for Christmas! A few years back I made some from clay and baked them the same way you would normal gingerbread, only the best part is that these decorations will last you years once finished if you store them well.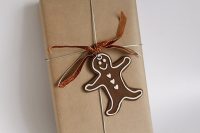 If you love having a gingerbread man (or two or three… or four!) hanging from your tree and want them to last you through the seasons, here's a link to a clay gingerbread man recipe I made for our home a few years back. It's amazing what your creative imagination can do with clay when you treat it like cookie dough! Click here to make your own Gingerbread Men Christmas Tree Decorations.
DIY CHRISTMAS TREE
I can't help it, I have to share this post with you again from 2015 because doesn't this tree look amazing? I find this such a special idea for Christmas.  Maybe you're having a large banquet and want some truly unique decorations as a feature, or simply bored of the old standard plastic Christmas tree you have each year. Check the full post out and see if this inspires you to collect some branches to decorate.
HINT: Spray painting the branches completely white makes your decorations stand out even more. Check out The DIY Christmas Tree.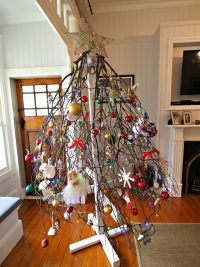 MORE CHRISTMAS TREE DECORATING TIPS TO MATCH YOUR HOME DECOR
Don't you just love looking at what other people are doing with their Christmas trees? Here are some more ideas on what you can do when it comes to decorating your tree to achieve something really special. Check out the incredible colour schemes and decorations used below. Whether you prefer glass or plastic ornaments or making your own decorations all together, these Christmas Tree tips and ideas for your home will inspire you to get into the Festive Season!
This is a beautiful natural colour scheme with a hint of Red. The silver and cream interior decor just compliment the colours so well. And just look at those snowflake stocking hanging up on the fireplace! A lot of thought has gone into the decor and decorations with this one. Photo credit Iryna Federico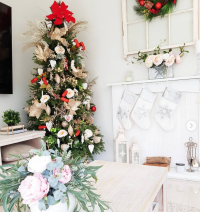 I love this Christmas tree with its tartan ribbons and simple baubles with some stars and unique hanging decorations. If done right, overstuffing your Christmas tree with decorations can look incredibly decadent, as long as you hit the colour scheme right. This tree design just shows that good old-fashioned red, gold and green colours can be beautiful and very welcoming in a home. If any other colours were added, I think it would just not look natural, so if you're considering getting new decorations this year, keep your colours in mind. Photo credit Helen Norman – Southern Living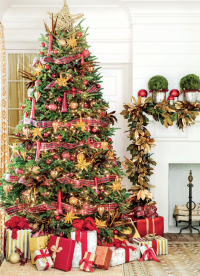 Again, silver, red and blue colours. I'm noticing a pattern where a three colour pallet seems to work best when trying to achieve that luxurious look on your Christmas tree.  I do love that no ribbon was used on this tree. Somehow it's not necessary, and it still looks incredible. If you have a space like this at home, a large Christmas tree like this one makes a divine centrepiece. Just beautiful! And check out those gorgeous silver pinecones hanging from the stairwell. Photo credit Jessica Ashley – Southern Living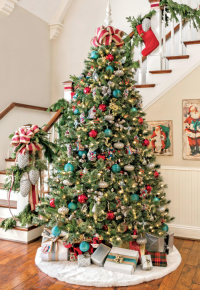 HOW DO YOU DECORATE YOUR CHRISTMAS TREE?