Delicious Aussie themed recipes for Australia Day, free colouring-in printables for the kids and an epic Aussie music playlist!
Australia Day is a day that means many different things to many people.  The National Australia Day Council website describes it as a day to reflect, respect and celebrate. Reflect on our history, its highs and its lows. Respect the stories of others, and celebrate our nation, its achievements and most of all, its people. Many people like to enjoy the public holiday and come together with friends and family to celebrate being an Aussie, to have a BBQ, swim in the pool, or play a backyard game of cricket. To help make this day as memorable as possible, I've put together a collection of traditional Australian recipes (including a few with an interesting twist!), an Aussie music playlist, and some free colouring-in printables to keep the young ones entertained too!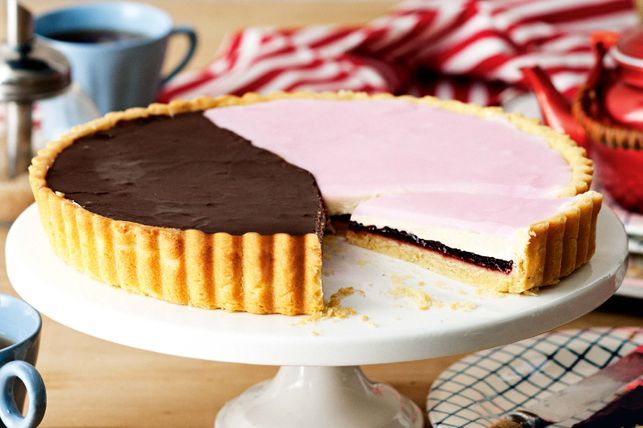 Get your thongs and togs on, and celebrate with some lamingtons, Vegemite scrolls, pavlova and meat pies! Here's my collection of Australian recipes that are set to impress.
AUSTRALIA DAY SWEET SNACKS
AUSTRALIA DAY LAMINGTONS – Who can resist Lamingtons on Australia Day! Lammies are such an Aussie tradition, so it's always good to use a recipe that works well and is yummy as well. I like this Australia Day Lamingtons recipes, because of the hard set chocolate topping. 
  Find this Australia Day Lamingtons recipe here.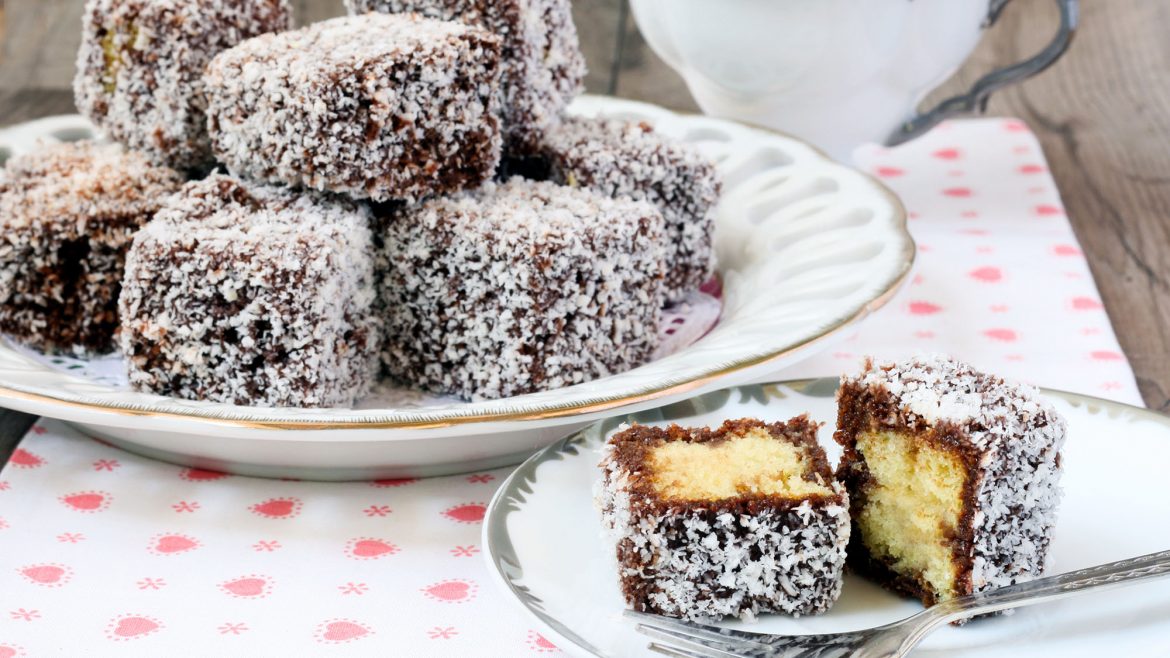 STRAWBERRIES & CREAM WHITE CHOCOLATE TRUFFLE BALLS – I thought it would be fun to add this delicious recipe to this Australia Day recipe collection because these balls of goodness really are an amazing treat for the pallet. Yum!! I'm definitely going to make these for Australia Day. 
  Find my Strawberries & Cream White Chocolate Truffle Balls recipe here.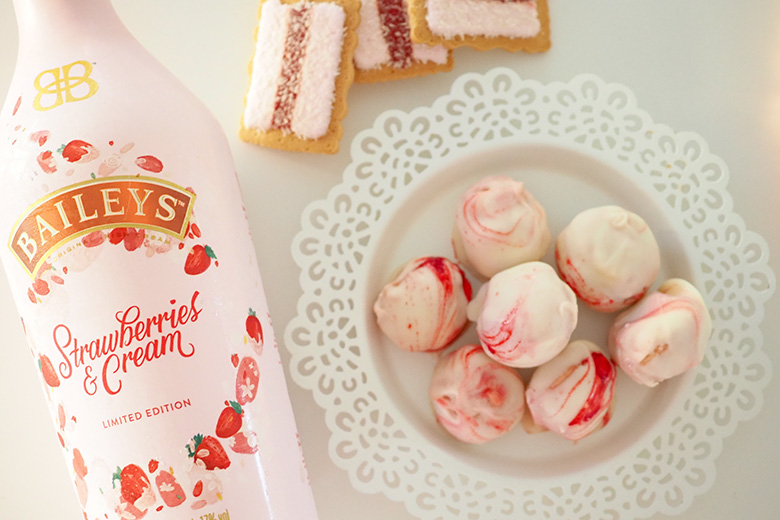 NAN'S ANZAC BISCUITS – I love making my Nan's Anzac Biscuits for Australia Day and Anzac Day, because it's another great Aussie tradition. My Nan's bikkies are so yummy, and whenever we have them, I'm always reminded of my childhood and of me hanging with Nan so that I could learn how to bake. 
  Find my Nan's Anzac Biscuits recipe here.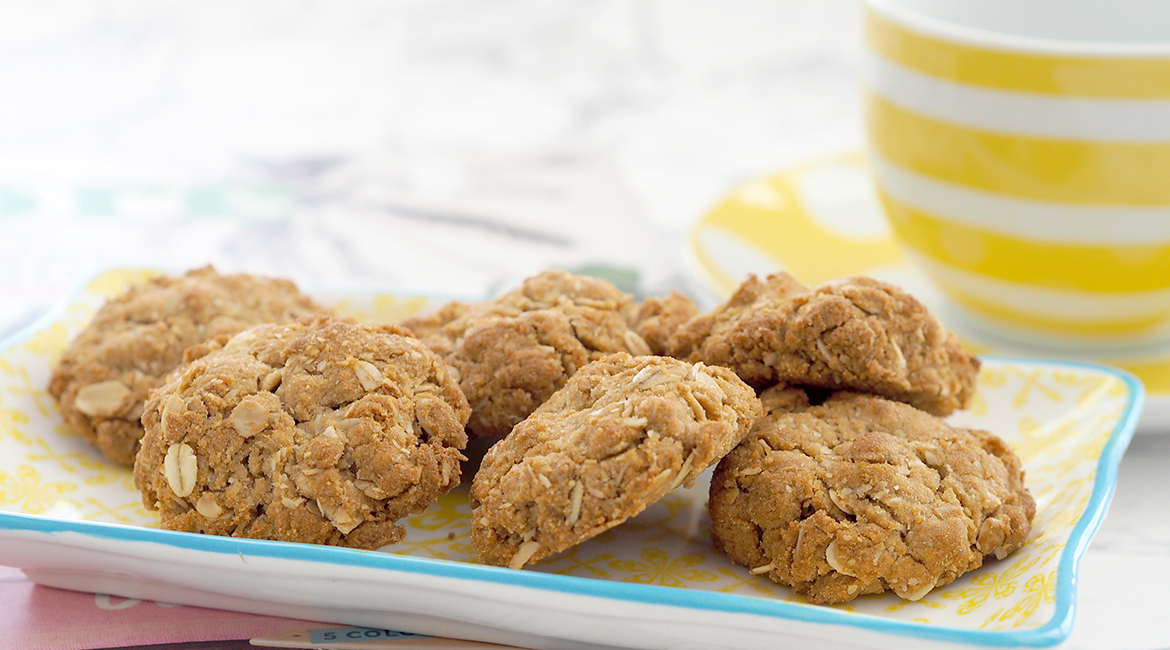 STRAWBERRY CHEESECAKE ICE POPS – A delicious treat for all ages packed full of flavour. Freeze overnight, and indulge later.
  Find this Strawberry Cheesecake Ice Pops recipe here.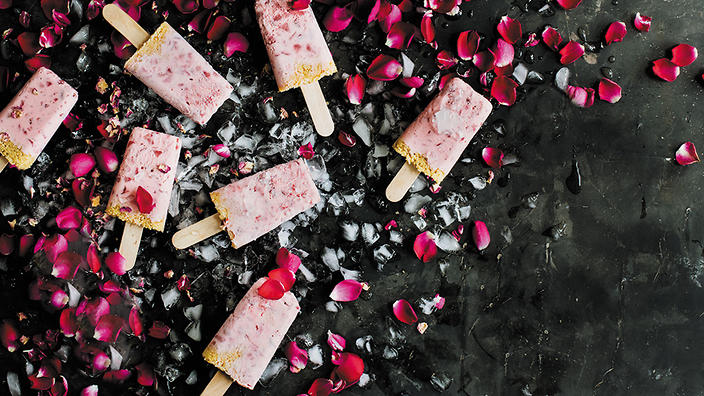 ICED VOVO ICE-CREAM SANDWICHES – A simple recipe with only 4 ingredients!
  Find this Iced Vovo Ice-Cream Sandwiches recipe here.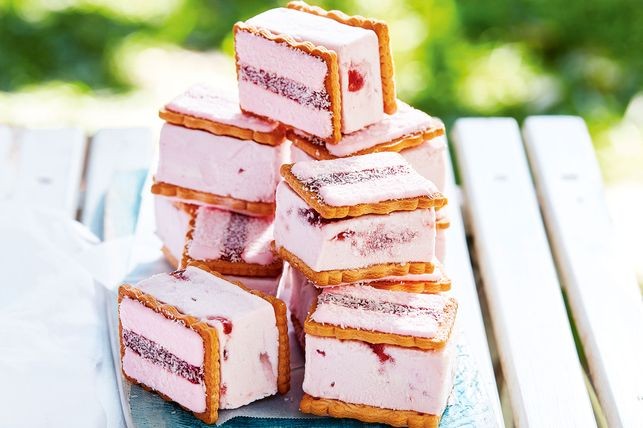 TIM TAM & MILO FUDGE – Two iconic Australian ingredients used to make one fabulous dessert that everyone will enjoy!
  Find this Tim Tam & Milo Fudge recipe here.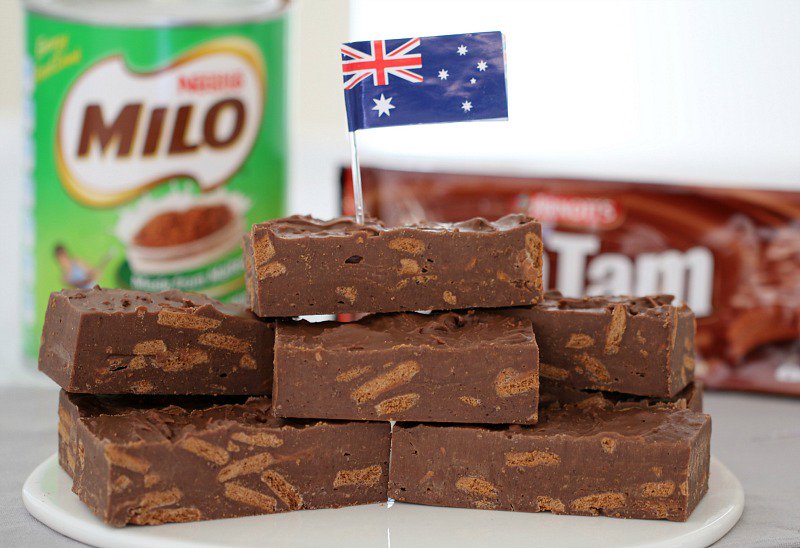 MUSK STICKS – Crispy on the outside and tender on the inside – these homemade musk sticks are simply more-ish.
  Find this Musk Stick recipe here.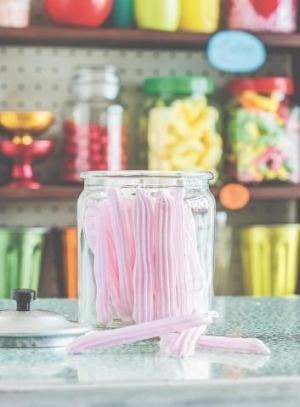 AUSTRALIA DAY SAVOURY SNACKS
CHEESE & VEGEMITE SCROLLS – No one can resist my Cheese and Vegemite Scrolls on Australia Day, especially the kids. These scrolls are great for fussy little eaters, and will be cleaned up in no time at all- which means mum and dad can score themselves a little peace. Be sure to make extra for the day!
  Find my Vegemite and Cheese Pastry Scrolls recipe here.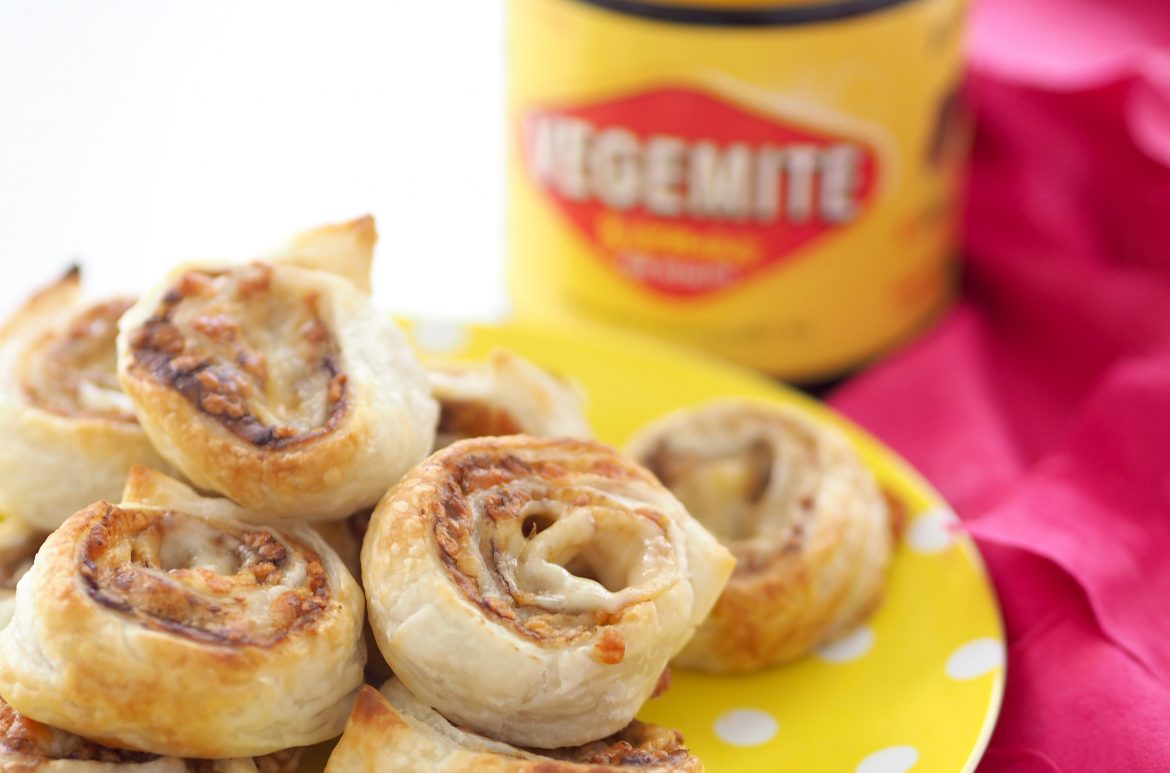 EASY CHEESY VEGEMITE PULLAPART LOAF – The perfect Aussie Day snack that everyone will enjoy… and it only takes 30 minutes to make!
  Find this Easy Cheesy Vegemite Pullapart Loaf recipe here.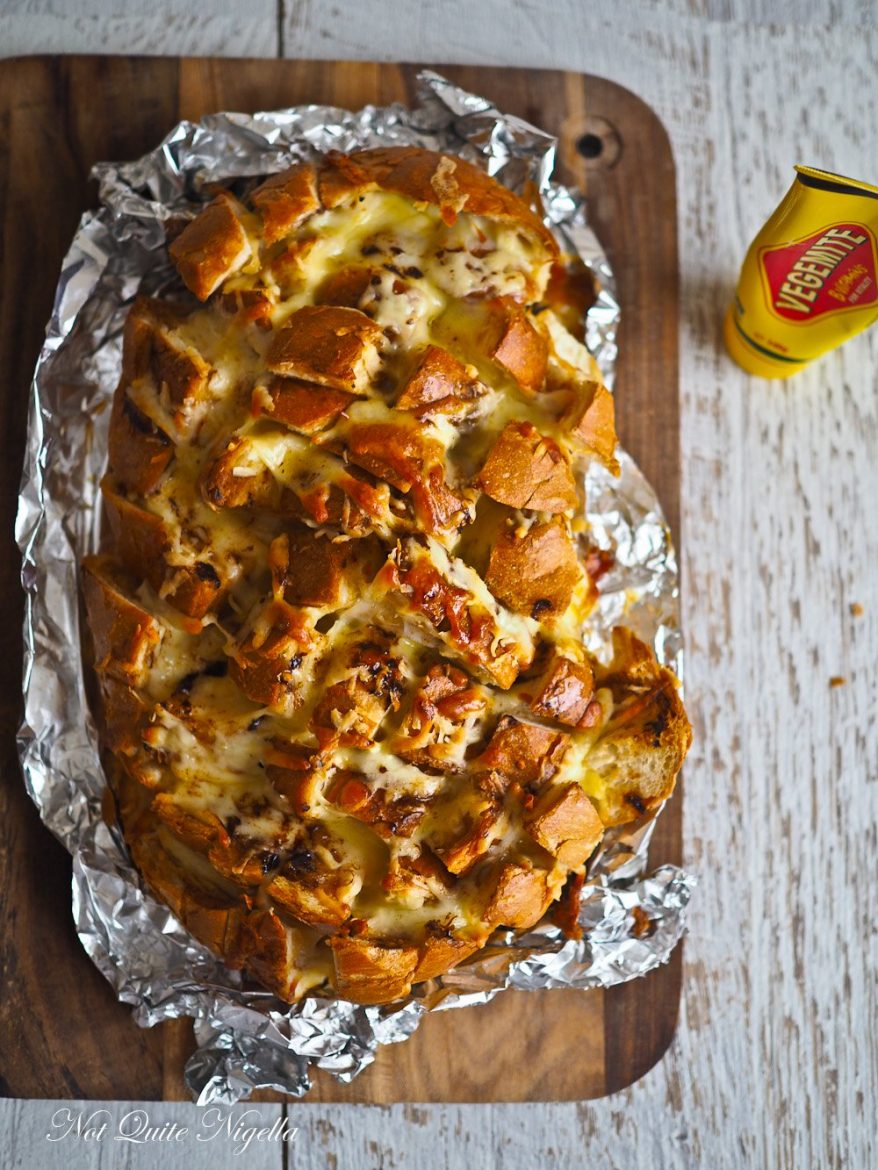 MINI BEEF MINCE PIES – I have different ways of making my pies. These little guys are baked in a muffin tin, while I use my Thermomix and Pie-maker for some of my bigger pies. I thought I'd keep it simple for this Australia Day though, and make these simple Mini Beef Mince Pies that feed everyone. 
  Find my Mini Beef Mince Pies recipe here.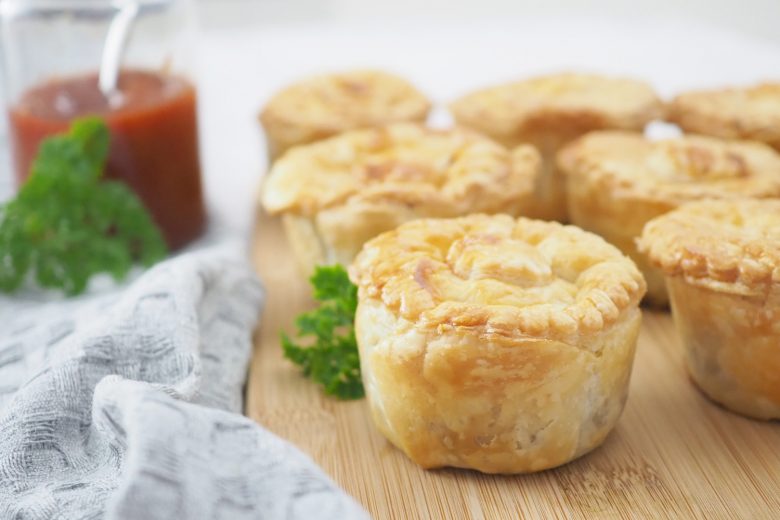 ROASTED MACADAMIAS WITH AUSTRALIAN SEA SALT AND WATTLESEED – A great snack to compliment your cold beverage.
  Find this nut mix recipe here.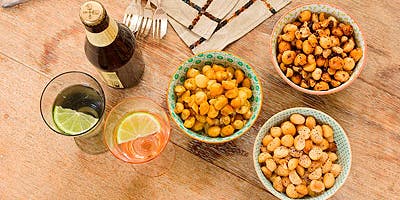 HOME MADE SAUSAGE ROLLS – I love these sausage rolls that I make. They are so damn delicious that they never last long in my household, especially on Australia Day. I always put sesame seeds on top of mine because it gives them a bit of a nutty taste. Yummo!!! Definitely making these again this year. 
  Find my Home Made Sausage Rolls recipe here.

AUSTRALIA DAY MEALS
NO-FAIL CREAMY POTATO BAKE RECIPE – My easy to make Creamy Potato Bake is perfect for an Australia Day side dish (or main meal!). You don't have to pre-cook the potatoes and it's a recipe that won't let you down. The creamy texture will go perfectly with some snags and steaks right off the BBQ. 
  Find my No-Fail Creamy Potato Bake recipe here.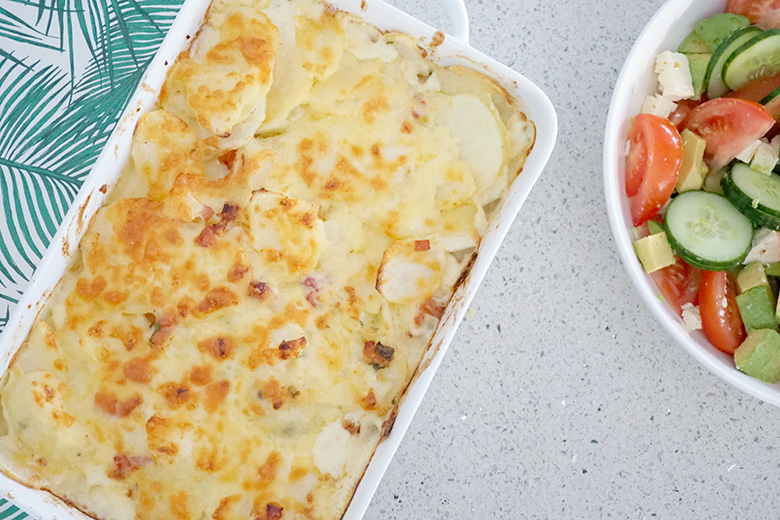 AUSSIE BEEF PIES – A new take on the meat pie! These Aussie Beef Pies are full of flavour (they even have Vegemite in them!) and chunks just perfect for a more rustic style pie
  Find this Aussie Beef Pies recipe here.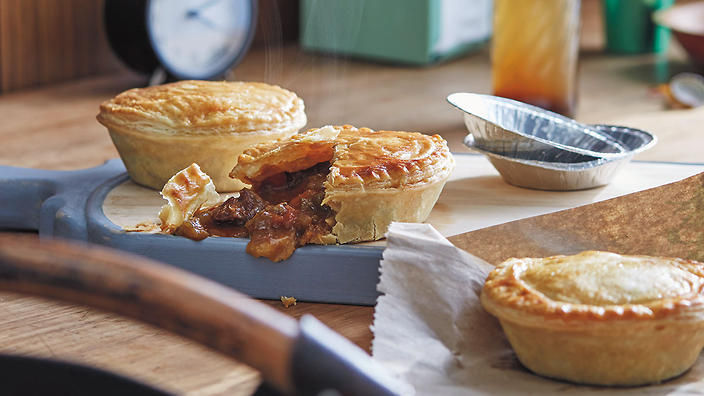 BEER CAN CHICKEN – Cooked over 2 hours these barbecued chicken pieces are full of flavour and will have your neighbours wanting to come over to get some.
  Find this Beer Can Chicken recipe here.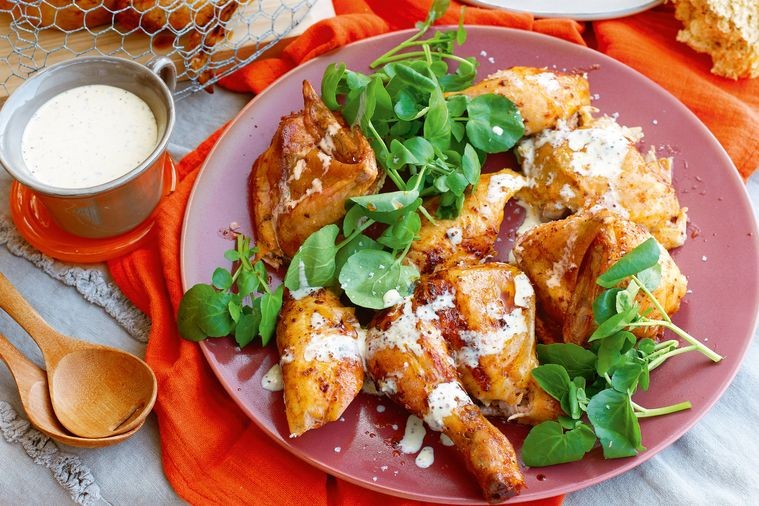 AUSSIE CHICKEN BURGER – Mouth watering chicken burger packed full of Australia Day favourites like bacon and beetroot.
  Find this Aussie Chicken Burger recipe here.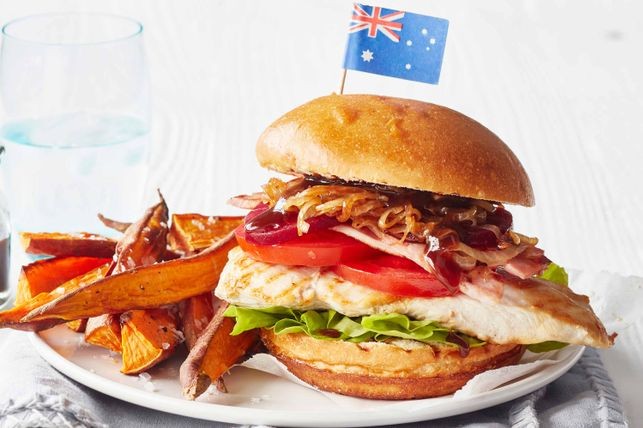 SNAGS WITH ONIONS COOKED IN BEER – Turn the classic sausage in bread into a crowd pleaser with these tasty snags.
  Find this Snags With Onions Cooked In Beer recipe here.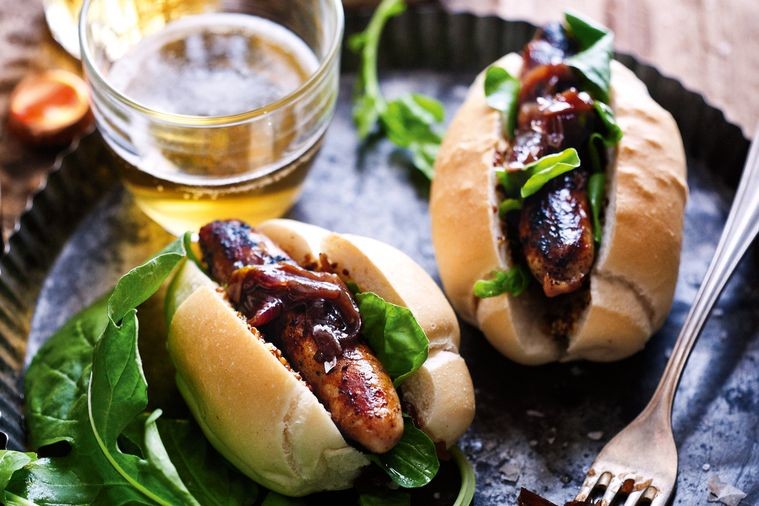 QUICK GARLIC LAMB WITH CHARGRILLED PINEAPPLE SLAW – These lamb chops cooked on the barbecue and served with a pineapple slaw is the perfect dish for a summery afternoon on Australia Day.
  Find this Garlic Lamb With Chargrilled Pineapple Slaw recipe here.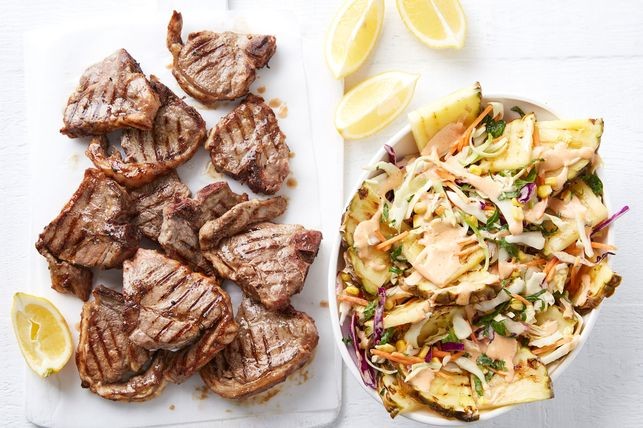 PRAWN AND AVOCADO ROLLS WITH HOMEMADE SEAFOOD SAUCE – Prawns and avocado are one of my favourite foods that go together so nicely on a hot day. Enjoy with this homemade seafood sauce for the ultimate Australia Day lunch.
  Find this Prawn and Avocado Rolls with Homemade Seafood Sauce recipe here.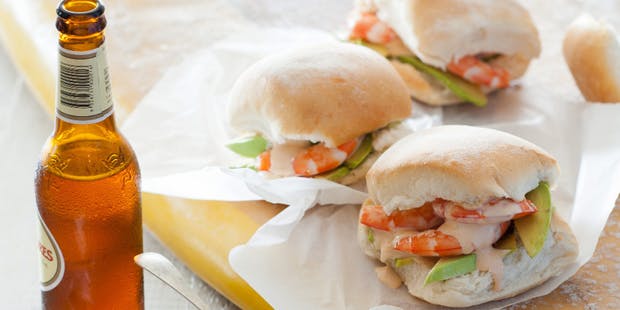 AUSTRALIA DAY DESSERTS
PAVLOVA – Pavlova would have to be one of my favourite desserts of all time. I love making mine fruity so I make the centre more of a bowl shape, that way I can add extra fruit on top. I love berries like strawberries and blueberries, but kiwi fruit is another favourite of mine. 
  Find my Pavlova recipe here.

GIANT NEENISH TART – Do you remember eating and loving neenish tarts as a child. This enormous Neenish tart is an updated version of the Aussie classic treat.
  Find this Giant Neenish Tart recipe here.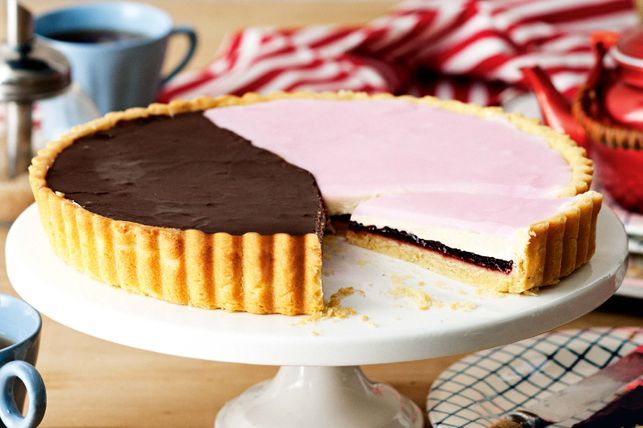 DIY PAVLOVA GRAZING DESSERT PLATTER – Platters are an easy and super delicious way to cater to a crowd. How fabulous does this Pavlova Grazing Platter look? Yum yum!!
  Find this DIY Pavlova Grazing Dessert Platter recipe here.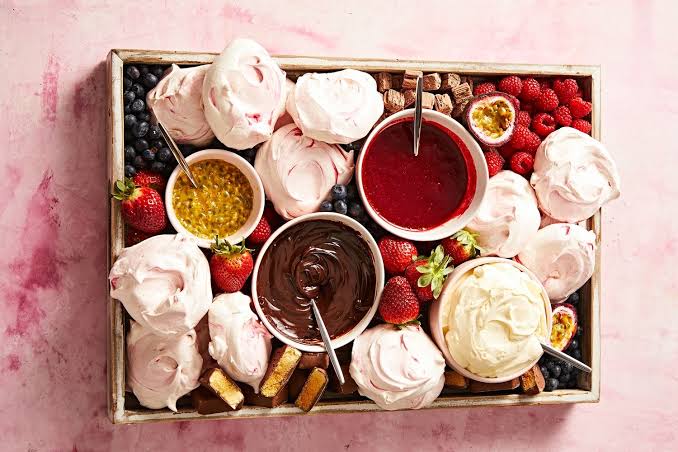 PASSIONFRUIT PAVLOVA ICE-CREAM SANDWICHES – A new version of the traditional Pavlova in an ice cream form. These delicious little treats are excellent to make in advance and have in the freezer.
  Find this Passionfruit Pavlova Ice-Cream Sandwiches recipe here.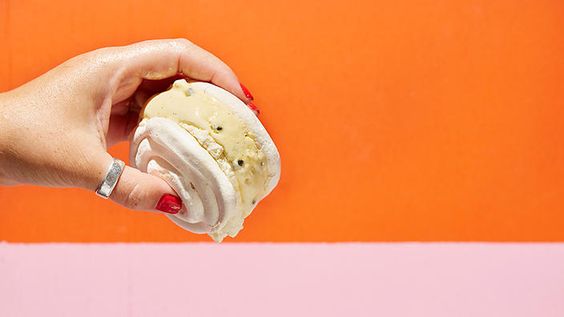 GOLDEN GAYTIME SEMIFREDDO ICE-CREAM CAKE – Hero the much-loved Aussie favourite with this Golden Gaytime ice-cream dessert! Prepare this recipe at least 1 day in advance.
  Find this Golden Gaytime Semifreddo Ice-Cream Cake recipe here.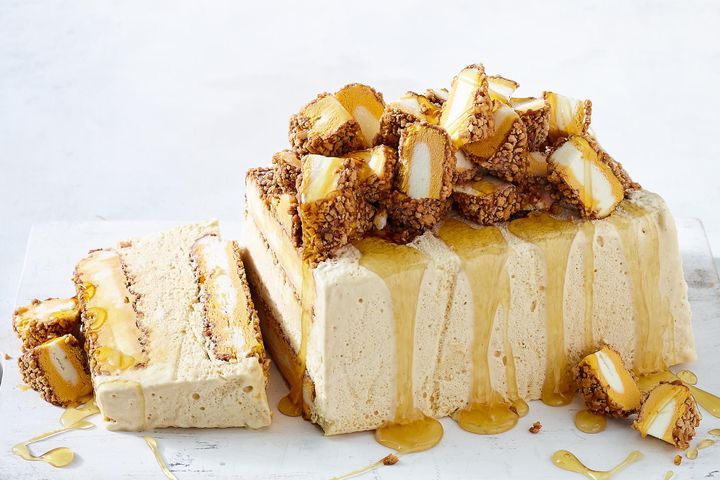 MANGO AND PASSIONFRUIT AUSTRALIAN MESS – This dessert is an Australian take on a classic English dessert. Fresh fruit and cream, yummo!
  Find this Mango and Passionfruit Australian Mess recipe here.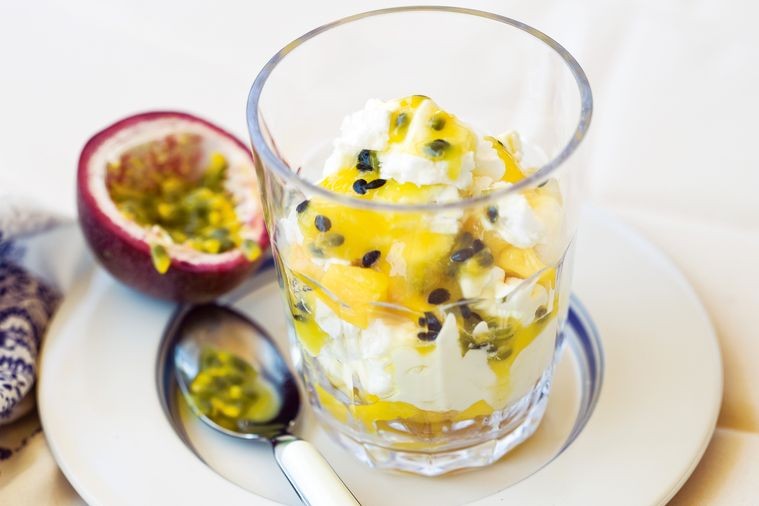 GIANT WAGON WHEEL CAKE – Looks technical, but it's really not. A fun take on the classic Wagon Wheel, this cake is sure to please your guests on Australia Day.
  Find this Giant Wagon Wheel Cake recipe here.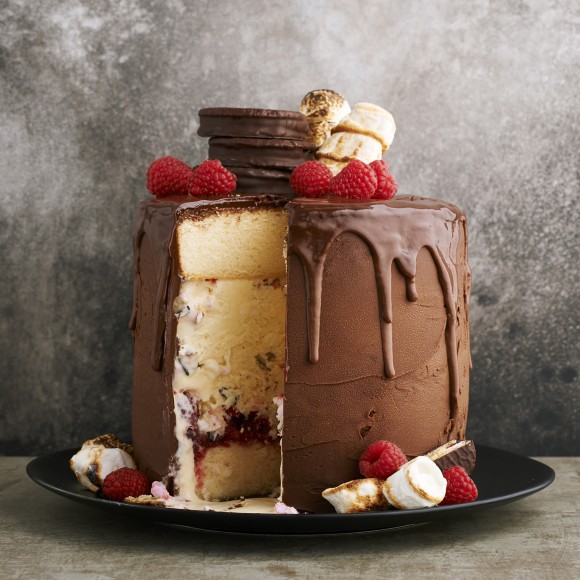 LAMINGTON LAYER CAKE – The ever so popular Lamington is a favourite on Australia Day! Add in a a twist of Jam and cream and you have yourself a pretty delicious Lamington Cake!
  Find this Lamington Layer Cake recipe here.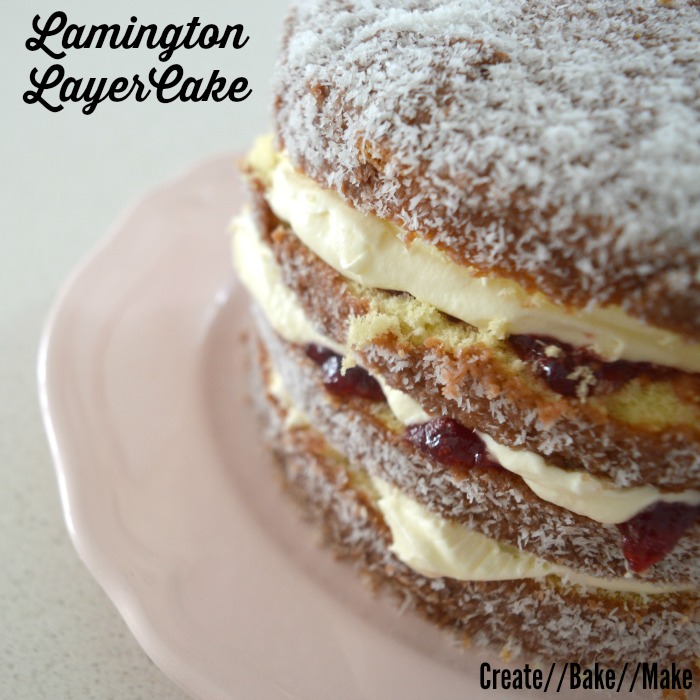 ICED VOVO CAKE – This super easy Iced Vovo Cake is supersized, deliciously soft and will give your table the wow factor.
  Find this Iced VoVo Cake recipe here.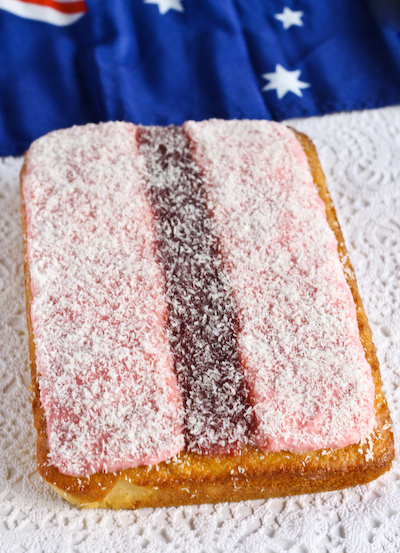 ICED VOVO PAVLOVA – Now this is taking it to the next level. Mixing my two favourite Australia Day desserts into one fabulous treat right here.
  Find this Iced VoVo Pavlova recipe here.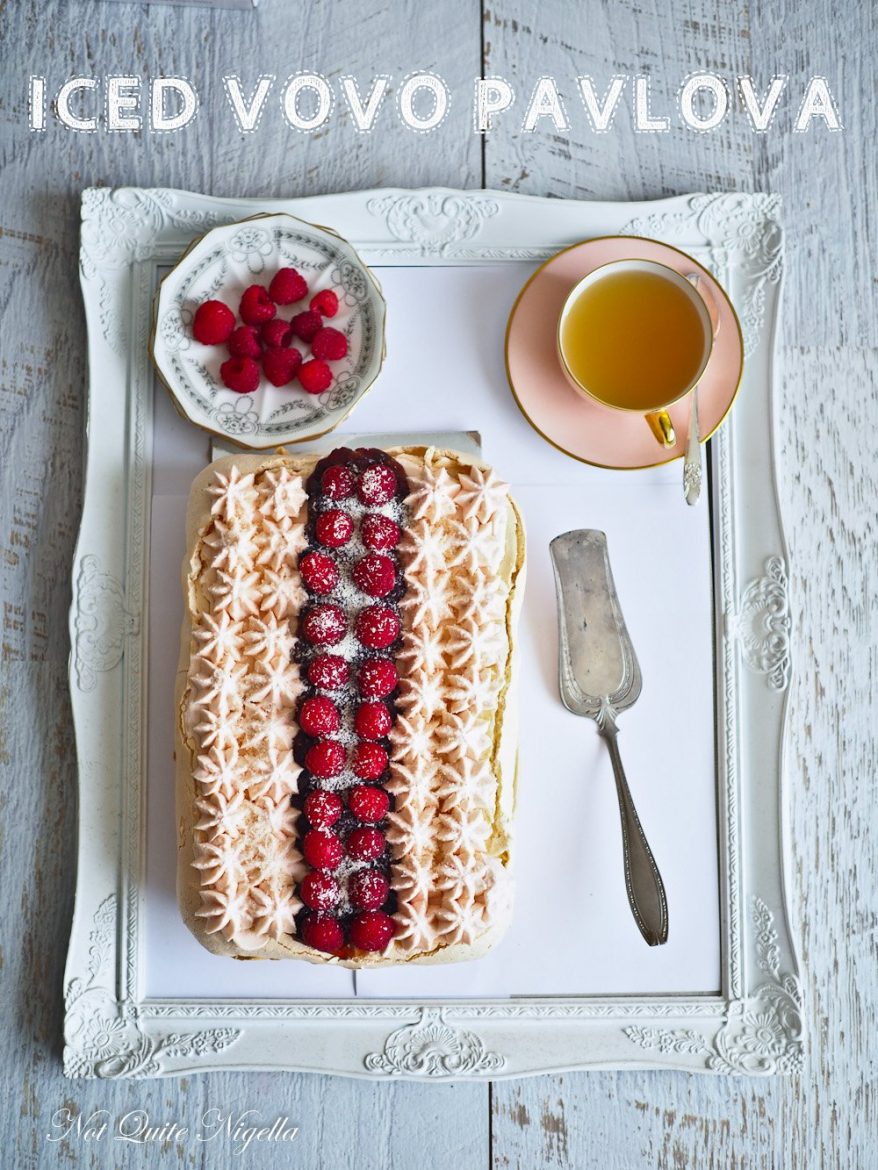 MILO PAVLOVA – There are so many ways of decorating a pavlova and this one looks deliciously tempting with all that chocolate and caramel sauce.
  Find this Milo Pavlova recipe here.
LAMINGTON TACOS – I love how fun these are. A great dessert treat for when you're entertaining outdoors.
  Find this Lamington Tacos recipe here.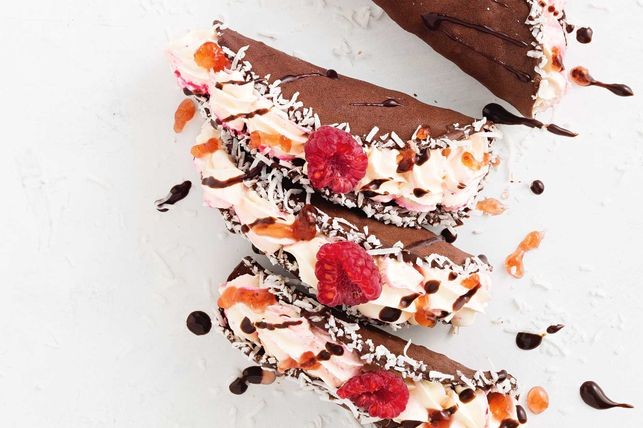 LAMINGTON ICE- CREAM CAKE  – Lamingtons are an Australia Day favourite, so why not go all out and layer them to make this delicious dessert that's part cake, part ice-cream? Yum yum YUM!!
  Find this Lamington Ice-Cream Cake recipe here.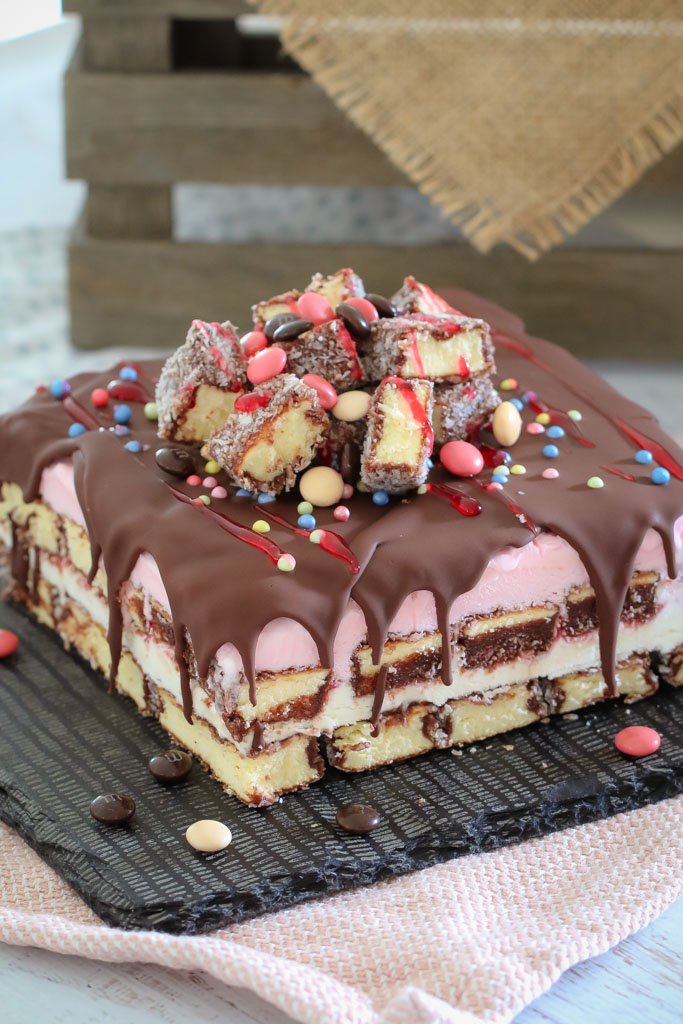 AUSTRALIA DAY MUSIC
I made an Australia Day playlist on Spotify last year which featured my top 20 favourite Aussie songs. There are some real classics in there – the kind of songs that simply scream 'Australia Day'! I hope you enjoy them.
  FIND PLAYLIST ON SPOTIFY:  The Organised Housewife Aussie Mix.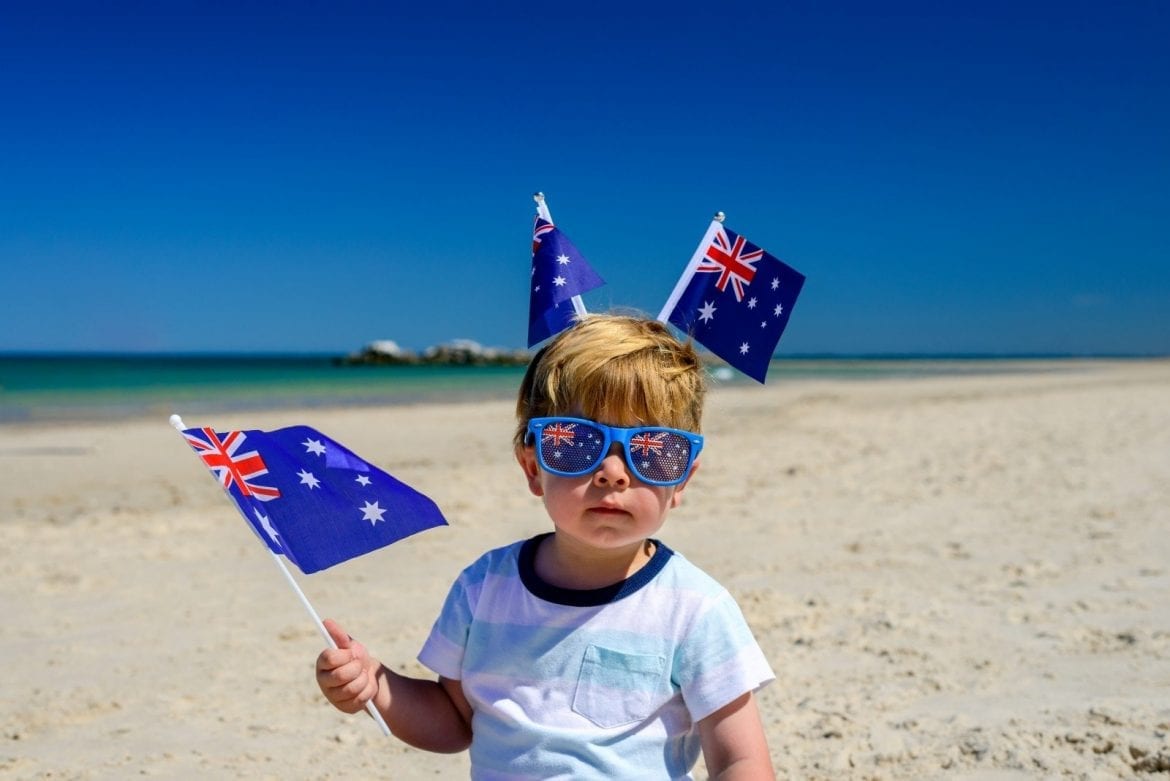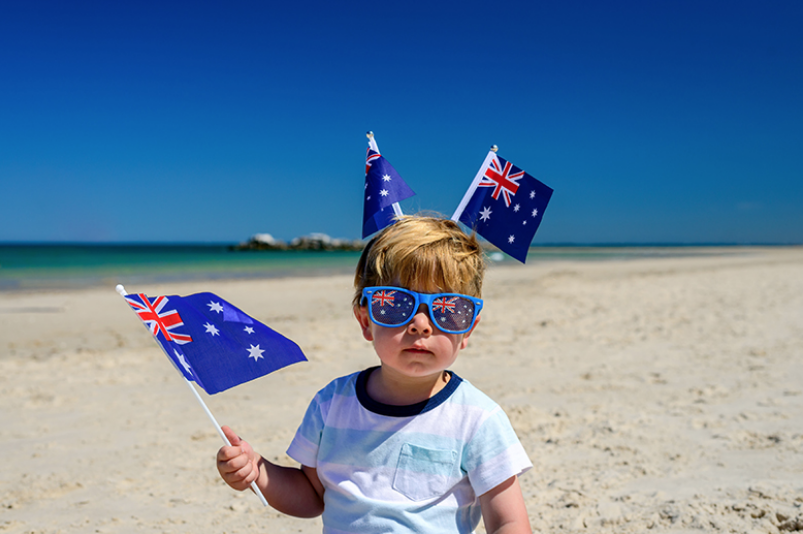 FREE PRINTABLE AUSTRALIA DAY COLOURING PAGES
Get the kids off the screens this Australia Day and unleash their creativity instead, with these fun and ready-to-print Australia Day colouring-in pages. These colouring pages are also great if you're entertaining friends with children this Australia Day, or if you're heading away on a camping trip.
Simply click any of the images below and you'll be directed to the site so you can easily print and get colouring!
Kangaroo and Seal Colouring Page, found via AustraliaDay.com.au – DOWNLOAD HERE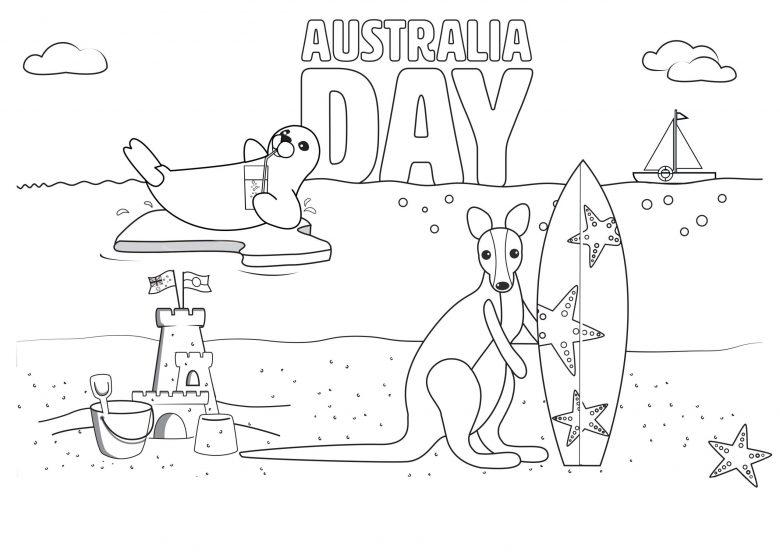 Boomerang Colouring Page, found via AustraliaDay.com.au – DOWNLOAD HERE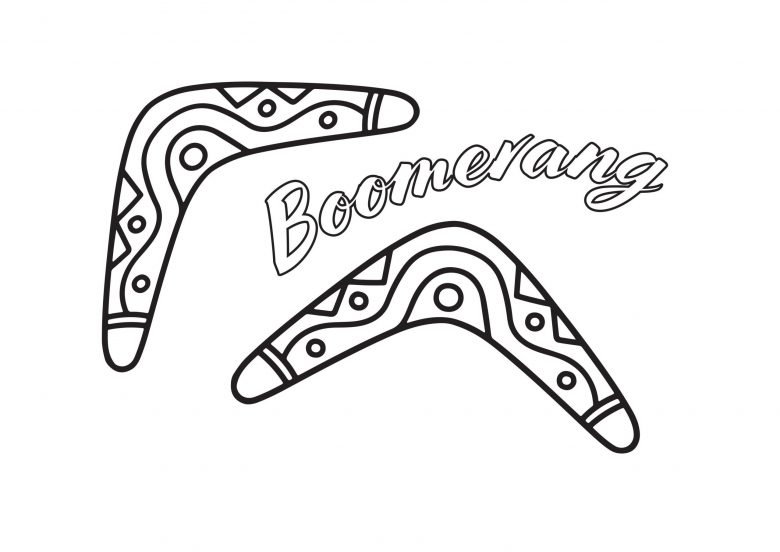 Platypus Colouring Page, found via Brisbanekids.com.au – DOWNLOAD HERE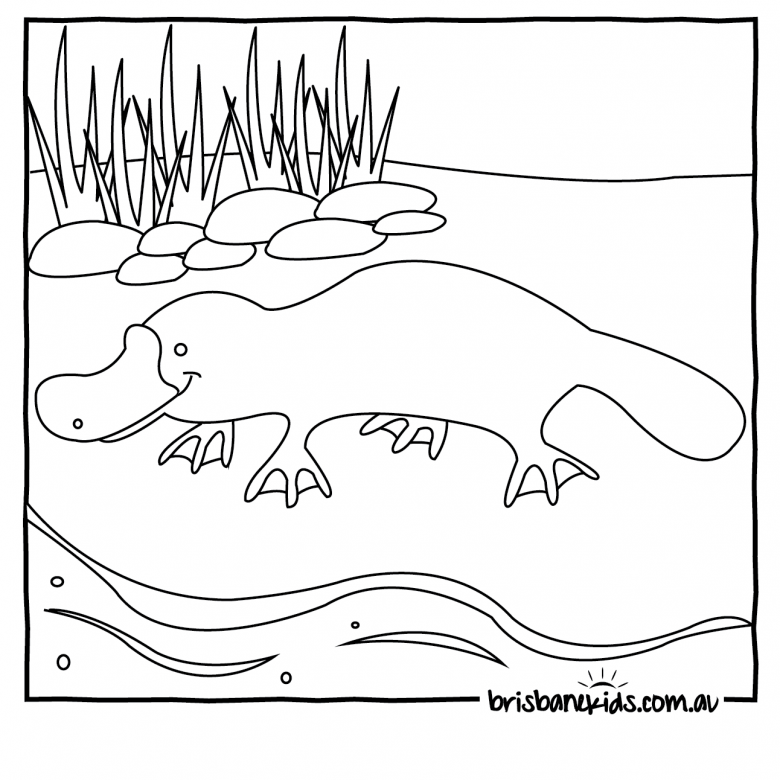 Turtle Colouring Page, found via AustraliaDay.com.au – DOWNLOAD HERE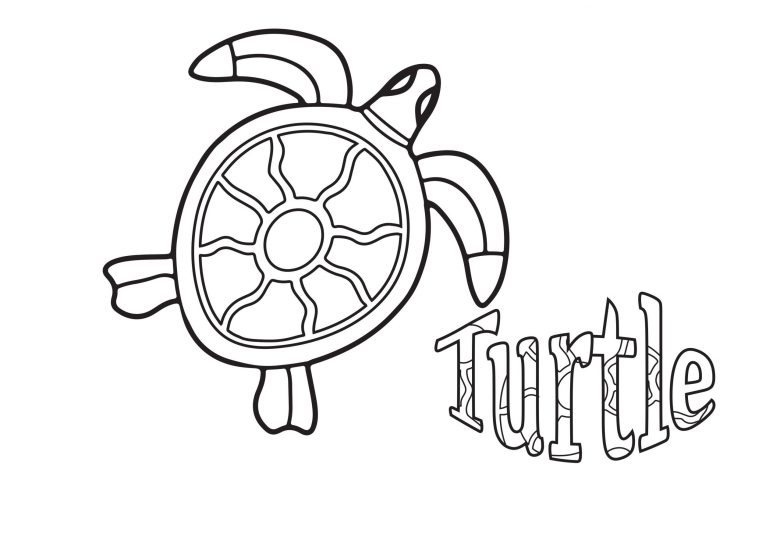 Octopus Colouring Page, found via filelocker.info – DOWNLOAD HERE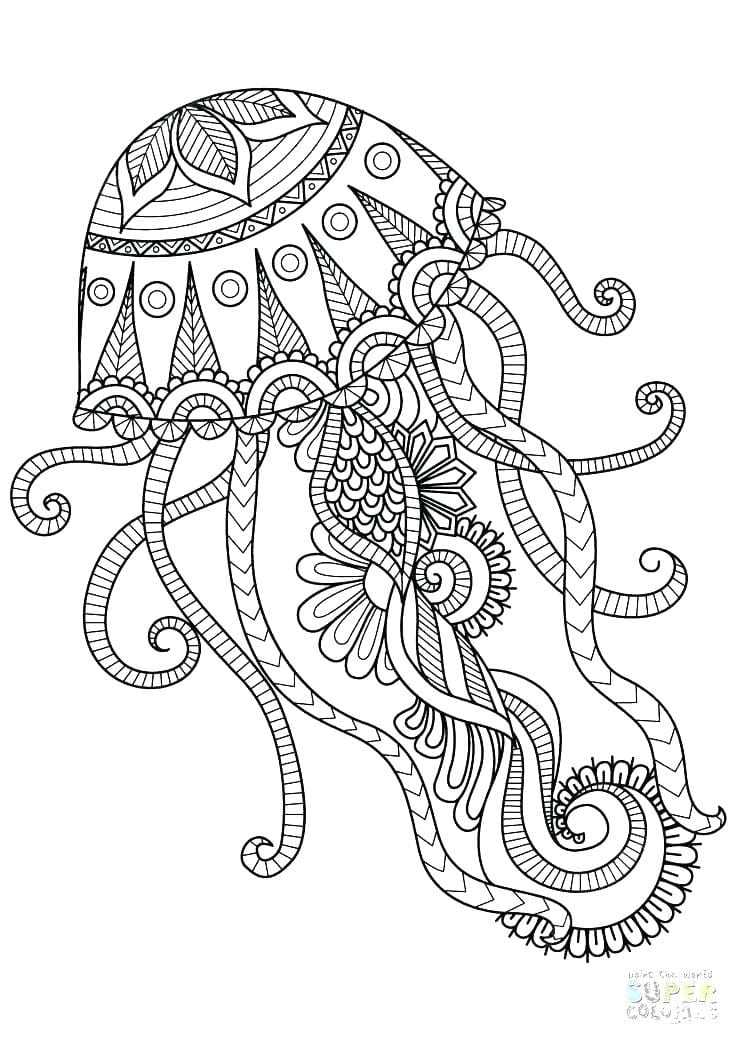 Native Australian Animals Colouring Page, found via AustraliaDay.com.au – DOWNLOAD HERE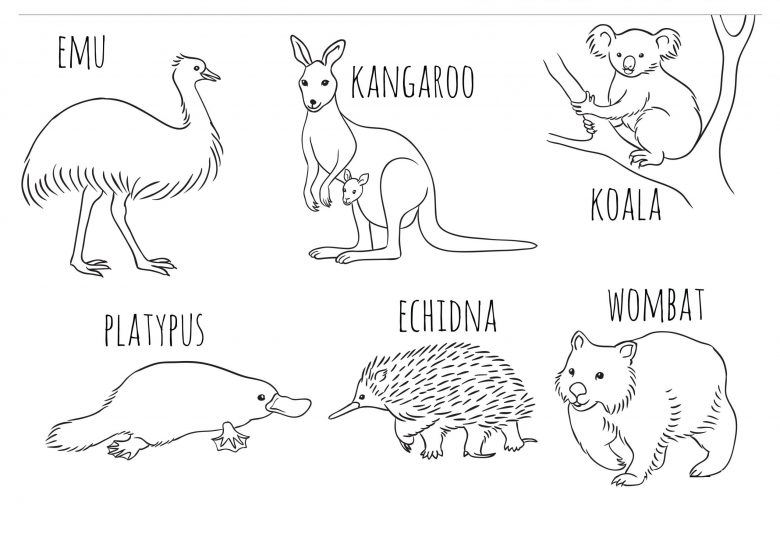 Kangaroo Colouring Page, found via AustraliaDay.com.au – DOWNLOAD HERE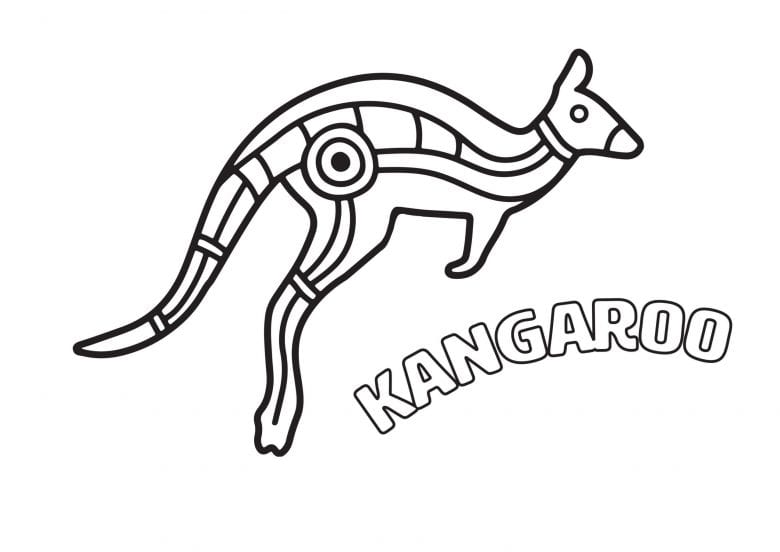 WHAT WILL YOU BE DOING THIS AUSTRALIA DAY?
---
Pin this image below to Pinterest!