We are lucky here in Australia & New Zealand as a doTERRA Wellness Advocate we have the choice to use the Australian/NewZealand or American product of the month promotion.  However, please note you won't be able to receive both, it's one or the other and new enrolments are not eligible for Product of the Month promotions on the month they join. To order you will need to place a US doTERRA order from your Australian account.
How to Place a US doTERRA order from Australia
Watch this great video that my doTERRA mentor Kris Barrett put together to show you how you can place a US LRP doTERRA order from your Australian account.

---
This is a snapshot of the products that are available in the US only (not available through the Australian warehouse). If you are making a purchase via the US warehouse it's a good idea to stock up on a few of these items too.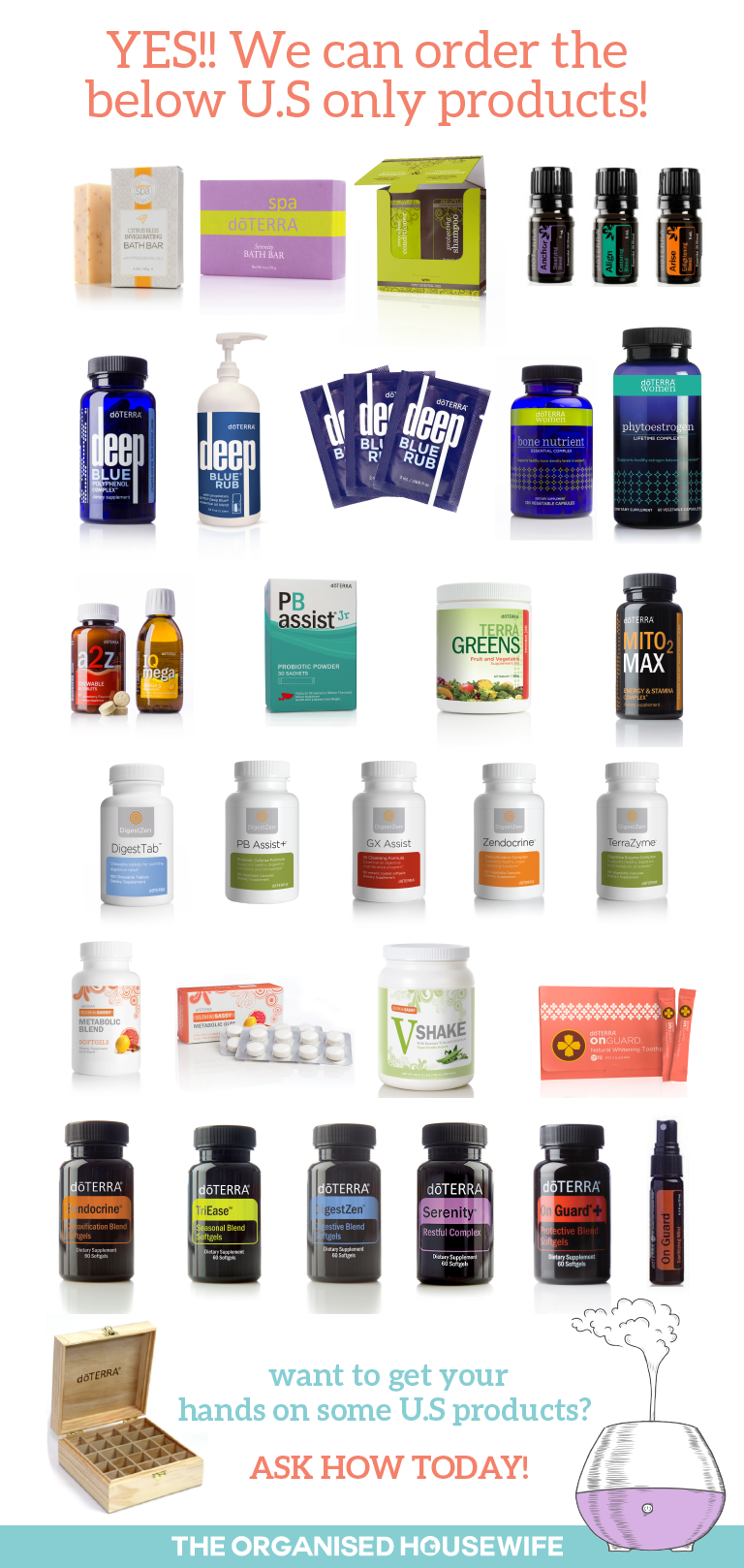 ---
BABY COLLECTION
Retail US$34.50 | Wholesale US$46.00 | Item #60206023
**LIMITED TIME OFFER**  Limit 4 per customer
doTERRA Baby Collection is a safe, effective, natural way to cleanse, moisturize, and care for your baby. The calming blend of essential oils will leave your baby, and even big kids, with a light clean scent.
---
YOGA COLLECTION
Retail US$69.33 | Wholesale US$52.00 | Item #60203244
An exclusive trio of CPTG® essential oil blends designed by doTERRA for the yogi in you. Anchor, Align, and Arise are the perfect blends to enhance your life and yoga practice. These blends provide aromas to steady, center, and enlighten your spirit through every breath while strengthening and stretching your body.
---
BAMBOO BOX DOUBLE DRAWER
Retail US$73.33 | Wholesale US$55.00 | Item #60202797
**LIMITED TIME OFFER**
Beautiful artwork is never completed until it is displayed in a frame that accentuates its artistry. The same is true of essential oils. Featuring a top rack that holds eight 15 mL and ten 5 mL/10 mL bottles along with two drawers each capable of holiding thirty five 15 mL/5 mL oils the Double Drawer Bamboo Box stores up to 88 Oils. Made of sustainable bamboo, these boxes accentuate the artistry of your essential oils in an ideal setting.
---

doTERRA Serenity™ Restful Complex Softgels
Retail US$26 | Wholesale US$19.50 | Item #34390001
doTERRA Serenity Restful Complex is a unique combination of Lavender essential oil and natural plant extracts in a vegetarian softgel to help you get the refreshing sleep you need without leaving you feeling groggy and sleepy the next day. Combines the well-researched, relaxing benefits of Lavender essential oil and L-Theanine along with lemon balm, passionflower, and chamomile to gently promote relaxation and sleep.
---