Ashley from I Choose Me is back sharing more great beauty tips. I'm enjoying her series of posts real mum quick and easy ideas. Over to Ash who is sharing her guide to makeup brushes, one I must admit I need to read I only own 2!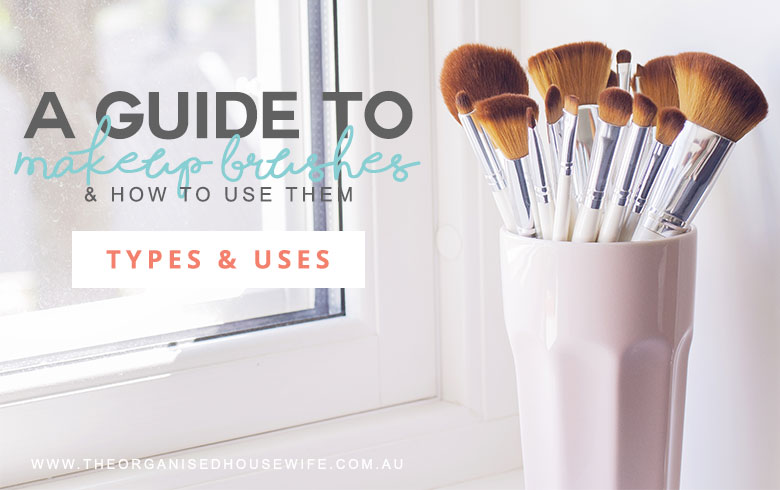 Up until a year ago I literally only had four makeup brushes. I still use those brushes every day and love them, but have since learnt that there is a plethora of brushes available on the market and they have so many different uses. It can be a bit daunting to know what brushes you actually need for your makeup needs versus what you get in makeup brush sets. So to help you battle the minefield I have put together a small guide.
WHAT ARE THEY MADE OF?
But before I get into individual brushes, let's first talk about what brushes are made out of. You can get synthetic brushes or natural brushes. Both have pros and cons and some people find they definitely have a preference of which they use.
SYNTHETIC BRUSHES – are derived from manmade materials, generally nylon or polyester and are supposed to give more of a streak-free finish compared to their natural counterpart. The bristles are in most cases extremely soft, and are fantastic for cream products such as foundation, cream blush/eye shadows as they don't hold onto the product. Meaning this is also cost effective as you are not wasting your makeup. They tend to shed less, are extremely affordable and are also great for allergy sufferers. These brushes can also say that they are cruelty free.
NATURAL BRUSHES – are made out of animal hair, in most cases sable, goat or squirrel. They tend to shed hairs more but as this is a natural fibre the hairs have cuticles which allow them to pick up powder products and deposit beautifully onto the skin. They blend extremely well and are very soft. Generally, you will find that these brushes can be quite expensive.
TYPES OF BRUSHES
There are a number of brushes out there that can do a myriad of things but the ones that I think are most important are:
FOUNDATION BRUSH – this brush will help create a flawless looking base and makes application is really quick and easy. Generally, foundation brushes are flat but you can get some that have a very large head with a large amount of bristles tightly bound.
POWDER BRUSH – a large fluffy brush which is super soft to deposit a light dusting of powder all over the face.
BLUSH BRUSH – a smaller version of the powder brush. This brush is a fantastic size to deposit a small amount of powder or cream blush onto the apples of the cheeks. I also use my blush brush for my bronzer.
CONTOUR BRUSH – I don't actually own a contour brush but I know that they have become so popular. This is an angled brush that allows you to get a really defined look to create amazing check bones. A lot of women also use this brush to apply their bronzer as well.
EYE SHADOW BRUSHES – there are so many different eye shadow brushes and sets on the market. For me, I have 4 brushes that I use every single day I wear makeup. A large fluffy eye shadow brush is great for applying colour in a quick wash all over the eye. For a more precise look and to apply colour, a smaller flatter brush will allow more precise application and also to 'pack' the colour onto the lid without losing lots of product. In the crease you will want a smaller, domed shape brush that allows you to get right into the crease of the eyelid and apply the eye shadow exactly where you want it. And last but by no means least, would be a blending brush. I never used to use a blending brush until a couple of years ago and it totally changed how I did my eye shadow. Not only does it soften lines and seamlessly blend colours into one another, but it also allows you to remove mistakes or harsh lines really quickly and with minimal fuss.
EYE LINER BRUSH – if you want to use eyeshadow as a liner or gel liners this would be a must. There are two kinds or liner brushes – angled and a very thin tip brush. An angled brush is great when you want to do a winged liner look and also to apply eyeshadow as a liner into the lash line. A fine tip liner brush is essential when using a gel liner. They make application so much easier and allow you to add small amounts at a time and build your look, rather than applying to much and having to correct – something that is so hard with liner!
LIP BRUSH – to get a really precise look a lot of women enjoy using a lip brush to get a really accurate line for their lips. When you purchase lipsticks in a palette this would be a must for application.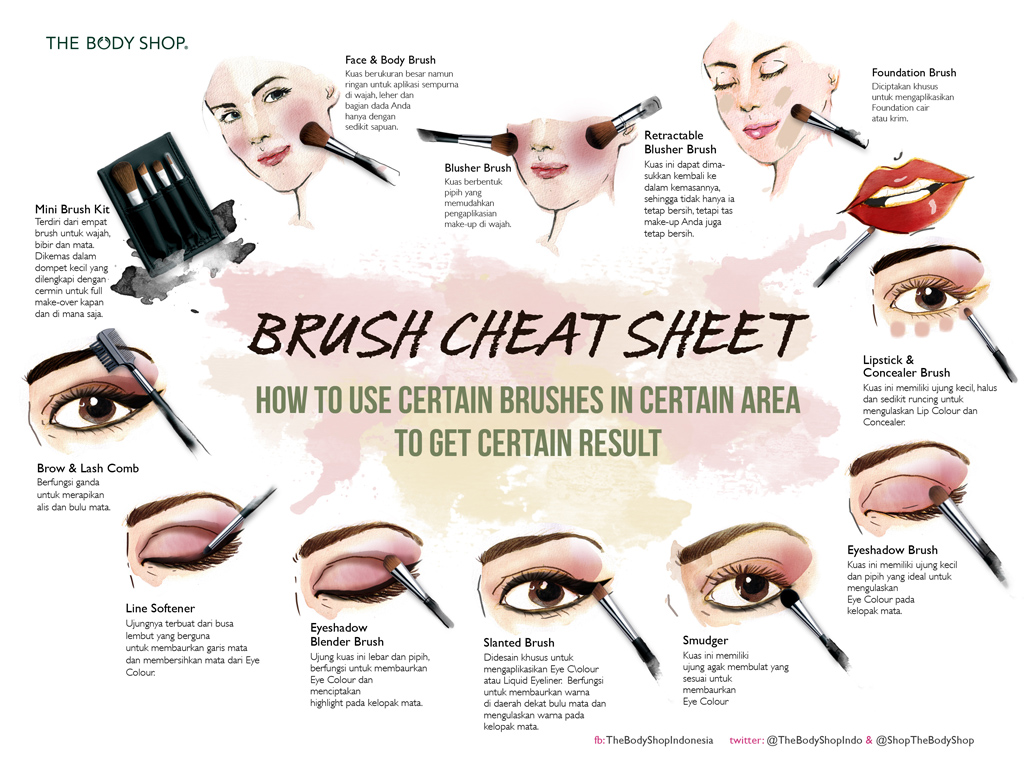 image credit: The Body Shop
HOW TO CLEAN MAKEUP BRUSHES
To keep your brushes in good condition and also to stop the spread of germs make sure you clean your brushes regularly. You can purchase makeup brush sprays for makeup retailers, but I generally put my brushes under the tap or into a bowl of warm water and then I take some antibacterial hand soap and gently wash the bristles until the water runs clear. I then pat them dry on some kitchen paper and leave them flat to dry. But just to note, only do the tips of the brush, don't take it right down to where the bristles are bound and meet the handle as water can become trapped and bacteria can grow.
There are so many different sets and brushes on the market that range in price. If you are looking for your first set of brushes or want to try some new brushes that aren't too expensive I think the Real Techniques brushes are fantastic. For more expensive options I have been wanting to try the Zoeva brushes for ages as their reputation is incredible.
What is your favourite go-to makeup brush?