Natural spray to help stop puppy chewing furniture & other things they aren't supposed to
Our little (well not so little anymore) puppy Zoe is turning one soon. She has been an absolutely delightful addition to our family, I couldn't not imagine having her in our lives; we kick ourselves wondering why it took us so long to get a dog…. but then I think it's because we were waiting for Zoe.  When we first got Zoe I created my Puppy Cleaning Caddy to have everything within easy reach for when she made any mess. Included in my caddy was puppy chew spray.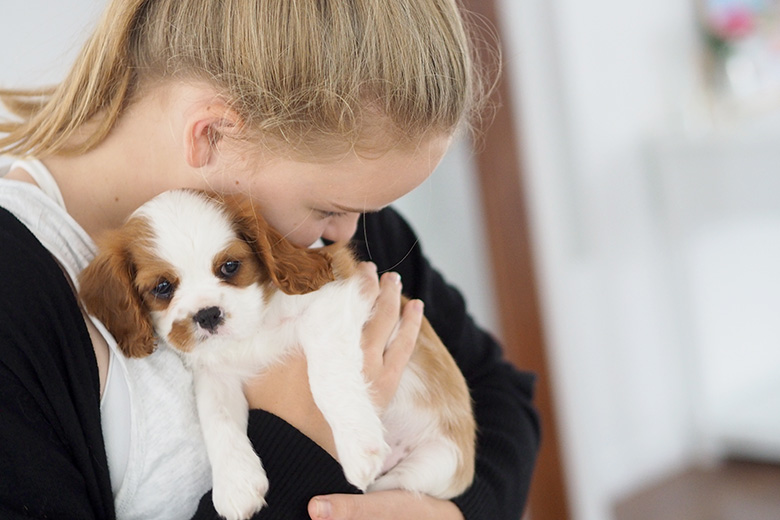 According to the RSPCA dogs chew for the following reasons:
playing – chewing apart a book or couch
teething – dogs 3 to 6 months of age that chew often chew on household objects
scavenging – for food, garbage raiding
satisfying – a natural urge to chew and gnaw; which may serve to help keep teeth and gums healthy.
Chewing is also a self-soothing behaviour as it releases endorphins which help to relax and calm a dog. Some dogs may chew to receive attention (even if it is negative) or treats from the owners if knowing they are received each time they chew, therefore being inadvertently rewarded for their behaviour. Chewing and destructive behaviours may also be a response to anxiety. Dogs that are confined in areas where they are insecure may dig and chew in an attempt to escape. Dogs that are in a state of conflict, arousal or anxiety, such as separation anxiety, may turn to chewing and other forms of destructiveness as an outlet.
I did find some puppy chew spray at the pet shop; but it was rather pricey and I also wanted to create something I knew was natural. I did some researching and have been using this mix, which is super easy plus I already had all the ingredients in my pantry!
Thankfully Zoe doesn't chew everything in the house anymore, but when she was younger this spray was amazing.  As puppies like to chew on everything they can see, dining chair legs, indoor plants, pots, books, TV units, stools, you name it Zoe gave it a go.  As soon as I saw her starting to chew something I sprayed it with this puppy chew spray.  I sprayed the homemade concoction on the area she was chewing and she instantly ran in the other direction, usually off to rub her face on the carpet.  Do remember, this is a natural spray so didn't harm her at all.  Usually she would stop chewing that area, however, she tried again a few days later, which I sprayed the area again, she soon learned to stay away from that area.  This spray worked!!
Dogs really don't like the flavor and smell of vinegar and biter apples, so this combination together works wonders.
You will need:
WHITE VINEGAR – a natural, inexpensive alternative to harsh commercial cleaners, used as a mild disinfectant, cuts through grease, de-scaler, glass cleaner, cleans floors etc.
APPLE CIDER VINEGAR –  offers the same benefits as plain white vinegar with a more pleasant smell. Both white and apple cidear vinegar have a similar acidity level.
Print
Homemade Spray to Stop Puppy Chewing Furniture
To help puppies from chewing furniture
1

part white vinegar

2

parts apple cider vinegar
Instructions
Add 1 part white vinegar and 2 parts apple cider vinegar into a spray bottle.
Shake bottle to combine.
Spray Homemade Puppy Chew Spray onto area puppy is chewing to prevent them from continuing to chew.
Notes
Remember to shake the bottle before each use.