Is your home full of clutter and you're tired of seeing it but find it difficult to get yourself motivated for a proper declutter and spring clean?  Join my 52 week declutter challenge and let me help you to declutter your home. My challenge is designed for you to achieve one decluttering task each week, so that you don't get overwhelmed with your workload. Don't just do the challenge, challenge yourself to succeed and do the challenge with me and hundreds of women all around the world. Let's succeed together in decluttering our homes.
Together we'll declutter '52 Things' from the home in 2019 – It's never too late to join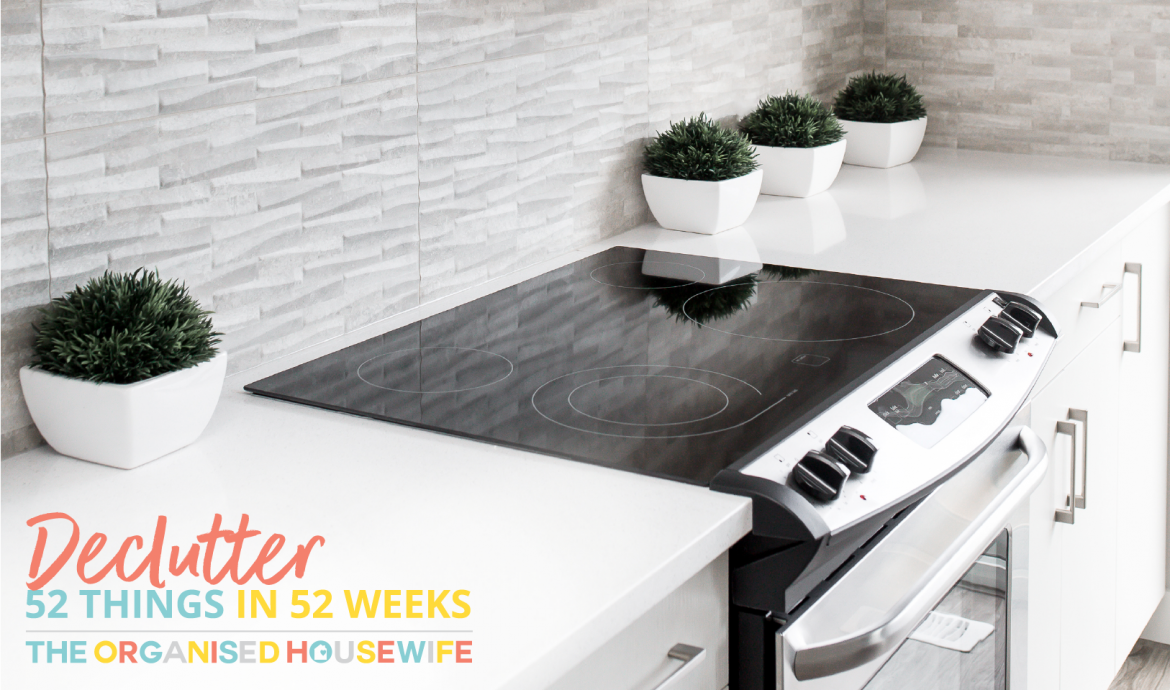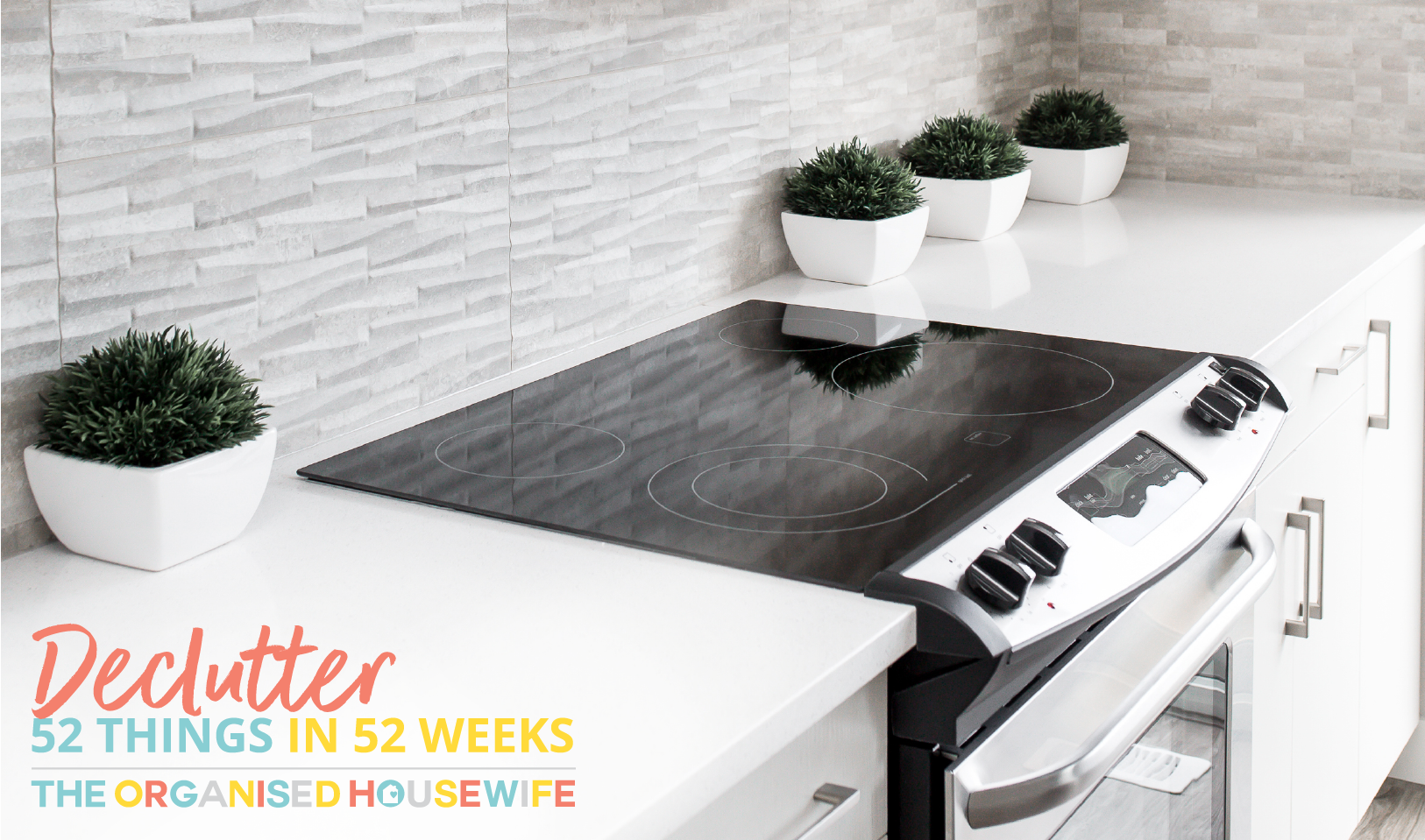 ---
The Steps of Declutter 52 Things in 52 Weeks:
Click the below images to read more!

Remember, my definition of purge is to sell, donate, repurpose or throw away items as you see fit.
---
Weekly Declutter tasks:
First task will be released Wednesday 2nd January 2019!
Follow along on Instagram @theorganisedhousewife with hashtag #declutter52
Task 1 – Declutter 52 Things in 52 Weeks Challenge – Vision Board or Notice Board
Task 2 – Declutter 52 Things in 52 Weeks Challenge – The Plastics Drawer/Cupboard in the Kitchen
Task 3 – Declutter 52 Things in 52 Weeks Challenge – Kitchen Appliances
Task 4 – Declutter 52 Things in 52 Weeks Challenge – Expired Foods
Task 5 – Declutter 52 Things in 52 Weeks Challenge – Entryway
Task 6 – Declutter 52 Things in 52 Weeks Challenge – Drop Zone
Task 7 – Declutter 52 Things in 52 Weeks Challenge – Books and Bookshelves
Task 8 – Declutter 52 Things in 52 Weeks Challenge – CD's & DVD's
Task 9 – Declutter 52 Things in 52 Weeks Challenge – Soft and Plush Toys
Task 10 – Declutter 52 Things in 52 Weeks Challenge – Bed and Bath Linens
Task 11 – Declutter 52 Things in 52 Weeks Challenge – Utensils
Task 12 – Declutter 52 Things in 52 Weeks Challenge – Makeup and Skincare
Task 13 – Declutter 52 Things in 52 Weeks Challenge – Inside your Handbag
Task 14 – Declutter 52 Things in 52 Weeks Challenge – Calming Our Minds
Task 15 – Declutter 52 Things in 52 Weeks Challenge – Craft Supplies
Task 16 – Declutter 52 Things in 52 Weeks Challenge – Shoes
Task 17 – Declutter 52 Things in 52 Weeks Challenge – Exercise Equipment
Task 18 – Declutter 52 Things in 52 Weeks Challenge – The Wardrobe
Task 19 – Declutter 52 Things in 52 Weeks Challenge – Store Loyalty Cards
Task 20 – Declutter 52 Things in 52 Weeks Challenge – Medicine Cabinet
Task 21 – Declutter 52 Things in 52 Weeks Challenge – Kids Books
Task 22 – Declutter 52 Things in 52 Weeks Challenge – Hall Cupboard
Task 23 – Declutter 52 Things in 52 Weeks Challenge – Crockery and Serving Dishes
Task 24 – Declutter 52 Things in 52 Weeks Challenge – Bedside table
Task 25 – Declutter 52 Things in 52 Weeks Challenge – The Car
Task 26 – Declutter 52 Things in 52 Weeks Challenge – The Office Desk
Task 27 – Declutter 52 Things in 52 Weeks Challenge – Bakeware
Task 28 – Declutter 52 Things in 52 Weeks Challenge – Keys
Task 29 – Declutter 52 Things in 52 Weeks Challenge – Candles
Task 30 – Declutter 52 Things in 52 Weeks Challenge – Kitchen Bench
Task 31 – Declutter 52 Things in 52 Weeks Challenge – Table Linens
Task 32 – Declutter 52 Things in 52 Weeks Challenge – Junk Drawer
Task 33 – Declutter 52 Things in 52 Weeks Challenge – Broom Cupboard
Task 34 – Declutter 52 Things in 52 Weeks Challenge – Magazines
Task 35 – Declutter 52 Things in 52 Weeks Challenge – Herbs and Spices
Task 36 – Declutter 52 Things in 52 Weeks Challenge – Lounge Room
Task 37 – Declutter 52 Things in 52 Weeks Challenge – Coffee Mugs
Task 38 – Declutter 52 Things in 52 Weeks Challenge – Kids Artwork, Drawings and Creations
Task 39 – Declutter 52 Things in 52 Weeks Challenge – Outside
Task 40 – Declutter 52 Things in 52 Weeks Challenge – Top of Bedroom Cupboards
Task 41 – Declutter 52 Things in 52 Weeks Challenge – Old Receipts
Task 42 – Declutter 52 Things in 52 Weeks Challenge – Cleaning Supplies
Task 43 – Declutter 52 Things in 52 Weeks Challenge – Pantry Food
Task 44 – Declutter 52 Things in 52 Weeks Challenge – Kids Toys
Task 45 – Declutter 52 Things in 52 Weeks Challenge – Board  Games
Task 46 – Declutter 52 Things in 52 Weeks Challenge – Jewellery
Task 47 – Declutter 52 Things in 52 Weeks Challenge – China, Crystal and Ornaments
Task 48 – Declutter 52 Things in 52 Weeks Challenge – Inbox
Task 49 – Declutter 52 Things in 52 Weeks Challenge – Bathroom Tools & More
Task 50 – Declutter 52 Things in 52 Weeks Challenge – School Paper Work
Task 51 – Declutter 52 Things in 52 Weeks Challenge – Batteries
Task 52 – Declutter 52 Things in 52 Weeks Challenge – Christmas Decor