During our recent 20 Days to Organise and Clean your Home Challenge a reader asked "How do we dispose of old x-ray films safely?" My mum used to use them as templates with her quilting… I'm not entirely sure how she did this, but I thought it was a clever repurposing idea.  I loved this question because I have actually been collecting mine for years and they could do with a good declutter. I know a lot of people will be in the same boat as me and not know what to do with them, so here are some ideas for what to do with old x-ray films.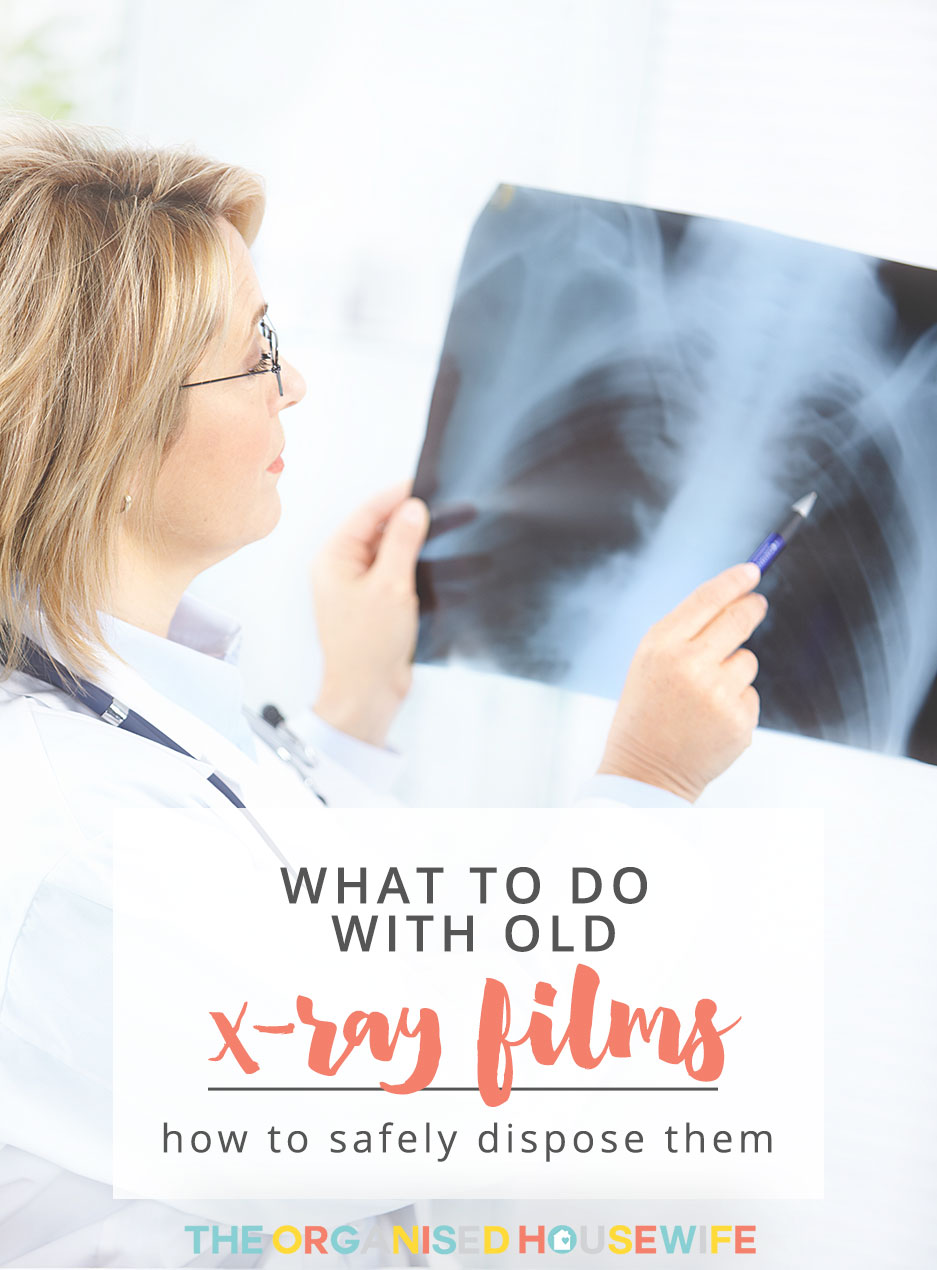 CHECK WITH YOUR DOCTOR
It's important to check with your doctor which x-ray films are worth keeping. It may be mandatory to keep some because of importance to a medical condition or for legal reasons. Your doctor may offer to take and recycle them for you.
If your doctor says your x-rays are worth keeping. Keep them in a filing cabinet or somewhere safe. It's best to keep them in the envelope they came in or ask your doctor for another one if you have lost it.
RECYCLE
X-ray films contain silver in the form of halides. X-ray films can be processed in a refinery where they are heated in temperatures over 1,000 degrees celsius. The silver is extracted and converted into a pure silver form. The extracted silver is used to make jewellery, electrical components and parts in utensils.
RecyclingNearYou.com.au is a site hosted by Planet Ark that contains information about the various recycling options and services offered by your council and local drop-off alternatives. Simply enter your state and suburb and select 'X-Ray Films' in the product drop-down menu and this will display the various services available for you to recycle and get rid of your X-Rays.
Some radiology clinics will accept your old x-rays and have them destroyed accordingly for you.
DONATE
You may be able to donate old x-rays to people who would get better use out of them. Make sure the x-rays you donate are not ones that are vital to keep. Remove all your personal information from the x-ray and donate to a pre-school or daycare for science displays.
Some universities and tertiary educational institutions may like x-rays for their art and science students.
CRAFT IDEAS WITH OLD XRAYS
Get creative with them! You could make a lot of craft items with the monochrome and holographic film strips. Here are some ideas I found from Fun In The Making. These could make for some fun Halloween crafts!
NIGHT LIGHT – Cover a night-light with a portion of an x-ray. Fun in the making used a creepy head x-ray because of the eyeballs at the bottom. Find idea here.
CANDLE VOTIVE – These x-rays are creepy looking and therefore provide great mood lighting for a Halloween party! Find idea here.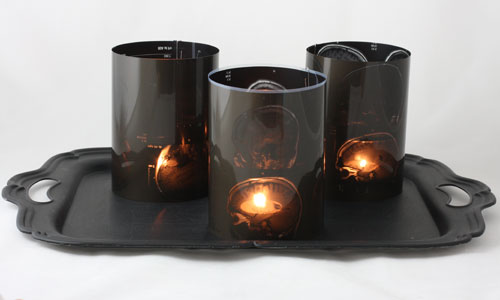 LAMP SHADE – I'm not sure I could sleep at night with this lamp shade, but it certainly ticks the crafty idea box! Find idea here.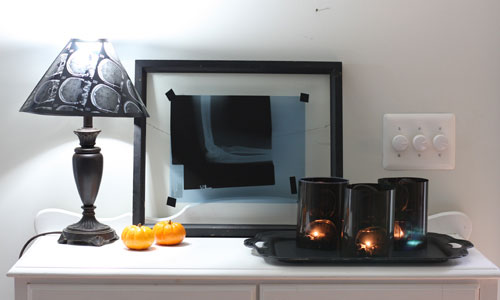 FRAME IT – Cut out a section of the x-ray and put it into a picture frame. It may sound creepy but once it's hung up, it looks super cool! A fun accessory in a kid's bedroom, especially if they are interested in becoming a doctor one day!
STENCILS – Cut out part of the x-rays and use it as stencils for arts and crafts.
The Facebook community commented on a reader's thread and offered their advice. Here are a few of their ideas:
Cut off all personal info and donate to a pre/school or daycare for their science displays. – Kelly 

Ask your local council. – Patricia
Let the kids draw on them in crayon. Fun!! 🙂  – Tarz
Mum used to keep them and turn them into stencils for us. – Emma
Radiology places will accept them & destroy them securely. – Marcia
Before you dispose of them take into consideration what kind of X-rays they are as it's good to keep an early record of certain things. I do know of people who have put their X-rays up on a window or similar and taken photos of them and stored them digitally (with the information associated with it). – Katie
As an injury and insurance lawyer my recommendation would be to keep them – they are golden evidence if anything ever arises later on down the track – obviously we all hope that never happens but it can honestly mean the difference in how claims (be it injury, tpd insurance etc) are managed and paid. – Andrea
They are often used for art and craft, my friend who volunteers at a hospice makes beautiful cut out butterflies from them. – Kris

I used our X-rays as a quirky art mural but it's not everyone's cup of tea. – Barb

Im at Port Macquarie, and a local charity company collect/accept them – I think they can send them to recyclers & get paid minor $$. Contact your local X-ray place & ask them how/where to dispose. – Kylie
What do you do with your old X-rays?