It's week 27 of my Declutter 52 Things in 52 Weeks Challenge. If you haven't signed up yet, join me today as I help you remove all those things in your home you no longer need or use.
If you like to bake like me, you probably have a lot of bakeware! In the process of creating amazing food to feed the family, it's easy to end up throwing clean bakeware back into a cupboard that's already bursting with cake tins and the like. It very quickly becomes cluttered, unkept, and hard to navigate.
This week's declutter task will help whip your bakeware cupboard into shape, making it easier for you to spend your time whipping up amazing cakes, slices, cookies and other treats instead!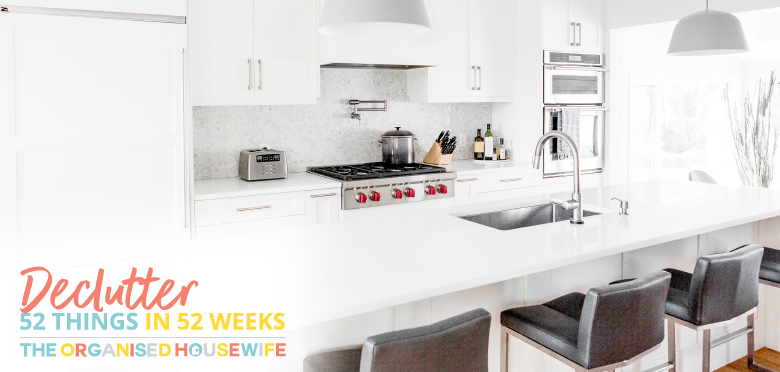 The Declutter 52 things in 52 Week Challenge is completely FREE!! I publish a new task on the blog each Wednesday. Sign up to my daily emails so you don't miss when the next task is live. Alternatively, visit the blog each Wednesday to see the latest task.
Please share a photo of your space each week on Instagram using hashtag #declutter52 and tag @theorganisedhousewife
---
Decluttering Task #27
Bakeware
Bakeware can easily pile up, and end up untidy and cluttered. I like to store all my cooking trays, muffin trays and cake tins on their side. I have a funny shaped cupboard in my kitchen that's narrow and pokey (I think a lot of kitchens have a cupboard like this), and it makes the perfect spot to store my bakeware in this fashion.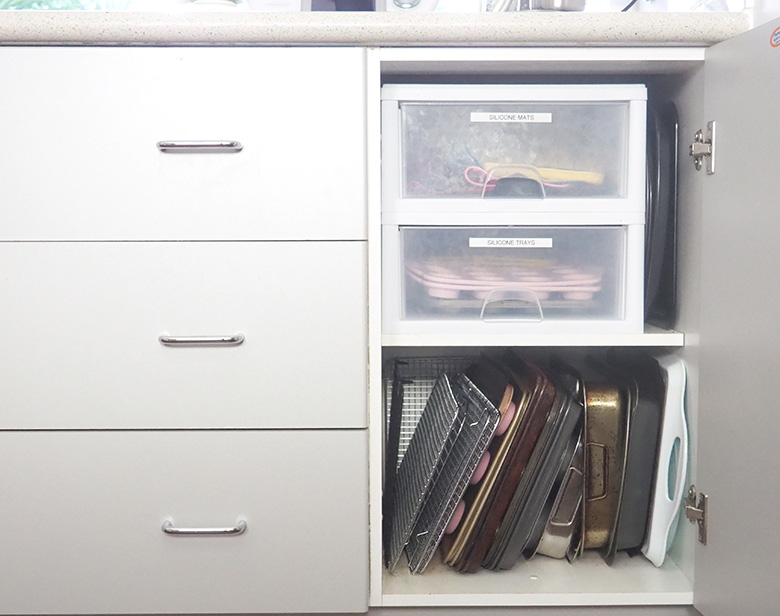 I do have quite alot of baking trays, but this is because I like to bake in bulk (I might cook 2 batches muffins, 3 batches of cookies, slices and scrolls all in one day) and fill the freezer with all the goodies.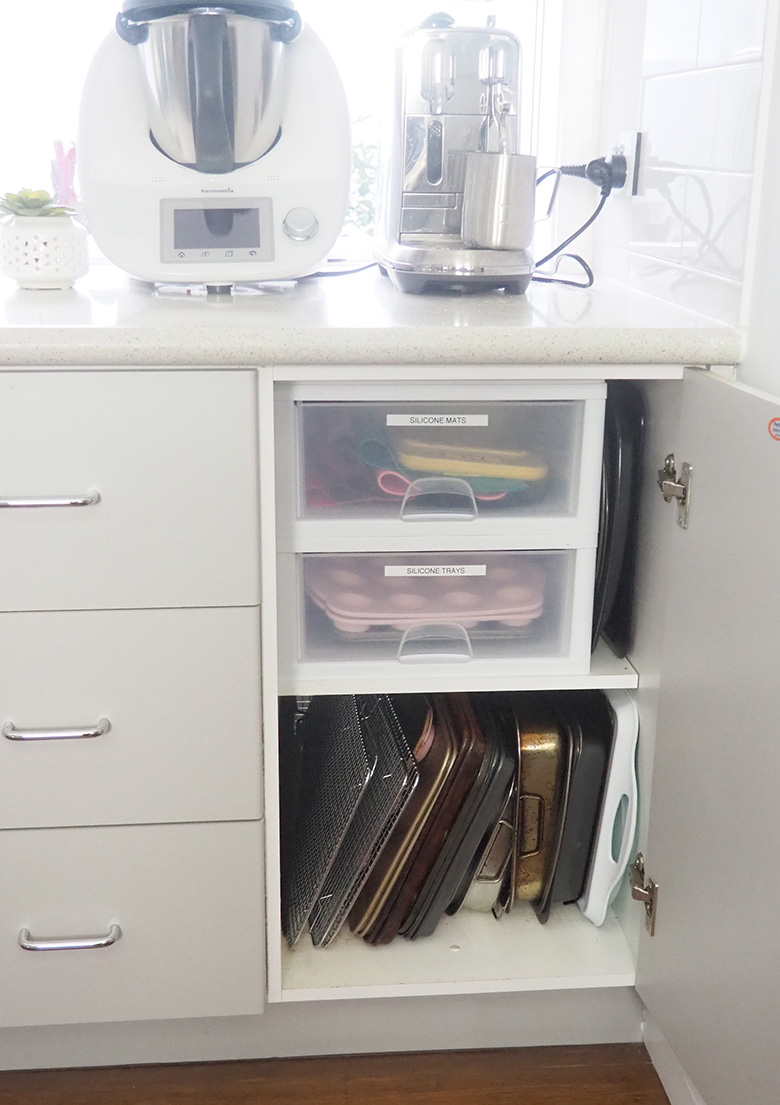 TODAY'S TASK: PURGE AS MANY BAKEWARE ITEMS AS YOU CAN
Note: My definition of purge – sell, donate, repurpose or throw away items as you see fit
Look at your bakeware cupboard or drawer and see what storage solutions aren't working, eg baking dishes not stacking properly, trays piled on top of each other etc.
Remove everything from the cupboard or drawer, and group like items together.
Determine what items you haven't used in over 12 months and consider purging them.
Add any new and/or your current storage products in your cupboard to help you keep it organised.
Place items you don't use often towards the back.
When placing items back into the cupboard, keep grouped items together.
I keep my silicone mats and trays in drawers I purchased from Big W, and labelled them!!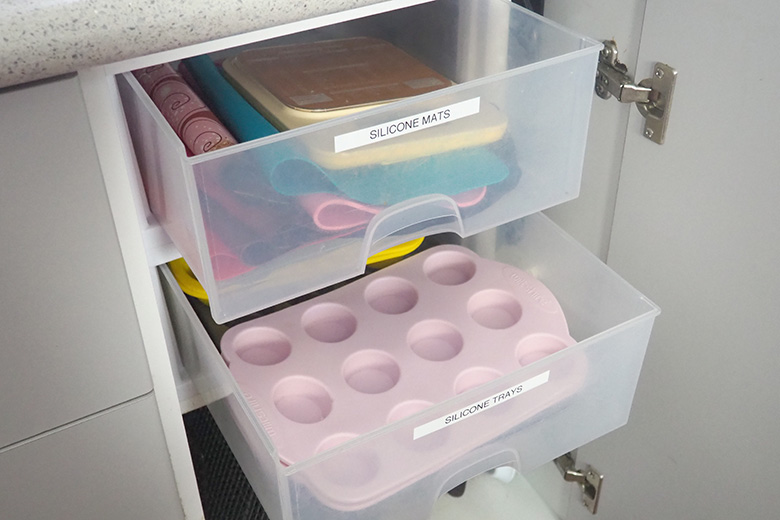 I keep all my mixing bowls, measuring jugs, and the like in a large bottom drawer. I stack similar items together largest to smallest.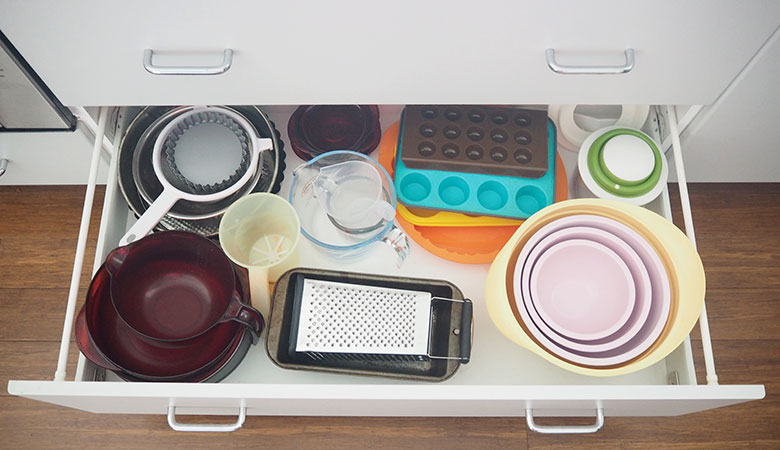 SHOP: Lunch Box Recipes Cookbook – now that your bakeware is tidy, you're prepared for a little baking!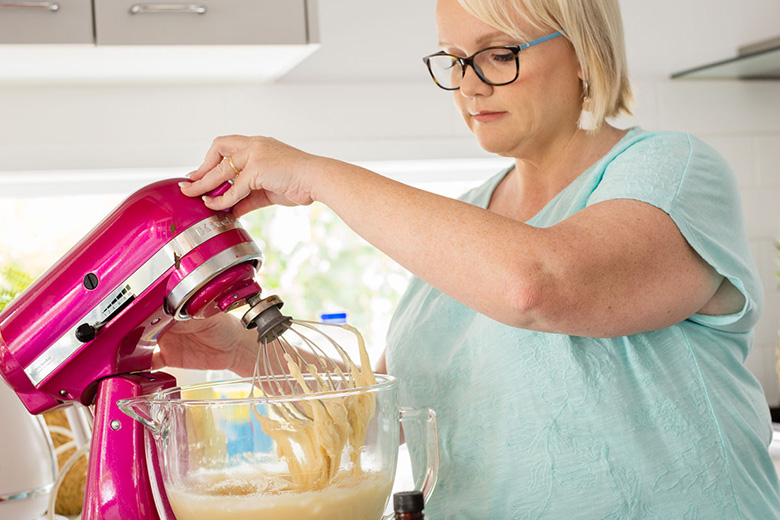 How many items have you been able to purge today?