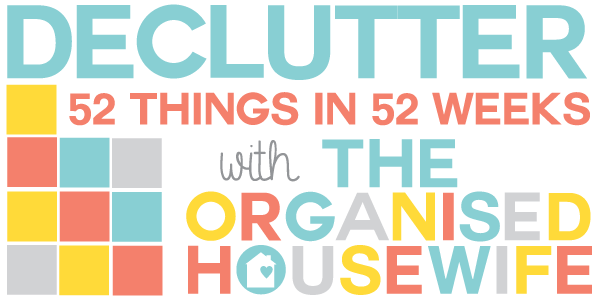 A few years ago I began the Declutter 52 Things in 52 week Challenge, decluttering one item or area each week.  I am really excited to be running this challenge again during 2014.
Whilst decluttering may be an easy task for some, I know from personal experience (with my mum) that sometimes it's hard to let go of items.  This challenge is not a quick declutter of your home, we will take baby steps and purge (donate, throw away or repurpose) one item or one area each week, therefore the task of decluttering your home should not be too overwhelming.

How to follow along
A new Decluttering task will be published on the blog each Tuesday.  I will share a link to the task on facebook and in the Tuesday Daily Task newsletter (subscribe to newsletter here).
Follow along on instagram with hashtag #declutter52

Set your goals
The first step to decluttering is creating goals for yourself.  Where to start, what do you want to achieve, this gives you good reason on why you should participate in this challenge.
Answer these questions (my answers are in CAPS). I'd love to see your answers please copy and paste into the comments below, this will help me to determine what tasks I will run throughout the year.  Together I will help you achieve these goals!!
I want to feel RELAXED while I'm at home.
I want to spend more time PLAYING BOARD GAMES WITH THE KIDS.
I want an area of the home where I can TIDILY STORE ALL MY COOKBOOKS.
I want to organise THE OFFICE first.
I always lose COUPONS FROM THE JUNKMAIL.
I want to be organised by 1ST MARCH 2014.
The most disorganised cupboard in my home is MY CROCKERY CUPBOARD.
Something that I don't need anymore , but am having trouble parting with is EXCESS KITCHEN APPLIANCES.


 Please join the Declutter Challenge, I truly hope that together we can make a difference in your home