Join me in a week of decluttering.  Please comment below if your able to part with today's suggestion, I would love to hear from you.  Are you following the Declutter 52 things in 52 weeks challenge, more info HERE, it's never to late to start!
#19 – Unused Exercise Equipment
Do you have unused exercise equipment sitting around the house?  Perhaps you have a constant pile of clothes hanging over your treadmill?  The Ab Roller you purchased 15 years ago sitting under your bed.  A thighmaster in the back of the wardrobe.   
Think to yourself, are you really going to use this or is it taking up valuable space within your home.  If you hope to use it one day, do not put it off, use it.  I challenge you to use it twice in the next 2 weeks, if you aren't able to do this consider selling or donating it.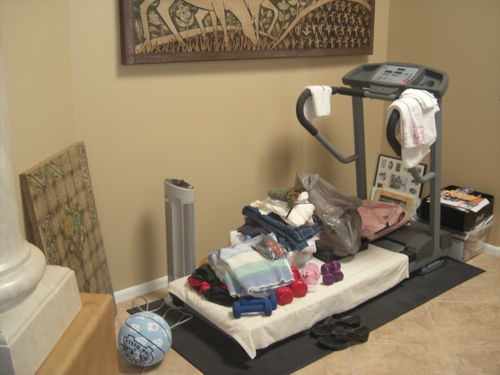 This is one of my favourite songs at the moment.  Not usually my taste in music, but I have found it such an energetic song, when I am on the treadmill I want to jog along rather than walk.  Link to youtube.com clip HERE