What is hiding under your laundry sink? Do you have some bags from a vacuum cleaner you got rid of a few years ago or cleaning products that haven't been used in over 12 months, perhaps there maybe some used light bulbs?
Declutter under laundry tub
Today let's remove 5 things from under the laundry tub that you don't use any more.
My List of 5:
I had an excess of old toothbrushes
Old sponges
Lipstick (hmmm, I can't explain this one)
A mop refil sponge (don't have mop anymore)
Icecream container
Here is what I keep underneath the tub:
Old toothbrushes and my favourite Tupperware brushes, I use for cleaning grout, around the bathroom taps and window tracks (I stocked up on the Tupperware brushes went I left)
Cat shampoo, yes I am a crazy lady that thought I could wash my cat regularly….bahaha, what a joke that was
Shower nozzle to clean cat easily (I can still hear you laughing at me..lol)
Drain-o
Mop/Soaking bucket
Double adapters (in basket under the brushes)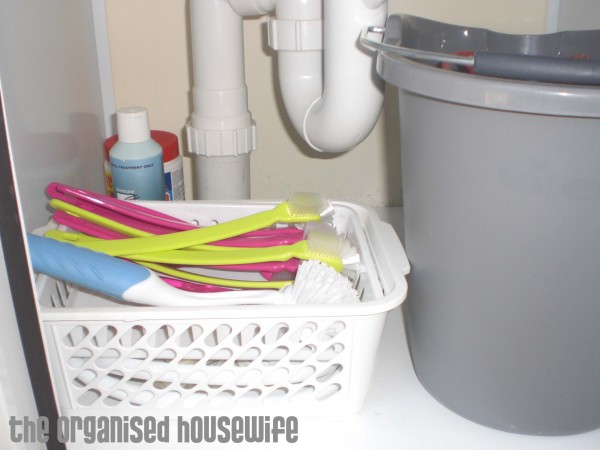 What 5 items have you thrown away?
********************************************************
I'm going to the Aussie Bloggers Conference thankyou to my sponsors – Felton Grimwade & Bosisto's Pty Ltd • Axon Education Centers • Inner B.
READ MORE: How To Organise Under The Kitchen Sink Cupboard