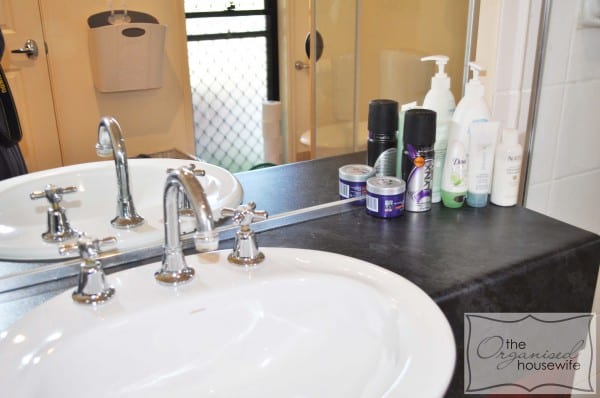 Remove everything from your bathroom cupboard and vanity top, as you are taking them out access:
Is it broken? Old hairdryer, electric toothbrush etc. Yes, throw away.
Do you use it?  No, throw away.
Has it expired?  Makeup, perfumes, lotions etc have expiry dates. Yes, throw away.
Use baskets to keep items organised or easy to access if you have deep cupboards.
Keep surfaces clear to make it easier to clean.
If you have all intentions to use something that you have kept, place it to the front so you can see it and use it.
Below is my bathroom cupboard, it is very narrow and doesn't fit much into it.  These baskets store items I only use once a day or every 2nd day, excess supplies such as soap to refill the dispensers, moisturisers, hairspray etc.  Another keeps travel shampoo and conditioner.  The little set of drawers are perfect for storing nail clippers and scissors, dental floss and razor refills.
As we don't have much room in the cupboards and the drawers are just as bad I keep everyday items on the bench top.  Much to my dislike, as it would be easier to clean if it was clutter free.  But, this is just how it has to be for now.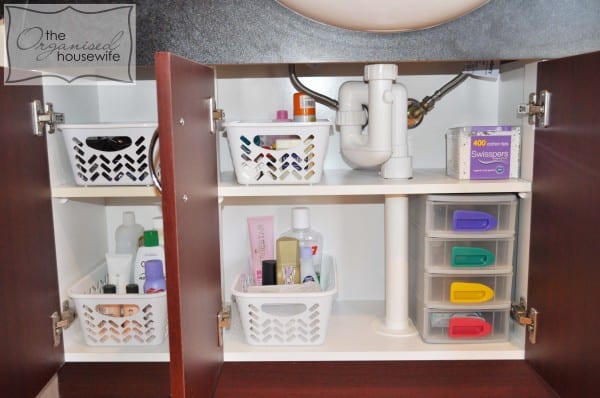 Stay tuned for more tips on how I organise my bathroom drawers