As we are still working in the laundry today we would look through the linen cupboard and declutter some of the excess bedlinens you may have.
Bedlinen
I know we all have our own little gripes about the linen cupboard, it's too small, need more room, too much stuff, storing items in the linen cupboard that really don't belong there. So let's work through it and create an organised area for you. Do you have a linen cupboard that is full of old sheets and towels, when you go to find something you can't find it? How many sheets for each bed to you keep?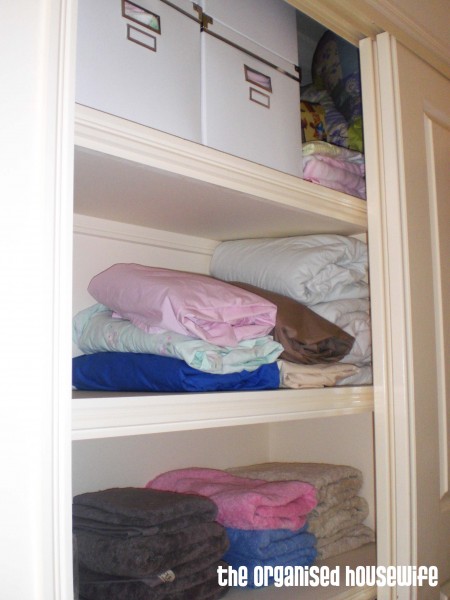 You may also like this how to video on how to fold sheets. View here
Today let's remove 3 items of bedlinen you no longer need or use.
My bedlinen stock pile:
Main Bed:
1 Mattress Protector
2 Pillow Protectors
2 sets of sheets
1 set of flannalette sheets
1 blanket
1 quilt
3 Kids Beds:
4 Mattress Protectors (1 spare for when accidents happen)
4 Pillow Protectors (1 spare for accidents)
6 sets of sheet (1 extra set for each child)
3 sets of flannalette sheets
3 blankets (kept in the top of the wardrobe for winter)
6 quilts/doonas (1 spare each for when accidents happen, and because I can't help myself and like to change this around every now and then)
Guest Bedding:
1 Mattress protector
1 set of sheets
2 Pillow Protectors
1 blanket
1 quilt
This is a reasonable amount of linen. When I wash sheets, I usually take linens off beds, wash, dry and put straight back on beds the same day, saving me folding them. But I like to have a spare set each in case accidents happen or it's raining the day I wash the sheets.
I keep the winter flannalette sheets boxed in the top shelf of the linen cupboard.
My list of 3 to declutter:
Cot sheets I was holding onto for kids to use at kindy (they are all at school now)
2 Pillow cases I found left over from my recent donation to the flood victims (sorry to the person that didn't get a complete set 🙁 )
I also donated a month or so ago some old sheet sets
What is on your list of 3?
And how I organise the linen cupboard. View here