This is a guest post by Alyce from Blossom Heart Quilts
A couple of weeks ago, Katrina shared my Project Life organisation on her Facebook page. It sparked many questions about what actually is Project Life and how to do it, so Katrina asked me to share a bit more about Project Life and what it's all about!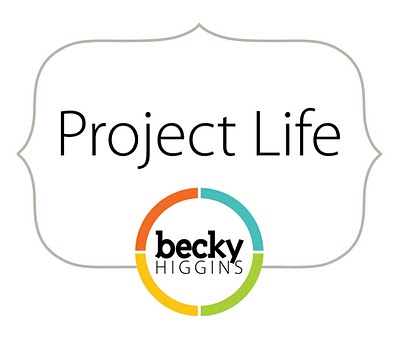 Project Life by Becky Higgins is method of recording memories in a way that is similar to scrapbooking, but simpler; and in a way that is similar to photo albums, but a bit more fun! Watch this video for a fun introduction to the memory keeping system.
The most important thing to know is that it can be anything you want it to be. For me, this is quick and easy with a dash of fun embellishing to keep my creative heart happy!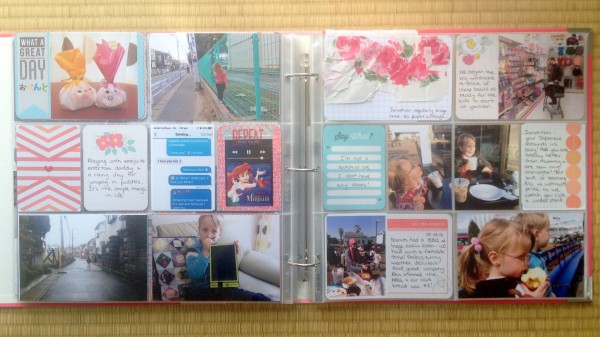 This is an average spread for me. Lots of photos, some journalling to record the memories – the important, the special, the ordinary, the funny – and a bit of embellishing with some stickers and some memorabilia from preschool. I've always loved stickers, and now I have a reason to use them! To keep up to date, I need simple and organised.
Simple: I always have my iPhone on hand, so I only use photos from my phone. This means they're not perfect photos, and the place that is easiest for me to get them printed is certainly not the best quality of image either. But that's ok! The important thing is that I'm doing it. I am printing off photos, journalling the memories of our time in Japan, and having fun!
Organised: Each week, I go through me and my husband's phones, jotting down the photos I want to use on my simple Project Life layout planner. I then print my photos when I'm next at the shops then let the fun begin!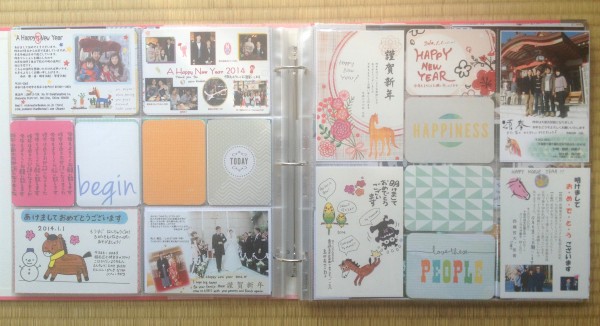 Keeping a handful of special nengajo – Japanese New Year cards
The second thing you need to know is that you can begin whenever. It does not have to be from January 1st! I started in November last year, and have kept up with a week per spread, with the occasional extra pages for special occasions like Christmas and birthdays.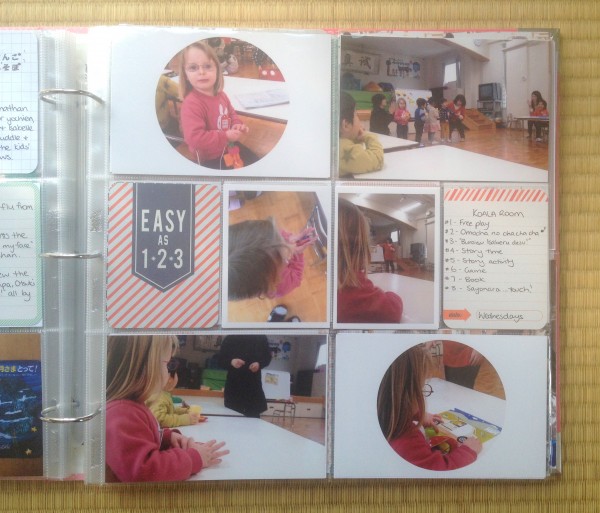 Using A Beautiful Mess app for photo collages
The final thing to know is be yourself. Once you begin looking around online at various Project Life blogs, spreads and Pins, it is easy to get overwhelmed, jealous or to lose your focus. While I really admire clean, white and bright albums, that simply isn't me. For starters, my life isn't like that anyway! My Project Life album reflects who we are as a family and where we are in life at this point in time. Make your album a reflection of who you are creatively, and more importantly, of your family!
You can see all my Project Life posts on And Sew We Craft.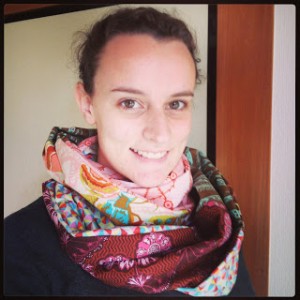 About Alyce from Blossom Heart Quilts
My little family and I are living it up in Japan for 3 years while my husband has a job here. So I'm looking after our kidlets, teaching a little English and enjoying the quilting time that our quieter lifestyle now allows! In between eating sushi, fabric shopping and going for bike rides that is.
Find our guest: Blog | Facebook