What do you get when you mix a girls love for crackers, dip and succulents? This succulent DIY project was super simple for a drill novice like me, and the end result is so cute!!! D.I.Y. is so much fun!!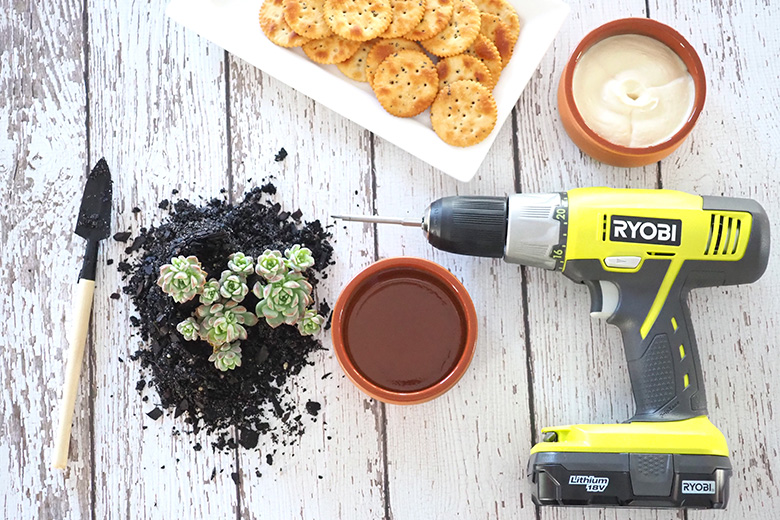 I created this project in collaboration with Workshop.com.au. This is a great site where like-minded people chat about their D.I.Y. projects and ask for advice from others. It's fun to be a part of an online forum where you can have a conversation with people of similar interests, get ideas and share your projects.
I'm heading up to Bunnings Keperra (SE Qld) at 10am this Saturday where the online community Workshop is going to be brought to life! The team will share their extensive D.I.Y. and gardening experience, answer questions, share tips and tricks, and run hands-on demonstrations between 10-12pm. I'm super keen to see the D.I.Y. pallet vertical garden project! Let me know if you're going to be there, please find me and say hi!!
What you'll need:
A terracotta dip pot
Tape
A drill, with an 8mm Glass and Tile bit
Cactus and Succulent soil
A cute little Succulent
Bottle of water
Chopping Board
Old towel
Gardening Tools
The process:
1. Eat the dip! Chris' Heritage range dips (although a little expensive) comes in sealed terracotta pots which are perfect for repurposing!  However, they need a drainage hole to turn it into a pot for plants.
2. Put a chopping board and towel underneath your work area.
3. Place some tape on the bottom of the pot over the area you want to drill.
4. Have on hand some water to pour onto the pot, pour some onto the pot ready for the drilling process.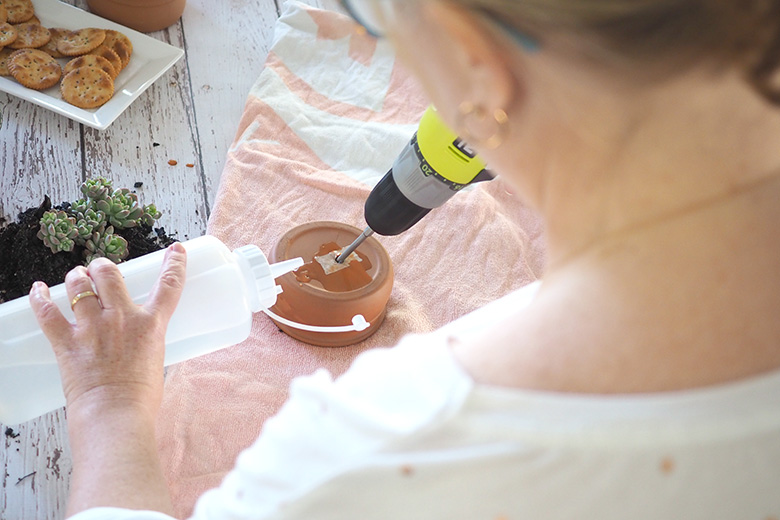 5. Using a drill with a 8mm glass and tile bit, start drilling your hole over the taped area.
6. Continue adding water to keep the area wet.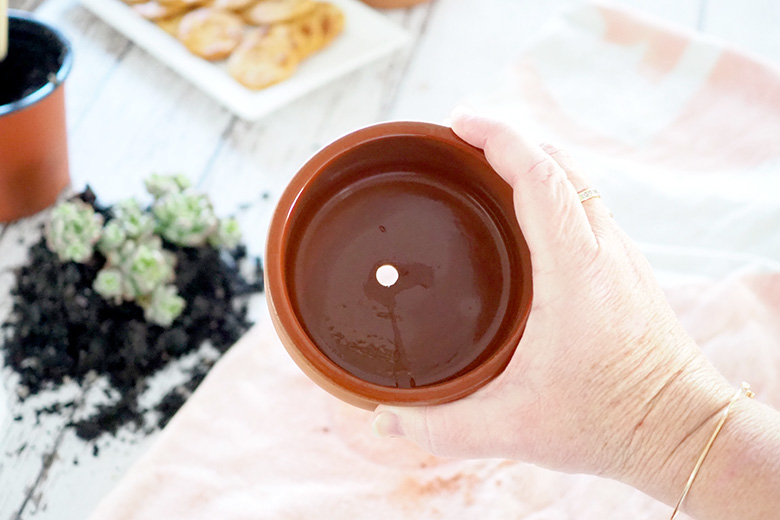 7. Once you have your drainage hole, fill the pot up with some cactus and succulent soil and a little succulent.
8. Using little gardening tools, clean up the plant.  I have a 14 piece succulent garden hand toolkit that has miniature shovels, snippers, brushes etc specifically for this.  I showed my tools on Instagram stories a few weeks ago and I received quite a few emails about the kit many requesting a kit that I have purchased a few to stock in my shop.
  Read more or order: Succulent Garden Hand Tools Kit.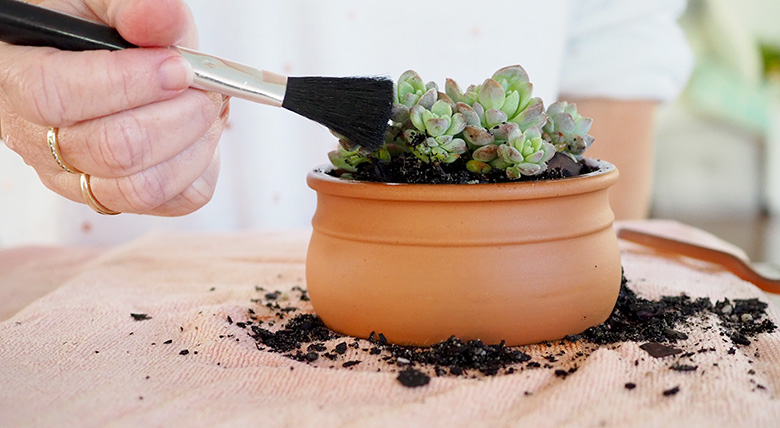 9. Add pebbles around the succulent for added decoration, I'm using the little shovel from the kit to get underneath the succulent without it breaking.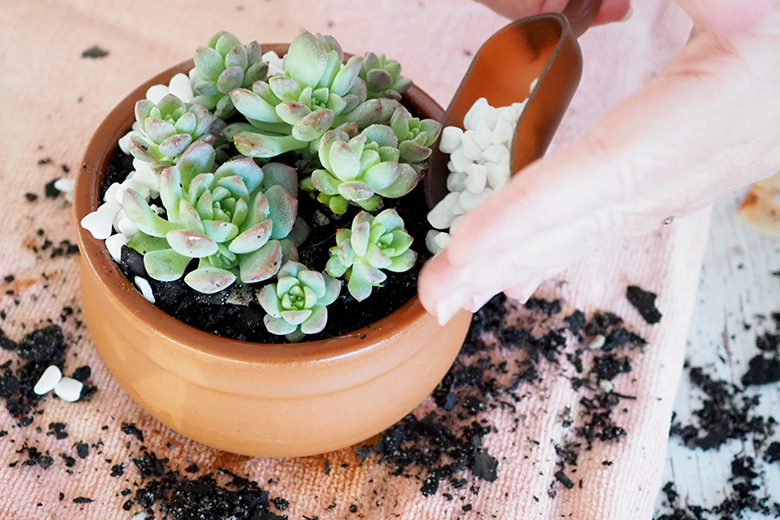 How good does this look!!  You could also paint the pot if you wanted too.  I love my little succulents.  I started with one a year ago and now have quite the collection.  I really enjoy getting outside and pottering around watching them grow!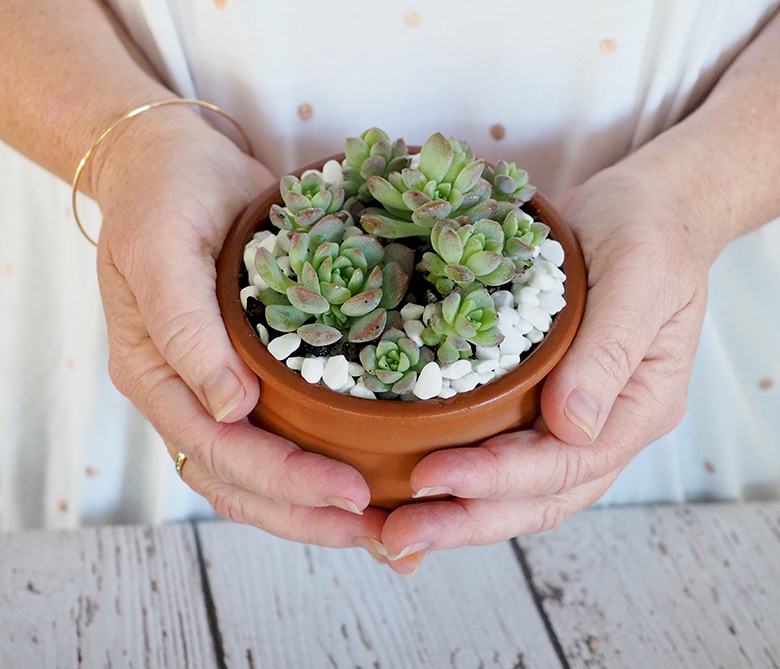 Have you repurposed these dip post?  What have you created with them?