Over the school holidays I had the crazy idea of giving my craft room an overhaul, I say crazy because it took longer than expected.  I had been procrastinating about it for some time.  For a few reasons:
I inherited some of mums quilting and craft supplies which didn't fit into my already full cupboards
I needed more storage space
Deciding what storage was a really big decision, did I want cupboards, drawers, open shelves
I think mostly the big halt to me not organising this room sooner was the emotional thought that I am adding my mums supplies with mine and the reason why I am doing it.  Wish I didn't, wish she was still here to use it all with me.
I'm embarrassed to show you the room, but I want to be real with you.  I'm not perfect, but boy this room did get my spirits down, I hated looking in there.  I am so glad we gave this room an overhaul.
Before I left for Ikea I put some of the items in this room on Gumtree, it only took me 10 minutes to list several items using the iPad.  Before I got to Ikea I had messages for enquiries for most of the items, they were picked up the same day !!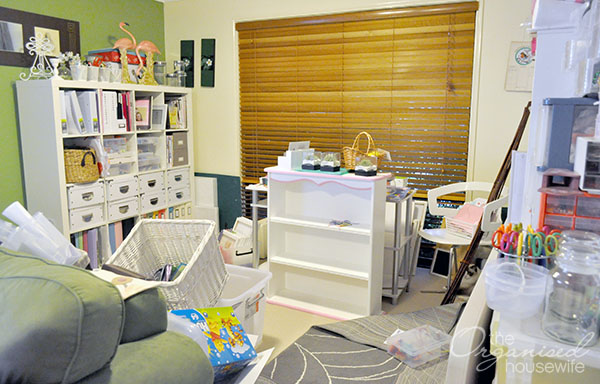 I gave my dad our old units which he has used really well in his garage.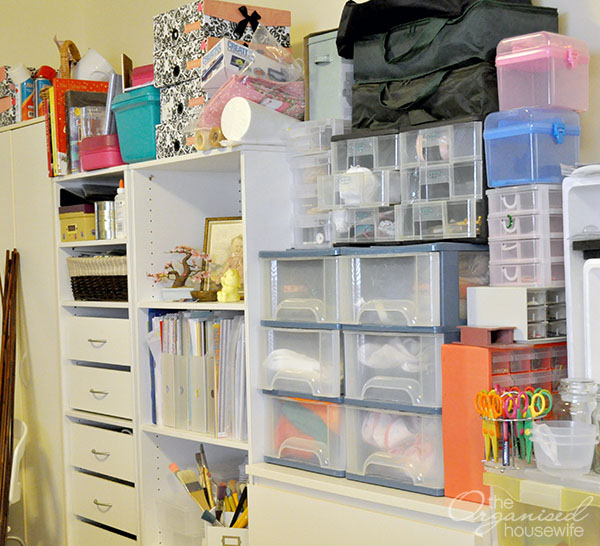 Steps to organising my craft room
1. Decide what storage is needed
My craft room originally had one Ikea expedit unit, a few cupboards and drawers. Then I added to it with some plastics drawer systems that mum had.  As I didn't have much space these were just placed on top of the only tabletop bench space I had in the room, as you can see in the photo above.
Having my supplies out in the open cabinets such as the expedit and the plastic drawers on top of the drawers I felt made the room look untidy.  Being that my craft room is in the front room of the house, in a room with no doors it's on show, so  I wanted to find storage solutions that I can keep all my supplies behind closed doors. Initially I was going to change the expedit down the track, but as you will read below I changed my mind on day 2 and decided to overhaul the whole room.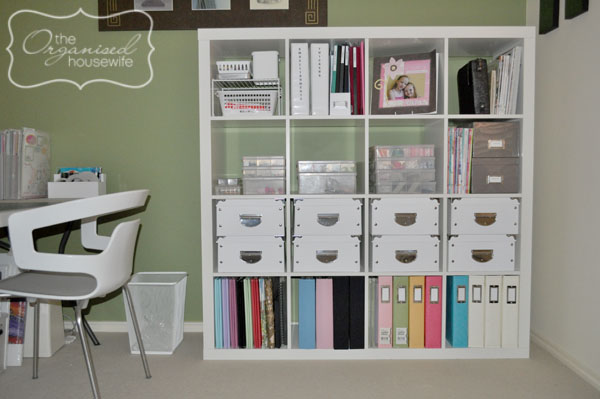 I love the expedit (shown above, when the room was tidy), but I knew there was a better solution for this space (I moved this unit into our office)
My girls each have a sewing machine (my mum spoilt them, she was teaching them to quilt) and I have one and an overlocker.  So I wanted cupboards that were deep enough to put them in.
I also wanted drawers to help organise all the little bits and pieces that crafters acquire.
2. Find a unit within budget
I initially found units that would suit at:
Masters – Module system – was similar to what I initially had
Bunnings – Bedford range – you can create a unit exactly how you would like, but rather pricey
Ikea – Pax System – I loved this system, as you can choose from many different combinations, the drawers were deep.  I planned out exactly the units I wanted.  But then my clever husband said I should check the  minimum height needed to install this unit.  It is 244cm, our ceiling height is standard 240cm.  I was devastated, only 4cm shy, but moved on to find something just as great.
Ikea – Besta system – this is the system I ended up with and I love it.  You can choose from many different size combinations, open shelves, add cupboard doors and drawers.
3. Get your unit
Now I was heading to ikea so I had to have my plan in place before I left, otherwise I would be easily sidetracked with all their goodies.
Create a shopping list.  Writing down how many drawer fronts I need, cupboard doors and the width of the unit.  I was able to get all the details of which aisle and section they were in from their website, which saved a lot of time.

Ensure you have enough room in the car to bring it all home
If you are going by yourself make sure you visit the shop when they have customer service members working to help you load the car (at our Ikea they don't start till midday).
Visit the area that displays the unit you are wanting.  Get the customer service members to confirm the unit and items you are wanting are correct to make the complete unit you desire.  Don't forget to add little items such as door handles to your shopping list too.
When home, if your impatient like me, start installing!
4. Installing unit
Installing the unit took a few days for me, as not all drawer fronts were in stock, so I had to go back the next day to pick them up, only to find  the quantity I needed was not in stock again, despite being told the day before they would, I spoke to the customer service team and they kindly got them all in for me to pick up the following day.  While I was there I purchased a small extendable table for the middle of the room.  So, 3rd trip up I got all the drawer fronts and decided to purchase another unit (to replace the expedit). Day 4 I had to go back to Ikea because the unit I purchased the day before was damaged.  Again customer service was really lovely and looked after me well considering I had been 4 times in 4 days.  All credit given to their service team.
Make sure you have ample space around you to build the units and I recommend doing it all on carpet so you don't damage the furniture.
5. Move it all in
I removed everything from the old units, then moved the old unit out of the way and move the new units in.  Then the fun part is organising all beloved items onto the new shelves and drawers.
I found it easier to organise without the cupboard doors on as I changed my mind where things went and it was easier to do with no doors.  Installing the doors was the last thing I did.  I did have to move some items from shelves so the hinges could be drilled in, but that wasn't too much trouble.  We did have some trouble getting the cupboard doors to align.  Hubby googled it and found a solution.
The reveal – I love it!!
I added Besta units on both walls on the left and right of this photo.  I put the expedit unit that was on the wall on the left in the office and put the shelf that was in the office next to the Besta unit on the left.
The unit on the left is 2 Besta units (1 single and 1 double), with a half cupboard and standard cupboard on the bottom of each.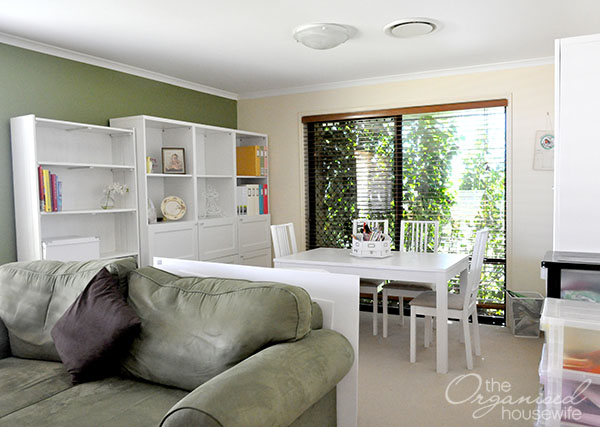 Below are 2 Besta units together, total of 16 drawers and 4 large cupboard doors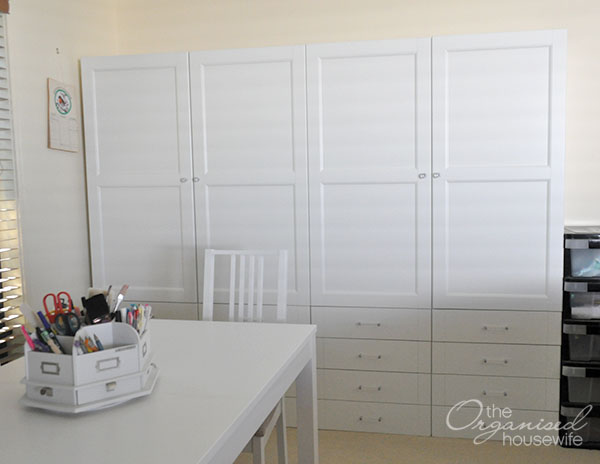 I wanted some open shelves in this unit to display a few of my mums treasures some books (which I am yet to add).  Unfortunately my Scrapbooking albums don't fit in the cupboards so they will have to live on the shelf.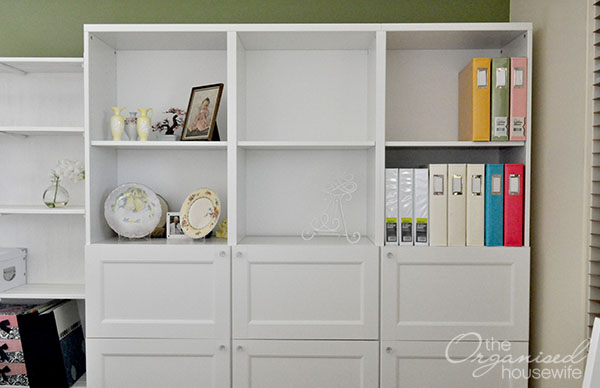 I got this small extendable dining table for the room.  Prior to this I was using a trellis table, which was uncomfortable to sit at.  I chose an extendable table for when the girls have friends over or when we start to work on their quilts so there will be plenty of room.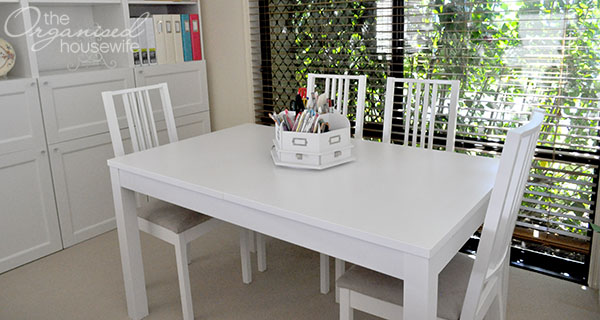 These are my scrapbooking supplies inside the cupboard.  I love that doors can hide all this away now.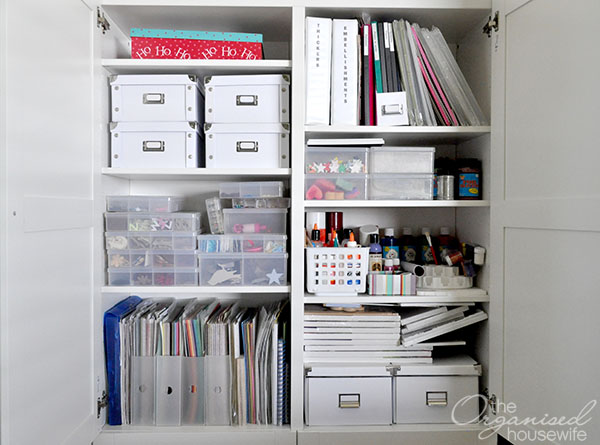 Still on my to-do list:
I'd like to paint over the green wall.
I share this room with my husband, the other half is his man cave.  He is a big kid at heart and loves his Xbox, TV and V8 racing car models.  I'd like to overhaul this part of the room too and put Besta units all around.  Besta have glass doors which would be perfect to keep the dust off the model cars.  But this is a dream….. maybe in another few years.
I still have more sorting, time got the better of me and I haven't been able to add everything into the drawers yet, but I'll get there!

 Units – Ikea Besta System
Dining table – Bjursta from Ikea
Dining chairs – Borje from Ikea
Scrapbook albums – We R Memory Keepers
Carousel on table – no longer available for sale
Scrapbooking paper storage – Cropper Hopper Paper Holder
White boxes in cupboard, from Ikea and Woolworths
Clear containers in cupboard, from Bunnings and Kmart
Disclosure:  This is not a sponsored post, I purchased all items myself