I love Easter, the kids and I spend time together cooking yummies and crafting, which is creating many beautiful memories. I've shared quite a few craft ideas over the years here on The Organised Housewife.  I have found some more really fun easter crafts for kids floating around the web, my favourite would have to be the Easter Bunny Photo, it's so sweet and I am sure grandma would love to recieve it as a little gift.  These ideas are sure to inspire you!
Fun Easter Crafts For Kids
Cute Sock Easter Bunny, tutorial from We are Scout
Easter doesn't have to be all about chocolate – skip the sugar rush (and the aftermath!) and give the kidlets these sweet little Easter bunny softies. Start with a pair of baby's cotton socks, follow the tutorial, and with a bit of hand sewing you'll have handmade gifts in no time.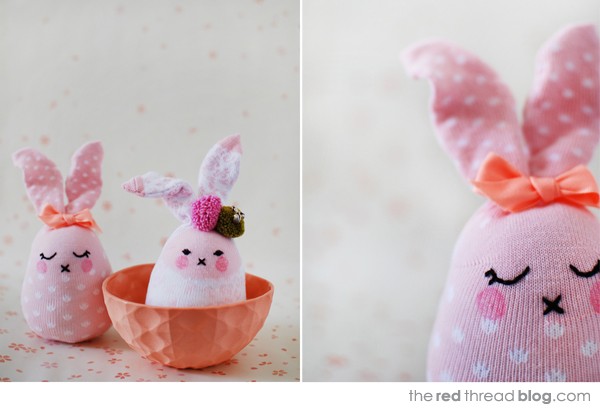 Sharpie Easter Eggs, put dots around an Easter shaped sticker, tutorial can be found at Cutesy Craft.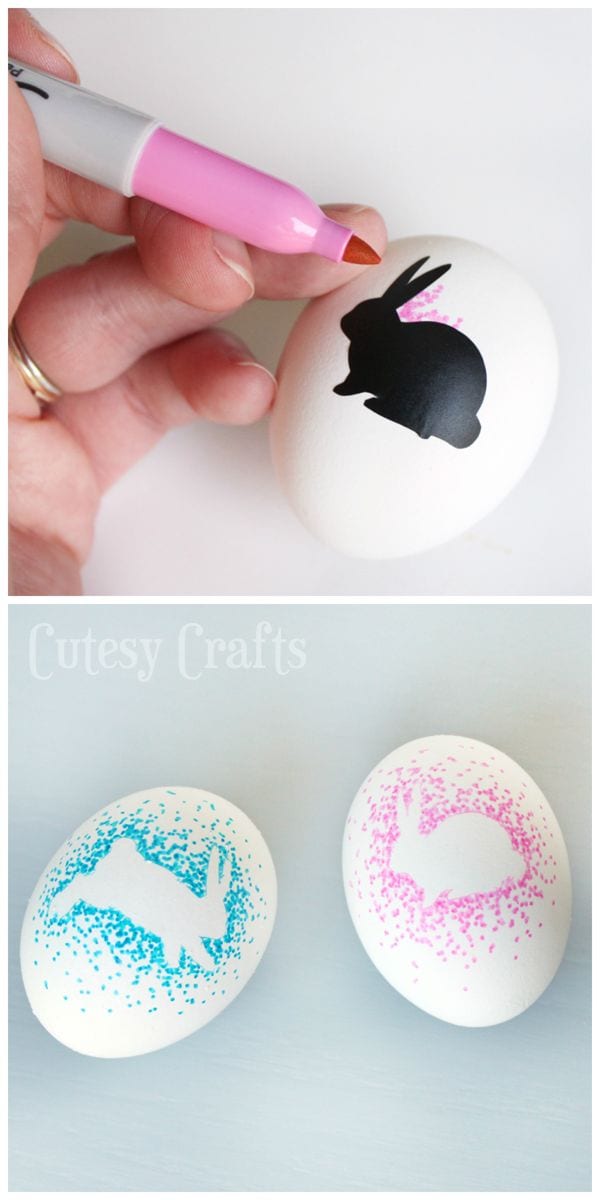 Easter Bunny Shilhouette with Pom Pom Tail, tutorial available here.
My girls had alot of fun making this little bunny with it's cute little pom pom tail, was a great wet weekend craft idea.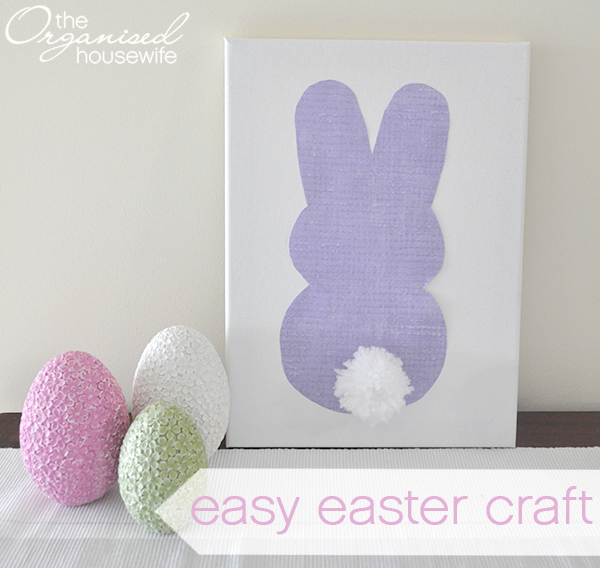 More Shapie Egg ideas, steps found at mom.me
Start by hard-boiling your eggs—they're easier for little hands to hold this way, and are also more egg-hunt friendly.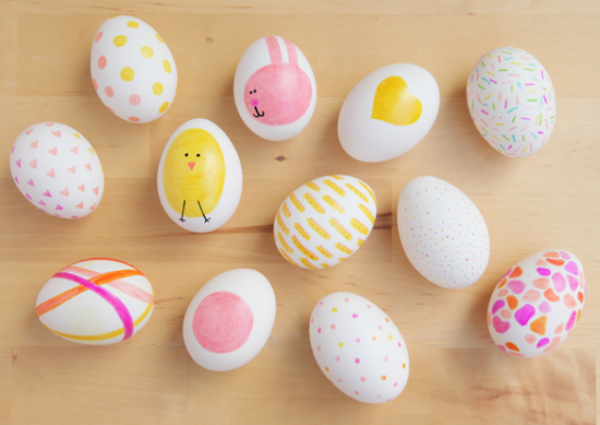 Easter Egg Tree, tutorial at Sweet Floweret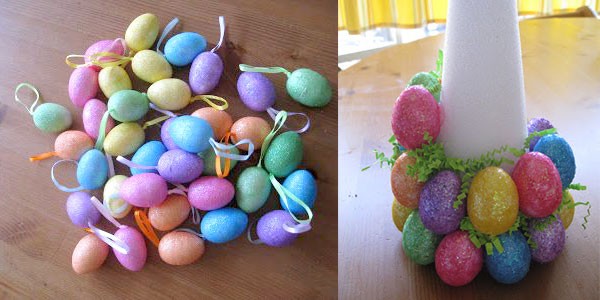 Easter hand and footprint print, image credit unknown.
This is a gift that many family members would love to receive, how sweet would it be to see a line up of these over the years to see how the kids feet and hands have grown.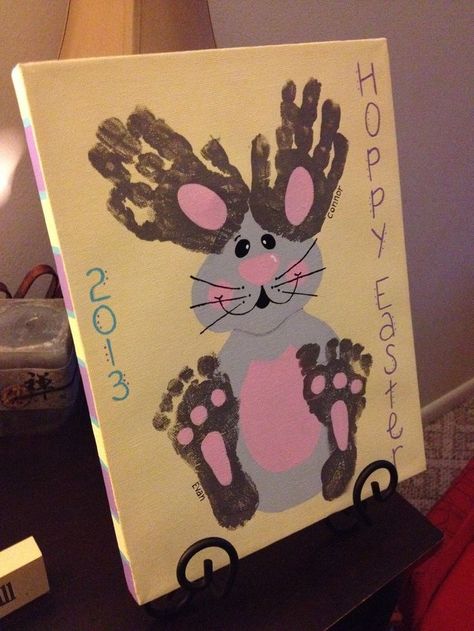 Easter Candy Pouches, tutorial available from Simply Modern Mom
It's so simple to make and you probably already have the supplies at home.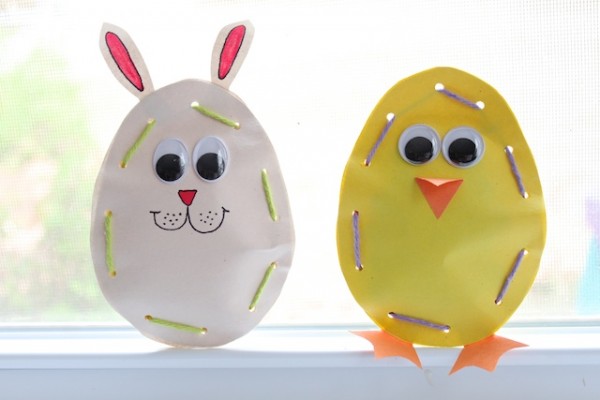 Easter Egg Collage, image credit unknown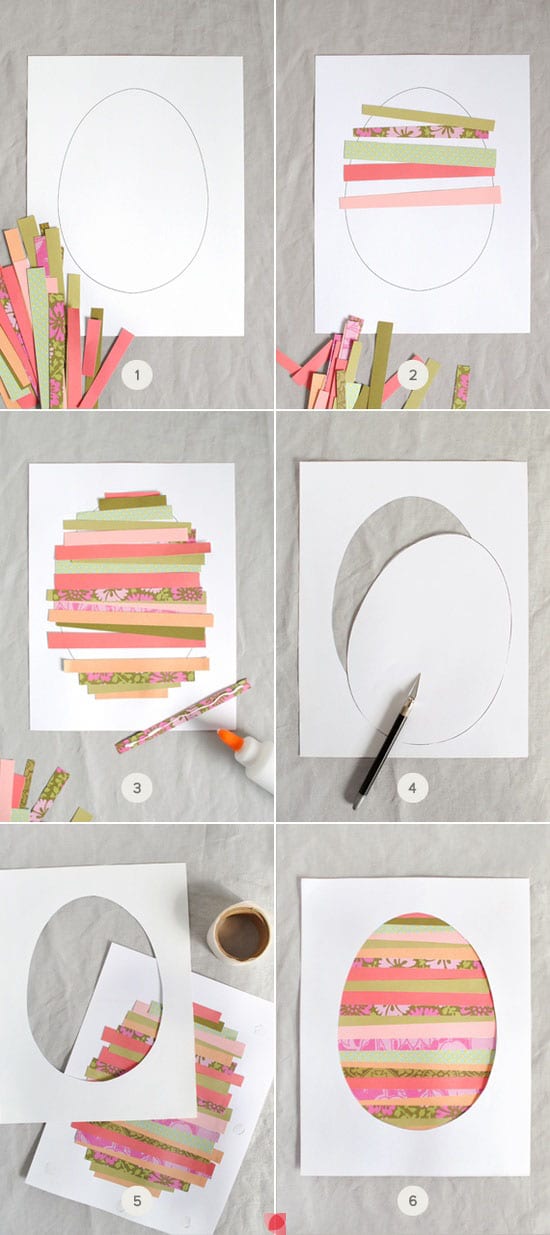 Easter bunny photo idea, image credit unknown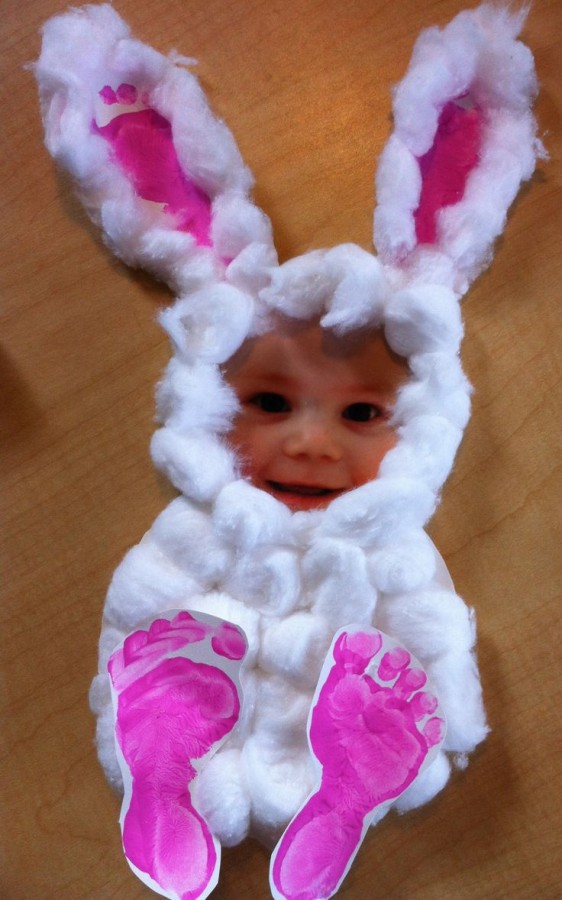 Easter Egg Suncatchers – tutorial available at Buggy and Buddy
Here's one of our most unique Easter crafts for kids- egg suncatchers made with painted fabric. Kids love the experience of painting on a canvas other than paper, and the painted fabric looks so beautiful hanging in a sunny window!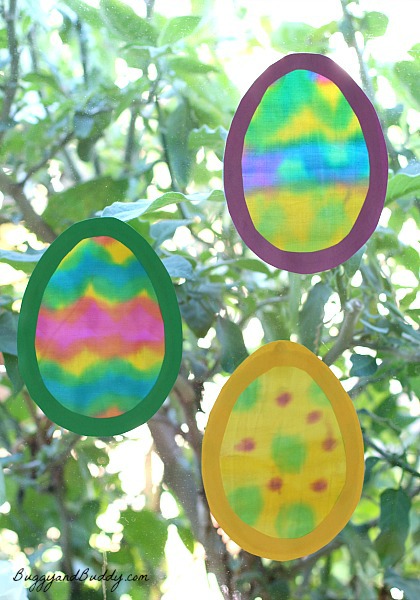 Coffee Filter Bunny – step by step guide at Kids Craft Ideas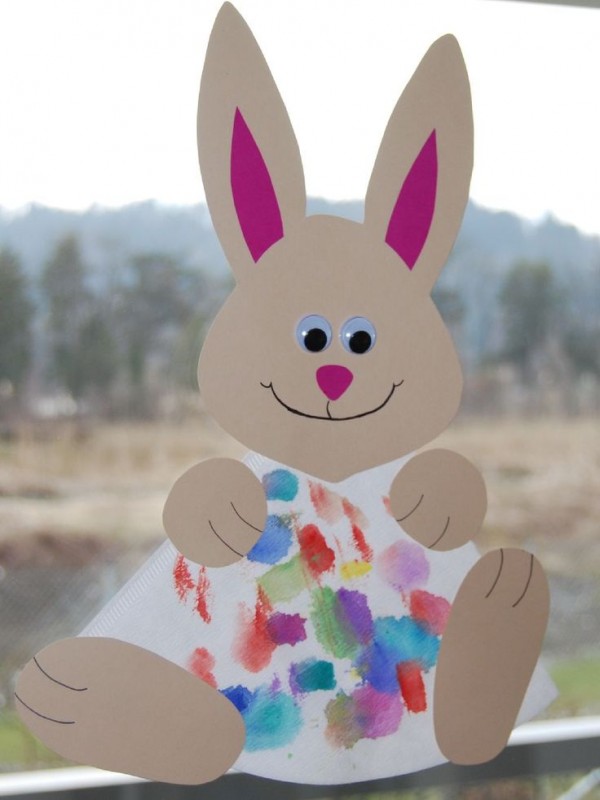 DIY Bunny Basket, instructions at Mer Mag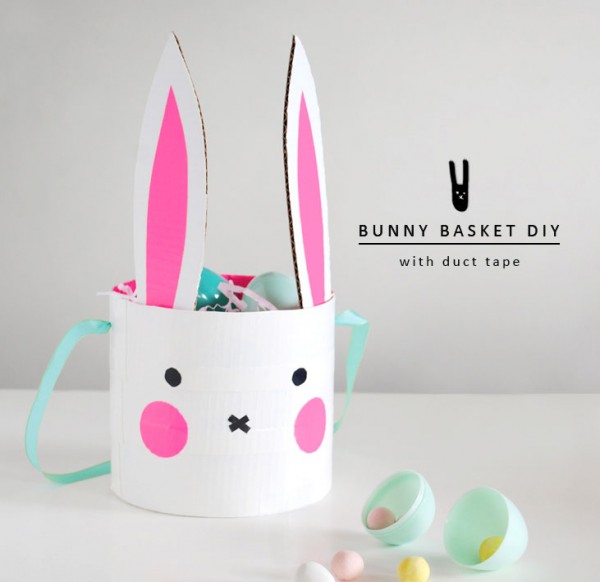 Easter Egg Potato Stamping, idea found via Crafty Morning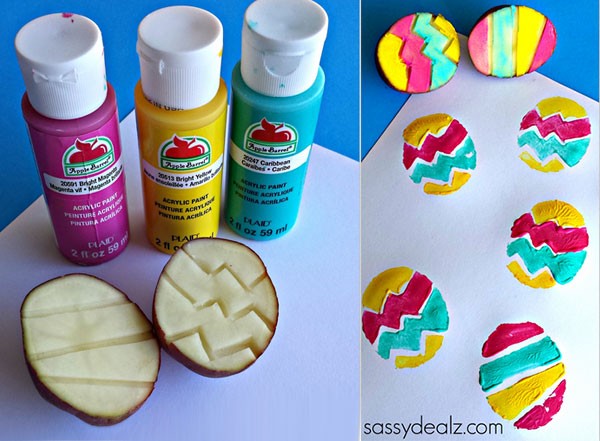 Stamped Bunny Craft, idea found via I heart crafty things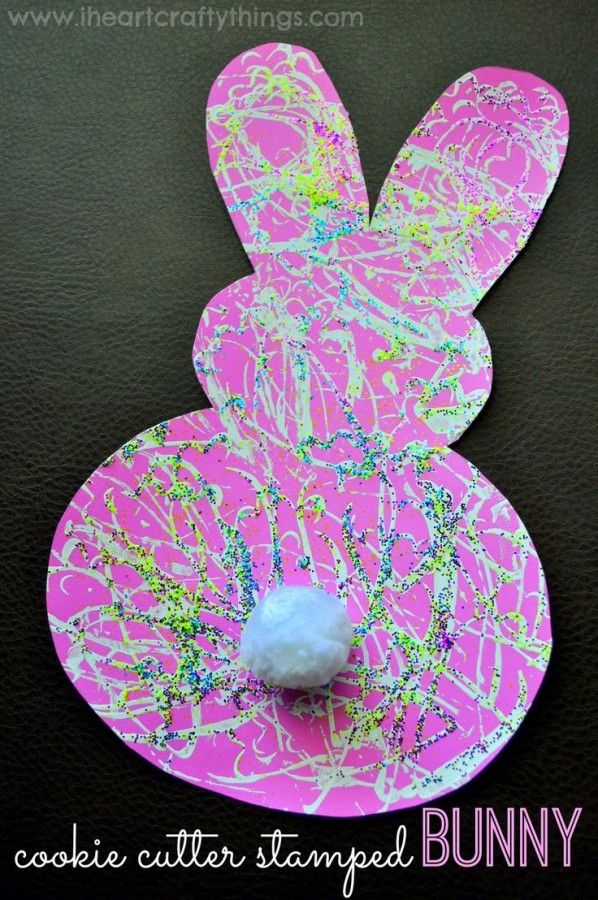 Magic Easter Eggs – Hatching & Foaming, tutorial at Fun at Home with Kids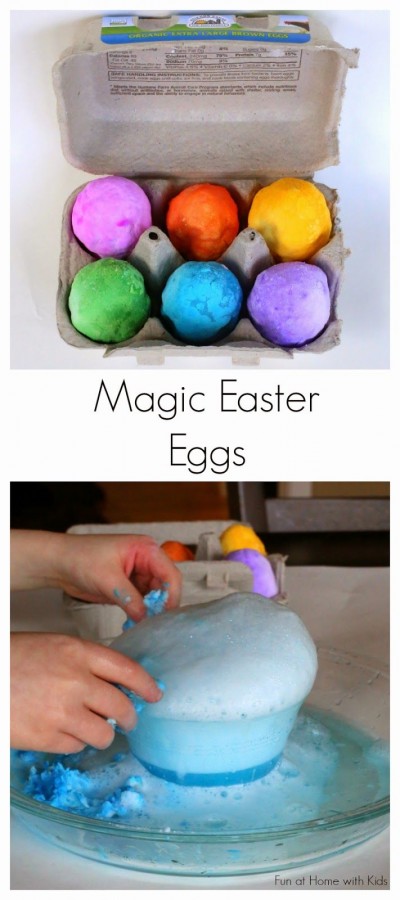 I hope you enjoy making some these these fun easter crafts for kids