Last school holidays my youngest daughter was looking for an art project to do and wanted something that she could create for herself as a little encouragement tool to use to cheer herself up when things got tough at school, like exam time or just simply because she had a bad day. She searched Pinterest and came across an idea of making these positive sticks, which are such a clever idea really. The concept behind this act of creating these positive sticks is actually a very important one!!! They address anxiety issues that many kids and adults suffer, and these sticks are a way to feel better when you are down. I honestly don't think that there is enough awareness in Australia about anxiety, and I think I will eventually address this topic more in depth in the future, but for now, I want to share with you her "Positive Sticks Craft Activity".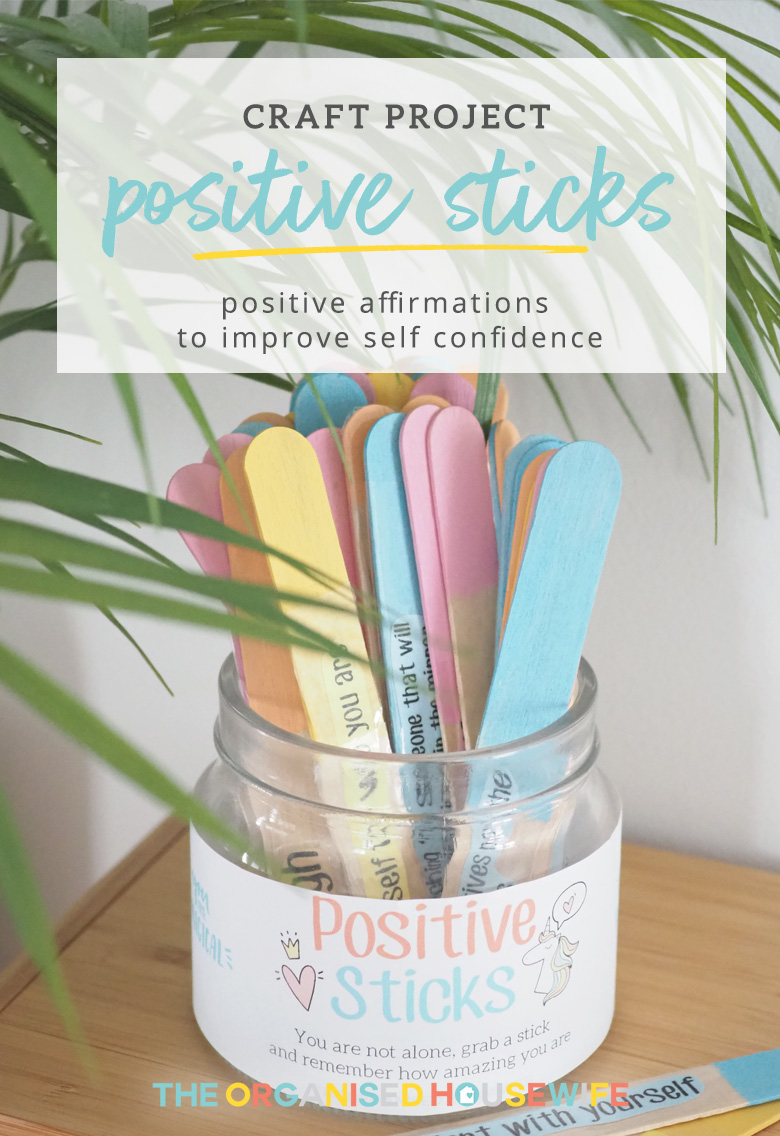 The way they work is that you make the sticks all pretty, and put them into a jar or box, and write little feel-good messages on each stick that you know will make you smile when you read them back.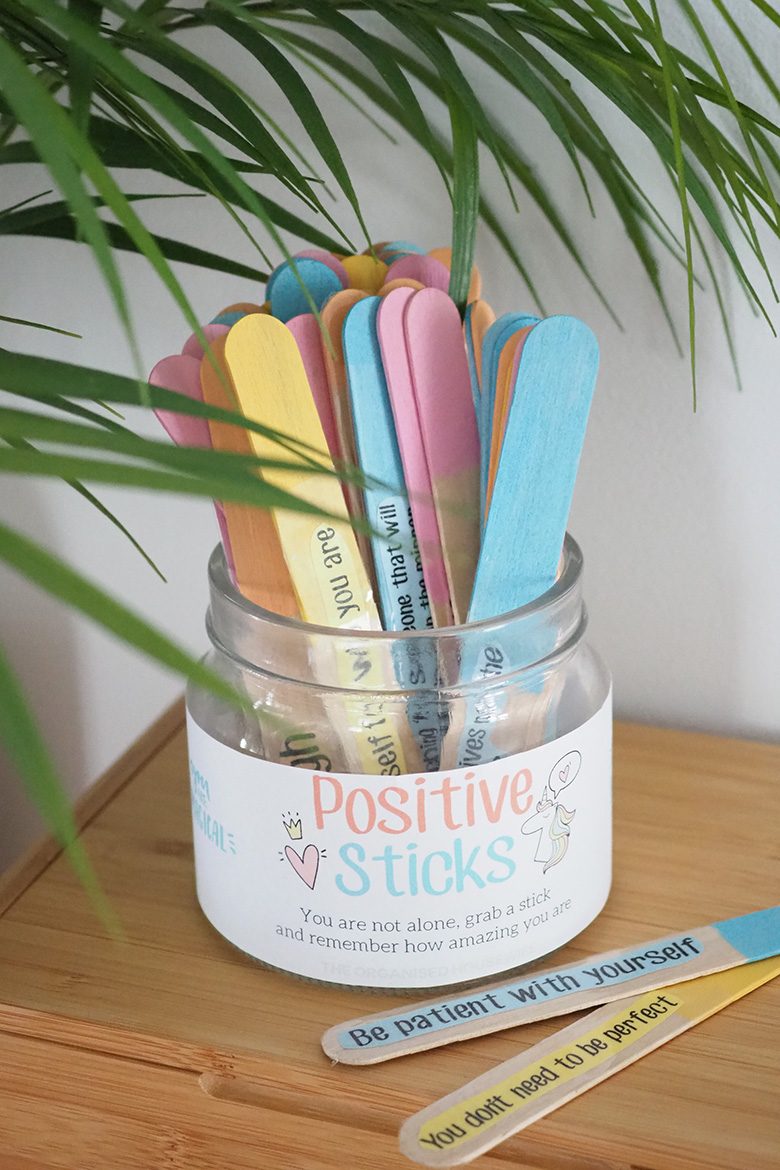 Once you've done this and they're all stacked into the jar or box, you can read one affirmation every day.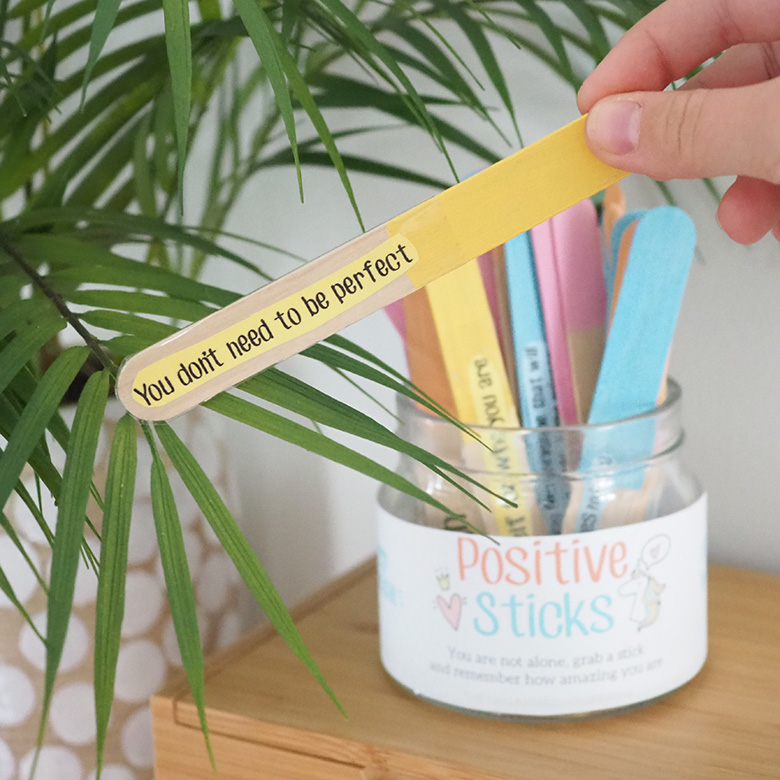 Or, when you're having a bad day and just feel low, without looking, you pull one of the sticks out and read the little message that are written on them, and it should make you smile.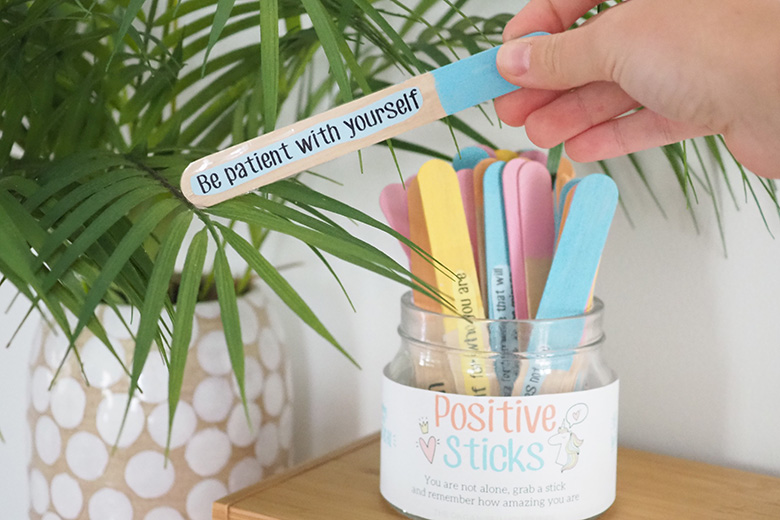 My daughter sat down and wrote this list of affirmations and what she wanted them to say. The end result was so lovely that she has allowed me to share the file. My miss will be earning a few $ from each sale. 
  READ MORE: Positive Stick Affirmations
Craft Project: Positive Sticks
These were so quick and easy to make, and they're also the perfect craft for your kids or yourself to create – they would even make a great gift!
You will need:
Positive Stick Affirmation Labels – file available here
Paddle Pop Sticks – large variety
Jar – large enough to hold a big handful of sticks
Steps:
Download the Positive Stick Affirmation Labels file.
Paint sticks (optional), and allow to dry.
Cut out the affirmations.
Stick, tape or glue the affirmations to your paddle pop sticks (we used packing tape).
Add a label to the front of your jar.
Place sticks into your jar.
 I think that we all need a little inspiration from something like this from time to time. What's your favourite affirmation?