Hello! I'm Lorelei from Craftsmumship and today I'm guest posting here at The Organised Housewife with my tutorial on how to make these oven bake clay Gingerbread Men Christmas Decorations. Hopefully it will inspire you to create and personalise some of your own ready for your Christmas tree or even as a gift tag.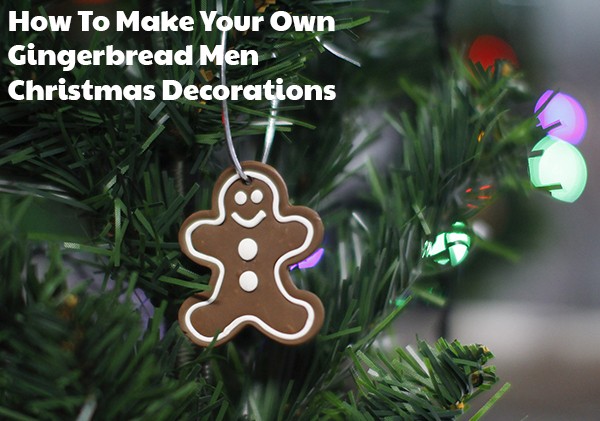 SUPPLIES YOU'LL NEED –
brown and white oven bake clay e.g. Fimo or Sculpey
selection of gingerbread men cookie cutters
small rolling pin
fondant smoother (optional but very helpful)
modelling tool, knitting needle or pen
thin braided cord or ribbon
baking tray
and an oven!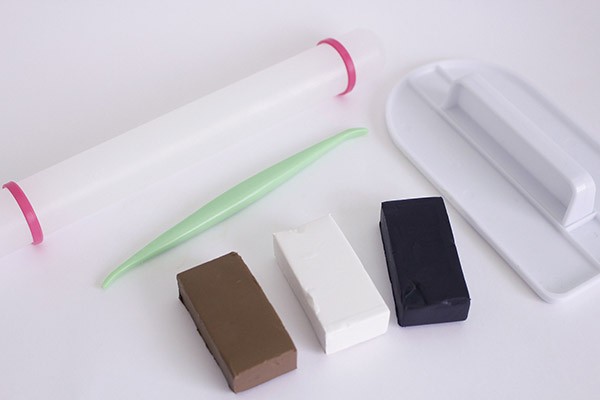 Cake decorating supplies will come in very handy for this project however you'll need to use a separate cookie cutter and rolling pin (or wash them very thoroughly) as you don't want to contaminate your next cake decorating project with this non-edible one.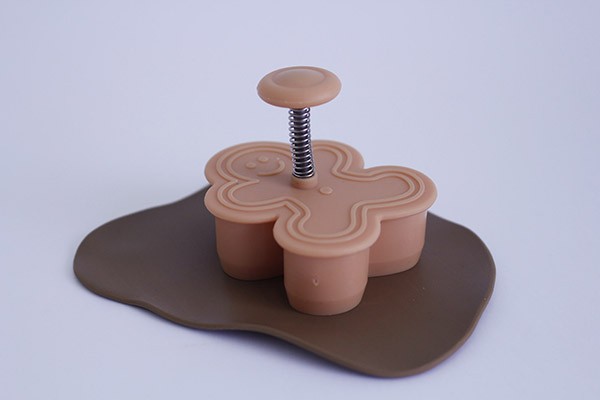 You can find oven bake clay at your local craft or art store and it's such a fun product to play with. Break off a small amount of your clay and soften it a bit by using the warmth of your hands to massage it into a ball. Then using your small rolling pin, roll out an even layer to about 2mm thickness. You can choose any kind of gingerbread man cookie cutter however this one works a treat. You cut out your shape and then push down on the little spring loaded button on top a couple of times and it mades an impression on the top to give you fantastic guidelines on where to put the eyes, mouth, buttons etc. If you don't have or can't find this type don't stress I'll show you an example of how to decorate a plain gingerbread cutout without the impression on top.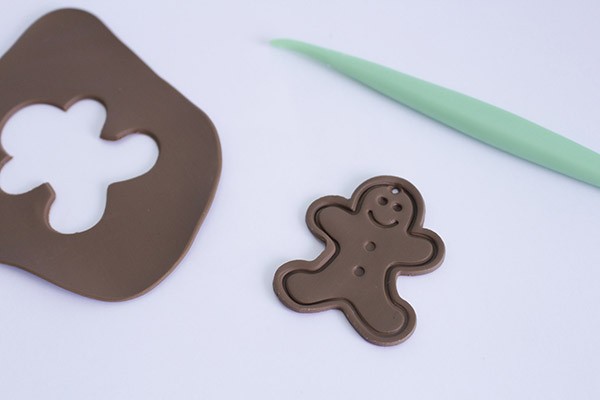 Once you've cut out your shape pick it up in your hands and smooth around the outer edges as sometimes there are rough bits that are left and you want a nice smooth finished edge.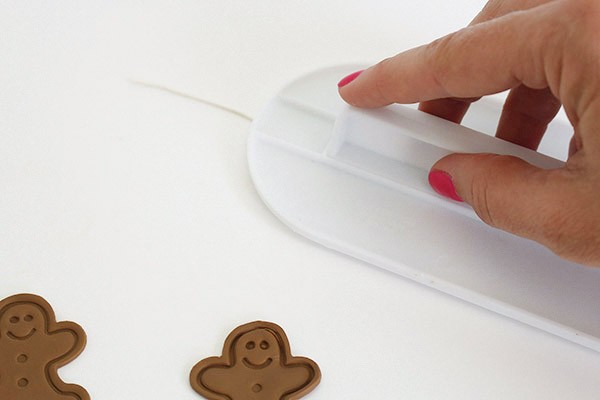 Now soften up some white clay by rolling it in your hands and then make a very, very thin sausage. This fondant smoother really helps with this part as it keeps the "sausage" even when you roll over it from left to right along the length of your strip. The clay is pretty forgiving and very stretchy so it isn't too hard to get a nice thin strip to then carefully place around the impression guides to make it resemble an iced gingerbread cookie.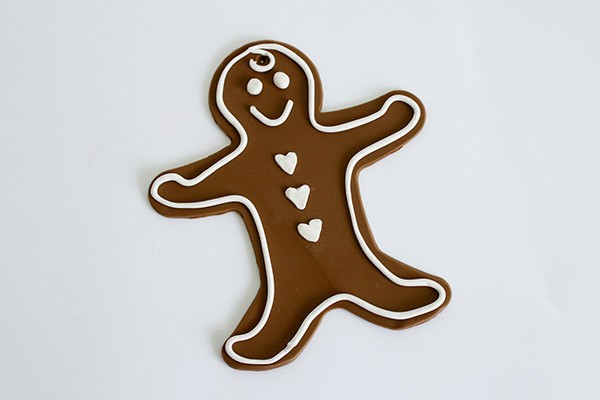 This one was made using a plain cutter and then following your own path around the edge of the cookie with your thin strip before finishing him off with some tiny heart shaped buttons. Lightly press all the "icing" pieces into the "cookie" so that they stick together but not so hard that you will distort or flatten the shapes too much.
The last step before baking is to use a modelling tool, knitting needle or pencil to help you poke a small hole in the top of the gingerbread man's forehead so that after they are baked you can thread some cord or ribbon through.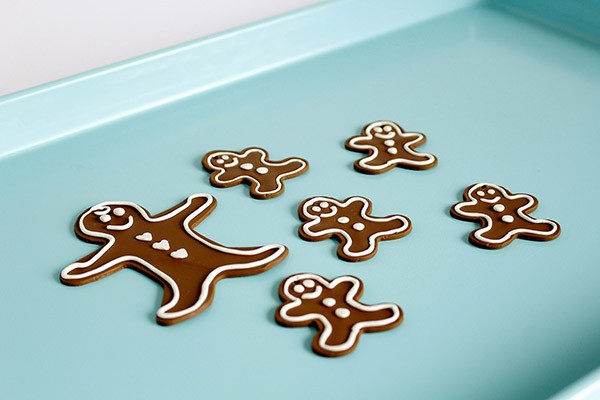 Make as many as you want and then place them on a baking tray to cook in your pre-heated oven for 15 minutes on 130C.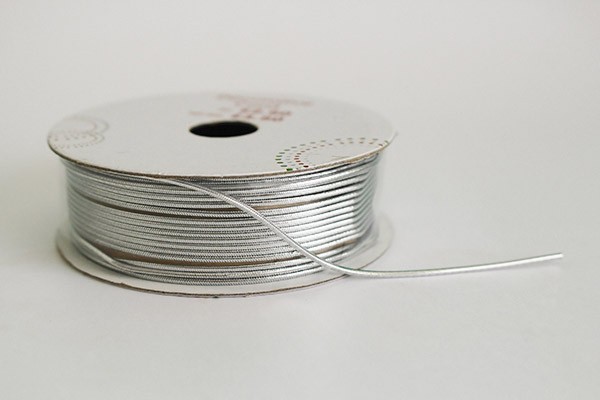 Once the decorations are baked they will harden. Don't worry if they are still a bit soft when you initially take them out of the oven as they harden up a bit more once they have cooled down.
Next cut off about a 15cm length of cord or ribbon and thread it through the hole in the gingerbread man before tying the two ends in a double knot to secure it. This braided cord worked well for them as it was elasticated but any very thin ribbon would work too.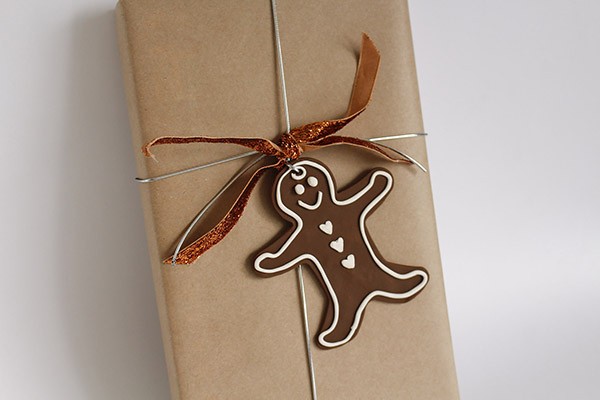 There you have it a cute homemade Christmas tree decoration. You can even use them as an extra present gift tag for your Christmas gifts. Just write who the present is for on the back of your gingerbread man with a permanent texta and it's the gift that keeps on giving.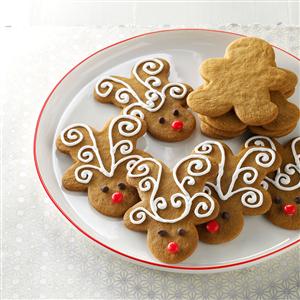 Or try turning your gingerbread upside down and make a reindeer decoration.
image credit, left.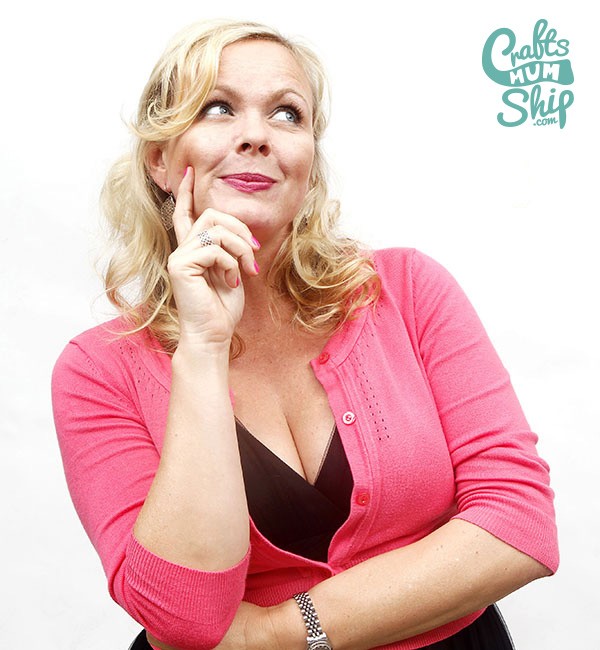 About Lorelei
Lorelei is a mum of 4 who loves nothing more than to create a little bit of something every day. Her blog craftsmumship.com will hopefully inspire your own creative imagination with crafts like sewing, knitting, crochet, kids parties and cake decorating.
Find Lorelei
Blog | Facebook | Instagram | Pinterest | Ravelry