Hi! I'm Tonya from The Crafty Mummy and I'm so excited to be visiting The Organised Housewife today.
Christmas always seems to creep up on me quickly each year and I find myself suddenly without any time to create new decorations for our home. This year I'm determined to start a little earlier.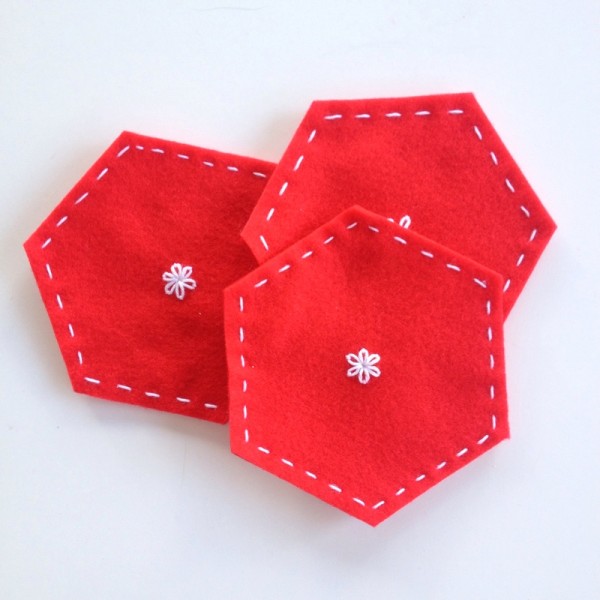 I've created these Hexagon Coasters from felt so they are quick to cut and don't require special edging – felt doesn't fray. The stitching is simple and you could do more or less on yours depending on your taste – or time! The double layer covers the messy back of the stitching and makes them thick enough to protect your table tops from water marks or heat damage.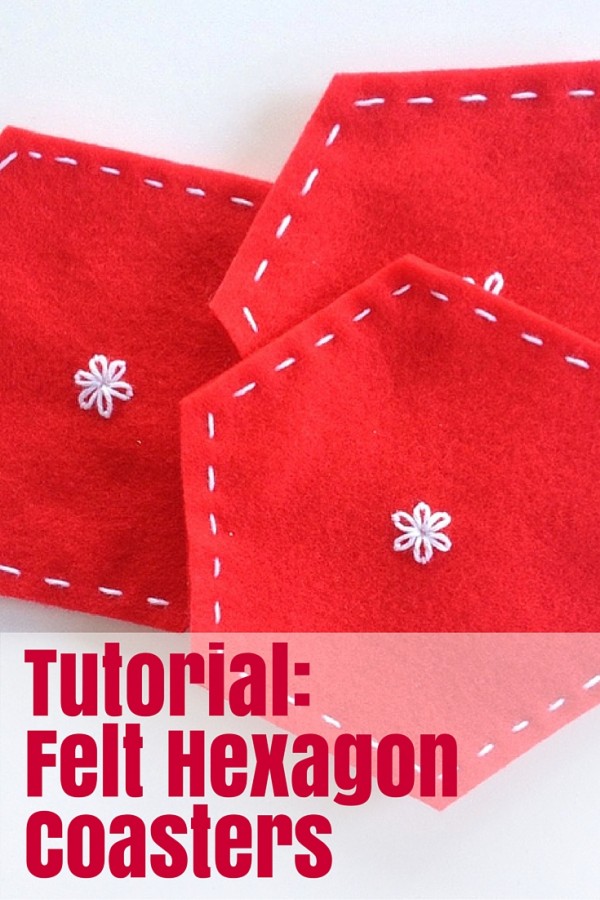 Felt Hexagon Coasters Tutorial
This quick craft can do double duty as extra coasters at the Christmas party, or as a gift for a special friend or colleague. I think we'll be giving this set as a teacher gift. Let's get started…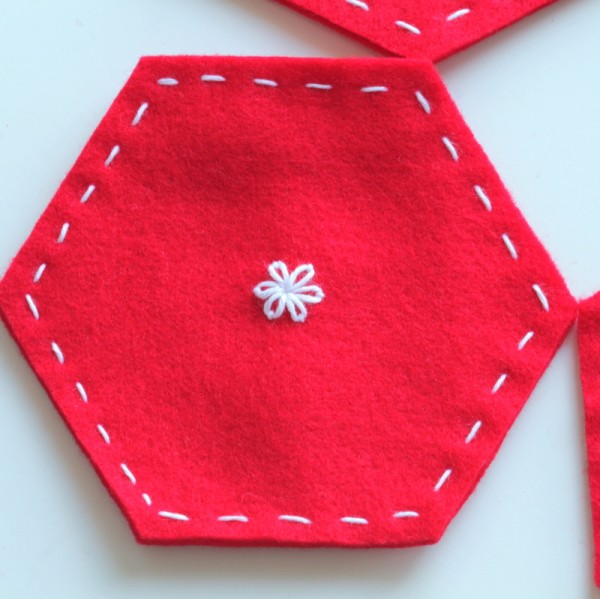 What You Need
Red felt – at least 45cm x 25cm
White thread – I used Olympus Sashiko thread but you could use stranded embroidery thread or Perle Coton
Needle
Scissors
Marking pencil – I used a white chalk pencil but even a simple HB pencil will work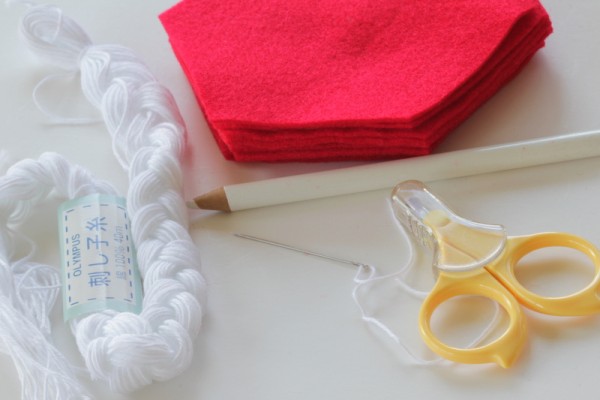 What To Do
1. Cut 8 hexagons from your red felt. Mine are 10cm or 4″ from flat edge to flat edge and I cut them using a Marti Michell acrylic template. I've been using these for the Farmer's Wife 1930s Sew Along recently so I had them out already. Instead of acrylic templates, you can easily find hexagon templates online to print out and use, like these.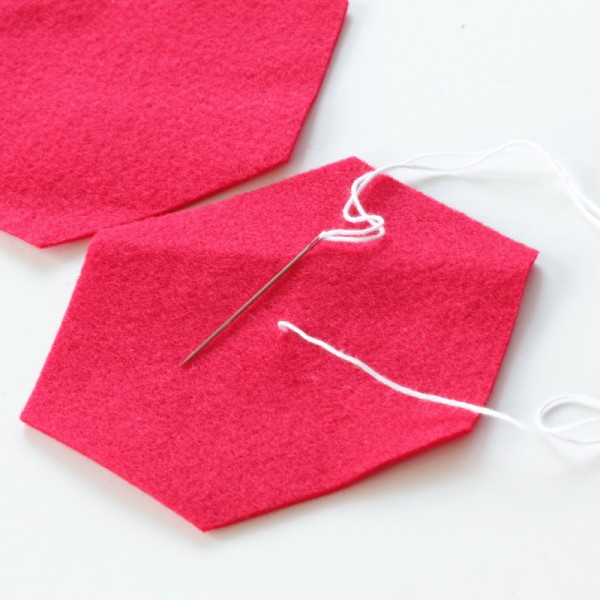 2. Mark the middle point of 4 of your hexagons. We are going to stitch a flower on 4 of them and then attach the other four as backing to cover our stitching knots. Each flower will have six petals that point to the six points of our hexagon.
3. Thread your needle and knot the end. Bring the needle up in the middle of your hexagon where you've marked.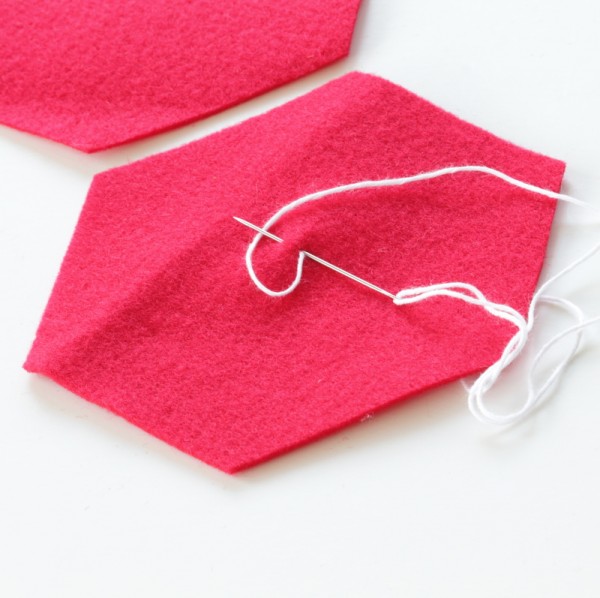 4. Insert the needle close to the middle again and bring it up about 0.5cm away, pointing towards one of the points of your hexagon. With the needle still in the fabric (see picture above) loop the thread around and under the needle tip.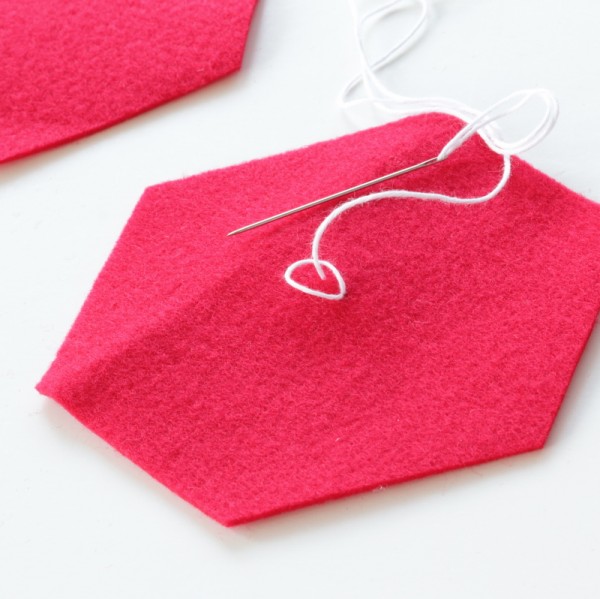 5. Pull the needle through gently and gradually draw the loop smaller until it just touches the thread and looks like a little flower petal.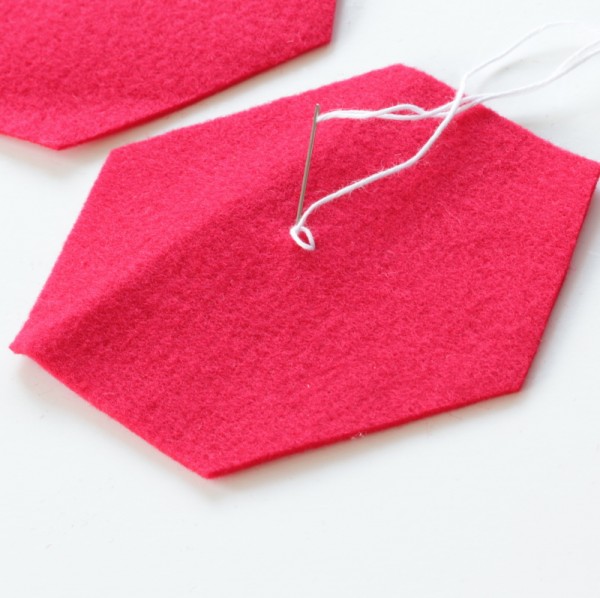 6. Insert the needle again on the outer side of the petal and almost into the same spot where the thread came up. The idea is to create a tiny stitch that holds the top of the petal in place.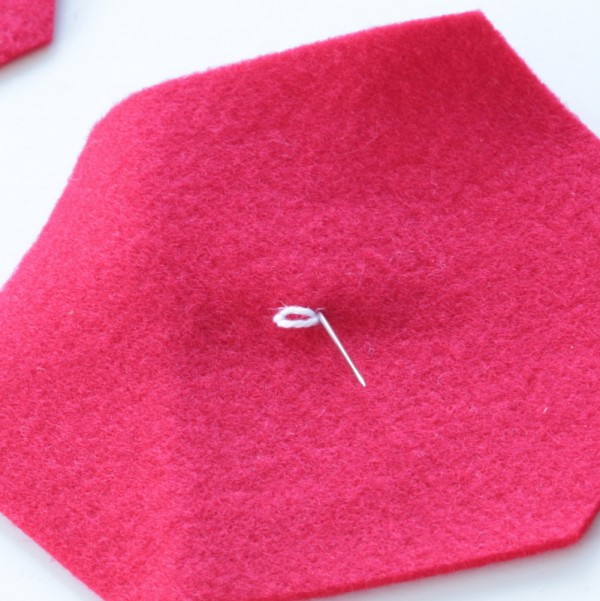 7. Bring your needle back up in the middle of the flower ready to start the next petal.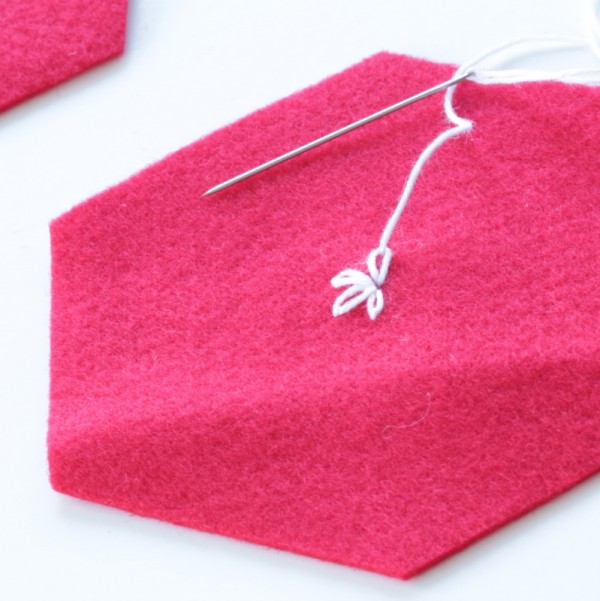 8. In the same way stitch 5 more loops or petals, each pointing to a point of your hexagon to create a flower. Knot off on the back when your flower is finished.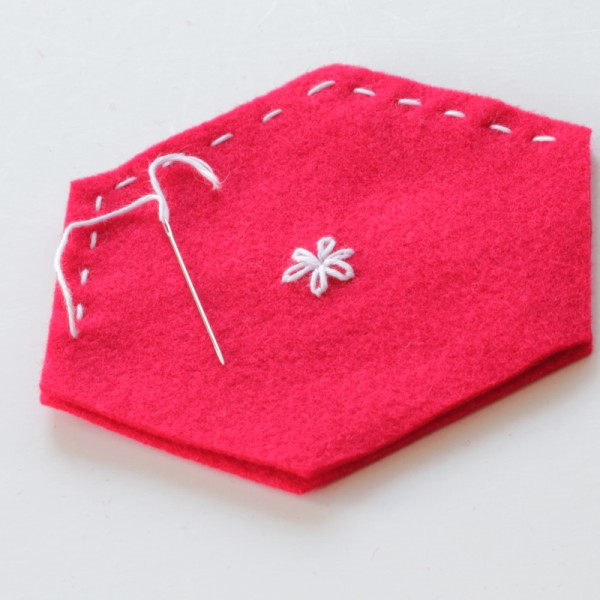 9. Now grab a second hexagon and sit it on the back of your stitched hexie, matching the two shapes. We're going to stitch these two together with a simple running stitch – just in and out around the edge to hold the two shapes together and create a nice finish.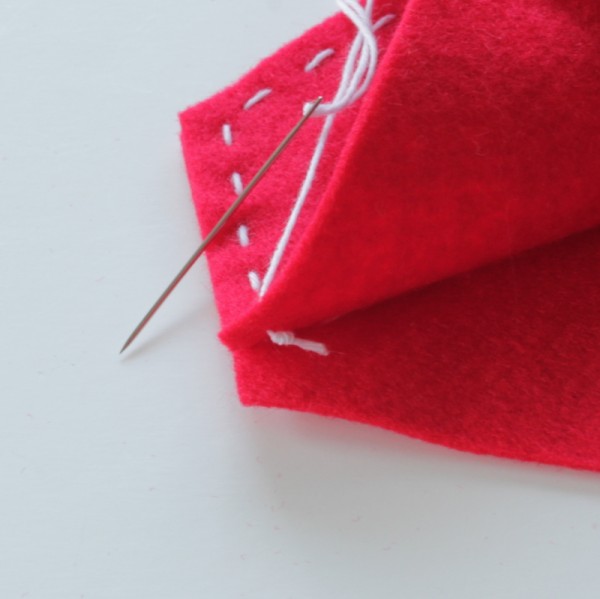 10. To hide your knot, start in the middle of the two layers. Finish with a tiny stitch or a tiny knot.
11. Make three more to create a set of 4 – or more if you need them!
Now you're all set to enjoy the Christmas season.
Tell me, what else are you making? I think I'm going to make some more felt coasters so pop over to TheCraftyMummy.com to see how they turn out.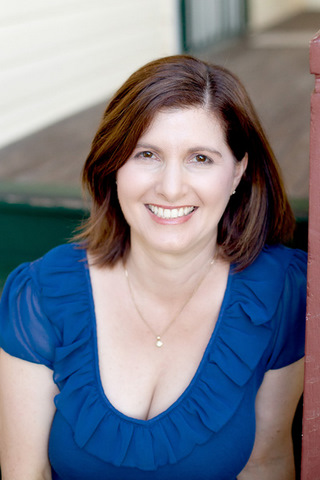 About The Crafty Mummy
Tonya is from The Crafty Mummy where she writes about all things crafty, from crochet to sewing, quilting to rainbow loom and everything in between. She brings her love of teaching to create tutorials that make her projects look easy enough for anyone to try. Pop over and be inspired to create something beautiful! Also find her hanging out as CraftyMummy on Facebook, Pinterest, Google+ and Instagram.