This post is sponsored by Dettol
It's handy to have a shower cleaning kit separate to your household cleaning kit.  Fill a little basket with cleaning items you would only use in the shower.  It's much easier to carry all the products in a caddy, and can be stored easily, out of the reach of children.

Supplies for the shower cleaning kit
Over the years I have tried a mixture of natural vinegar/bi-carb and commercial cleaning products to clean the shower.  I have found at times the vinegar solution won't completely remove mould, it needs more scrubbing and extra elbow grease. I've listed below the items I've used in this cleaning kit which I put together for a busy friend that doesn't have the time to scrub and is happy to use commercial cleaning products.


Scrubbing brush
Use a scrubbing brush to help remove stubborn mould.
Toothbrush or grout brush
Use an old toothbrush to get into the little areas the big scrubbing brush can't reach, like areas around your taps and corners of the shower. Alternatively, you can use a grout brush, which have stronger bristles, these can be found at hardware stores.
Mould remover
Mould is what makes our showers look so grotty.  It usually grows because those areas of the shower are continuously damp or wet. To remove mould, and the source of mould allergens, use a mould remover such as Dettol Healthy Clean Bathroom Mould Remover. It usually acts on mould within minutes, then be sure to rinse thoroughly with water. Scrub with the brush if needed. It also kills 99.9% of germs (E.coli and Staphylococcus aureus). Always read the label and use only as directed.
Soap scum remover
Soap scum remover will assist in cleaning the soap built on up surfaces like the glass shower screens/door, tiles, chrome fixtures in the shower.  I have used Dettol's Healthy Clean Bathroom Rapid Foam.  This is a new product and I quite like it because it doesn't have a strong chemical scent, it has a pleasant lime smell that helps make the bathroom smell fresh and clean! Always read the label and use only as directed.
Cloth
The cloth is used to wipe over surfaces in the shower after using the soap scum remover, this will help lift the soap scum and dirt leaving you beautiful clean glass shower doors.
Peg Basket
Create your caddy using a plastic peg basket, as the basket will get wet.  Peg baskets have holes in the bottom for easy water drainage. I usually leave the basket in the shower for a few hours, till it's dry then place back in the cupboard. I got this peg basket from a local discount shop.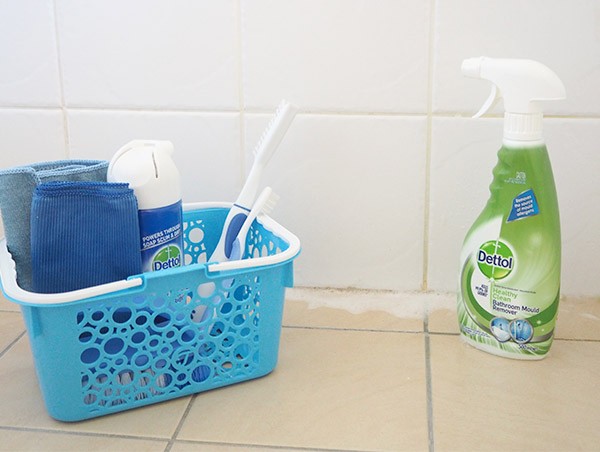 This post was coordinated by The Remarkables Group and run in accordance with my disclosure policy