Finding mould on your clothes or linen doesn't have to mean throwing them out. Follow my tips below for the best chance of removing mould from fabrics.
Have you ever found a child's forgotten swim bag a week later, with wet towels and swimmers bunched up inside? Or left a load of washing in the machine too long? Perhaps you've pulled out warm clothes at the start of winter only to discover…they're mouldy!
After all this rainy weather we've been having, mould removal has been a popular topic lately. I've shared my DIY Mould Be Gone Spray recipe and my top tips for cleaning mould.
However, several community members wanted to know how to remove mould specifically from clothes and linen so I'm sharing these tips below.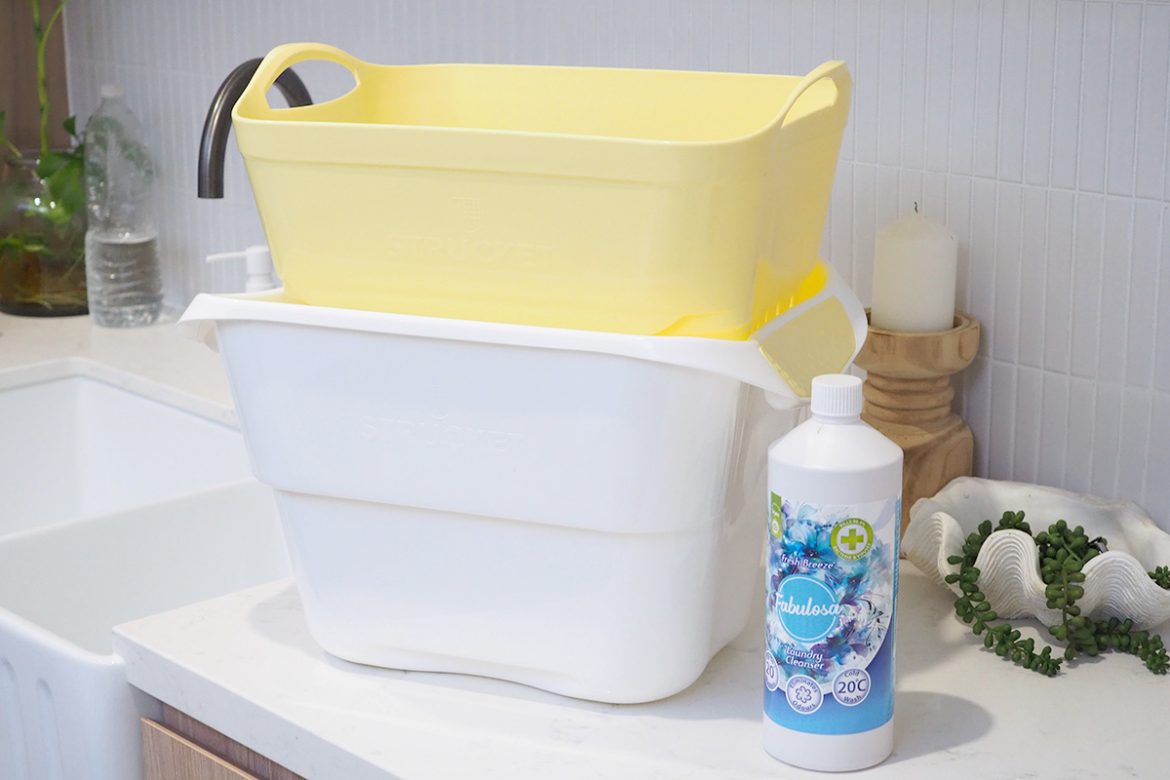 Since mould is harmful to your health and can irritate allergy and asthma sufferers, it's really important to clean it off fabrics and take measures to prevent it coming back.
TIPS FOR REMOVING MOULD FROM CLOTHES AND LINEN
Do not put clothes straight in the washing machine
Mould removal will require more than just a wash and it's best not to spread the spores throughout your machine and other clothes.
Soak in vinegar mixture
Mix 1-2 cups of vinegar in a bucket of water and immerse your clothes or fabrics to soak for at least an hour (longer for heavier mould). A Strucket is a great option for this as you can easily drain the water away after soaking.
Agitate to clean
Scrub mould spots with a toothbrush to agitate, however take care not to rub too hard and damage the clothes.
Wash clothes or linen
Now that the mould has been killed, you can put your clothes in the washing machine with detergent on a regular cycle using cold water. Add a dash of Fabulosa Laundry Cleanser to help remove any remaining bacteria.
Dry in the sun
To help kill any further bacteria, dry your clothes in the sun.
Check for residual mould
Thoroughly check to make sure all traces of mould are removed. If any lingers, you may need to treat again.
Be prepared to throw away
If you've done everything and mould persists, it may simply be time to throw the item away. Your health is more important than your favourite pair of jeans!
Prevention
To prevent mould from returning, use moisture absorbers in your cupboards to keep moisture levels down. It's also a good idea to clear out unwanted clothing at the end of each season so your cupboards and drawers are not too full and the air can circulate.
Cleaning mould from soft lunchboxes
Soak the lunchbox in a bucket of water with 1 cup of added vinegar for an hour or overnight. Use a toothbrush and dishwashing liquad to help remove any mould stuck in the fabric fibres or lunchbox seams. Wash in the machine as usual.
How to clean mould in the home
Mould can be invisible but once it grows those dark patches become unsightly. It is important to remove and clean mould as soon as you see it, as it can be harmful to your health… Continue Reading