Whether you're stacking dishes in the dishwasher or washing them by hand, here are my tips to wash the dishes and get them sparkling clean.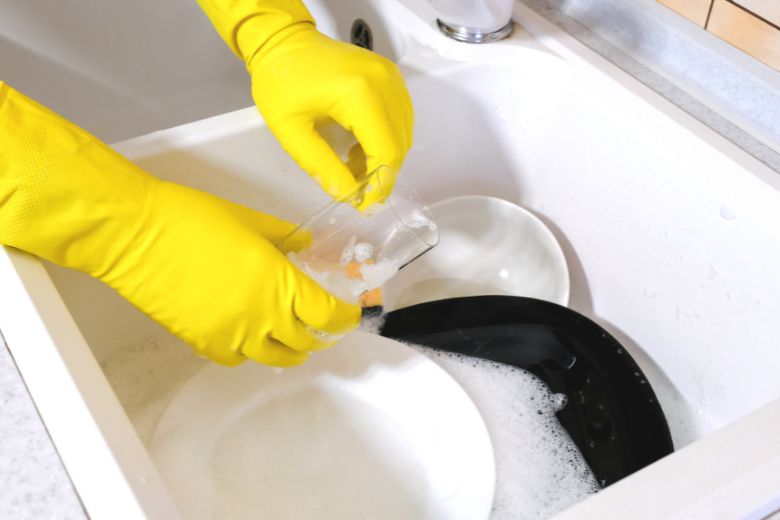 We all wash our dishes every day but I thought I'd share my tips on how I do it, as it might save you some time and give you a better result.
One thing that many of us do is rinse dishes before they go into the dishwasher. Did you know you actually don't need to do this? Most modern dishwashers have a sensor that will detect how dirty your dishes are so there's no need to run the tap over dishes before they go into the dishwasher.
Here are my tips on how to wash the dishes, by hand and in the dishwasher.
kit
Dishwasher cleaner
Rinse aid
steps
handwashing
Scrape leftover food off the dishes into a bin or garbage disposal.
Rinse extra dirty or greasy dishes with hot water.
Fill the sink with hot water and dishwashing liquid.
Wash the dishes in order, from cleanest to dirtiest, typically washing glasses (using a dish brush to clean inside), plates and cutlery first as they stack nicely in the dish rack. Finish with pots and pans.
Use your cleaning sponge to clean dishes, keeping the dishes underwater as you clean them. 
If your water becomes greasy, empty and refill the sink.
Place the dishes in the dish rack to air-dry to avoid the need to dry with a tea towel.
Empty and clean the sink to rinse away any grease or food.
Kat's tip: For burnt-on food, dip your baking pan or tray into a sink of water, then remove. Sprinkle with cookware cleanser or bicarb soda and sit for 60 seconds. Use a cleaning sponge to lift any baked-on food particles. Repeat if necessary.
steps
dishwasher
Scrape leftover food off the dish into the bin or garbage disposal.
Place cups, small dishes and large utensils on the top rack.
Place plates and larger dishes on the bottom rack, pointing all plates and bowls in the same direction to make good use of the space.
Mix your utensils in the cutlery holder to prevent them from nesting together and not cleaning properly.
Do not put crystal, fine china, wood, pewter, bronze or brass dishes in the dishwasher – they should be handwashed.
Add your desired dishwasher cleaner and run cycle.
Use rinse aid to support the drying process.
When emptying the dishwasher, always start with emptying the bottom rack to prevent the water pooled on top of the items (coffee cups) from dripping onto the dry items underneath.
How often?
Daily.