Today is the first day of Spring can you believe it? It's so cold at the moment here on the Gold Coast, I can't wait for it to warm up so it can officially feel like Spring! I love spring usually it's not too hot, not too cold, the fresh air is beautiful and the weather is usually amazing here! Spring is usually the time of year that we begin to enjoy the warmer weather, open up some windows and clean up after winter and start spring cleaning!
So I'm cheating, I have actually typed up this blog post earlier in the week as I am over in the glorious Maldives right now! Shortly after I return my kids will be on school holidays and I plan on making the most of these holidays getting out and about in the fresh air, visiting friends but mostly the kids have been studying really hard and long hours at school so relaxing is a must! I don't want to be fussing over cleaning while they are on holidays so I am putting my Spring Cleaning off till they go back to school. I'll be making a start in October, and slowly working my way through the house, so it will be beautifully clean from top to bottom just in time for Christmas holidays!
Some of the tasks so far on my to-do list are things such as:
Give the fridge a good clean out
Empty out the pantry, clean the shelves and re-organise it
Clean all the skirting boards
Clean all the internal windows
Change wardrobes from winter clothes to summer clothes
I'll continue adding to my to-do list, of all the areas of the house that are bugging me and would like to clean, declutter and/or organise. Below I'm using my new A5 "Things to-do notepad", it's available in my shop here.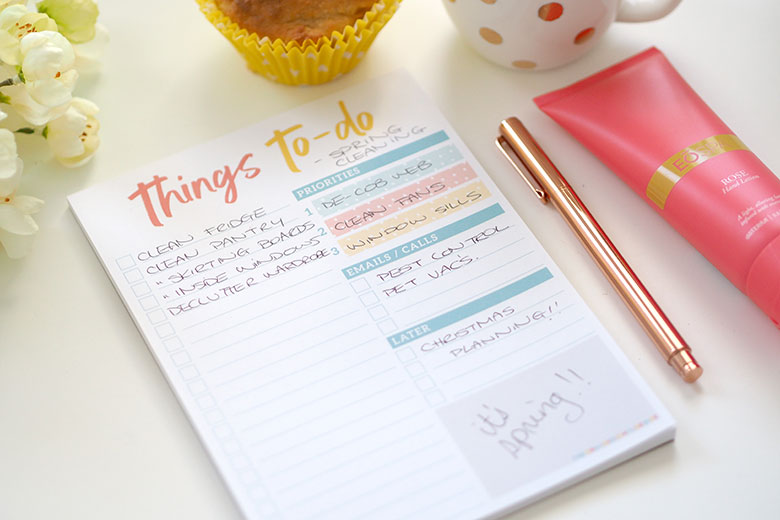 [activecampaign form=23]
What areas of the home do you need to clean/organise?