Is your fridge unorganised and cluttered? Creating practical zones in your fridge has many benefits, but ultimately helps to reduce food waste.
As you all know, I love organising! It keeps me sane and grounded, making life for me and my family that little bit easier by not getting caught up in cluttered chaos. A couple of weeks ago, I cleaned out Today Show Queensland reporter Mia Glover's fridge and created practical zones throughout for her family, including her gorgeous dog. Mia absolutely loved her new fridge layout and couldn't believe how much easier everything was to see. I feel lucky to have become the go-to person for cleaning and organisation over the years and I enjoy taking a practical approach to organisation and create spaces which are easy for people to achieve and maintain.
Create space in your fridge by utilising all the space effectively. Organise with containers, and storage bins that can stack onto each other to make all food easily accessible, will stay fresh longer and help prevent wastage.
Benefits to organising the fridge
A disorganised fridge can lead to food waste, but here are more benefits for an organised fridge:
Saves money because you know exactly what you need and don't need
Food will keep longer
Makes it easier to see what food you have, so you should eat it before spoiling
You'll eat healthier
You can easily see what food you are running low on and what you need to buy
Makes it easier when it comes to meal planning and cooking dinners
It makes preparing school lunches quicker too!
BEFORE – Mia already had areas in her fridge zones well, but needed a few storage bins to help maximise the space and food doesn't get lost at the back of the shelves. 
Watch the Today Show segment below. 
step 1 – CLEAN OUT THE FRIDGE
Emptying out and cleaning the fridge won't be fun but you'll be happy with the result – I promise!
Remove everything from fridge.
Grouping like items together.
Throw out out of date food, write them onto a shopping list if it's something you want to replenish.
Clean the shelves. I do this in a sink with dish detergent and warm soapy water (not hot as you don't want to break the glass with the change in temperature).
While shelves are drying, clean the fridge.
Put all dry shelves back.
Wash and dry fruit and vegetables. I wash my produce with a chemical free fruit and vegetable wash as many bugs, chemicals and dirt are found on them. 
Place in new organising storage bins, turntable, clear drawers and tubs.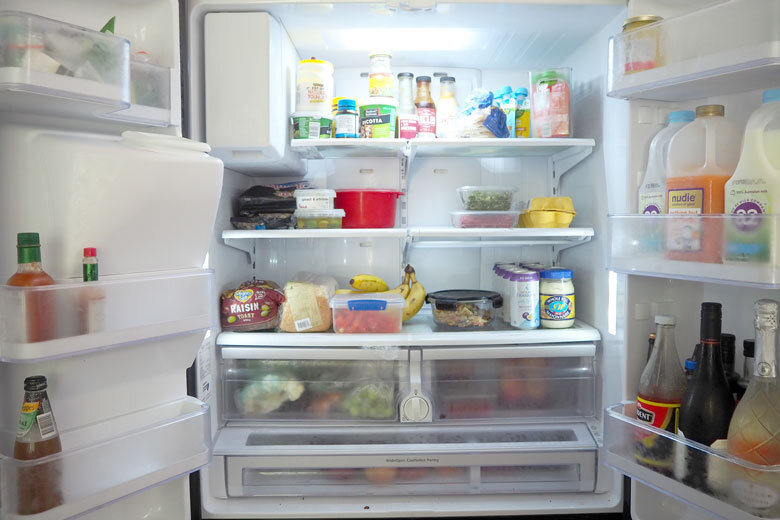 STEP 2 – CATEGORISE USING CONTAINERS + SECTIONS IN FRIDGE
Containers aren't just for the pantry. Smaller items such as condiments, fruits, and snacks can often get lost in the fridge. Investing in clear fridge storage containers makes it easy for you to find things and it's also visually pleasing.
Designate areas in your fridge and group all like items together, such as, beverages, condiments, dairy, meat, fruit etc. Use containers or trays to keep items neatly together.
Label the containers for each different type of food eg. apples, citrus, snacks, spreads, yoghurt etc. Using labels in the fridge helps everyone in the family see where items belong. Totally optional, but it gives me instant organised gratification! I actually forgot to do it in Mia's fridge :(. 
Turntables are great way to make sure that items at the back of the fridge are easily accessible, and if your like me and short, great way to easily reach everything on the top shelf. 
I like to place all the organising items into an empty fridge. Move things around to ensure they all fit. Once I am happy then I remove all the new product packaging and wash. 
STEP 3 – understanding FOOD PLACEMENT TO OPTIMISE FRESHNESS
To help you organise it's good to know where particular food should be placed in the fridge. I've listed below some recommended placement options for different types of food. But for my fridge and home and also Mia's fridge we took a more practical approach with our placement. 
Doors are the warmest of the fridge. It is recommended that you store foods that are most resistant to spoiling such as condiments, juices, water etc. In this fridge however that wasn't an option. Most fridges aren't designed to hold more than a 1 litre bottle on a shelf so the side of the door was most practical option to store juices, milk and soft drinks. 
The upper shelves have the most consistent temperature. Place foods that don't need cooking at the top, ie. drinks, dips, condiments, berries, left overs, deli meats, herbs etc. 
Lower shelves have the most coldest temperature. Store eggs, meat, seafood and dairy. 
Front and centre should be the items that you use and reach for most often.  
The door is usually the warmest part of the fridge, ideal for condiments, butter, juice and water. 
Don't overcrowd your shelves, the air needs to flow around all the food to help keep a consistent temperature and prevent spoiling. This will allow the fridge to work more efficiently and help save money.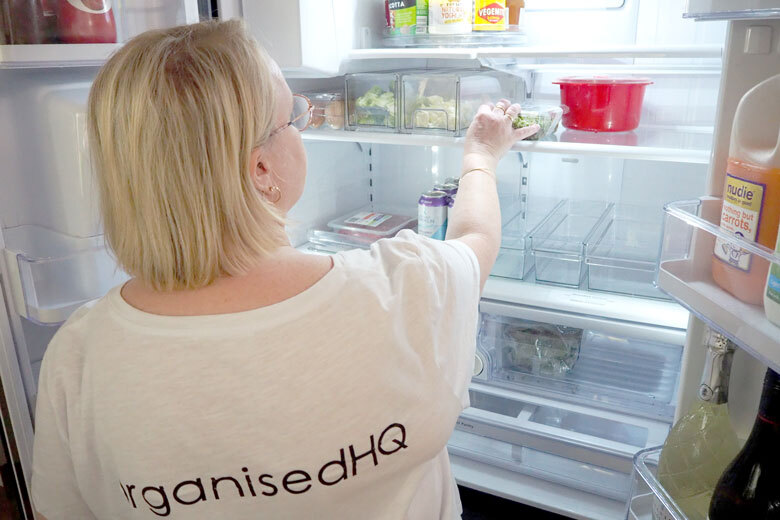 STEP 4 – add Food back into fridge
Remembering the zones you have created with your organising storage, place the food into the fridge, grouping all like items together, keeping all the food safe, hygienic and healthy. 
Condiments
If your family love all different kinds of sauces place them into a bin that you can easily pull out of the fridge and put directly onto the dinner table .
Condiments are a great size to fit into the door.
Fruit
Dice the watermelon so it's ready to eat, store in a container where the liquid can drain to prevent the melon from spoiling faster.
Wash and remove grapes from stem so they are ready to eat.
Fruits and vegetables should never be stored in the same crisper as the ethylene from fruits can result in vegetables discolouring and spoiling prematurely.
Store berries at the top of the fridge.
Store avocado's in the fridge to slow the ripening process.
Vegetables
Do not store onions or potatoes in the fridge, they require a dark low moisture environment.
Use stackable drawers to utilise space and keep vegetables fresh (see my tips on this below, it saves my sanity at dinner time).
Eggs
If transferring to a storage container, use a whiteboard marker to write the expiry date on the container. I use clear egg containers purely to make it easier to see how many I have left. 
Dairy
Butter absorbs odours from other food in the fridge. Best to keep it wrapped and in the butter compartment of the fridge.
It is convenient to keep the milk in the door, but if you want it to last longer store it on a cooler shelf in the fridge.
Cheeses
Cling wrap can cause the cheese to sweat and spoil faster, alternatively wrap the cheese tightly in beeswax wraps.
Snacks
Have a storage bin with easy access for go-to snacks for lunchboxes and ready for when cravings hit.
Herbs
Place in a glass jar or cup filled with water to keep fresh longer. You may need to change the water every 2-3 days. 
Raw Meats
Place on a tray to prevent any meat juices from dripping through the fridge.
Keep meat in its original packaging.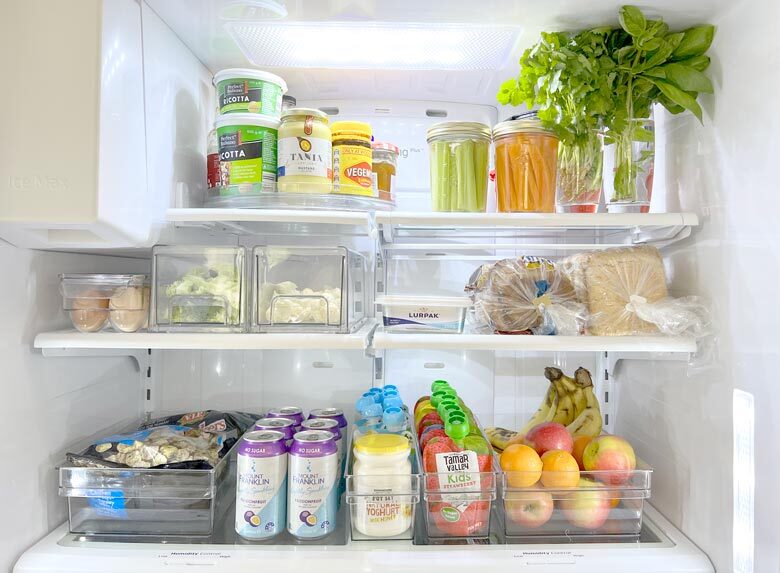 STEP 5 – CHOPPING UP YOUR FRUIT + VEGETABLES
I cut up and store some fruit and vegetables in containers. I have done this for so many years it's now become a habit and it makes it easier to find what's in the fridge and allows it to last longer. I like that when I am in the busy process of making dinner the chopping is done or when I am feeling like a snack, I can grab some chopped watermelon rather than something sweet like a cookie, just because it's convenient.
When I come home from a grocery shop I unpack all the grocery items and put them away, except fruit and vegetables.

I wash fruit and vegetables with a chemical free fruit and vegetable wash

I chop and store the food I like pre-cut in containers (broccoli, cauliflower and watermelon are my musts to chop).

Chop carrot and celery into sticks and place into a jar filled with water to help prevent them from drying out and have healthy snacks on hand. 

Then store the remainder of the cleaned fruit and vegetables either in the crisper, tubs or storage containers.
This process takes about 15 minutes most times, but it well worth your sanity on those busy nights when it comes to cooking dinner.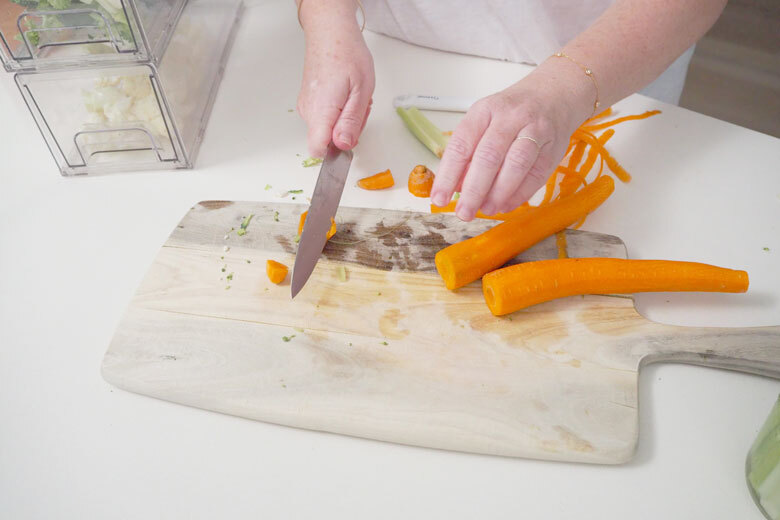 How often should you clean your fridge?
Quick clean – daily
Deep clean – seasonally
Behind fridge – annually
Extra Tips!
Don't store fruit and vegetables together as the ethylene from fruits can result in vegetables spoiling prematurely.
It is suggested not to wash your strawberries, as washing may cause them to spoil quicker (although I do). 
If you like kiwifruits, line your draws with paper towel so you can replace the towel rather than having to clean the whole drawer more often.
Store herbs in a jar of water to help make them last longer.
Polishing the outside of the fridge with stainless steel cleaner and vegetable oil
Add meal planners and shopping list to the fridge.
Meal planning is a must in order to keep the fridge organised, following the meal plan means you will only buy food that you need and plan on eating. This way you will not be filling up the fridge and wasting food.