Over time, grout can become dirty and mouldy. With the right brush and cleaner, cleaning tile grout is easy! 
If you don't include the shower grout in your weekly bathroom, it can become filthy and hard to clean. There are a few ways to clean stubborn grout, all which include a bit of elbow grease!
Depending on the how dirty your grout is, you can use the following suggestions and see which one works for you…
To begin with, wipe over the grout area you want to clean with hot water, this will help clean and remove some dirt and grime on the surface.
If your grout isn't looking too dirty, you can use a good spray like the Koala Eco Natural Multi Purpose Bathroom Cleaner. which is Safe, powerful, plant-based made with Australian essential oils. Squirt it in the grout grooves and leave for a few minutes.
If your grout hasn't been cleaned in a while, I find a cleaning paste like the Pink Paste is great to get rid of dirt and grime. Apply using a soft cloth or sponge. Rub gently and leave for 10- 15 minutes. Use a grout cleaning brush to scrub the dirt and grime away before rinsing off with clean hot water.
If you're looking to use a homemade alternative, in the past, I have used vinegar and bicarb soda to clean the grout in our bathroom. For the bath I sprinkle bicarb around the side of the tub and at the base of the tiles, spray with vinegar and let sit, then scrub with a grout cleaning brush.  Wall tiles are a bit more tricky, I use bicarb soda and lemon juice to make a paste, the lemon juice acts as a disinfectant. The paste is easier to wipe over the grout on the wall.
Whatever method you choose, with the right tools and cleaner you can have your grout look good as new!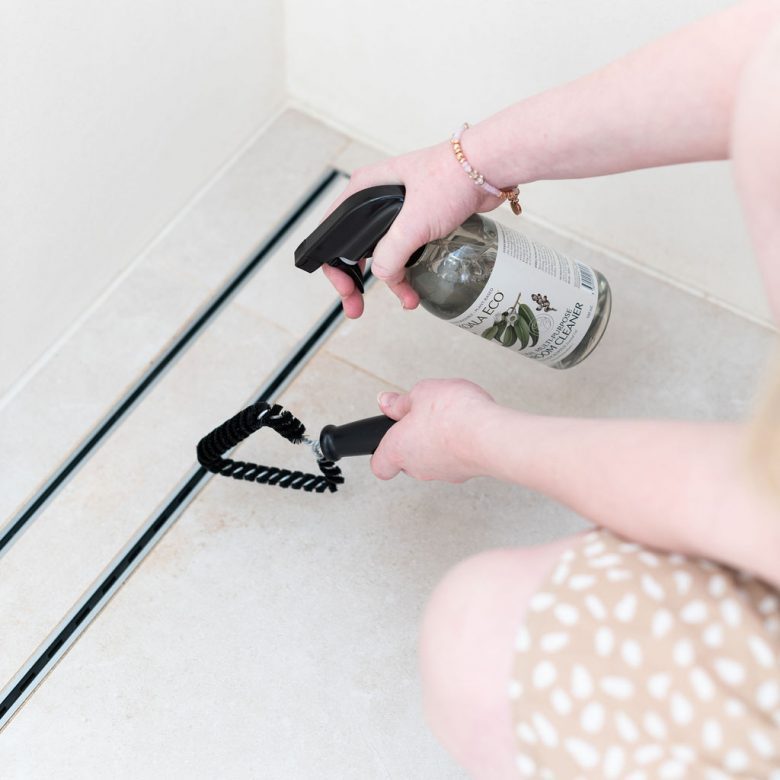 What do you use to clean your bathroom?
5 EASY WAYS TO REFRESH YOUR BATHROOM
Five easy tips for transforming your bathroom into a beautiful and happy space that's fresh, fabulous, and fit for a little pampering. Continue Reading
Lunches made easy, healthy and affordable
The cookbook includes over 50 freezer friendly recipes that make for perfect no-fridge, no-heat lunches, ideal for school, work, or even picnics!