It's only in the last two years that I have started drinking coffee.  I can't believe I went through my whole 20's without it, but it just didn't appeal to me.  I have found that over time the kettle gets a build up of limescale.  This is a chalky layer that forms over the heating element in the kettle, which then prevents the kettle heating the water to the required temperature.  It can fall away from the element and float in the water, which may then be poured into your next coffee.  Open up your kettle and have a look inside, if it's a bit grotty, follow these tips to give it a clean.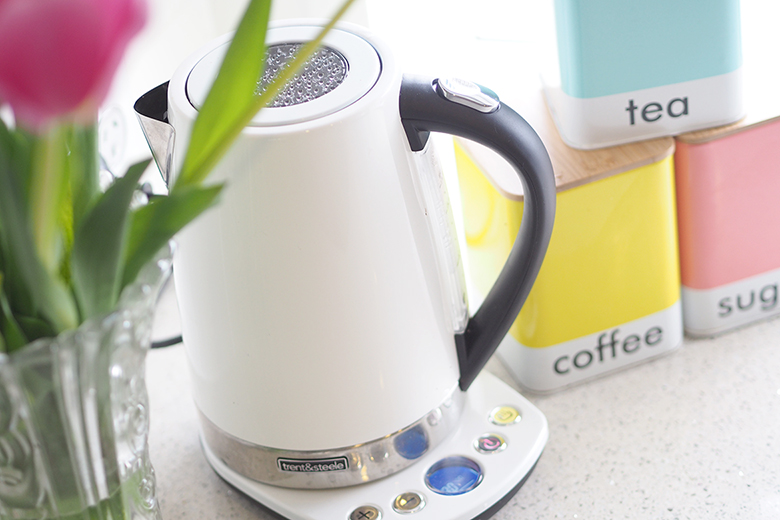 How to clean limescale off the kettle
Fill the kettle with 1 part vinegar to 2 parts water.  You don't need to fill the entire kettle, just enough to cover the heating element
Boil the kettle
Allow the water to cool in the kettle for 20-30 minutes
Tip out the water and rinse the inside of the kettle with tap water, repeat to ensure all vinegar and limescale is removed
Wipe over the outside of the kettle to remove all dust and dirt, then dry (the outside) with a cloth
NOTES:
For lingering vinegar smell, rinse the kettle several times or fill kettle and boil, tip out water
For stubborn limescale repeat the above process, increase the amount of vinegar, 2 parts vinegar to 1 part water
Descale your kettle each month if used daily
Use the boiled vinegar to kill garden weeds.  Pour the vinegar over the weeks and they will sign dry out and die.
READER TIP – A great way to clean your kettle is to cut a lemon in half, place both halves in the kettle, fill with water and boil it. It removes all the build up from inside, without chemicals. Pour the lemon and water out, rinse the kettle and you're done ~ Liljaneymac
What does your kettle look like inside?