Cleaning and maintenance tips for your timber, aluminium, plastic, and resin wicker outdoor furniture – and your outdoor cushions too!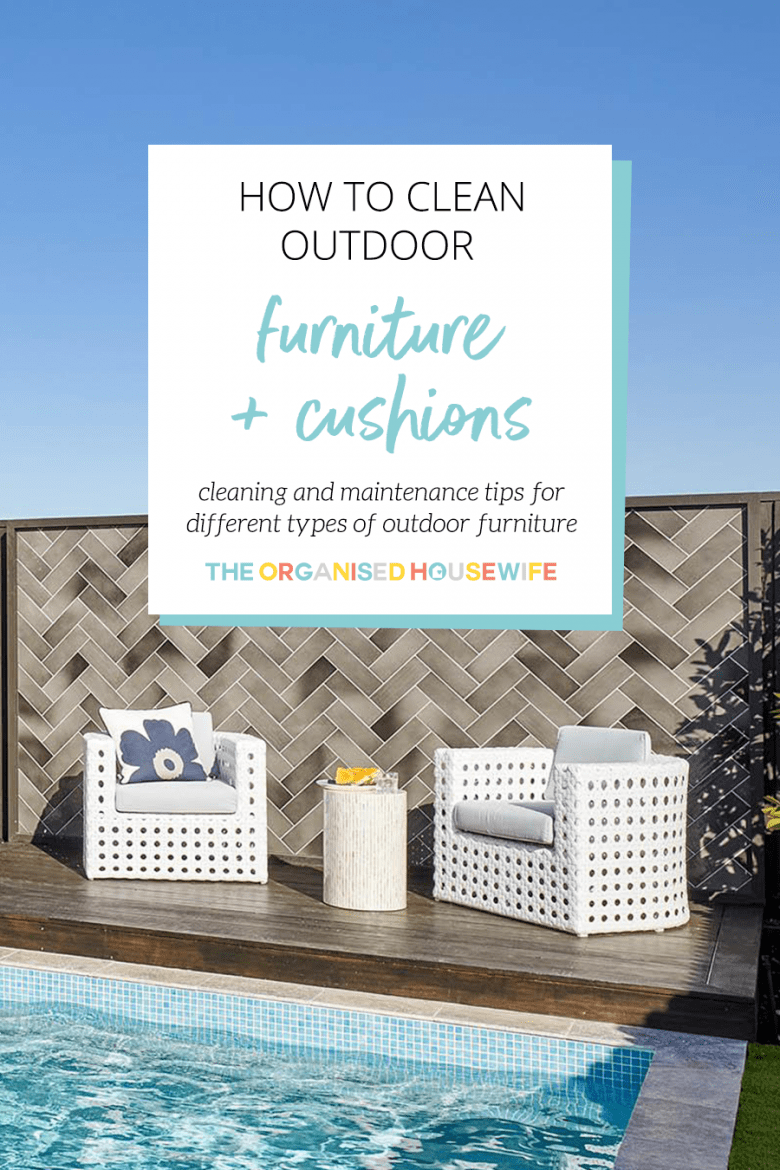 The weather is warming up (they say it's meant to hit up to 30 degrees here on the Gold Coast this week), and with it comes more time in our backyards. Whether it be BBQs with friends, days spent by the pool, or morning coffees enjoyed in the sun, one thing is for sure – the outdoor furniture is about to get a good workout! My outdoor stetting got very dusty over winter and became a perching area for many birds which left their business behind. Here are my easy tips for cleaning your outdoor furniture and making sure it's ready for all this outdoor fun this Spring.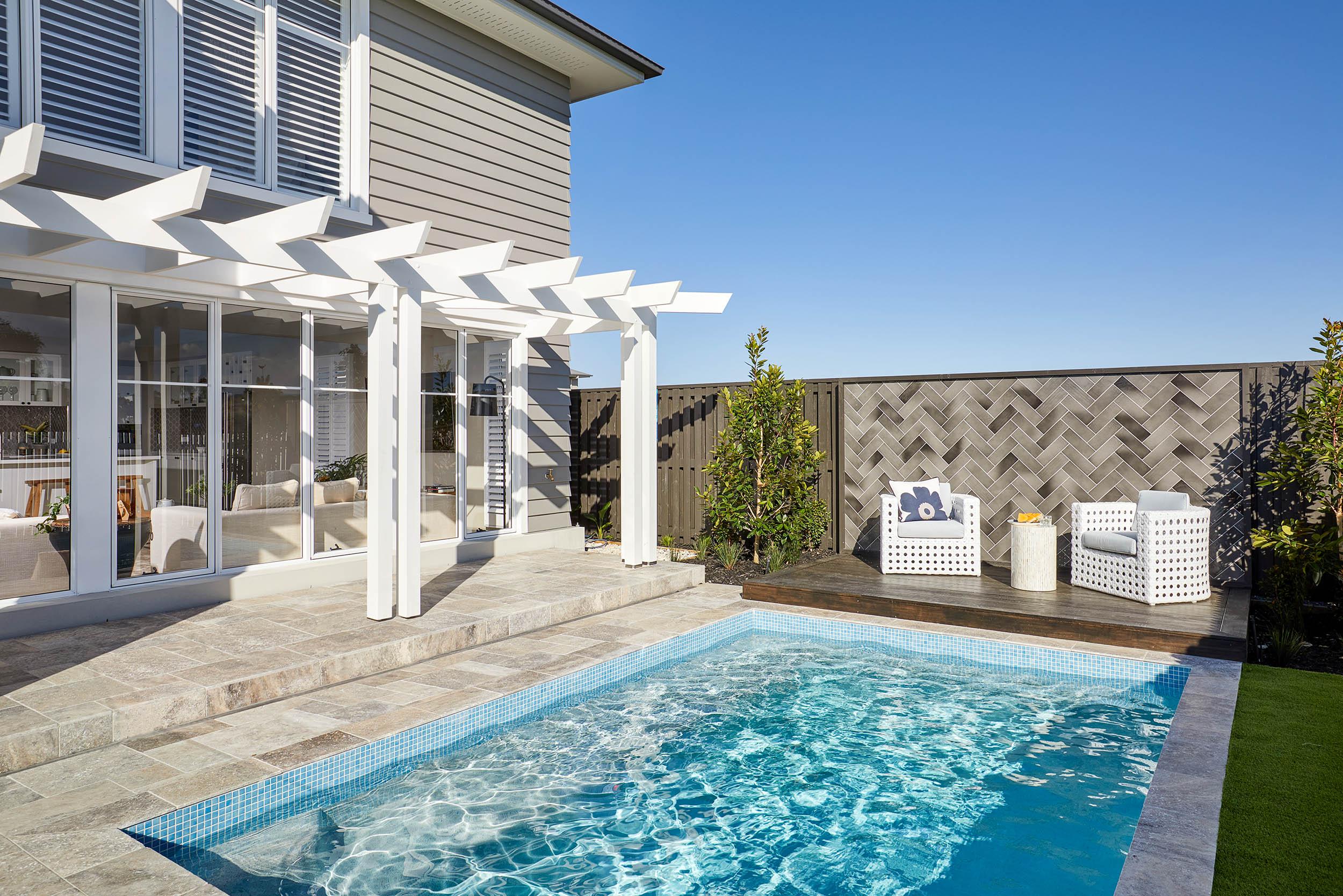 Timber
Timber furniture is hard-wearing, but if your outdoor setting is in full sun and rain, ensure it's treated so it will repeal water. It's recommended to oil some timber outdoor furniture twice a year. The oil protects the timber by reducing the damage caused by water and sunlight, preventing it from rotting – and it also makes it easier to clean.
HOW TO CLEAN TIMBER FURNITURE – dissolve mild soap, vinegar or detergent in water, and then dip a soft cloth in and wring out until it's nearly dry. Wipe the furniture down with this cloth, and then dry immediately with another clean soft cloth to avoid water spots.
When my current outdoor setting starts to wither, I have my eyes on this gorgeous outdoor setting below.
  AVAILABLE ONLINE: Walla 7-Piece Outdoor Dining Set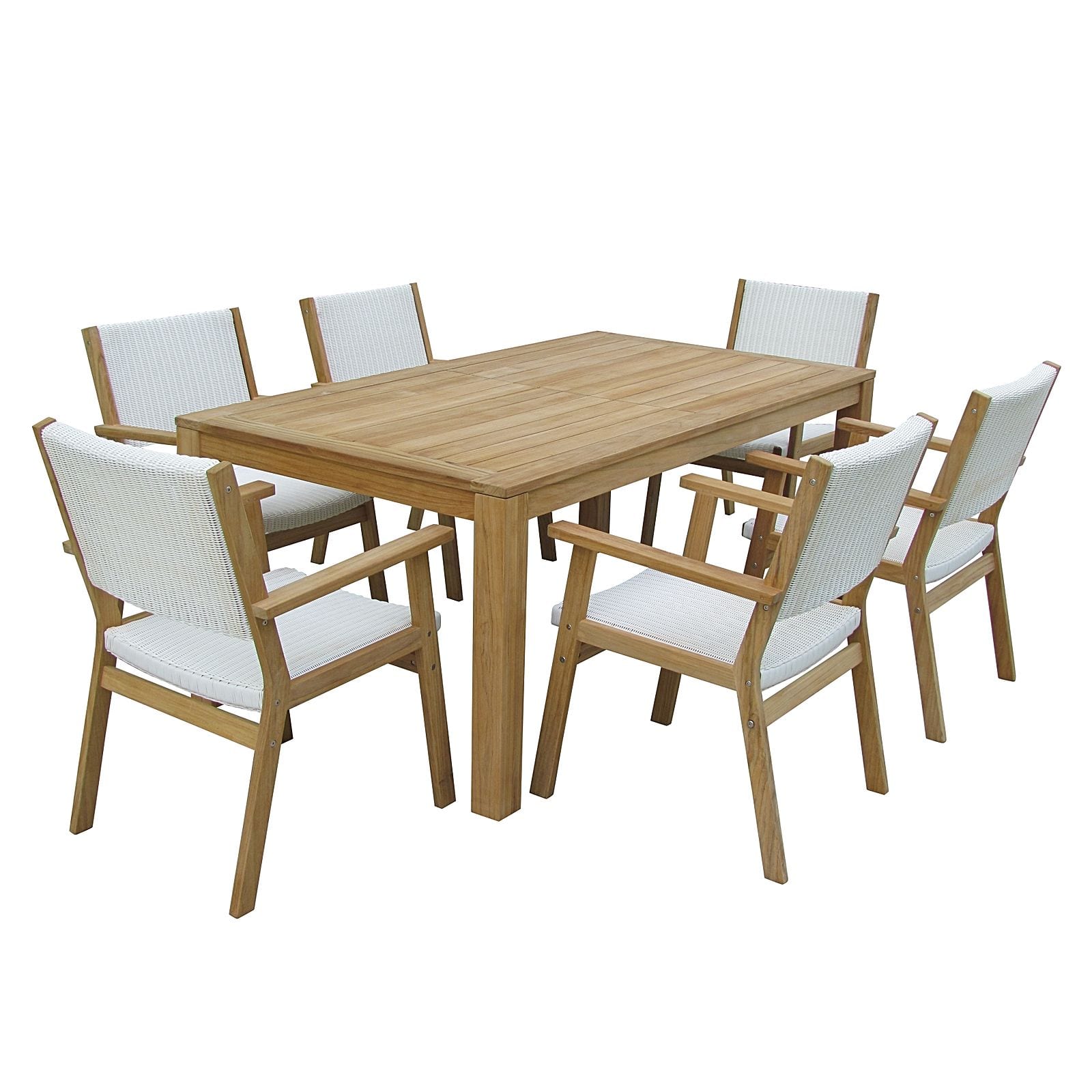 Aluminium
Aluminium furniture is lightweight and easy to move around. It's a great choice for outdoor furniture as it remains cool to touch when in direct sunlight, is resistant to fade, and is naturally resistant to corrosion.
HOW TO CLEAN ALUMINIUM FURNITURE – if your furniture is very dirty, give it a hose down to remove the larger debris first, then wipe it down with a cloth dipped in warm soapy water. Hose the soapy residue off the furniture, and then allow to air dry.
Plastic
Plastic outdoor furniture is affordable, easy to clean, rust-proof, and often stackable. Plastic furniture can be damaged by UV rays, so should be stored in the shade.
HOW TO CLEAN PLASTIC FURNITURE – this is perhaps the easiest furniture material to clean! Simply hose down plastic furniture, and use a soft bristle brush with mild soapy water for the more stubborn dirt and grime stains. Rinse the furniture with fresh water, and allow to dry outside.
Resin Wicker
Resin wicker furniture is lightweight and easy to move around, comes in a variety of colours, is resistant to UV rays and water, plus the fabric cushions help give it a touch of luxury.
HOW TO CLEAN RESIN WICKER FURNITURE – wicker furniture is more durable than a lot of other furniture materials, so can withstand some light scrubbing. Dust the furniture down with a dust brush, and then give it a good scrub with warm soapy water. Rinse off with the hose, and then allow to air dry.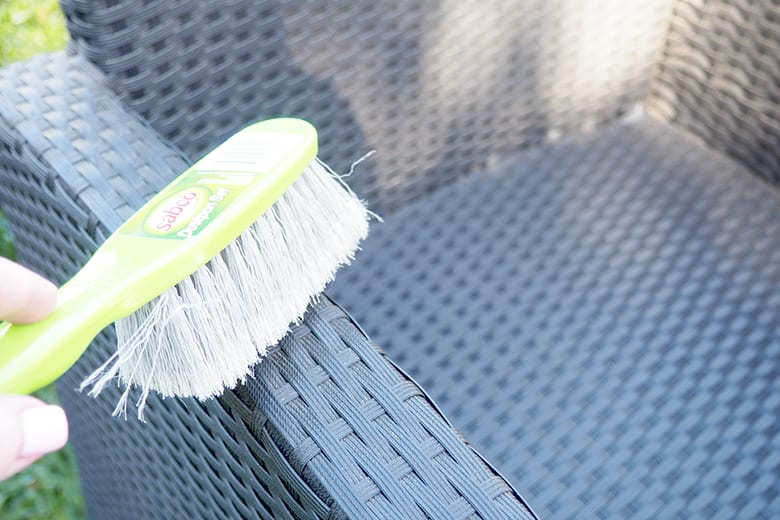 Outdoor Cushions
Good quality outdoor cushions are a great investment! They are much easier to clean as they are often made from durable mould-resistant and UV protectant fabric, and are also less inclined to fade.
HOW TO CLEAN OUTDOOR CUSHIONS – often a simple hose down and a good lay in the sun is all outdoor cushions need to freshen them up. If your cushions are in need of a little more TLC though, make up a bucket of mild soap, vinegar or detergent dissolved in water, and apply to the cushions with a soft bristled brush or cloth. Hose down with clean water, and then allow to dry in the sun.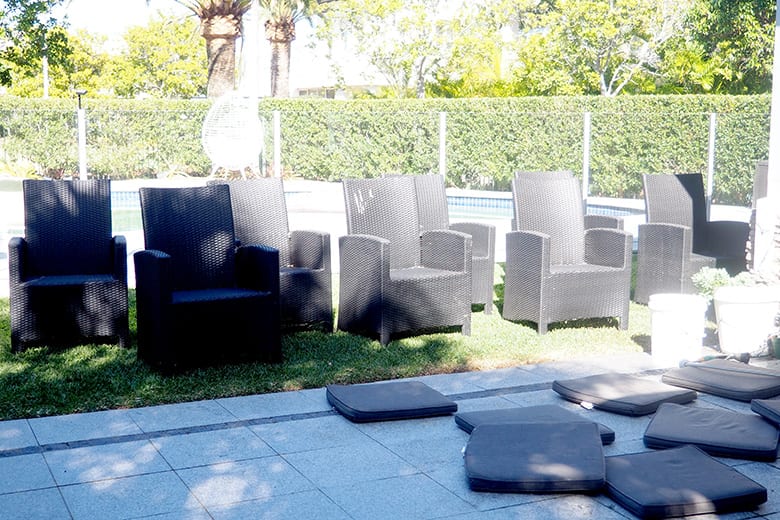 DO YOU LIKE TO ENTERTAIN OUTDOORS?