Get your laundry smelling and looking fresh with these easy steps for cleaning a top load washing machine. Cleaning your top load washing machine will remove bacteria, grime and make sure your clothes get the most hygienic wash.
Do you find that your clothes are not smelling as fresh as they used to after being washed? Or perhaps you've noticed a build-up of unsightly stains and grime around the rim of your top loading washing machine? If so, it might be time to give your washing machine a good and deep clean. A clean washing machine extends your appliance's lifespan and ensures a more hygienic wash. 
Follow along with my steps below on how to deep clean a top load washing machine to get it clean and fresh again.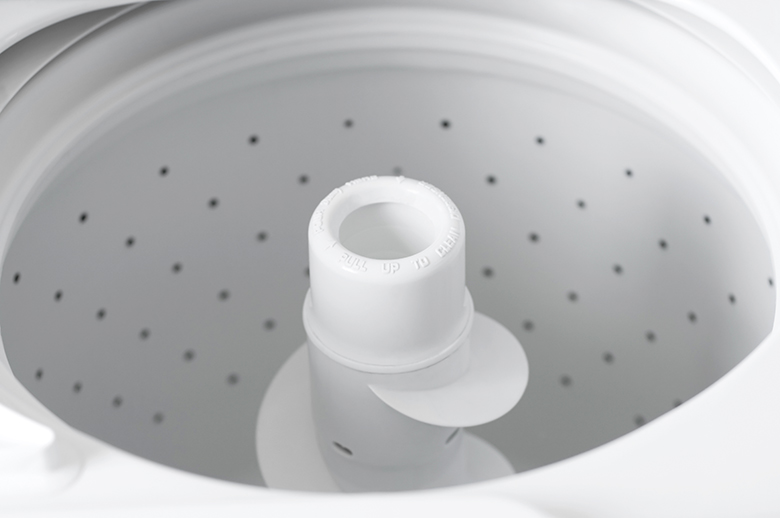 Cleaning kit
Paper towel
Gloves
Kat's cleaning spray or antibacterial spray
White vinegar
Scrubbing Brush
Dustpan and brush and broom, for behind the washing machine
Mop and bucket, for behind the washing machine


steps to clean top load washing machine
All these step and DIY recipes can be found in my book, The Clean Home.
Please refer to your manual before proceeding and make sure your washing machine is empty before cleaning.
Deep Clean
Clean filter and soap/fabric dispenser. Remove the filter and dispenser from the washing machine. Rinse under hot water to remove built-up gunk. Fill up the laundry sink with warm soapy water. Place filter and dispenser into the sink, use a mini brush to remove trapped particles. Rinse with clean water and let sit to air-dry before returning.
While empty, put the washing machine through a hot temperature full cycle. Add 1 cup vinegar as it fills. Alternatively, if you don't want to use vinegar, you could use this Washing Machine Cleaner.
As the machine is filling up, use the water and a cloth to wipe:

Top of the washer
Lid
Outside the washer
Underneath the lid
Rim of the washing machine
Top of the spinner
Filter location
All nooks and crannies you can find dirt and dust build-up.

If grime build-up in your washing machine does not disappear in this cleaning cycle, use a scrubbing brush to brush away all the soap build-up and repeat with another empty wash.
Behind the washing machine
Unplug your machine and carefully pull it away from the wall.
Using your dustpan brush or a dry cleaning cloth, wipe away any dust sitting on the electrical cord and on the back of the machine. If dust is stuck on, carefully use the brush attachment on your vacuum cleaner to remove it.
Use a broom and dustpan to sweep up the dust and dirt under the machine. Alternatively, you could use your vacuum, but more than likely it could be sticky and you don't really want that in your vacuum. Mop the floor.
Once the floor is dry, move the washing machine back into place and plug it back in.
Daily – quick clean
Monthly – deep clean
Seasonally – clean behind the machine
A deep-cleaned washing machine is essential for ensuring your clothes come out smelling fresh and clean every time. Not only that, but regular maintenance and cleaning of your machine can prolong its lifespan and ensure your machine is running efficiently. I hope these steps have helped you to deep clean your top loading washing machine.