It has never been easier to clean your kitchen, bathroom, laundry and bedrooms! Find easy ways to clean your house with these 9 cleaning tools that you didn't know you needed! 
Do you ever get into cleaning mode and wonder if there are easier ways to clean certain things? We have you sorted – from wool dryer balls to grout cleaning brushes to collapsible laundry baskets – here are 9 cleaning tools you didn't know you needed! We have you covered for all the rooms in your house!  Get your clean on and feed the feel-good chemicals in your brain!
1. White Magic Mini Blind Duster
If the thought of cleaning your dusty blinds makes you cringe then this is the tool you need. The Eco Cloth fibres grip and hold dust off blinds of any type. Will not scratch and will buff whilst cleaning.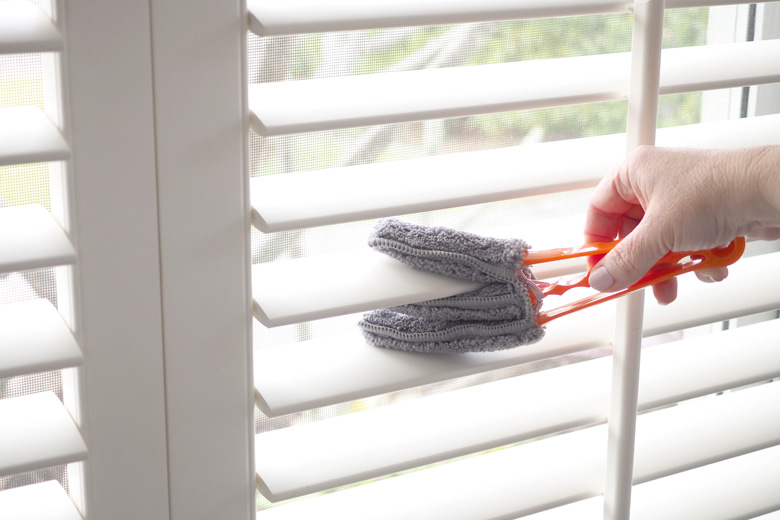 2. White Magic Super Sturdy Grout Cleaning Brush
This White Magic Super Sturdy Grout Cleaning Brush is the ultimate solution for removing soap scum, mould and dirt without the need for chemicals. The sturdy handle allows you to keep a good grip.
3. Magic Silicone Gloves
Sold in packs of two, keep your hands dry, clean and protected with these heat-resistant, food grade silicone gloves with built-in cleaning scrubber! Scrub dishes, or washing the pets or car… the uses for this very clever design are near endless.
4. Over Sink Roll Up Draining Rack
Expand your kitchen bench space in an instant with the Over Sink Draining Rack. It fits perfectly over your kitchen sink and can be used for air-drying dishes, rinsing fruit and vegetables or as an extra space to place your hot pans and baking trays.
5. Wool Dryer Balls
Want to dry your laundry quicker? You need these in your life!  Reduce your power bill, reduce static and wrinkles in your clothes and add some essential oils to make them smell good! Pop the dryer balls into the dryer with the wet laundry. They'll bounce and roll around  to get to the wet clothes easier and quicker.
6. Laundry Basket with folding legs
Never bend down for laundry again! The legs on the laundry basket fold out in seconds, making it perfect for hanging out washing or sitting next to you while folding the washing!
The Laundry Basket with Folding Legs is so popular it has been running out the door and is available for presale on Sunday! 
HOW TO ORGANISE UNDER THE KITCHEN SINK CUPBOARD
How to organise the cupboard under the kitchen sink, and make it clutter free. Organise the under the sink space efficiently as possible, so you can easily access the things you need to use. Continue Reading
7. Mini Strucket Sage/White
Soak, strain and drain while removing mess and muck that's left behind. There's nothing you can't clean in the mini strucket! Grab a few to keep in the kitchen, laundry and bathroom. 
8. Electric Grill Cleaning Brush
A Grill Cleaning Brush that is so much more!  Clean your electric grills while still hot, and then pop it in your dishwasher to clean.
9. Scrub Mommy
Scrub Mommy is all sorts of amazing! Firm in cold water for tough scrubbing, soft in warm water for light cleaning. She's scratch free on over a dozen surfaces from non-stick to stainless steel and even car exterior paint.