This post is sponsored by Godfreys
As my kids start school I usually declare that my 'true new year', I typically start my new year's resolutions but it's also a perfect time to start some new habits in the home too.  You know me, I am a big fan of routine and hands down would say this is how I got out of my rut all those years ago when I had newborn twins. I struggled to keep my home tidy which then messed with my mindset.  I created a routine of tasks that were achievable and focused on helping me feel better about my home. At the time I wanted to get on top of the washing, keep the kitchen tidy and floors clean as I had crawling babies (twins going in both directions). From this routine I have now created daily habits which are my key to a productive day. Here are 5 of my Morning Housekeeping habits that haven't changed nearly 15 years later.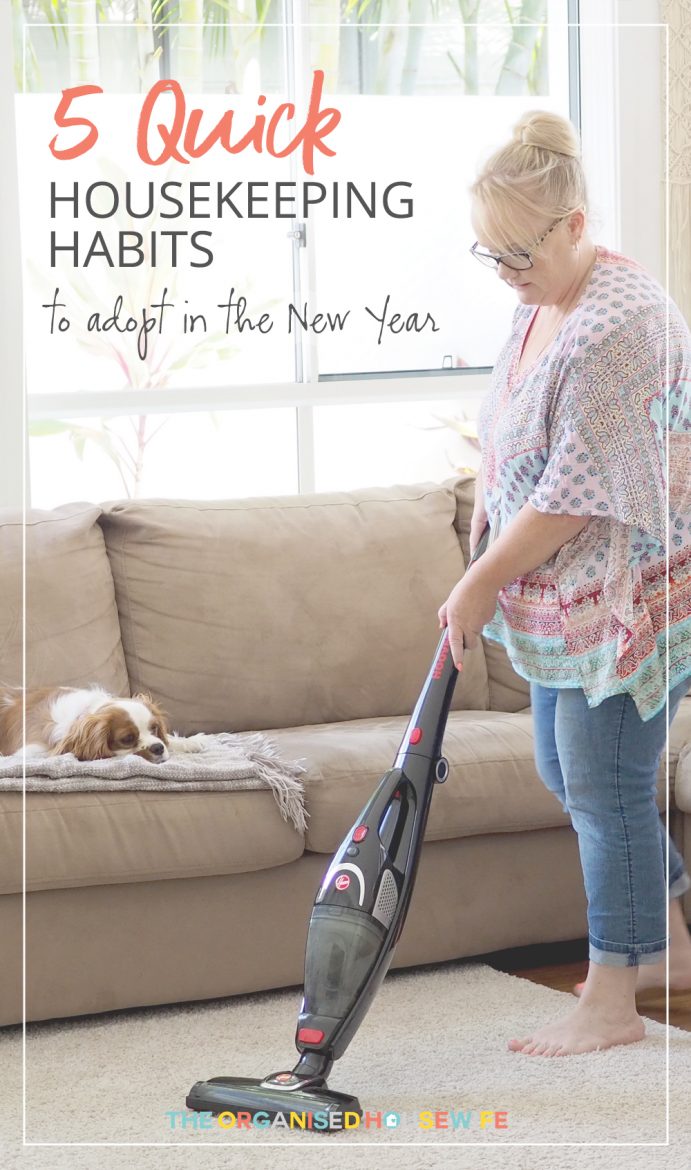 1. Make the bed
When my kids were younger there were many times I used to walk away from them for a few moments, close the door, lay on my bed face down, perhaps have a little cry wondering why I thought it was a good idea to have 3 kids within 2 years, roll over, sit back up and take a few deep breaths.  It was usually in this moment when I sat back up that I composed myself.  My bedroom was my place to escape, I liked to keep it tidy to help me in those moments I was having a little meltdown, it helped my frame of mind.
HABIT: I have a routine of getting out of bed, pulling back the sheets to allow the sheets and mattress to breathe while I shower and get dressed.  Before I leave my room I make my bed as this instantly sets the tone of the room making it look tidier, which gives an energised start to the day.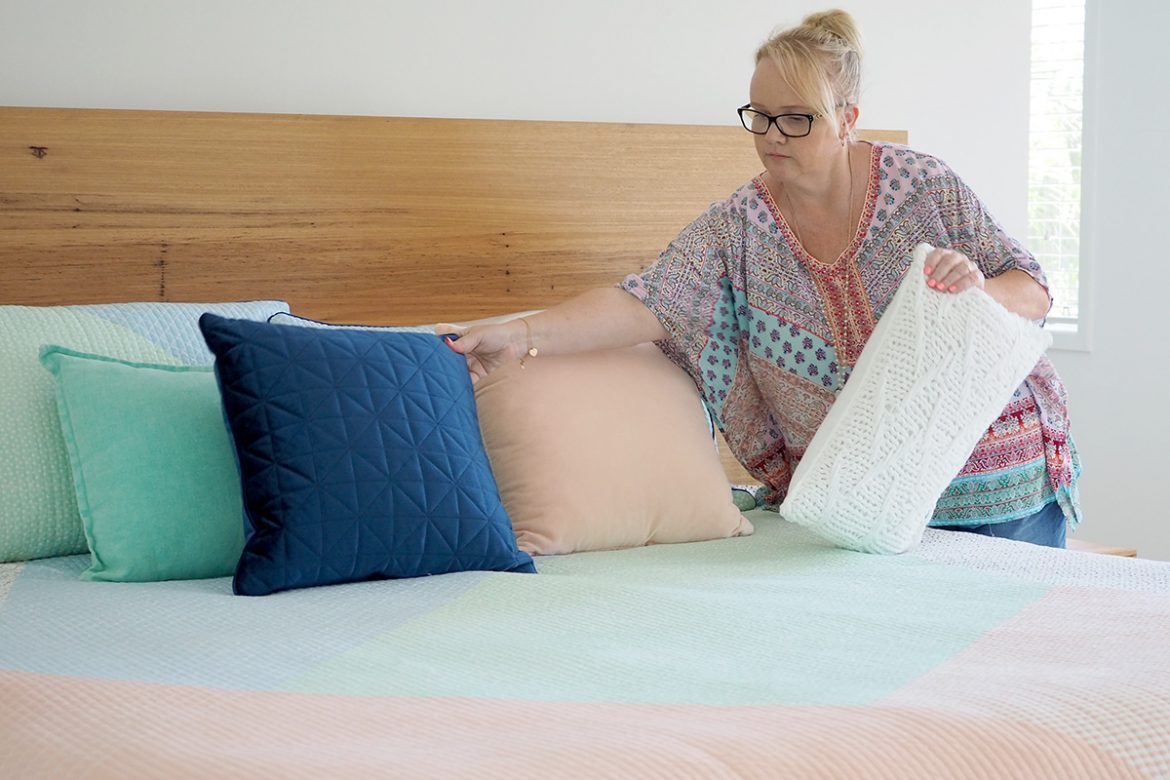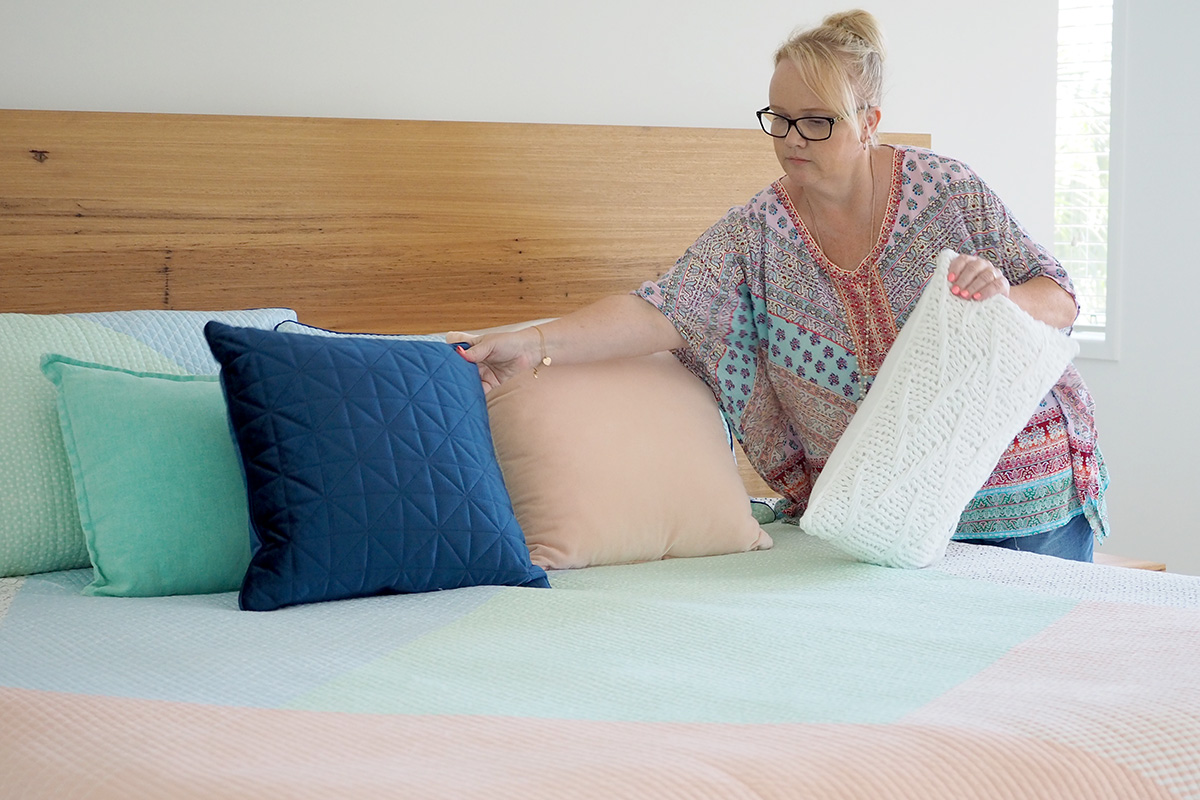 2. Unload the dishwasher
I am a super messy cook, in our first home we had a small kitchen bench and I remember many nights I had it filled with dirty dishes from cooking dinner.  In the early days before I created my routine I'd leave the dishes for the next day.  But I'd wake up to a messy kitchen, not having any spare bench space to make hubby's lunch.  It drove me nuts, and then I'd be spending time while the babies were napping trying to quietly clean the kitchen.
HABIT: Now I clean the kitchen after we eat dinner and put the dishwasher on at the same time.  My kids now unpack the dishwasher as part of their responsibilities after they have had breakfast so that all the dirty breakfast dishes can be placed in the dishwasher, this helps to keep the kitchen tidy throughout the day. Before my kids helped I usually unpacked the dishwasher while I was waiting for the kettle to boil for my morning cuppa or after my breakfast.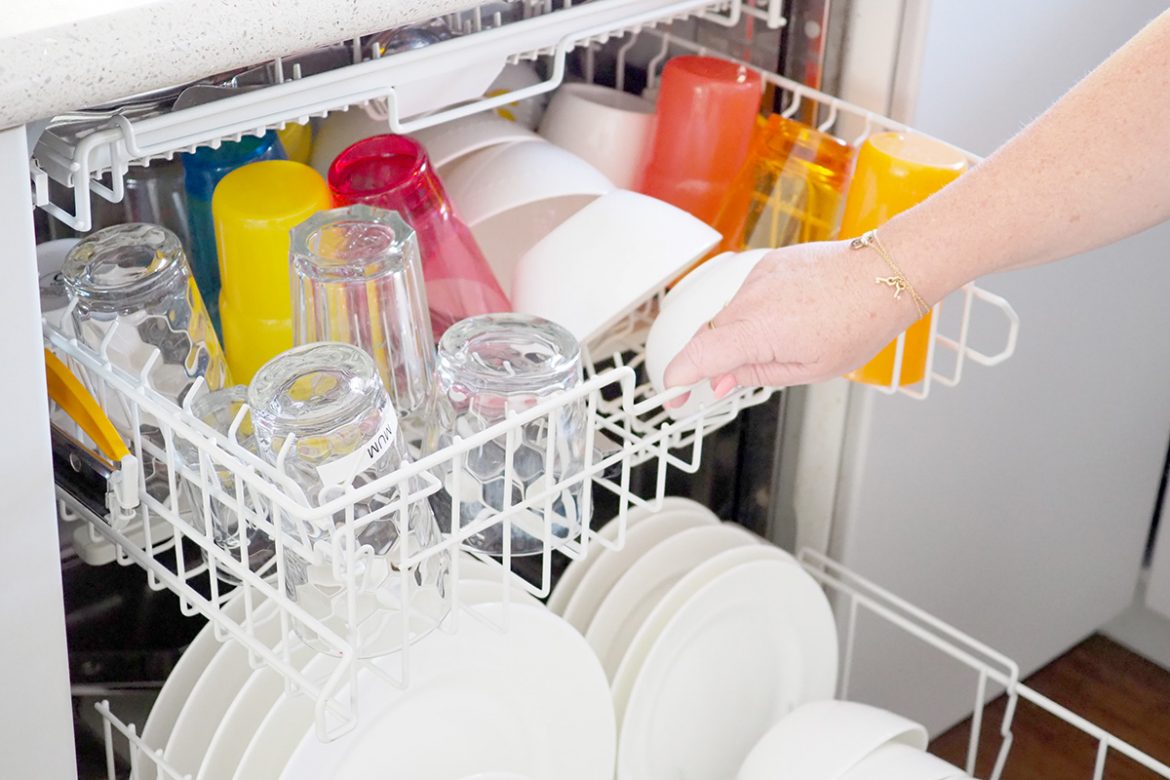 3. Wipe the sink and benches
I can still remember the feeling of waking up to the messy kitchen that I mentioned above, I remember the feeling of anger, disappointment and resentment.  It truly affected me and messed with my mental state.  Since I created my routines and changed my ways of cleaning the kitchen in the evenings I have always strived to keep my kitchen benches clean and clutter free day and night. Still all these years later, when my kitchen is messy I still messes with my mood.
HABIT: I wipe down the sink and kitchen benches in my evening cleaning routine, however, I don't know how my kids do it, but they get breakfast cereal and milk spills all over the bench and floor, so I use one of my homemade reusable antibacterial wipes to wipe down the kitchen bench and sink, leaving the kitchen sparkling clean!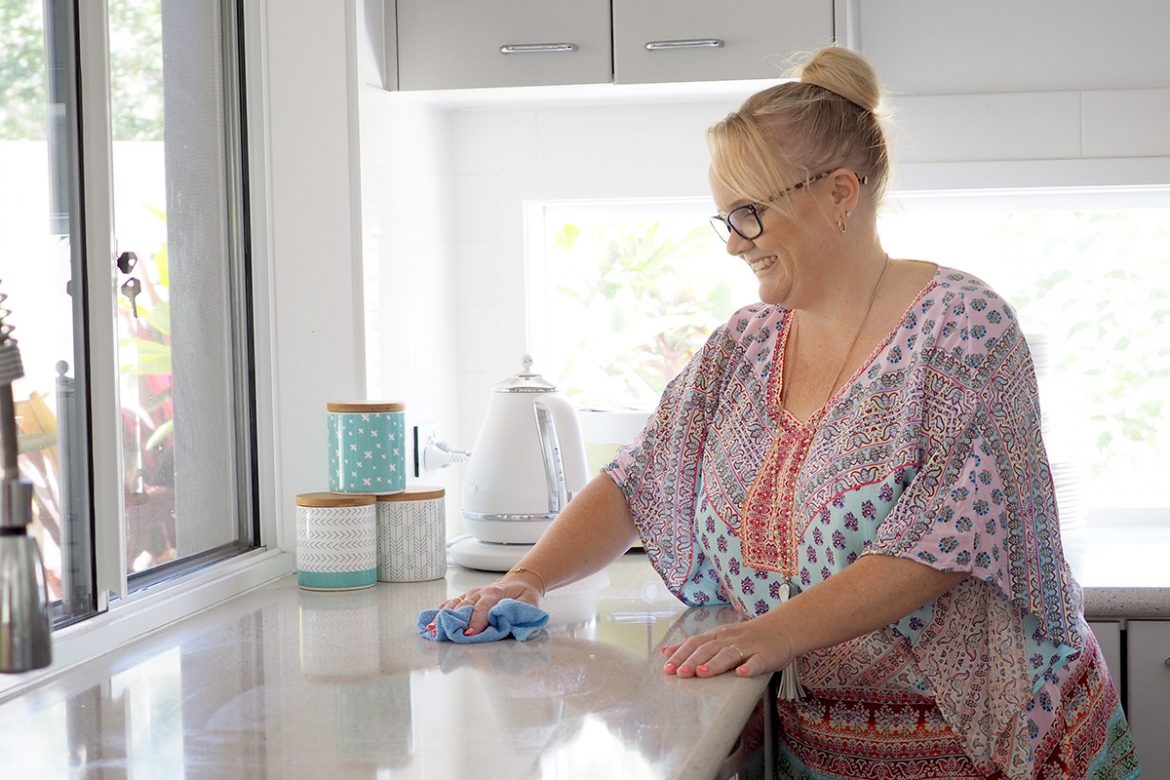 4. Quick Vacuum of the floor
From the moment the twins started crawling I added a quick daily vacuum into my routine as we lived in an area with a beautiful breeze that would also bring in a lot of dust and dirt onto the floor, so I gave the floors a quick vacuum each day so the babies would keep their hands cleaner.
Shortly after I got married my brother started working at Godfreys, who specialise in a huge range of vacuums, cleaners and more to help manage dirt, dust, asthma and other allergies in the home. So, I have been lucky enough to have my brothers help to pick a good quality vacuum cleaner and stick vacs.  Hands down the investment of a stick vac was worth every penny as having kids there is always something that needs to be quickly cleaned up under the dining table, in the kitchen, bedrooms, bathroom or laundry.  For clean ups like these I always reached for the stick vac rather than lugging out the big vacuum cleaner.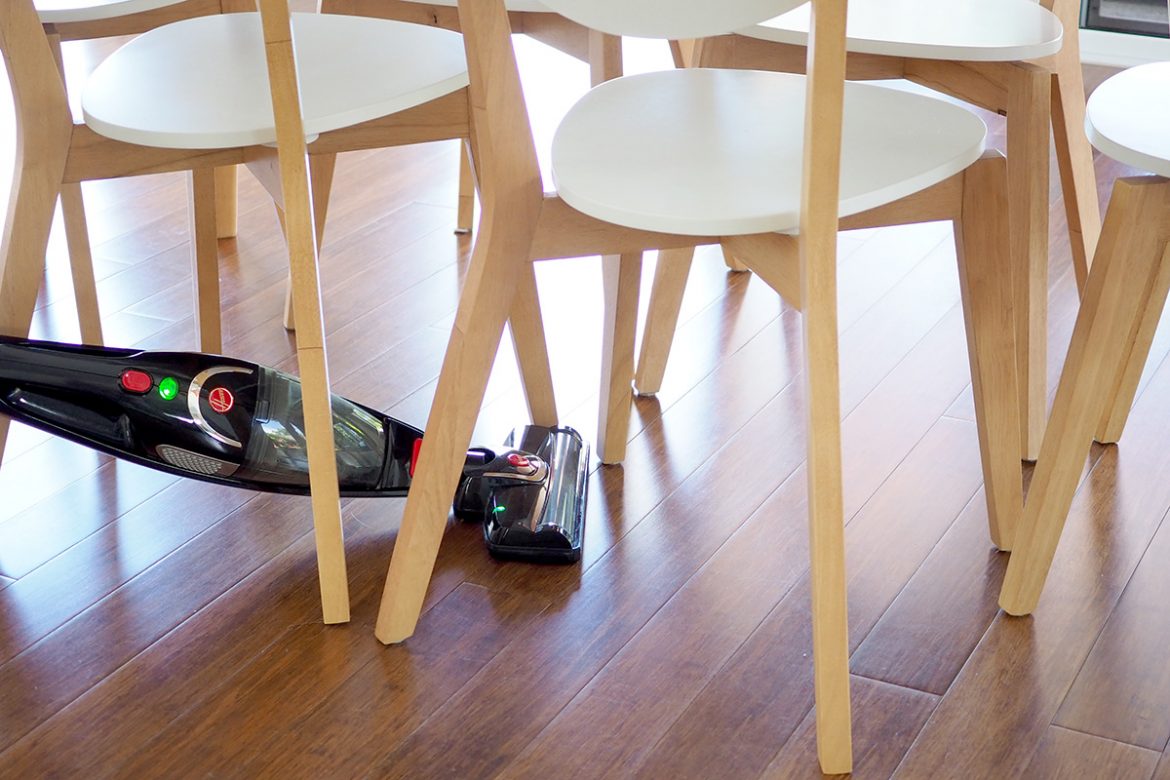 HABIT: Typically the last thing I do before I take the kids to school is a quick wizz around the high traffic areas with the stick vac. However, usually, the kids do this too as they find it fun.  We have a very fluffy ragdoll cat Millee and Zoe our King Charles Cavalier who both leave a bit of fur behind wherever they go.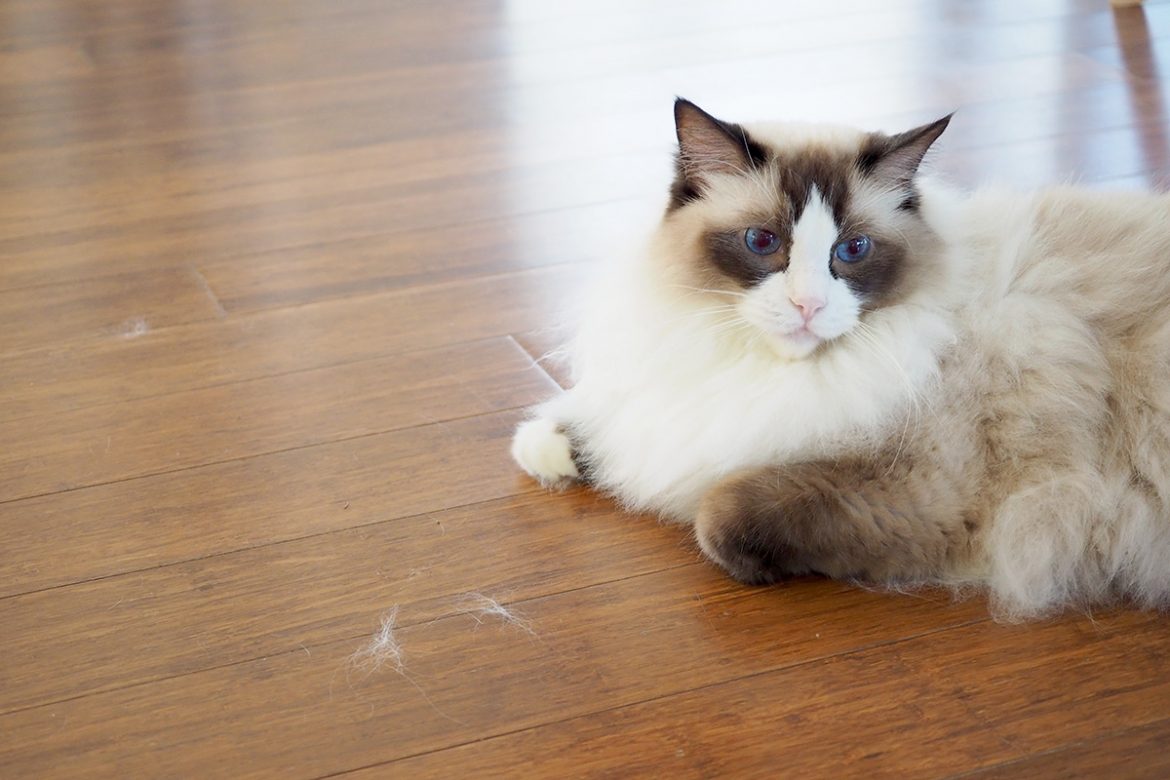 Below I am using the Hoover 5210 Heritage 2 in 1 Cordless Stick Vac, it is lightweight, cordless, bagless, super easy to use and clean.  The rotating neck makes it easy to swivel under the dining chairs and beds.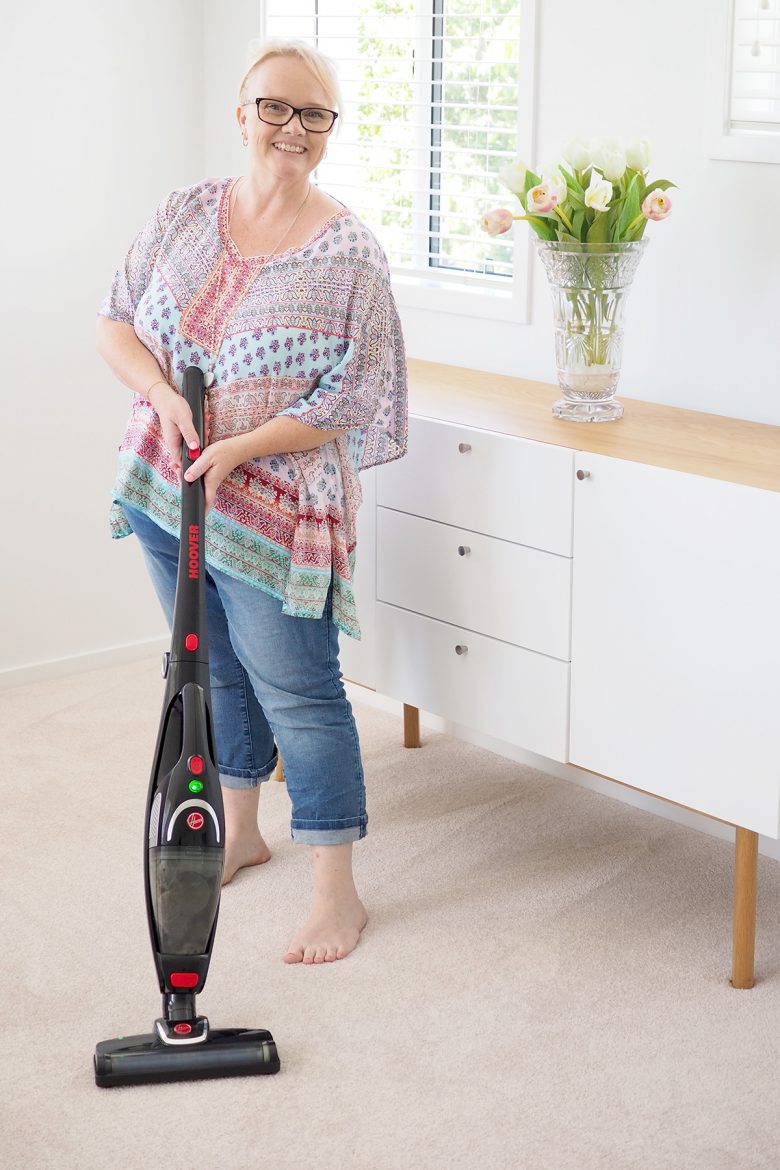 This cordless stick vac comes with a crevice nozzle which I found helpful in my recent wardrobe declutter session and found a big build up of dust along the skirting boards and a sofa brush which I find very handy for cleaning pet fur off the couch.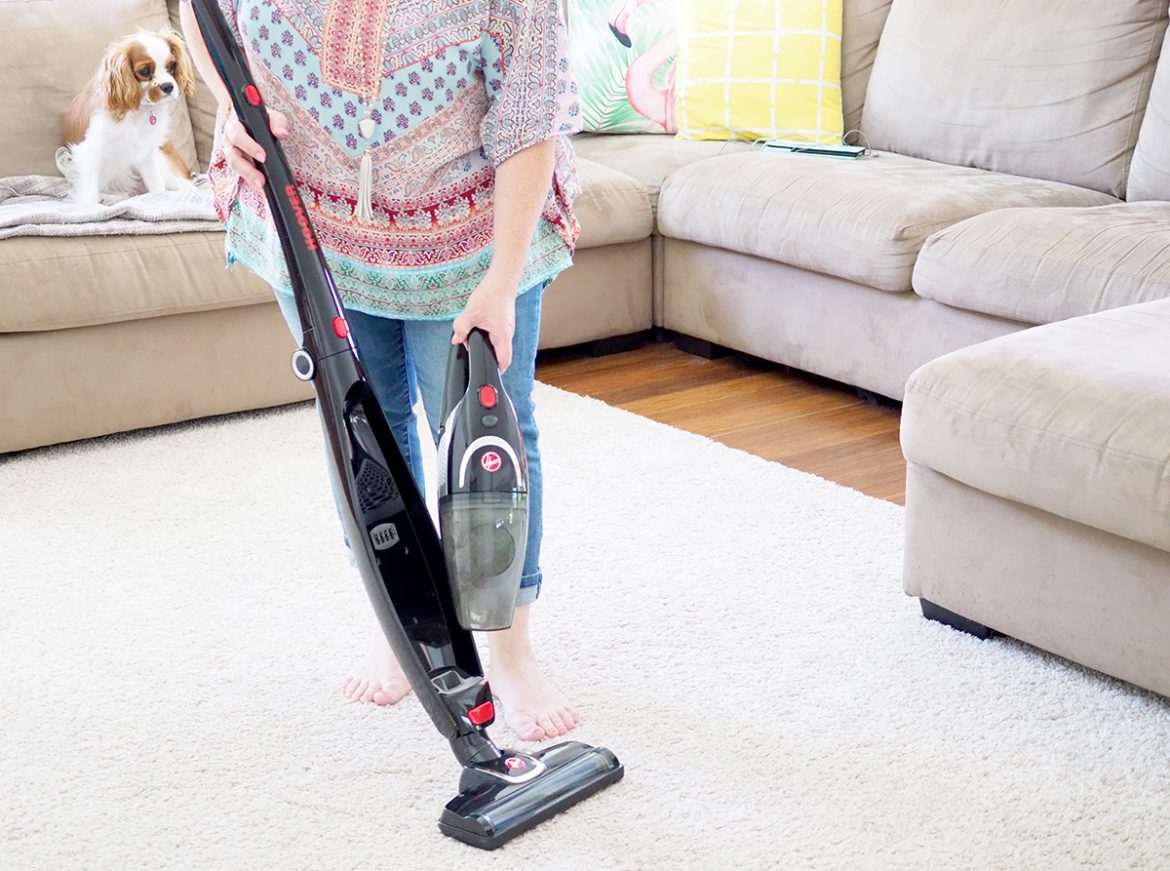 The accessories can be conveniently stored on the rechargeable base stand so you don't have to go searching for the tools when you need them.  I keep our stickvac at easy reach in my laundry, however it does have a fold-down handle which makes it compact for easy storage. The Hoover 5210 Heritage 2 in 1 Cordless Stick Vac has up to 20 minutes run time, which is ideal for quick clean ups.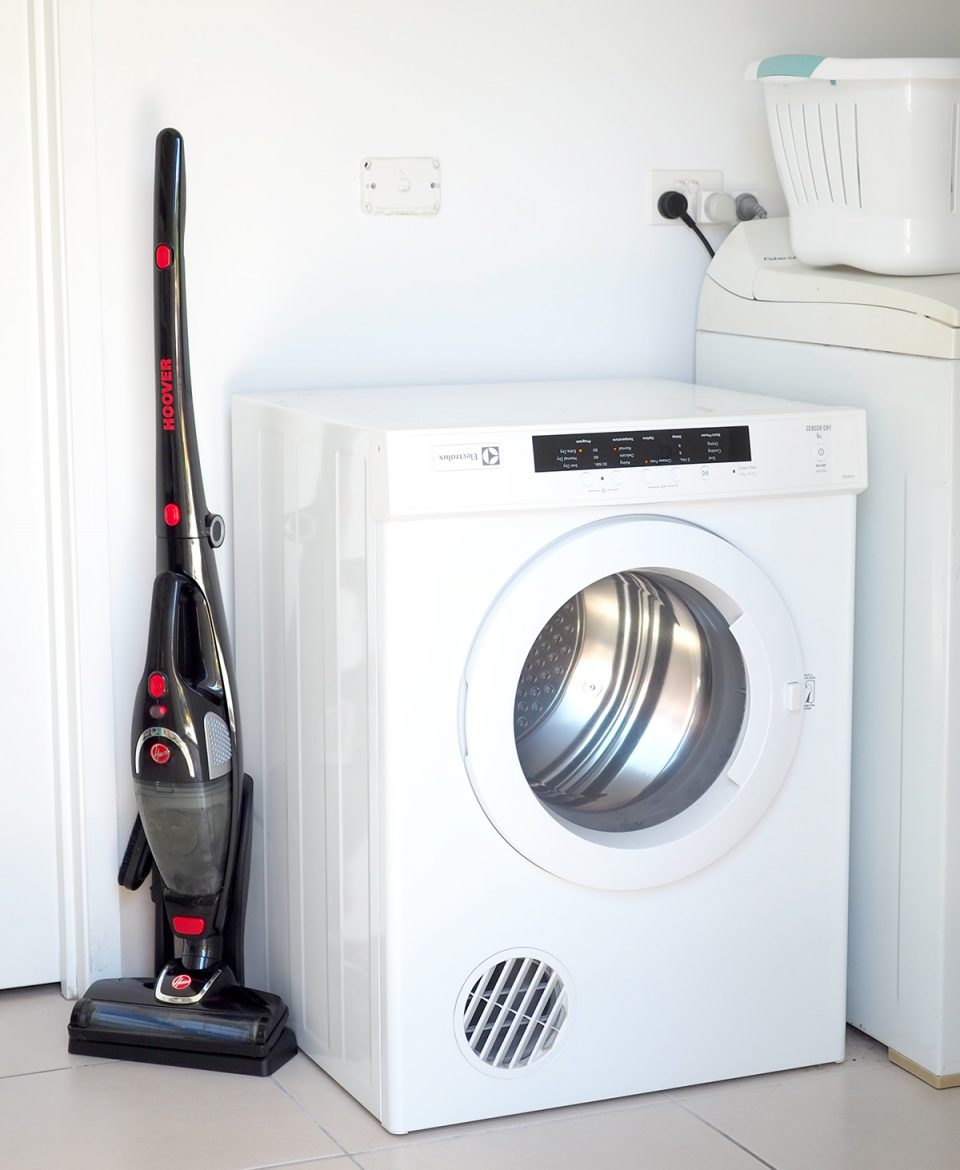 I glide it around the house each morning through the kitchen to pick up crumbs, under the dining table again for crumbs, lounge room for pet hair, front entry as the pet hair drifts this direction and around the laundry cause the cat makes a mess flicking the crystals from the litter tray.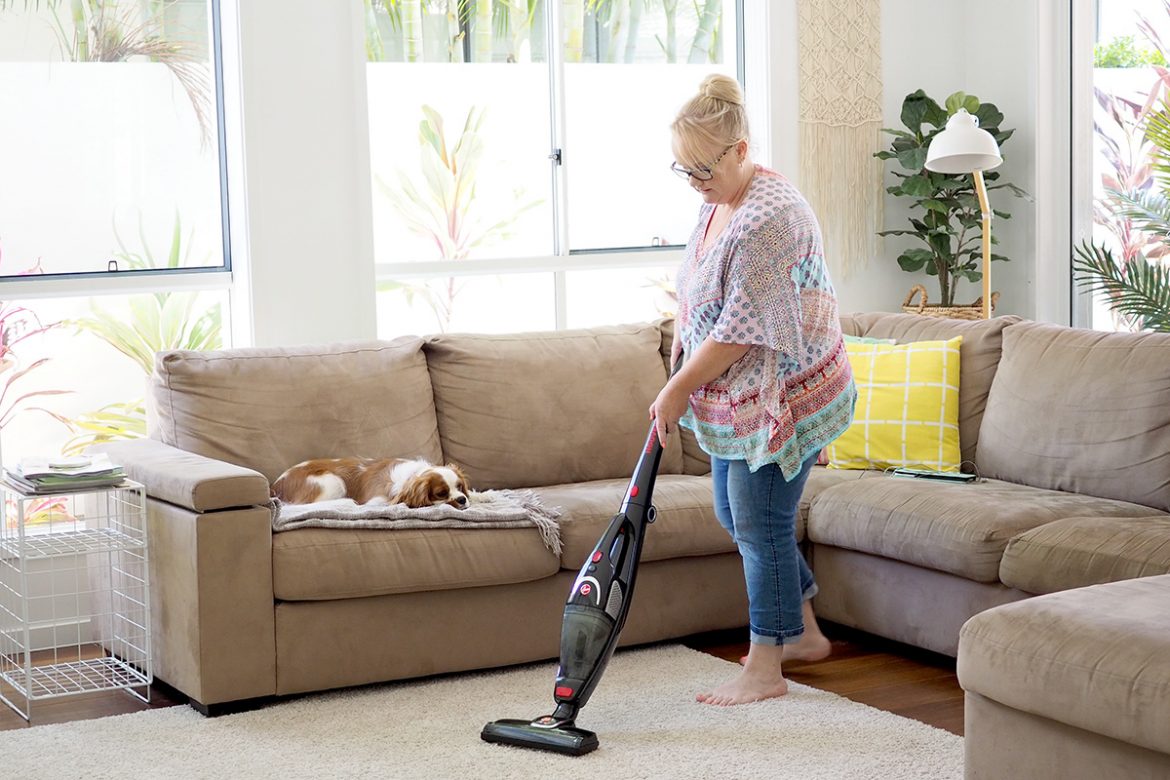 The Godfreys Feb's Bonus Buy's sale is on now with big discounts on vacuum cleaners, steam mops, carpet shampooers and more! Head in store or shop online now and get free delivery on all orders over $99. Sale ends on the 28th February 2018. Check out all sale items here. 

Read more details about the Hoover Heritage 5210 Stickvac here with free delivery when you order online and when you purchase the Hoover Heritage in February you can save $100 and you'll receive a free Optim Plus Steam Mop.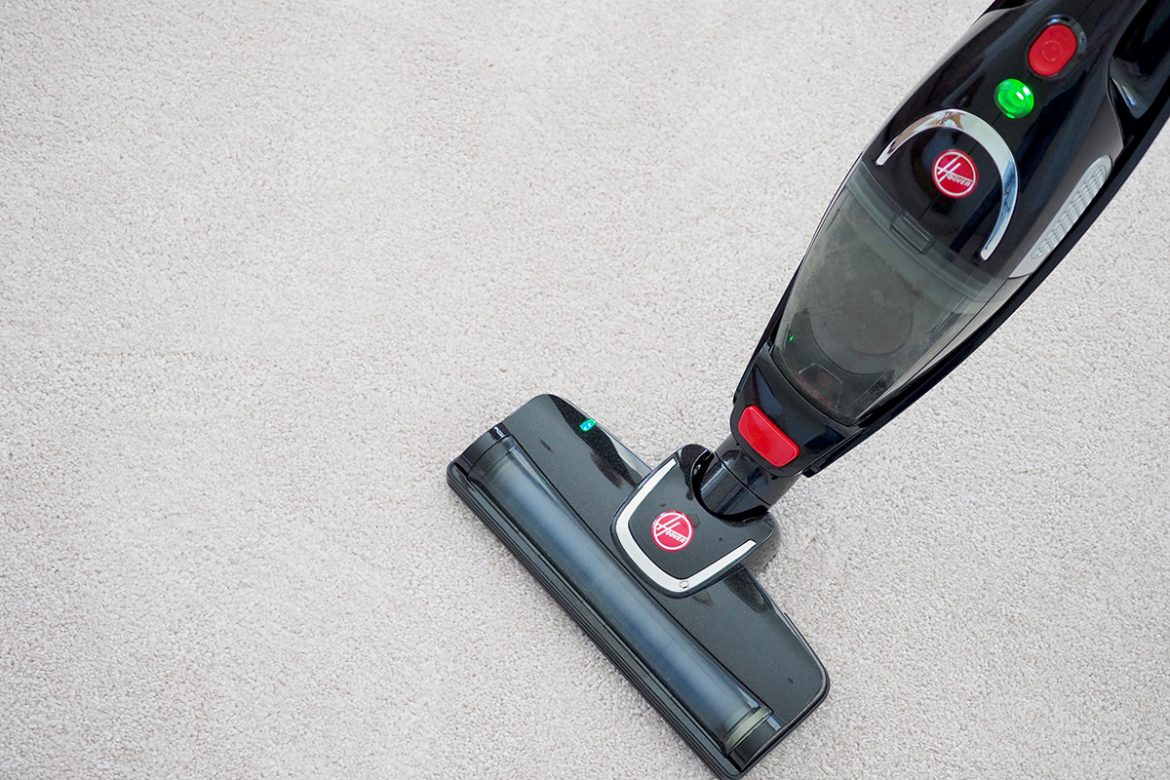 5. Hang out a load of washing
This one is simple, if washing doesn't get done there are no clean clothes to wear. I put on a load of washing every day except Sunday if I can help it to help keep on top of the dirty washing.  I have a system that helps me get through all the dirty laundry, sorting it and washing particular loads on certain days to ensure that I don't end up with Mt Washmore taking over my laundry.
HABIT: Similar to the dishwasher, I put a load of dirty washing on the night before and hang it on the line before I take the kids to school.  By having a load already washed means it doesn't hold me up in the mornings having to wait for the washing machine to finish and I can put the load out when it suits me…. or I can delegate it and get hubby or one of the kids to help.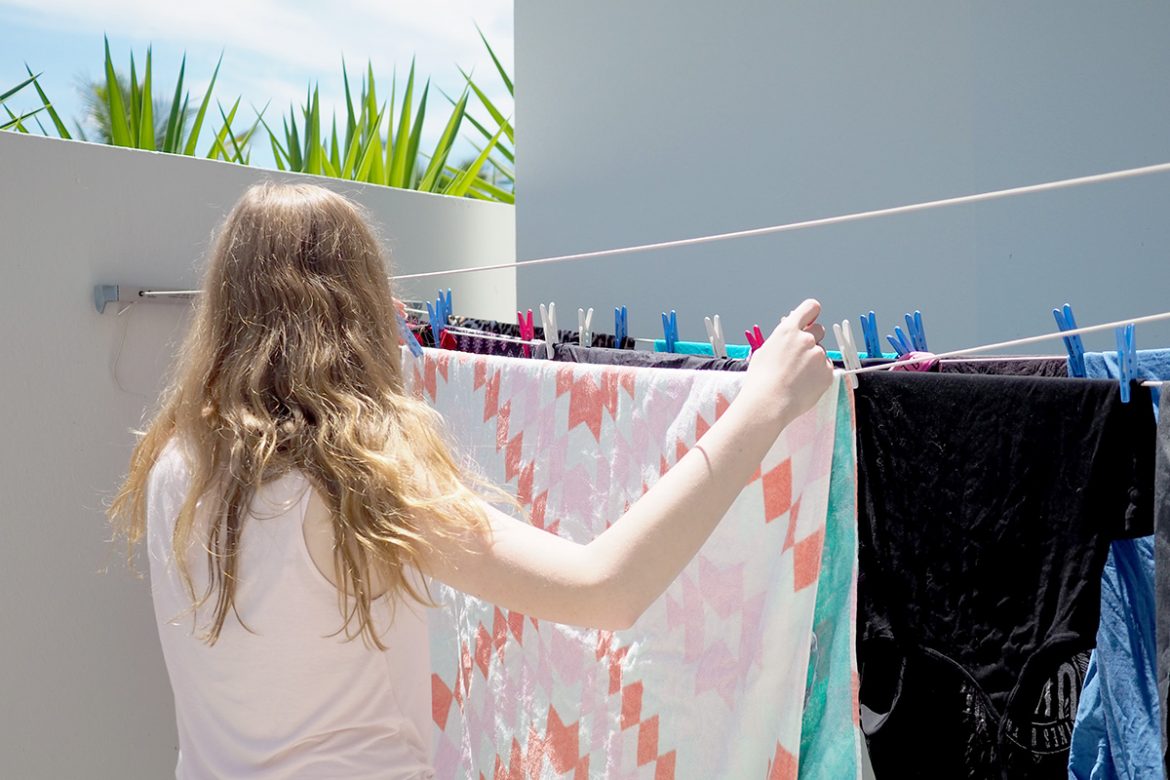 ---

Win a Hoover 5210 Heritage 2 in 1 Cordless Stick Vac
With special thanks to Godfreys, one lucky The Organised Housewife reader will win a Hoover 5210 Heritage 2 in 1 Cordless Stick Vac valued at $199.00.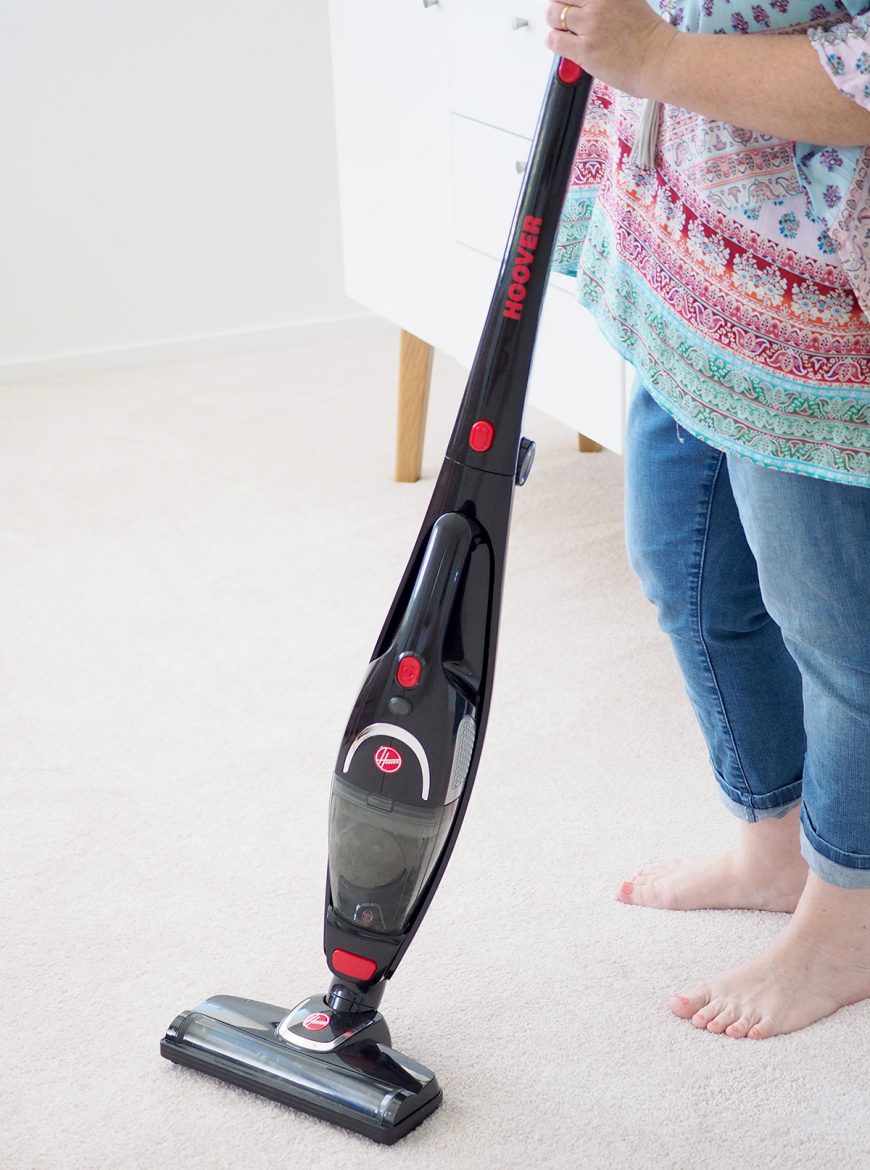 There are 3 ways to enter
Complete the entry form below, entries close 11.59pm AEST Monday 19th February 2018.
Godfreys Hoover 5210 Heritage 2 in 1 Cordless Stick Vac

GIVEAWAY TERMS AND CONDITIONS – This giveaway run in accordance with my disclosure policy, please read the terms and conditions: 1. Entries must be made on The Organised Housewife blog, comments on social media are invalid. 2. Entries close 11.59pm AEST Monday 19th February 2018. 3. One entry per household and open to Australian residents only. 4. This giveaway is a game of skill. The judge's decision is final and no correspondence will be entered. 5. The total prize pool is valued at $199.00. One winner will receive a Hoover 5210 Heritage 2 in 1 Cordless Stick Vac valued at $199.00. 6. Winner will be contacted by email, please ensure you leave your email address. 7. If I have not received a reply from the winner within 7 days the prize will be forfeited and awarded to the entry judged to be the next best. 8. The Organised Housewife will take no responsibility for any delay, loss or damage to prizes sent to winners. 9. All entrants email addresses will be passed onto Godfreys.