Uncover the versatility of white vinegar, from cleaning hacks to surprising uses, this post will show you how to make the most out of this pantry staple. Transform your home cleaning routine with the power of vinegar! 
Whether it's cleaning, cooking or even personal care, there are endless uses in the home for vinegar. It's cheap to buy in bulk and is great for using around the house, not just the kitchen, and can replace a wide range of harsh chemical solutions. Its magical ingredient is acetic acid which does wonders in a lot of different ways around the home. Vinegar does have a strong scent, however, don't be deterred by this as the odour does disappear within 30 seconds.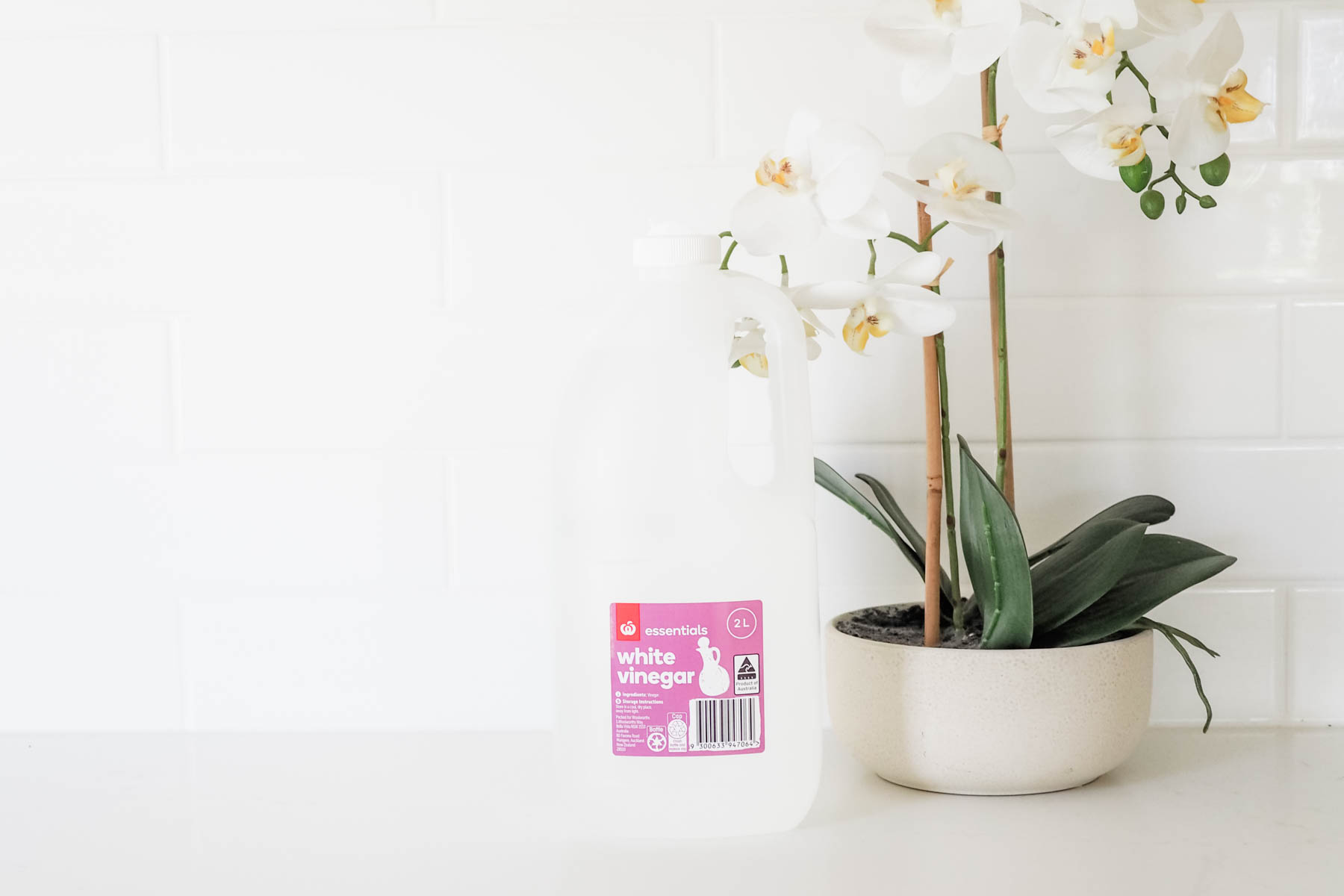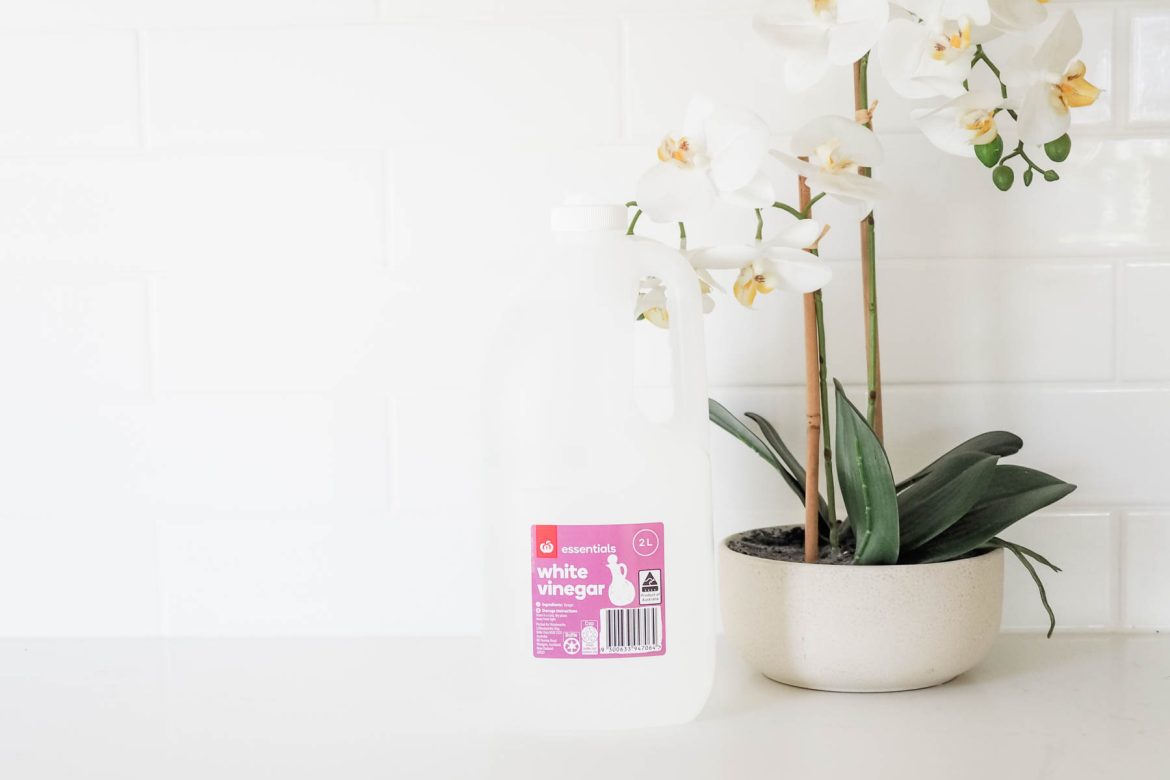 Using Vinegar – Around The House
Remove label goo – Those sticky price-tag labels on your platters, glass or shiny surfaces left some residue behind? Let some full-strength vinegar sit on it for a couple of minutes and then wipe clean.
Get rid of that musty smell – Spare rooms and wardrobes or closets can gain a dusty, musty smell due to lack of use. Add 1 cup of vinegar and 1 cup of ammonia to 3.5 litres of water and wipe down all the surfaces (walls, ceiling, shelves). Leave the windows and doors open to dry and air the room out.
Remove wall decals or bumper stickers – Soak the top and sides of the decal/sticker and wait a few minutes. Carefully scrape it off with an old bank card or similar.
Make your own cleaners – I use my own all-purpose cleaner in the kitchen and around the surfaces of the home.
Soothe insect bites – Soak a piece of cotton wool in vinegar and wipe gently over the top of itchy bites. If you're really desperate for relief, keeping the vinegar in the fridge is even nicer on the hot and bothered skin!
Keep your washing machine clean each month – read here how I use vinegar to clean my washing machine.
Mildew – Vinegar will help remove mildew stains from just about any surface. For mild stains, dilute with water in equal parts. Use full-strength for heavier stains!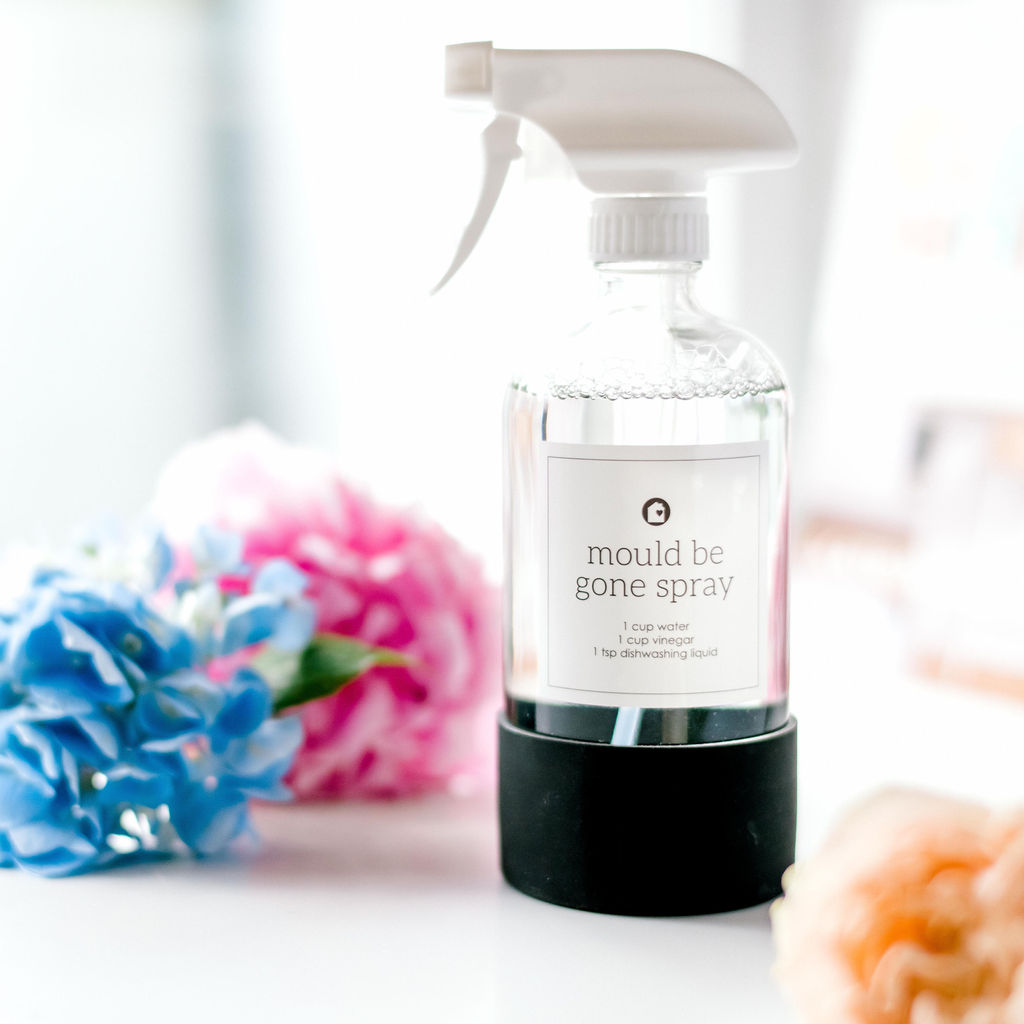 Using Vinegar – In The Bathroom
Deep clean the toilet – Just because the toilet bowl looks clean, doesn't mean it is. The toilet needs a regular thorough clean, see how I give my kids toilet a complete clean here.
Get rid of soap residue – Wipe down the bath tub and shower screens with vinegar to remove the soap scum.
Clean and disinfect hairbrushes and combs – remove the oil and dirt build up, read further for steps on how to clean the brushes here.
Remove shower head build-up – If you can remove the head easily, place it in a bowl and soak in vinegar overnight. If you can't move the shower head, try tying a small towel soaked in vinegar around it instead.
Clean shower curtains – Add 1 cup of vinegar to the rinse cycle when washing your shower curtain. If you can't use your washing machine, spray and wipe down the shower curtain instead.
Disinfect and clean bath toys – get rid of the slime and grime from inside bath toys, read how to do this here.
Using Vinegar – In The Kitchen
Disinfect cutting boards – After each use, give your cutting boards a quick spray of vinegar and wipe clean.
Unclog and deodorise drains – Pour 1/2 cup of baking soda followed by 1 cup of vinegar down your drain. When all the bubbles and foam goes down, flush with hot tap water.
Refresh the refrigerator – Use equal parts vinegar and water to wipe down all the surfaces – shelves, drawers, walls, etc. Follow up with a box of baking soda to remove any lingering smells.
Steam clean the microwave – Pour 1/4 cup of vinegar and 1 cup of water in a glass bowl and place it in your microwave. On the highest setting, let it steam away for 5 minutes. Wait for the solution to cool and use it give the microwave a quick wipe out to remove the splatters.
Clean the dishwasher – give it a regular clean to remove any smell and built up grime.  Step by step instructions here.
Clean the kettle – Depending on your local water supply, mineral deposits can build up in your kettle. Bring 3 cups of full-strength vinegar to the boil and let it sit overnight. Use cold water to rinse it out the next day.
Clean the oven – step by step instructions available here.