Easy and simple cleaning tips, clever solutions, handy hacks, step by step how to instructions, helpful routines and great products to help you create a clean and healthy home that you and your family can enjoy.
LATEST CLEANING BLOG POSTS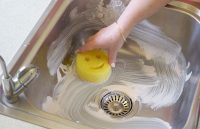 Do you know how to clean your kitchen sink? If you don't regularly clean your sinks, they can become a breeding ground for germs.
Read More »
Organised HQ is my shop where we have a huge variety of hand-selected kitchen organisation, stylish home décor and eco-friendly waste-free products grace the pages of our store. All pieces are personally sourced, tried and tested so that you can shop your favourite home and living brands in the one convenient place.
Some of our customers favourites
BAMBOO CHARCOAL AIR PURIFYING BAGS
Bamboo Charcoal Air Purifying Bags are a natural alternative to chemical air fresheners.
Activated charcoal bags help to remove and prevent odours, allergens, pollutants, bacteria, moisture, mildew and mould. The activated bamboo charcoal inside the bags act as a natural sponge, absorbing and neutralising foul odours and toxins.
RECEIVE 1 DAILY TASK TO YOUR INBOX
If you're having trouble keeping on top of your housework and need a little direction, subscribe to our Todays 2Do emails where I will send you a task to complete each weekday (you get he weekends off!!) such as wiping over your kitchen cupboards or challenging you to declutter the kitchen junk drawer. They are all simple tasks that could be easily forgotten in your typical cleaning schedule.