I share with you loads tips on how to clean various areas of your home, from door tracks to ceiling fans. Loads of cleaning tips, strategies and routines for your home!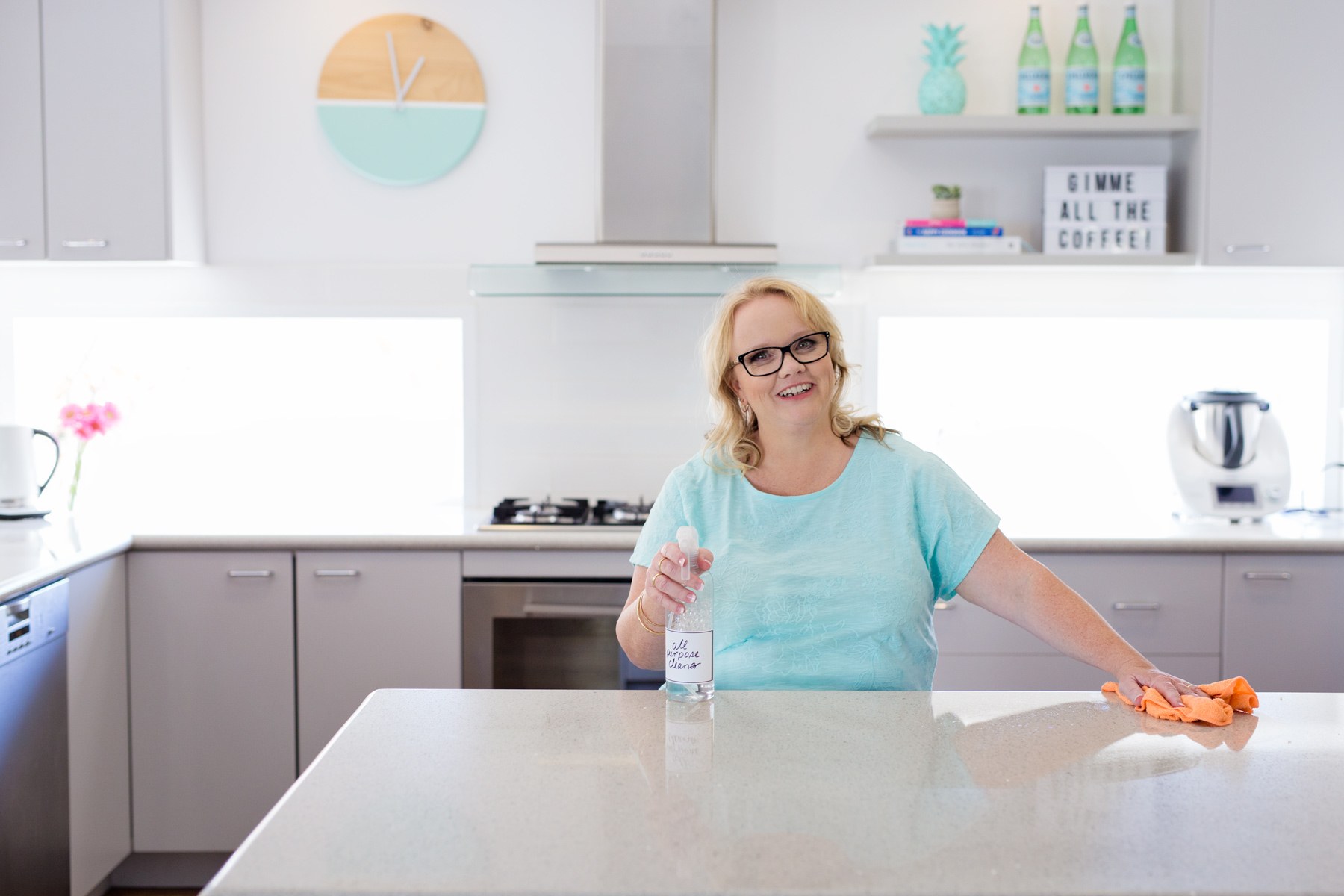 CLEANING KIT – Set yourself up with a cleaning kit to help you through the challenge, you will find what I keep in my cleaning kit here.
CLEANING CHECKLIST – A cleaning checklist which includes daily, weekly, monthly, quarterly and annual tasks. This checklist will help you remember cleaning tasks and create a routine to suit the time you have available. This checklist is available as an instant download here.
---
MAKE YOUR OWN HOMEMADE CLEANERS
I have been making my own homemade cleaning supplies for a few years now and absolutely love them and they work so well. Reusable wipes would have to be my favourite. Initially, it was to save money, as the cost of cleaning product added up quickly at the checkout. However, over time I could see the benefits DIY cleaning products were having on my family (3 out of 5 have sensitive skin with psoriasis and eczema), as some store-purchased products can irritate the eyes and skin. So over the past few years, I have started to reduce the amount of chemicals I use around the home, replacing most of my commercial products with homemade versions. Click below to have all my recipes conveniently together in one easy to download eBook.

---
TODAY'S 2DO (MON-FRI) UPDATES
And if your having trouble keeping on top of your housework and need a little direction subscribe to our Todays 2Do emails where I will send you a task to complete each weekday (you get he weekends off!!) such as wiping over your kitchen cupboards or challenging you to declutter the kitchen junk drawer, they are all simple tasks that could be easily forgotten in your typical cleaning schedule.
[activecampaign form=21]
---
ORGANISE AND DECLUTTER YOUR HOME
I am a strong believer in how calm, clutter-free environments can help to create happy moods and happy homes, but I also know how overwhelming this task can feel.
If your home is full of clutter that you're tired of seeing, and you would like to see it organised instead, then check out my Declutter 52 Things eCourse. Each task in this eCourse has been conveniently broken down into easy-to-follow instructions which you can complete at your own pace.