how to clean a ceiling fan

Soon it will be warm enough that we will need to turn on the ceiling fans to circulate the air, but before we do we need to remove all the dust built up on the blades over winter. Yes, look up and see all that dust gathered on your fan! If not cleaned, it will spread over your whole room which may cause allergies and hay-fever.
How to dust ceiling fan – method #1
Dust build up can also be the reason for squeaky fan noises, how annoying are they through the night.
Place rags or old towels below where you are cleaning to catch any dust that drops off.  Then you can easily shake the towel outside.
Use a step-ladder to reach the fans, or stand on the bed if underneath, be careful please!!
If you are a shorty like me more than likely you won't be able to see the tops of the fans, perhaps wear your sunglasses to prevent dust falling in your eyes.
Best idea is to use the vacuum cleaner first, use the brush attachment to pick up all clumps of dust.
Take off the brush attachment regularly and suck up the build up on the brushes with the vacuum.
If the vacuum hose isn't long enough, bring a chair beside you and place vacuum on chair to give it more height.
Not all dust will have been picked up. Use a damp cloth, damp paper towel or surface wipes to wipe the top and bottom of each blade.  Using a damp cloth will collect the dust easier and prevent it from falling onto the floor below.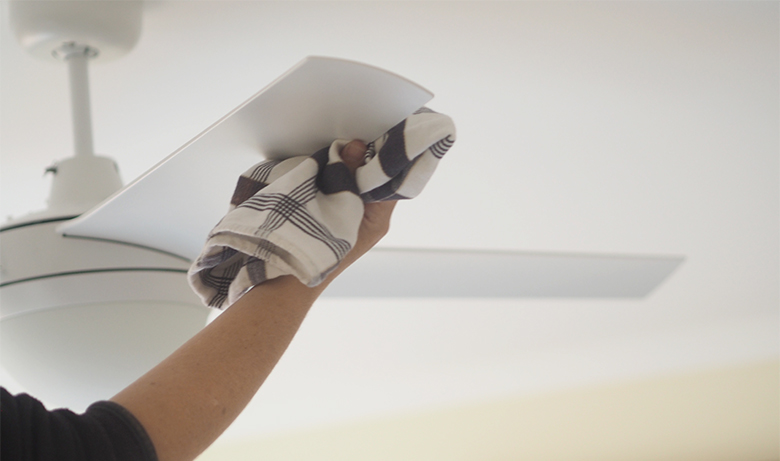 How to dust ceiling fan – method #2
I have always cleaned my fans using method #1, but it was suggested I also try the pillow case method.  I'm a shorty so don't find this easy to do, but I do think it's a brilliant method and worth sharing with you.
Slide pillow case over fans blades, so that the blade is inside the pillow case.
Pull the pillowcase back, scrunching the bottom so the dust on the side of the blades releases and falls into the pillow case.
Repeat on each fan blade.
Then shake the pillowcase outside to remove all the dust.  Turn the case inside out (to make sure all the dust is cleaned away) and wash.
I do think you will also need to wipe over the blades with a damp cloth to ensure it's completely clean.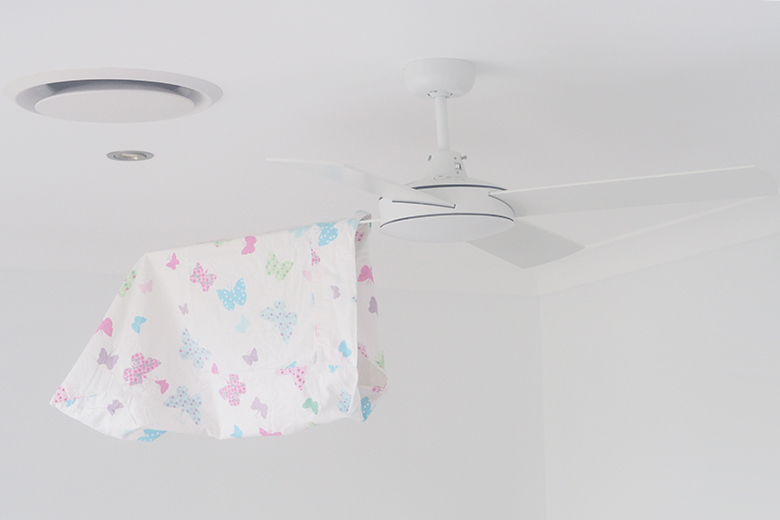 Here is a great video to show you how to do the pillowcase over ceiling fan trick.
Maintenance:
Each month use a duster with a long handle to dust blades.
Every 3 months wipe blades with a damp cloth.
Every 6 months vacuum blades and wipe with damp cloth.
How do you clean your fans?