I must admit that cleaning windows is one of the cleaning tasks that I regularly neglected in my home when the kids were younger as it was a hopeless cause to want to have sparkling clean windows. Purely for my own sanity, I stopped worrying about having perfectly clean windows inside, but when they were clean they looked so good!! I don't spend too much time cleaning my windows, follow my steps below on how to clean windows for my quick and non-toxic solution!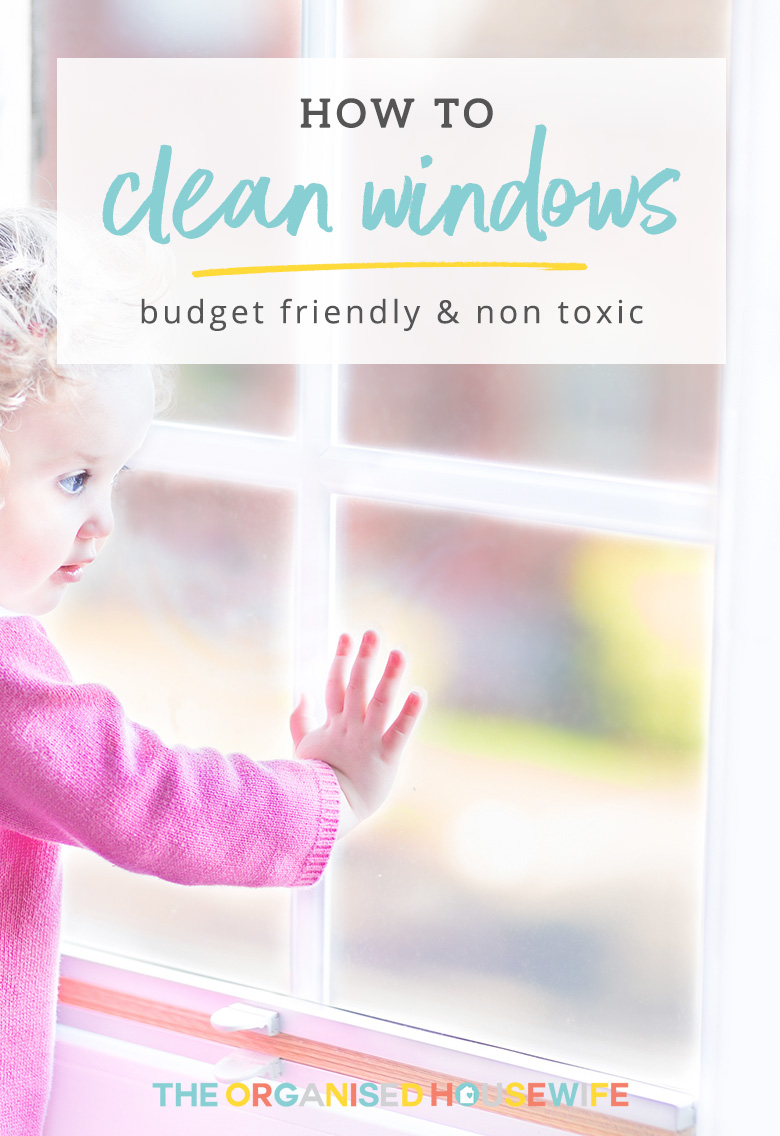 How often to clean the windows
Instead of adding window clean to my weekly cleaning routine I do it while talking on the phone as I find it hard to sit still, or when I'm waiting for dinner to finish cooking (if it's still daylight, so I can see the marks on the windows). This is how often I clean particular windows:
high traffic areas ie. living room sliding doors – regulary when I have time 1-2 weeks
kitchen – 2-4 weeks
living areas – 3-4 months (seasonally)
bedrooms – 3-4 months (seasonally)
all other areas – 6-2 months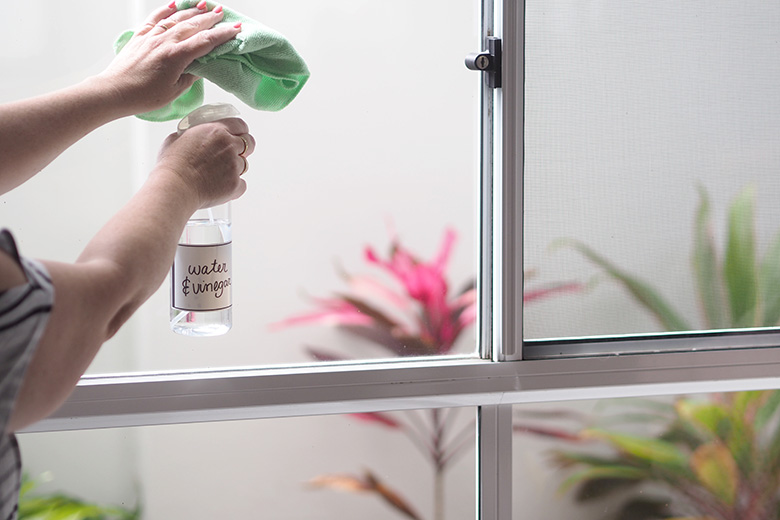 ---
Koala Eco Glass Cleaner
This Australian Peppermint Oil Glass Cleaner by Koala Eco cuts through film and polishes windows, glass doors and mirrors to smear-free perfection while discouraging dust from re-settling.
This 100 % biodegradable and eco-friendly plant derived formula effortlessly cleans, removes bacteria and deodorises, without the need for toxic chemicals.
---
Homemade Window Cleaning Spray
I don't use anything fancy to clean my windows, it's a simple homemade window cleaning spray using an ingredient you'll have in your pantry, it's budget friendly and chemical free too!!  However for your convenience, there are many glass cleaners available at the supermarket, grab one to have on hand when you have a spare moment to clean a window.
SPRAY BOTTLE – these can be found at chemists, hairdresser supply shops, Kmart or most grocery stores.
VINEGAR –  with non-toxic and anti-bacterial properties, vinegar is beneficial to any surface it touches safely killing germs. The acidic composition of vinegar acts quickly to break down the kind of film that frequently accumulates on glass surfaces.
LEMON ESSENTIAL OIL – lemon is a powerful cleansing agent that purifies the air and surfaces and can be used as a non-toxic cleaner throughout the home. This ingredient is optional, I have just started putting it in my water/vingear solution for my windows to also deter creepy crawly insects.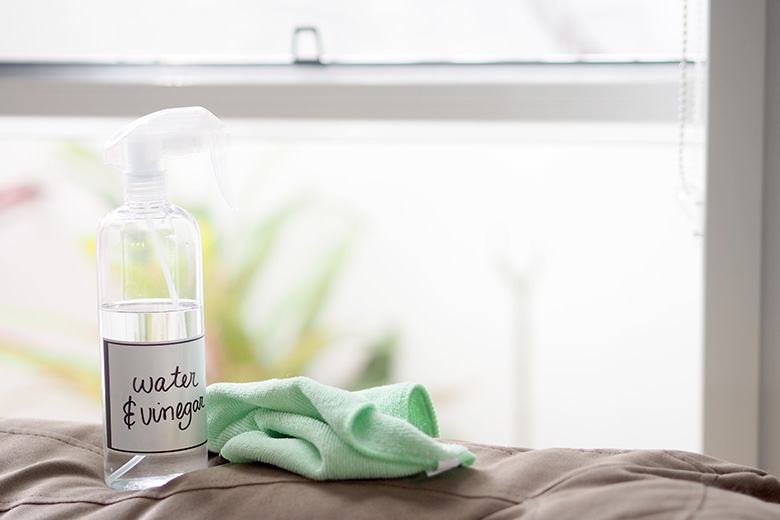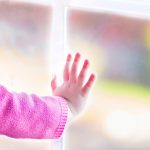 YOU WILL NEED
Spray bottle

1 part vinegar

1 part water

8 drops lemon essential oil, optional
Instructions
Pour water,  vinegar and lemon essential oil into spray bottle.
Shake bottle to combine.
Spray window cleaner onto window and wipe over using a dry microfiber cloth to remove all fingerprints and pick up dust and dirt.
Notes
If adding lemon oil, remember to shake the bottle before each use.
How to clean window tracks
If you have more time available you could clean your window tracks too.  I use an old toothbrush to loosen the dirt in the tracks.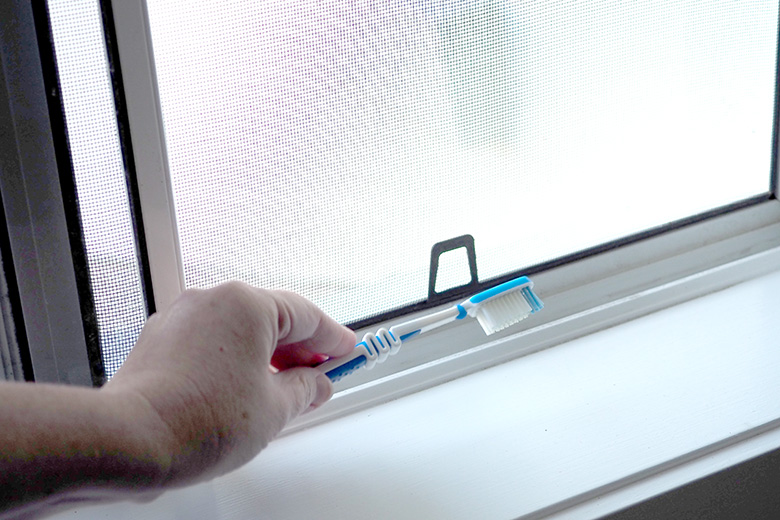 Then using the crevice tool nozzle attachment on the vacuum pick up all the loose dirt and dust.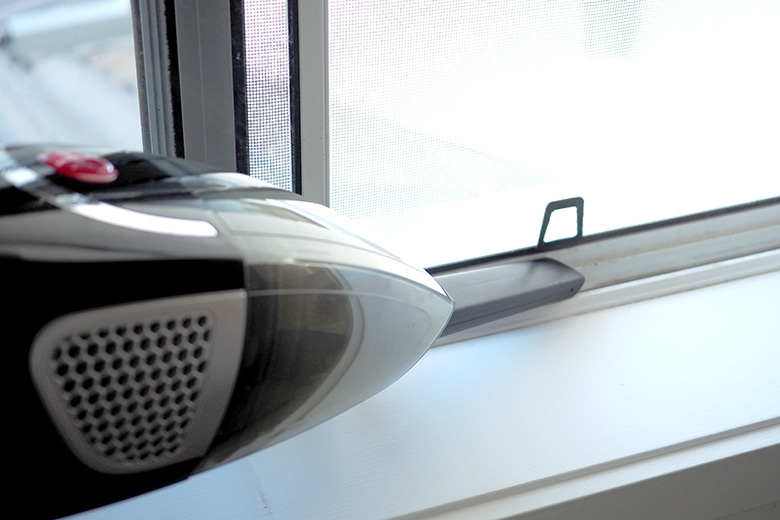 September 5, 2019

August 29, 2019

July 16, 2019