Thank you to our community for sharing their tips on how to Clean a front loader washing machine. I particularly get asked frequently how to remove the mould from the washing machine.  Front loaders are well-known for the build-up of mould around the seal, a musty smell could be your first indication that this is occurring and is in need of a clean.  It's very important to clean away the mould as it can get on your clothes during the washing cycle and become very harmful to your health.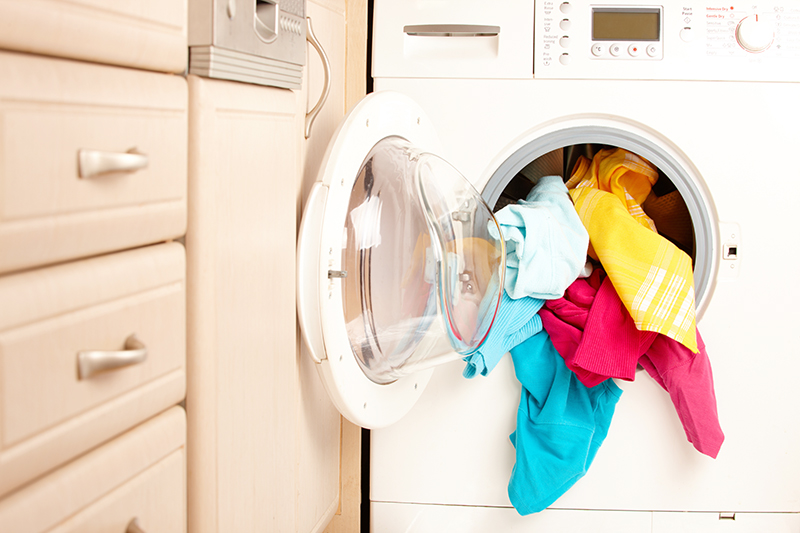 Steps to clean your front loader washing machine
Please check your manual for instructions for your particular machine, otherwise, here are my tips:
While empty, pour 1-2 cups vinegar (depending on washer size) into the front loader, run on the hottest cycle
Using a spray bottle mix half vinegar and half water.
Once cycle has finished, put on your gloves and have an old toothbrush handy.  Spray really well around the seal area.  For stubborn mould let sit for a few minutes before proceeding to next step
Using the toothbrush, get the bristles into areas that are hard to reach to loosen the mould.
Using a rag or paper towel remove all mould particles
Wipe area clean using a cloth and warm water
Maintenance:
Once a month run an empty cycle on hot with a cup of vinegar to prevent the mould from reappearing
Keep the door open slightly after removing your wet items to allow the moisture to evaporate
Seals exposed to constant moisture are more likely to have mould buildup, as a result do not leave wet items in your washer overnight
If the problem keeps recurring, consider changing your detergent
Tips from our community:
We had a terrible time with our washing machine staying damp until I came up with a simple solution to stop the pets and breeze closing the door. You know those finger-saver things they sell for internal doors, to stop toddlers slamming their fingers in them? I put one of those on the washing machine door near the hinge to make sure the washing machine door doesn't get closed accidentally. Easy! – Thankyou Callatya for sharing this great tip in our comments below.
Apparently doing a hot wash with nothing in is the best way to prevent mould, plus wiping the seals with some diluted clove oil, and leaving the door open. Using bleach is not recommended by washing machine manufacturers (and it only colours the mould, not kills it) – Thankyou to Pen for sharing this great tip in our comments below.
What is your top tip for cleaning a front loader washing machine?