Over the years I have tried many different cleaning products. However, recently I have converted over to the simple vinegar and bicarb solution, together it is effective, non-toxic and budget friendly. I put all my cleaning supplies together in a caddy which makes it easy to carry my cleaning kit around to each room in the house. Saving time not having to run back and forth for different cleaning products.
What I have in my cleaning kit
In my cleaning kit I have:
Bicarbonate soda/baking soda, in powdered sugar shaker
Vinegar, in spray bottle
50/50 water & vinegar, in spray bottle
50/50 sugar soap & water, in spray bottle
All purpose cleaner
Gumption
Toilet discs
Surface cleaning wipes
Absorbent cloth
Cleaning brush or toothbrush
Microfibre cloth
Sock
all kept tidily in a cleaning caddy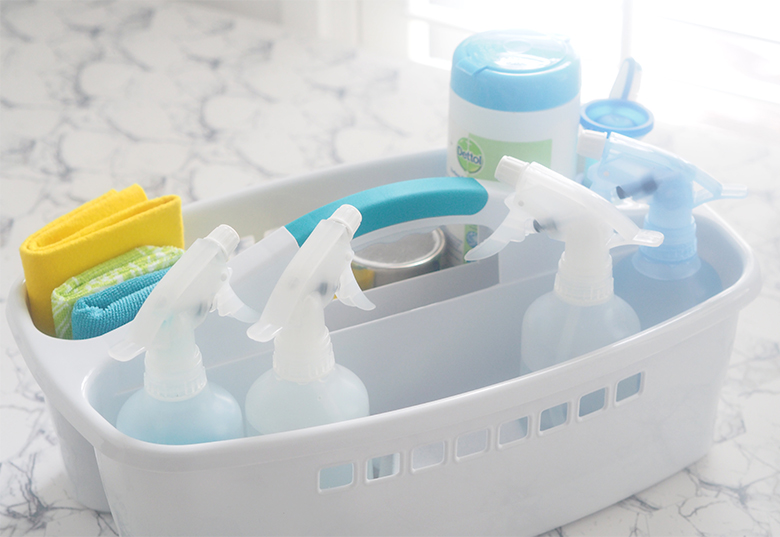 Bicarbonate soda/baking soda
Together bicarb soda and vinegar are a great combination for cleaning the shower, around the basin taps, the oven, really almost everywhere. I keep my bicarb in a powdered sugar shaker, which I purchased from Spotlight, but you can get them at most homeware stores. Shake out required amount onto the surface, then spray on vinegar; allow to sit for a few minutes before wiping away.
Read more: my homemade carpet cleaner.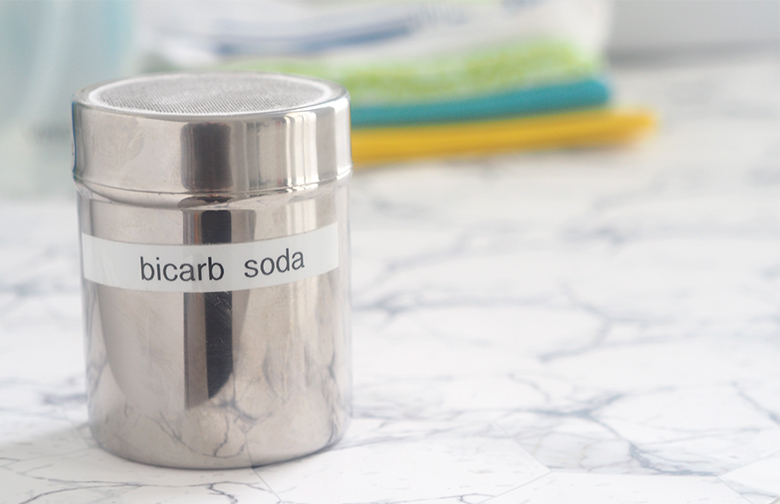 Vinegar
I purchase a big bottle of white vinegar (the same variety as you get in the cooking isle) add equal parts water and vinegar into a spray bottle. Spray bottles can be found at all supermarkets and discount shops. Remember to label your bottles. Vinegar is such a versatile product. Don't be put off by the odour I promise you it will disappear in a few minutes. I use a splash a of vinegar and hot water to clean my floors.
Read more: 20 uses for vinegar around the home.
Sugar soap and sock
Use sugar soap diluted in spray bottle (1/2 sugar soap and 1/2 water) and a spare white sock to clean the walls. Spray sugar soap onto walls with one hand and wipe over with a sock on the other hand, it easily picking up all dirt on the walls.
Read more: How to clean the walls.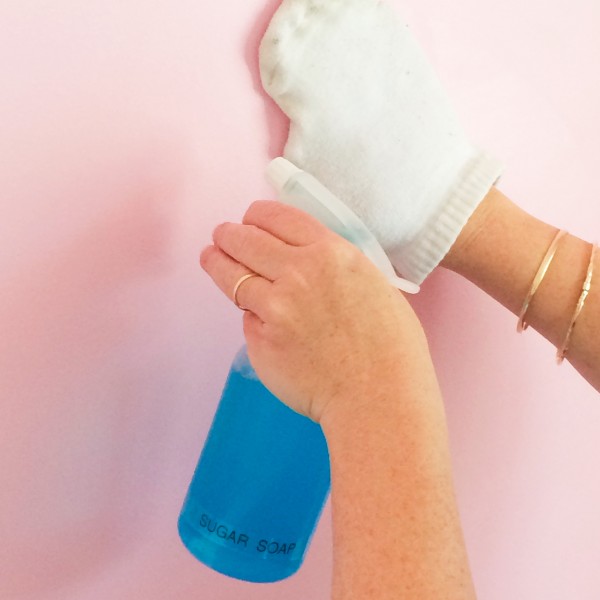 Gumption
Gumption is used for hard water stains around the bathroom sink and tub, stubborn marks on the walls, cleaning the ceramic stovetop, pots and pans. Wipe gumption onto toothbrush or cloth to remove dirt and stains.
Gumption is a smooth paste cleanser that features a special soap formulation with exfoliating beads that break down and lift off tough surface stains. for use on stone bench tops, laminates, baths, basins, tiles, stove tops, ovens and stainless steel sinks.
Unfortunately, gumption may not be available in other countries outside of Australia, however, look through your cleaning isle at the grocery store for an alternative smooth paste cleaner.
Toilet discs
After cleaning the toilet I like to put the discs in the bowl as it continually gives it a fresh smell.
Read more: How to clean a smelly toilet.
Antibacterial surface cleaning wipes
I use surface cleaning wipes to clean the toilet lid, seat and top of the bowl, the antibacterial wipes will kill germs. I also use my reusable homemade antibacterial wipes in the kitchen to clean up spills, find my reusable wipes recipe here.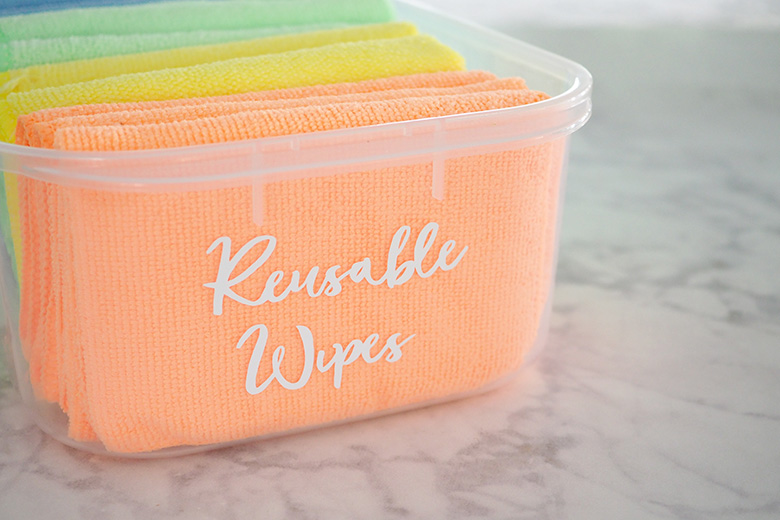 Absorbent cloth
Use with all purpose cleaner to clean wipe to clean the bathroom sink.
Microfiber cloth
Use a microfiber cloth to wipe away dust. I don't like to use a duster as I prefer to pick up the dust and shake it off outside or wash it down the sink. Dusters just spread the dust.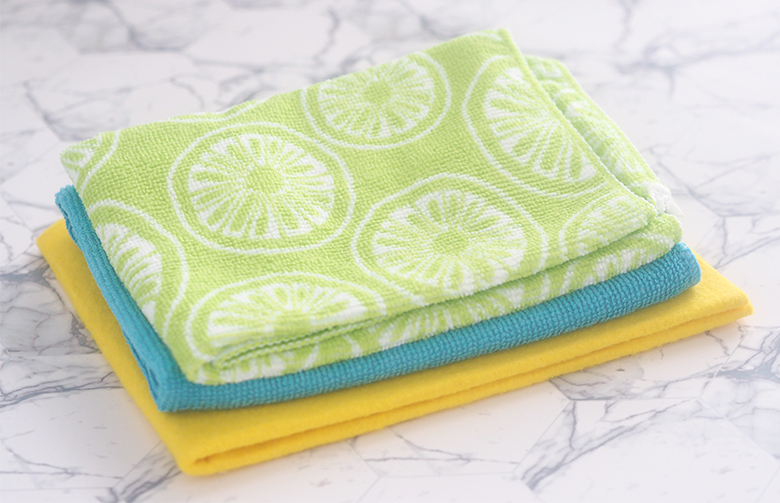 Cleaning brush or toothbrush
Use a toothbrush to clean window tracks, bathroom sink, and shower, almost anywhere.
All Purpose Cleaner
Use an all purpose cleaner along with the absorbent cloth to clean and disinfect as you wipe. View my recipe for homemade all purpose cleaner here.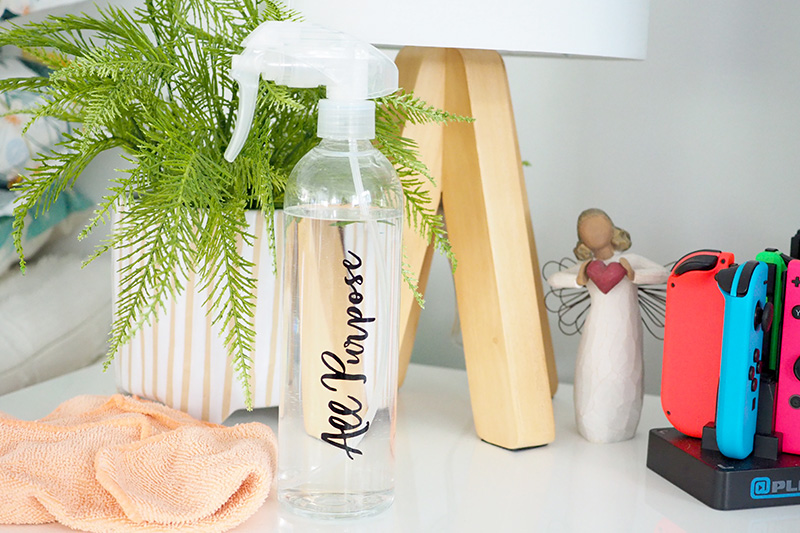 Cleaning Caddy
I found this caddy recently at Bunnings, very reasonably priced $6.10.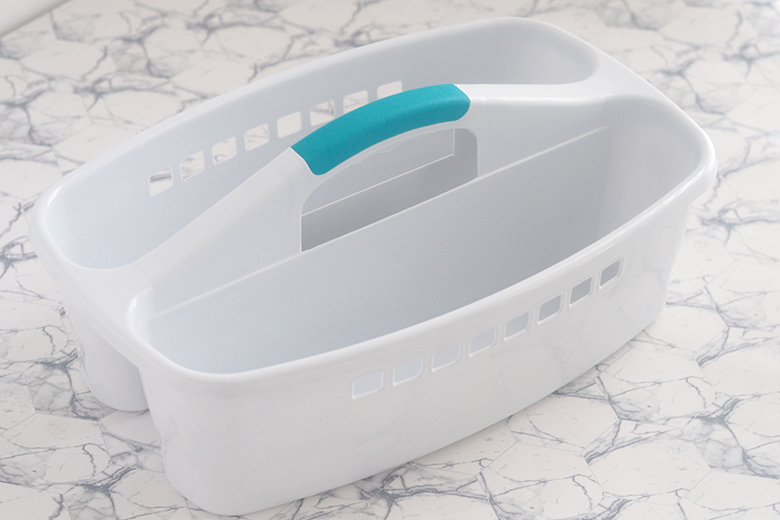 I also carry a plastic shopping bag with my cleaning kit, to pop in rubbish and wipes as I have finished using them.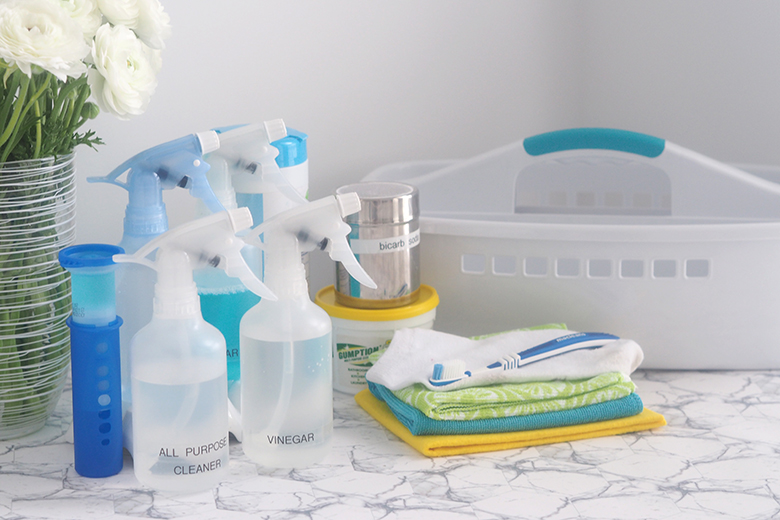 What do you put in your cleaning kit?

---
CLEANING CHECKLIST
A cleaning checklist which includes daily, weekly, monthly, quarterly and annual tasks. This checklist will help you remember cleaning tasks and create a routine to suit the time you have available.