I am so excited to share with you that the '20 Days to Organise and Clean your Home' Challenge is back! Once you have participated in the Challenge, you will have tidied and cleaned most of your home, learnt strategies and routines to help stay in control and keep your home clean and organised and free yourself up to do the things you most want in life.
The challenge will:
Help you to create routines within your home
Reclaim your space with effective organising solutions
Help you know where to start
Allow you to take control of your home
Stop you nagging your partners and kids
Allow you to make the changes you have always wanted but didn't know how
Then this challenge is for you. Take back control and make a home you feel relaxed in.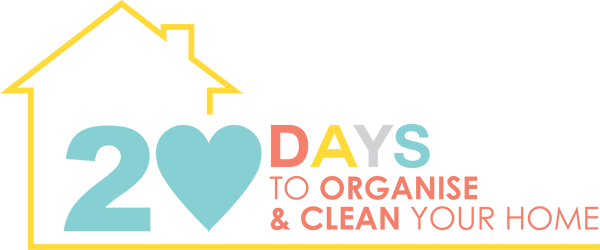 Why I started the 20 Days to Organise and Clean your home challenge
In June 2012 my life was turned upside down with the unexpected loss of my mum. There were weeks where I struggled to get out of bed, I had a constant headache and just felt lost. Cleaning and organising the home was the last thing on my mind. However after a few weeks I soon realised that the mess, filthy floors and corners with clutter wasn't helping my state of mind. I needed to get my house back into shape to help lift my mood and help me find my happy self again. I managed to get my house back into order by following the steps through this challenge. I always feel calmer and less stressed with the house tidy, clean and organised.

Challenge starts on 5th October 2015
Perfect timing after school holidays, use the school holidays to spend time with the kids, then once they return back to school start cleaning and organising the house, then you will be able to maintain it over November and be beautifully tidy for December holidays!
This challenge will:
Help you organise your day so it's working for you, not against you
Show you strategies to keep in control of household tasks
Share mindful parenting techniques that will stop you nagging the kids
and so much more



"Joining the '20 Day Challenge' was the BEST DECISION I made for my family and our home. I was feeling overwhelmed by all the clutter in our home and routines were lost in translation. My biggest problem areas were the Master Bedroom (aka dumping ground) and the mountain of sentimental items I had hidden away in the wardrobes.
During the challenge, I got a lot of support from the 20 Day Challenge Facebook group. They inspired and encouraged me every step of the way.
In just 20 days, my home was clean, de-cluttered and organised. It looked great and felt amazing. It inspired me to cull a lot of my sentimental items and everything had a place in my home. We put our house on the market 3 months later and sold it within a month.
We have since moved into our new home, and I am using the same system/routines to ensure our home stays clean, clutter-free and organised, all thanks to The Organised Housewife and the 20 Day Challenge team. If you are thinking of joining us – DO IT! I promise you, you won't regret it!"
Charlene Morunga | Teacher by Trade

Why an eCourse?
This challenge will be run as an online training course. You will be given access each day to the new tasks via the '20 Days to Organise and Clean your Home' website.
Easy to use and navigate
For simplicity
To make it manageable
Prevent you from feeling overwhelmed
A daily step by step guide for each task
Life time access so you can participate for FREE when run in the future
And you will have my support and help every step of the way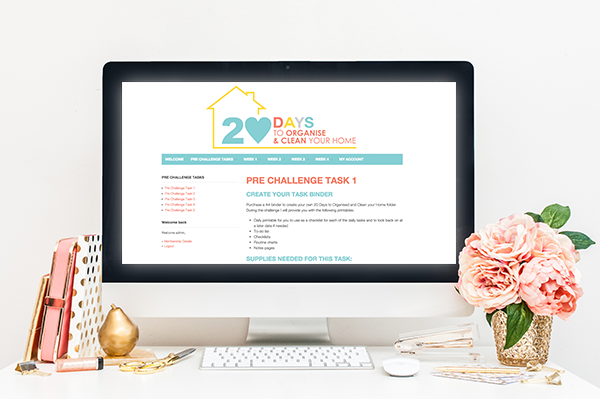 "The motivation supplied by the Challenge combined with some perspiration (supplied by you) equals total satisfaction and a much improved living environment. Like having a personal trainer for your home: Pre-challenge tasks – a sensible warmup; checklists/routines etc – your "trainer" to keep you on task and headed in the right direction, getting you there at your own pace. I followed the task sheets at my own pace and am very pleased I participated. Has made a very noticeable difference to my home. I am encouraged to maintain my results and finding implementing my own cleaning/tidying routines, spread over the working week, has been easy with much less time required."
Gemma | NSW

What is included
Access to the '20 Days to Organise and Clean your Home' members online website
5 pre-challenge tasks, to help set you up for success through the challenge
An email each weekday for 4 weeks which will include a link to the new task
A daily to-do list printable, complete with each task
Photos and ideas from my own home and experiences
Checklists a plenty – to help you clean each room of the home, create routines and more
Interactive checklist on the site so you can give each task a big tick when complete
Exclusive access to the private Facebook group for premium and deluxe packages
My support – my assistant Kate or I will answer all your emails and be there with you every step of the way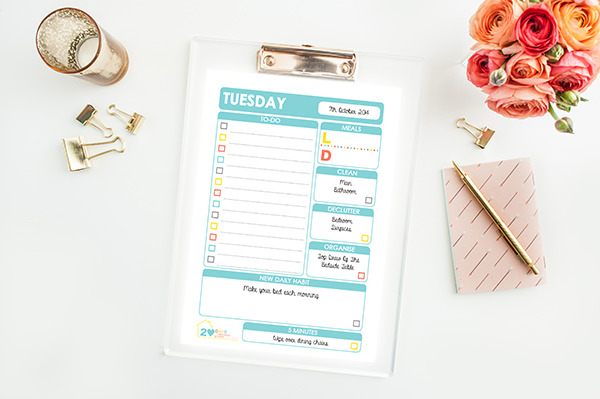 JOIN BEFORE MIDNIGHT 27TH SEPTEMBER TO SAVE $20
We will clean and organise most rooms in the home, chat about the benefits of planning and even make sure your first aid kit is stocked properly!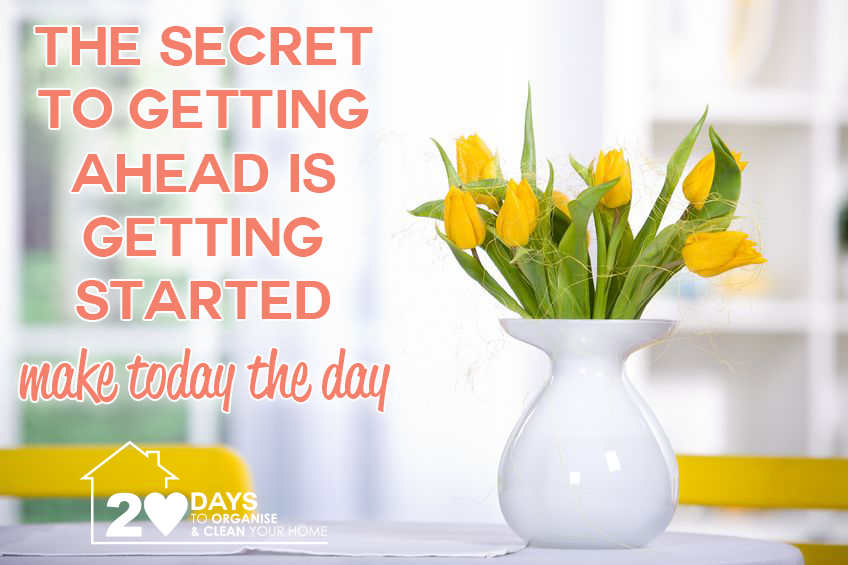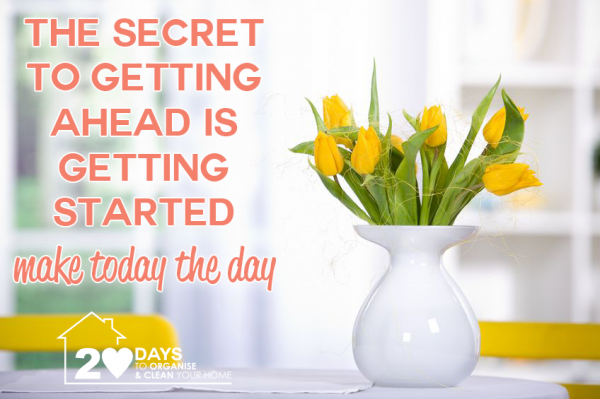 When does it start?
The 5 pre challenge tasks will be available to you instantly after you have purchased the eCourse. I did this just in case you are going away over the school holidays you can be prepared and have everything ready to go for Day 1 on the 5th October 2015. The challenge will be completed on Friday 30th October.
What if I don't have time?
I understand that everybody has different aged or number of children, schedules or work commitments so please adapt these tasks around your time and family. If you are not able to complete one of them that is perfectly OK, it can be finished at a different time as you have lifetime access to the content and the facebook group. This allows you to revisit any of the tasks at any time.
Lifetime Membership
You will have access to the '20 Days to Organise and Clean your Home Challenge' any time it is offered. This means you only pay once but you can participate each time this challenge is run. You will get access to any new printables and information added in the future.
Create the home you have always wanted

Early Bird Special – Save $20 ends midnight 27 September 2015
Registration will close 5pm Sunday 4th October.

What past participants had to say

"I didn't know where to start, this program had clear plans for each day, with checklists and step by step processes, it took all of the thinking out of it. Lots of tips on decluttering and letting go of old things, for me it was clothing and food magazines. I'm loving having more room in my cupboards, and new routines. Great program Katrina"
Fiona | NSW


"I really can't thank you enough for doing this and I can't think of anything you could have done to make it better – you'll never know the difference you've made in my life. I was very skeptical about the idea of a 'routine' for the mornings, it sounded so regimented and I've tried it before without any success but now I feel quite anxious if I haven't done my morning things and it really only takes me about 10 minutes. I've also found to my amazement that the cleaner and tidier the house is in general, the easier and quicker it is to attack those other tasks that only need doing now and then but make such a difference. Everything is getting cleaner and looking better, even the things that once wouldn't have even been on my radar. There's time to notice and there's time to do. It actually feels as though I'm doing less but achieving more."

You can have a clean home – and children too!