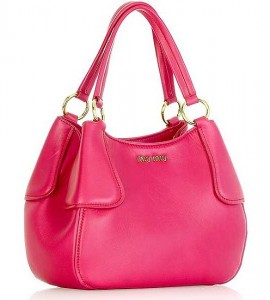 Handbags aren't just a fashion statement, they are perfect for carrying around all our 'stuff', but they are also 1 thing we forget to keep clean and organised. 
Do you store way too many extra 'things' in your handbag?  Does your phone ring and you can't find it because of all the 'stuff'?  Do you loose your keys??  I have more paper clutter in my handbag more than anything – shopping lists, receipts, specials brochures, to-do lists.
So I thought today's challenge be as simple as throw away 5 things cluttering your handbag.  But please don't stop at 5 though,  if you have 8 or 10 please continue.  What do we really need to keep in our handbags you ask, here is my example:
Notebook
Pen
Keys
Purse
Mobile Phone
Lipbalm
Sunglasses
Ladies product (zippered away, for emergencies)
A fold up bag for shopping at places like Target and Spotlight that are now bag free
+ all things baby if you have a nappy bag.
I keep things like nail files, hand moisturising, anti-bacterial gel, hairties, first aide-kit in my car rather than my handbag and use them while sitting at traffic lights.
I cleaned out my nappy bag/handbag of almost empty tissue packets, fruit stick wrapper, 4 pens (!), woolworths receipt, extra chewing gum that was lose in the bottom, a heap of coins just thrown in, clothes for bubs that could do with a wash and an empty popper. Sorted everything into groups and put them all back in in ziplock bags or similar. Very neat and tidy now!!