The kitchen bench can be a dumping ground for so many things:
junk mail
handbag
kids 'things'
just stuff in general
these items tend to make a home there and never get removed leaving your kitchen looking untidy and cluttered.
THE CHALLENGE:
Let's remove all this clutter so when you look at your kitchen you feel as though you are on the path to becoming organised.
See HERE for more details on how to organise your kitchen, such as Pantry, Tupperware cupboard and the kitchen drawers.
Supplies needed:
Laundry Basket
Cloth
Hot soapy water
How to declutter your kitchen benchtop:
Return all kitchen items such as cutlery, saucepans, mixing bowls into the cupboards.
Put kitchen appliances that you don't use frequently back into the cupboard.
Grab the laundry basket and remove all rubbish.  Don't forget to recycle
Empty rubbish into outside bin.
Return all other items back to their home.
Fill your sink with hot soapy water and give the benches and laundry basket a wipe down.
If your feeling very energetic, wipe down your cupboard doors as well.
Create a new home for your junk mail, either goes directly into the trash…or see these ideas HERE.
On my benchtop I have:
The home phone
An orchid to help hide ugly electrical cords
Some christmas decorations
A fruit bowl would usual sit on a kitchen bench, however I put mine on my stovetop.  And a kettle would be a common item to been seen as well, however we don't drink tea or coffee, so we keep our kettle in the cupboard, to the dismay of my lovely extended family 🙂
This is a picture of my benchtop – clutter free.  In the new year I will post on how to handle your paper clutter which is usually the biggest culprit for making a home on the kitchen bench.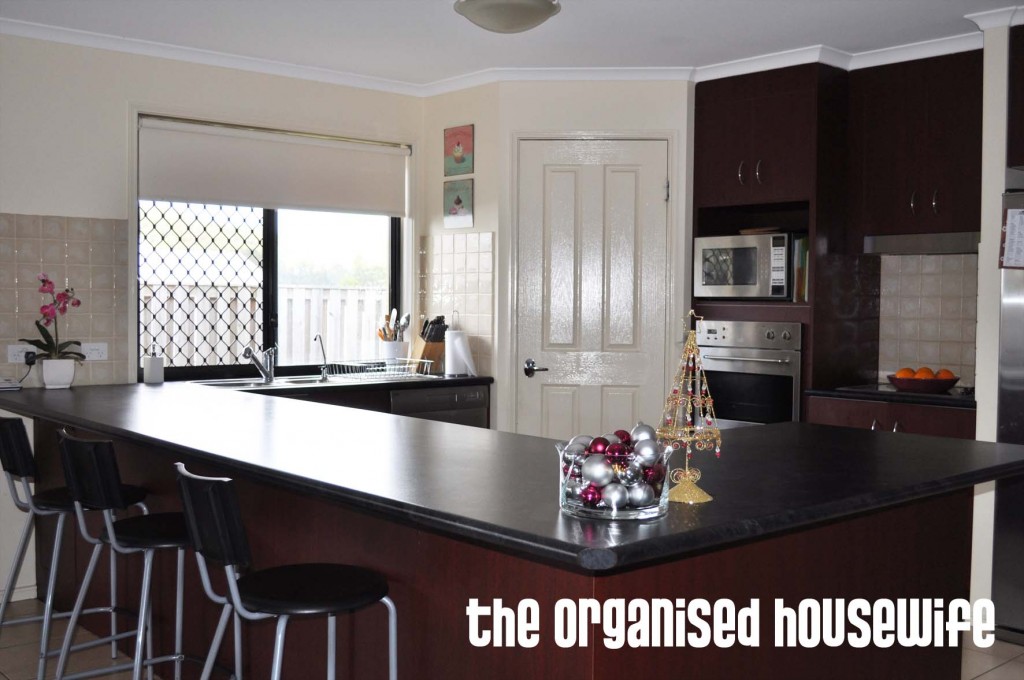 7 THINGS I DO EACH DAY TO KEEP THE HOME CLEAN AND ORGANISED
Subscribe to my weekly newsletter to receive blog updates in our inbox + this FREE eBook sharing some of my top tips that you can adapt in your own home.