It's week 49 of my Declutter 52 Things in 52 Weeks Challenge. If you haven't signed up yet, join me today as I help you remove all those things in your home you no longer need or use.
Our bathroom drawers, cupboards, and bench-tops can very quickly fill up with makeup brushes, razors, combs, hairbrushes, and an assortment of other bathroom tools that are serving no purpose other than to clutter up our valuable bathroom storage space. This week's declutter task looks to whip this bathroom space into order, so that you have an organised area filled with bathroom items that you actually use!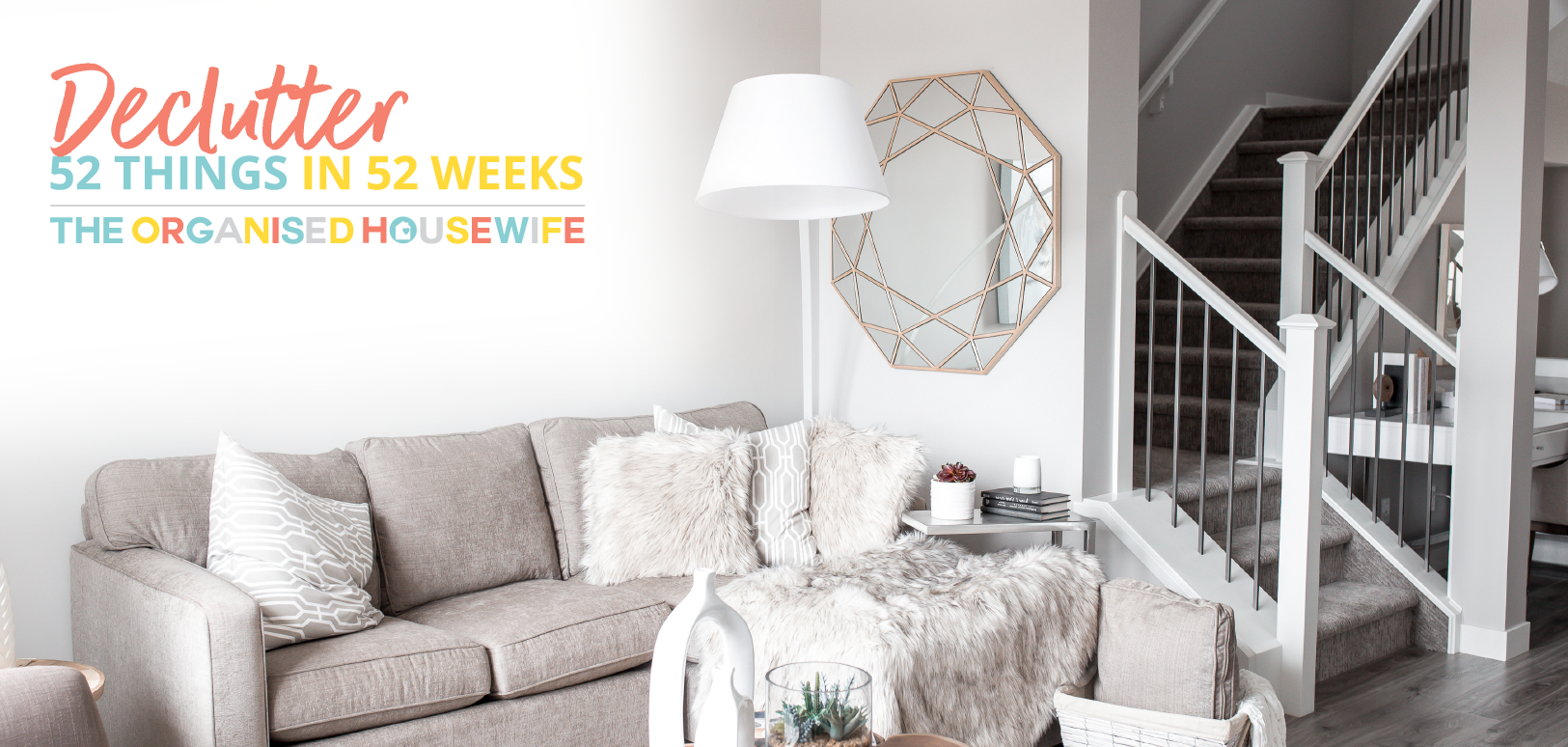 The Declutter 52 things in 52 Week Challenge is completely FREE!! I publish a new task on the blog each Wednesday. Sign up to my daily emails so you don't miss when the next task is live. Alternatively, visit the blog each Wednesday to see the latest task.
Please share a photo of your space each week on Instagram using hashtag #declutter52 and tag @theorganisedhousewife
---
Decluttering Task #49
Bathroom Tools and bits and pieces
When is the last time you did a really good stocktake of your bathroom cupboards? A few years ago I realised I had a brush that had been kicking around in my bathroom cupboards for years, despite the fact I barely used it because it snapped my hair. This inspired me to do a thorough declutter of all my bathroom tools – makeup brushes, razors, brushes and combs, not to forget my collection of skincare and makeup too! I now revisit this declutter task once a year to clear out any of the items that are simply taking up valuable storage space, or perhaps to replace and update the ones that are on their last legs.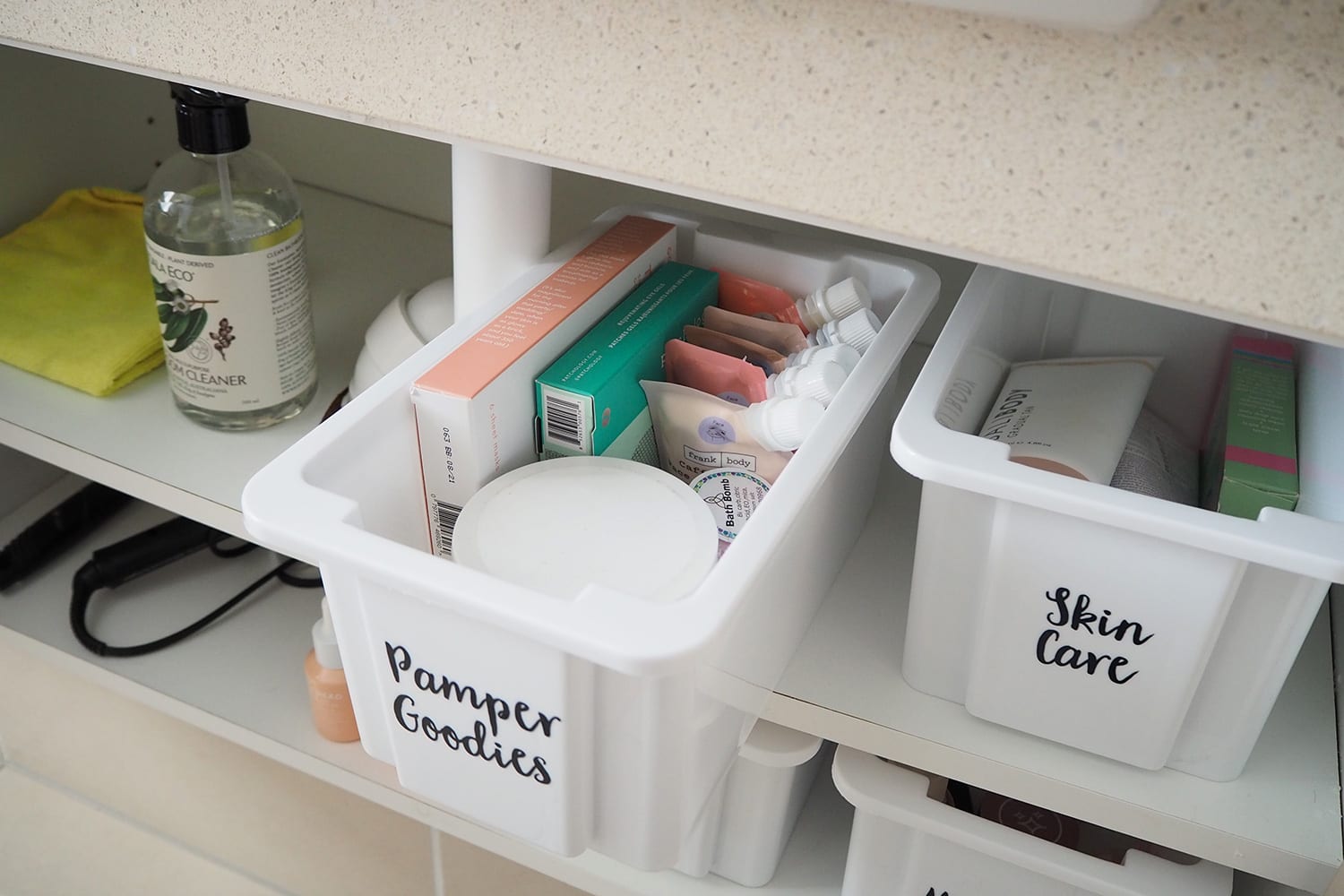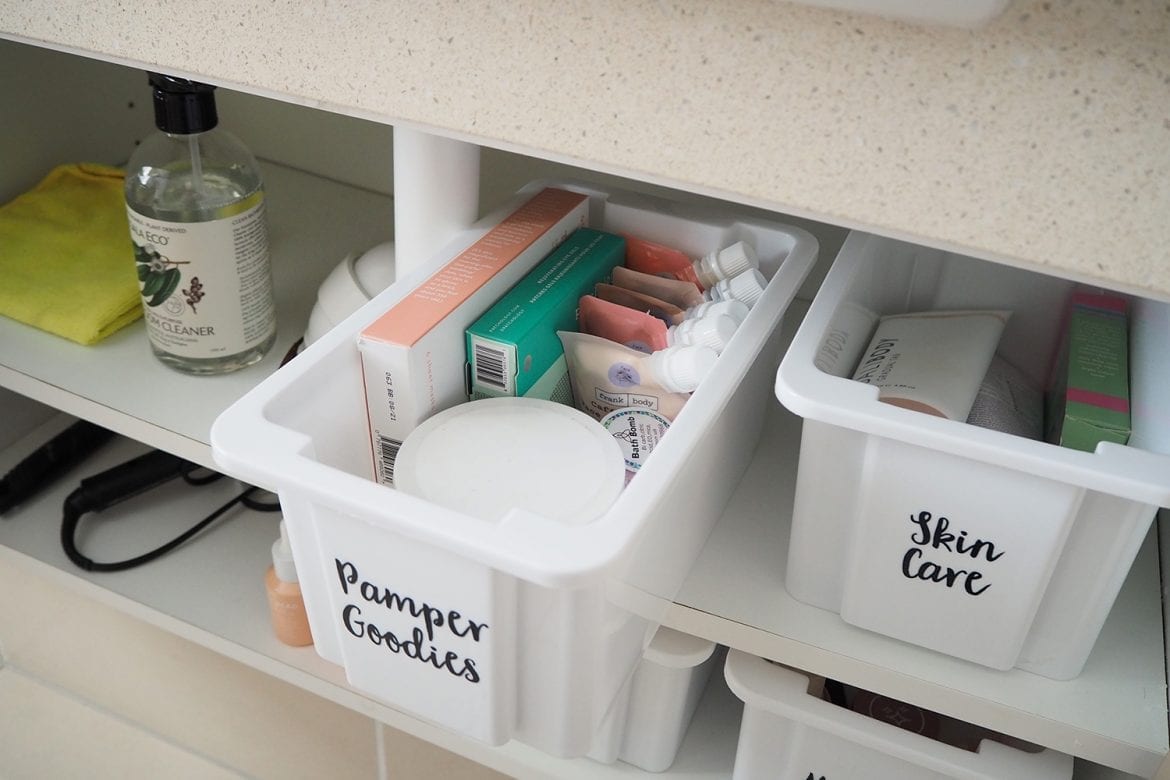 TODAY'S TASK: PURGE AS MANY BATHROOM TOOLS AND BITS AND PIECES AS YOU CAN
Note: My definition of purge – sell, donate, repurpose or throw away items as you see fit
Look at your bathroom drawers, countertops and cupboards (wherever you keep your bathroom tools) and see what storage solutions aren't working.
Remove everything from these areas, grouping like items together.
Determine what items you haven't used in over 12 months and consider purging them.
Don't forget to check makeup expiry dates.
While you are sorting through your hairbrushes, if you haven't done so recently, give them a good clean. Read how to clean and disinfect your hairbrush and combs.
Replace any items that have passed the point of no return.
Add any new and/or your current storage products in your cupboard and drawers to help you keep it organised.
Place items you don't use often towards the back.
I didn't notice how warped my top shelf is until I uploaded this photo. But I am loving my newly organised Bathroom Cupboards. These white boxes are available from in the kitchen section at Kmart.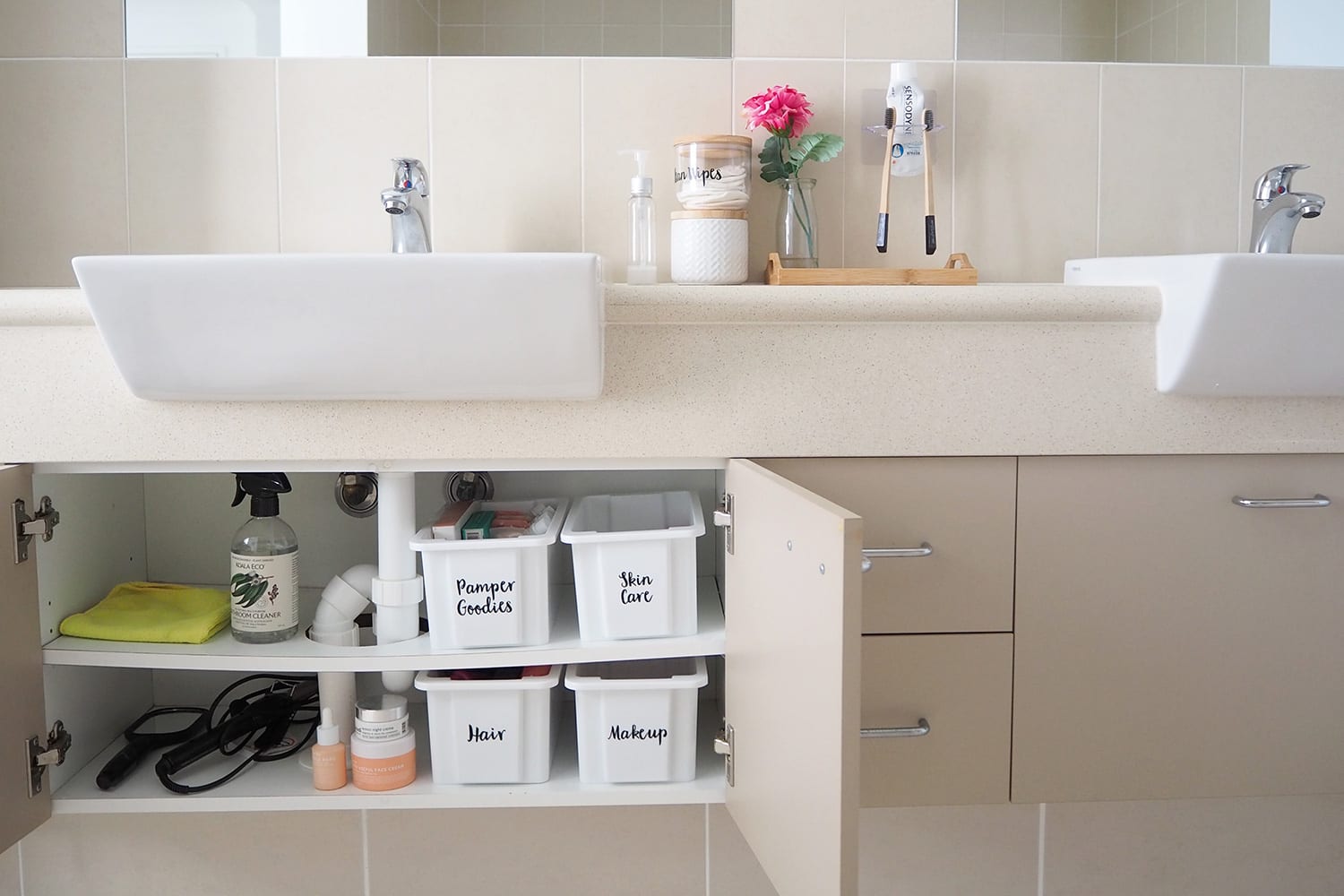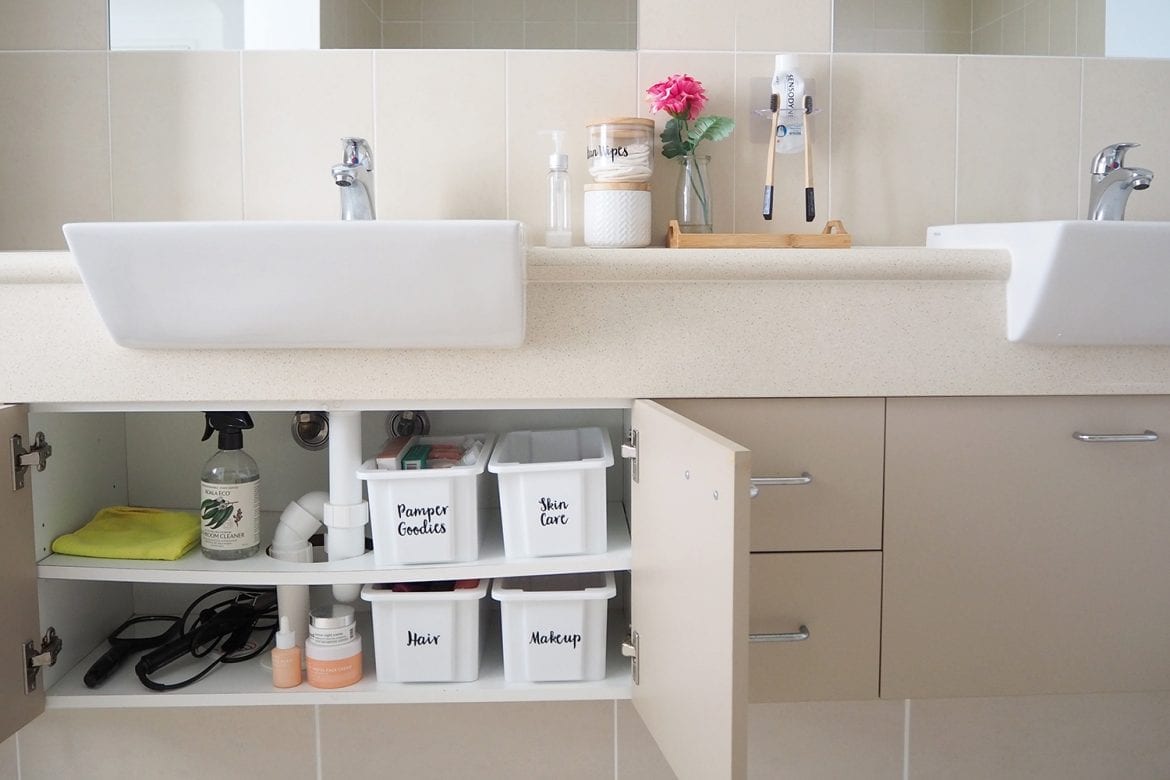 The labels will be available in The Organised Housewife Shop very soon!!! Be the first to know when they are available by putting your details below!
[activecampaign form=123]
  SHOP: in The Organised Housewife Shop these biodegradable Bamboo Charcoal Toothbrushes, the Reusable Bamboo Facial Pads, and the Wall-Mounted Toothbrush Holder (which is great for keeping the bathroom bench-tops clutter free!).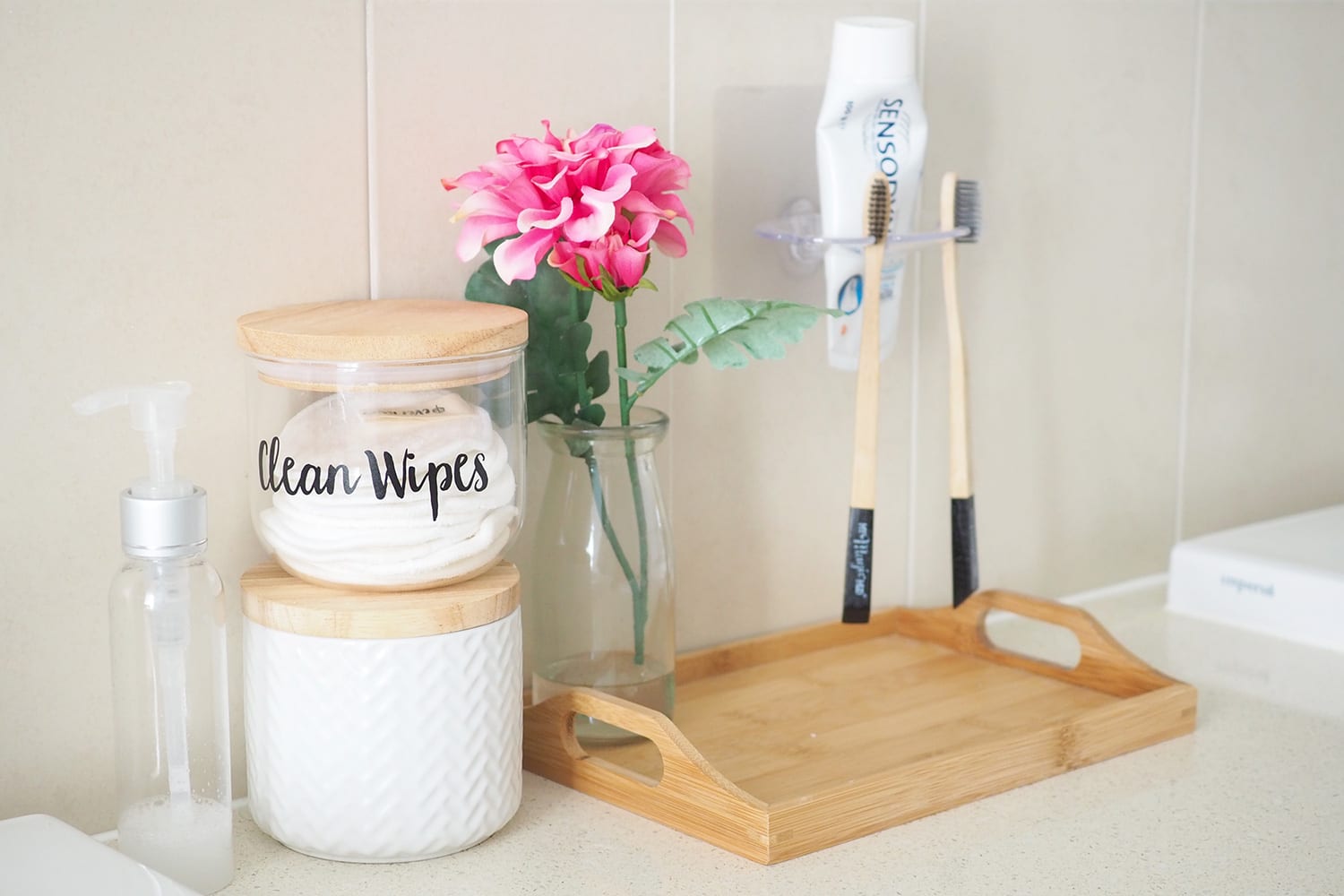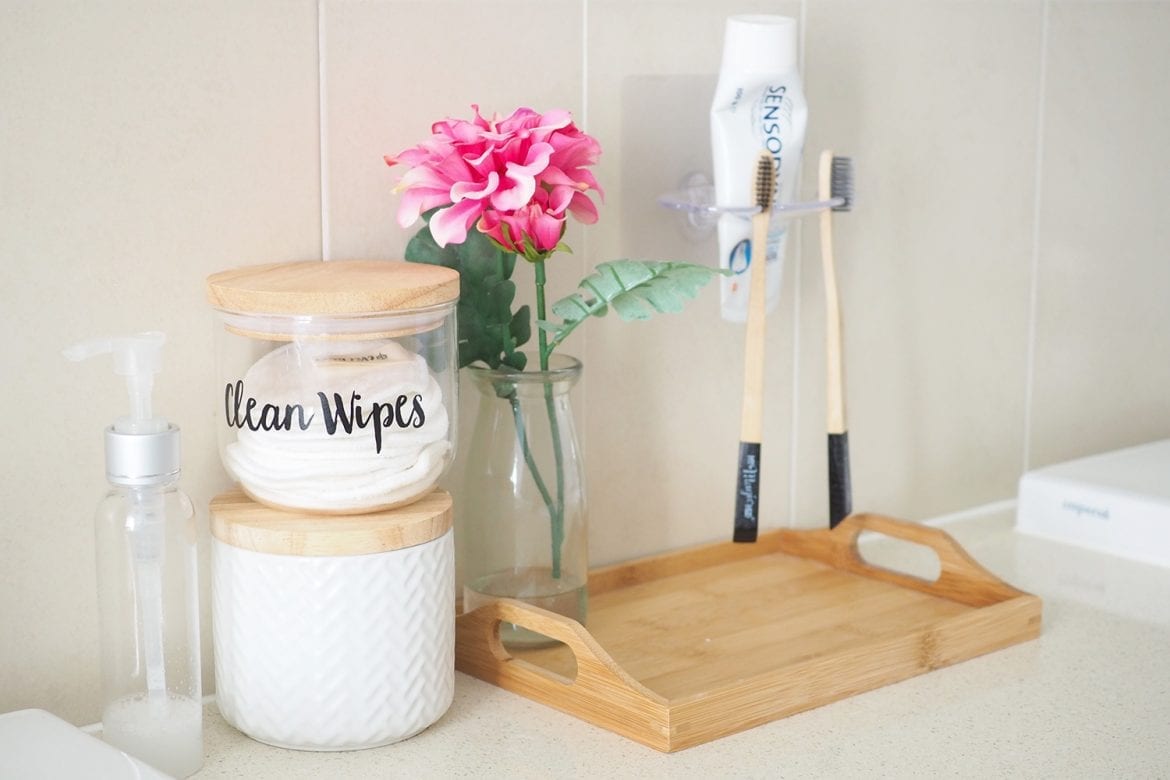 How many items have you been able to purge today?