It's week 46 of my Declutter 52 Things in 52 Weeks Challenge. If you haven't signed up yet, join me today as I help you remove all those things in your home you no longer need or use.
A woman's jewellery collection can very quickly get out-of-hand and become in need of a good declutter. Did I just say declutter jewellery?! Yes, I did, but not the good stuff. This week's declutter task is a good chance to see what you have (so you don't buy more of what you've got) and also what you don't have (so you can shout yourself on your next shopping trip). It will also help you display your favourite pieces in a more organised and accessible way, so that you can easily grab them when you're getting dressed.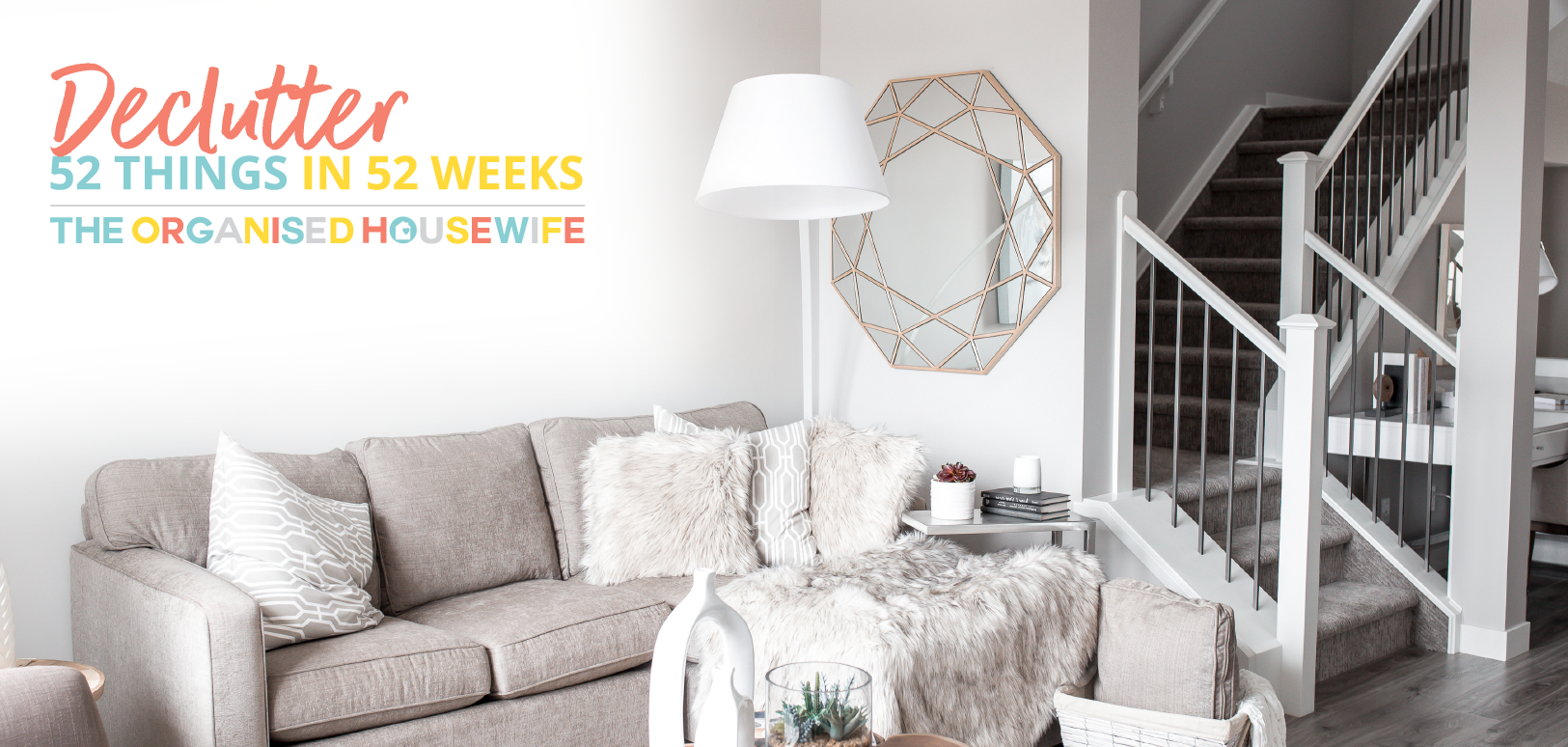 The Declutter 52 things in 52 Week Challenge is completely FREE! I publish a new task on the blog each Wednesday. Sign up to my daily emails so you don't miss when the next task is live. Alternatively, visit the blog each Wednesday to see the latest task.
Please share a photo of your space each week on Instagram using hashtag #declutter52 and tag @theorganisedhousewife
---
Decluttering Task #46
Jewellery
I was looking at some of my costume jewellery recently and noticed a few were a little tarnished and unwearable – you know when the gold has become orange and the silver has turned black that these little ladies have to go! I understand that we love our jewellery, we grow attached to our jewellery, and choosing to get rid of some of that jewellery can make us a tad nervous. If you're not wearing some of your jewellery pieces though, they're only serving to create clutter and make it harder to access the jewellery that you love!
Plus, if you clear out the old jewellery, you might make a little room for some new pieces like this beauty.
  CHECK OUT this Stone Metal Stretch Tassel Bracelet here, or lots of other gorgeous pieces in The Organised Housewife Christmas Gift Guide here.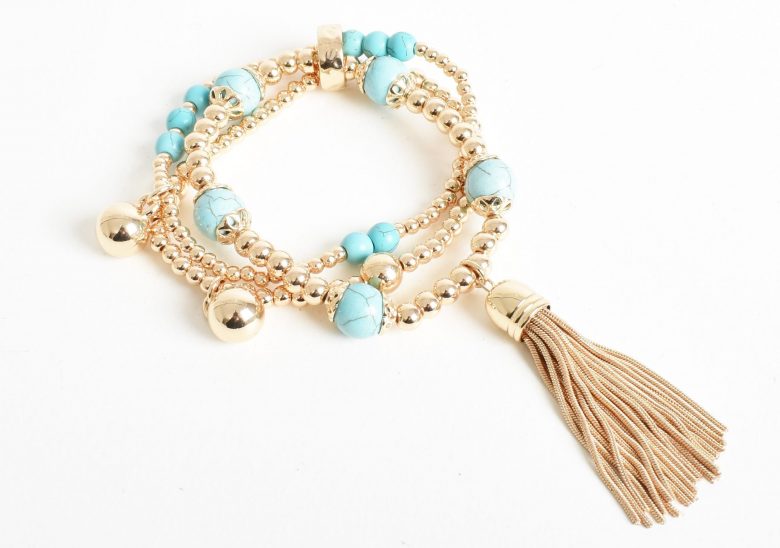 TODAY'S TASK: PURGE AS MANY JEWELLERY PIECES AS YOU CAN
Note: My definition of purge – sell, donate, repurpose or throw away items as you see fit
Look at your jewellery collection and see what storage solutions aren't working.
Gather all your jewellery together, grouping like items.
Determine what items you haven't used in over 12 months and consider purging them.
Assess broken jewellery pieces and consider whether you could fix them. If yes, set aside some time in your week to do this. If not, then keep any bits that could be used for craft projects and throw the rest.
TIP: Old jewellery is great to give to children who like to play dress-ups. Just be mindful of their age in terms of small parts and choking hazards.
Add any new and/or your current storage products in your cupboard to help you keep it organised.
Place items you don't use often towards the back.
TIP: Once you've decluttered your jewellery ensure it's stored so you can easily grab the piece you want each morning. I like to store my necklaces on my wall, displayed so that it frees up my bathroom bench and dresser surfaces, plus it makes it really easy to see them all at a glance (I will share a blog with more details about this soon!).
If you're planning on travelling, this Velvet Travel Jewellery Box is perfect, I put my earrings, bracelets and rings in it each time I go away! It's also a great gift idea for the teen who is growing their jewellery collection.
  SHOP: this beautiful Velvet Travel Jewellery Box here.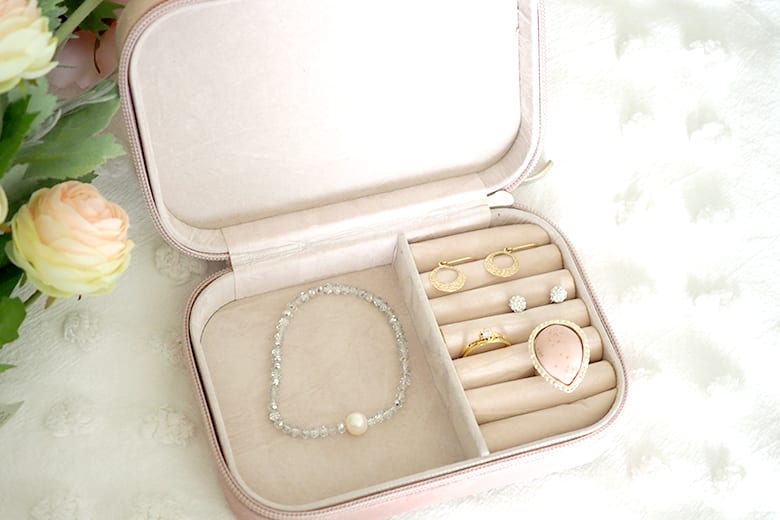 … and once you've managed to free up some space in your jewellery collection, you can then look at gorgeous new pieces like these Mini Beater Raffia Fringe Earrings without feeling guilty.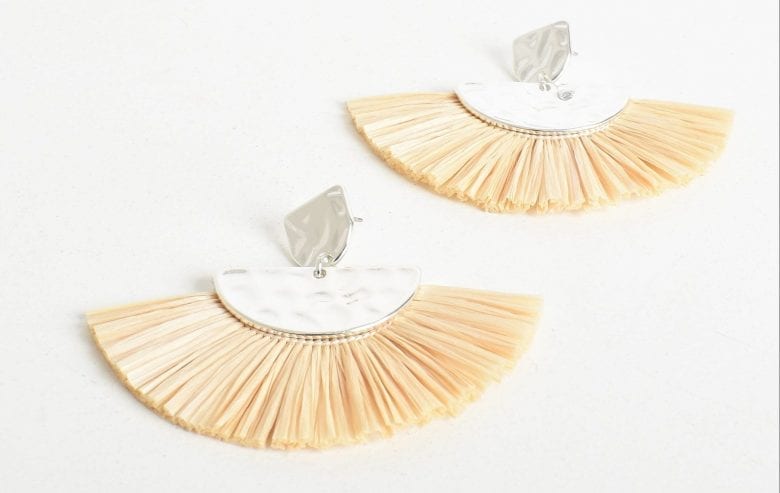 How many items have you been able to purge today?