It's week 41 of my Declutter 52 Things in 52 Weeks Challenge. If you haven't signed up yet, join me today as I help you remove all those things in your home you no longer need or use.
Tidying out your handbag, purse or office of old receipts can be very therapeutic, and according to Feng Shui philosophies, decluttering these spaces can help us attract more money into our lives! So with that in mind, let's get started on clearing out those unnecessary receipts you have floating around, and make some room for more rewarding things instead – LOL!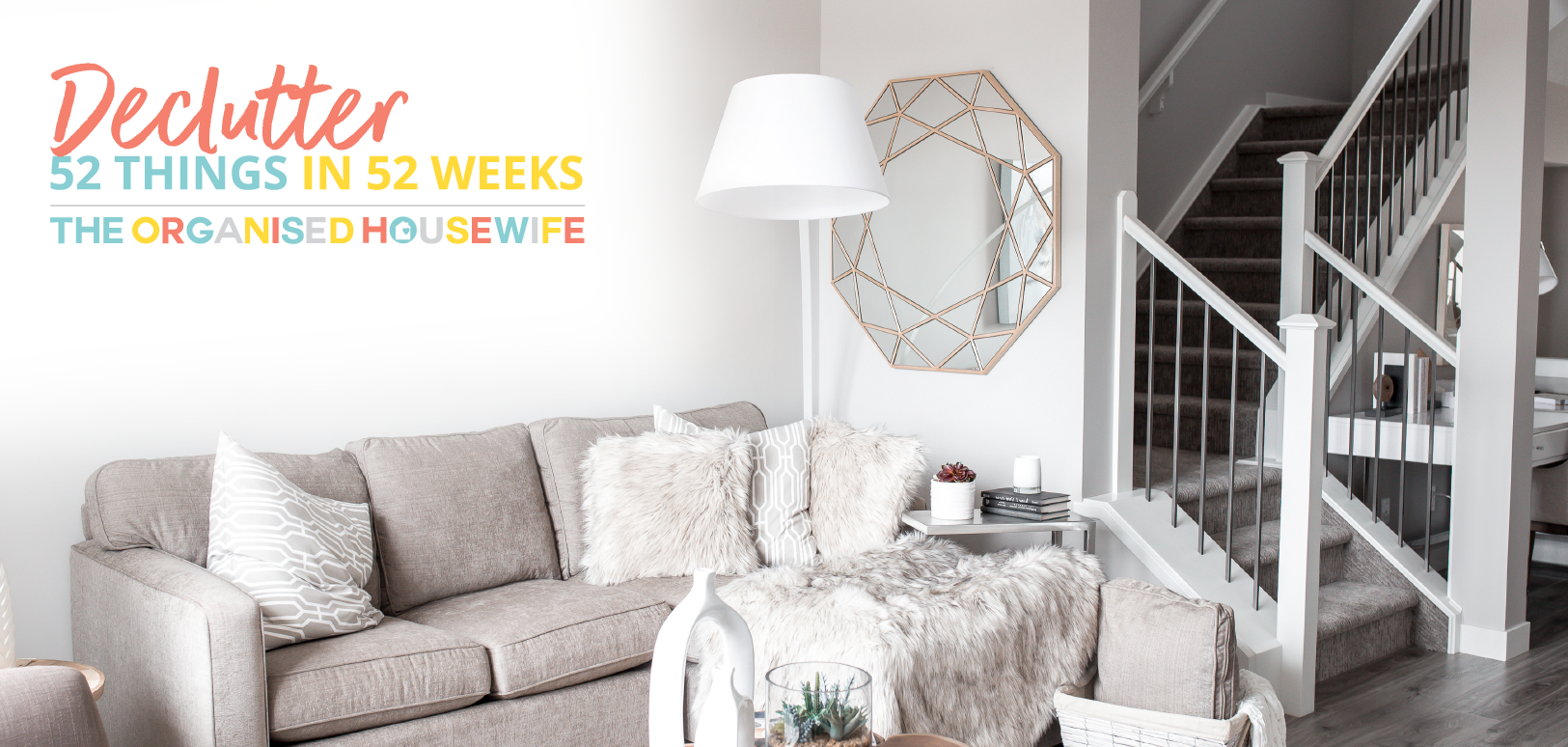 The Declutter 52 things in 52 Week Challenge is completely FREE!! I publish a new task on the blog each Wednesday. Sign up to my daily emails so you don't miss when the next task is live. Alternatively, visit the blog each Wednesday to see the latest task.
Please share a photo of your space each week on Instagram using hashtag #declutter52 and tag @theorganisedhousewife
---
Decluttering Task #41
Old Receipts
Creating a central spot to store all your receipts is crucial for keeping your handbag, purse, and office drawers free of receipt clutter! It also allows you to routinely sort your receipts and purge any that are no longer needed.
I tend to throw out clothing receipts that are older than 3 months (I usually keep them this long just in case the garment is faulty and I can return it), tax receipts that are more than 5 years old, and business receipts that are over 7 years old.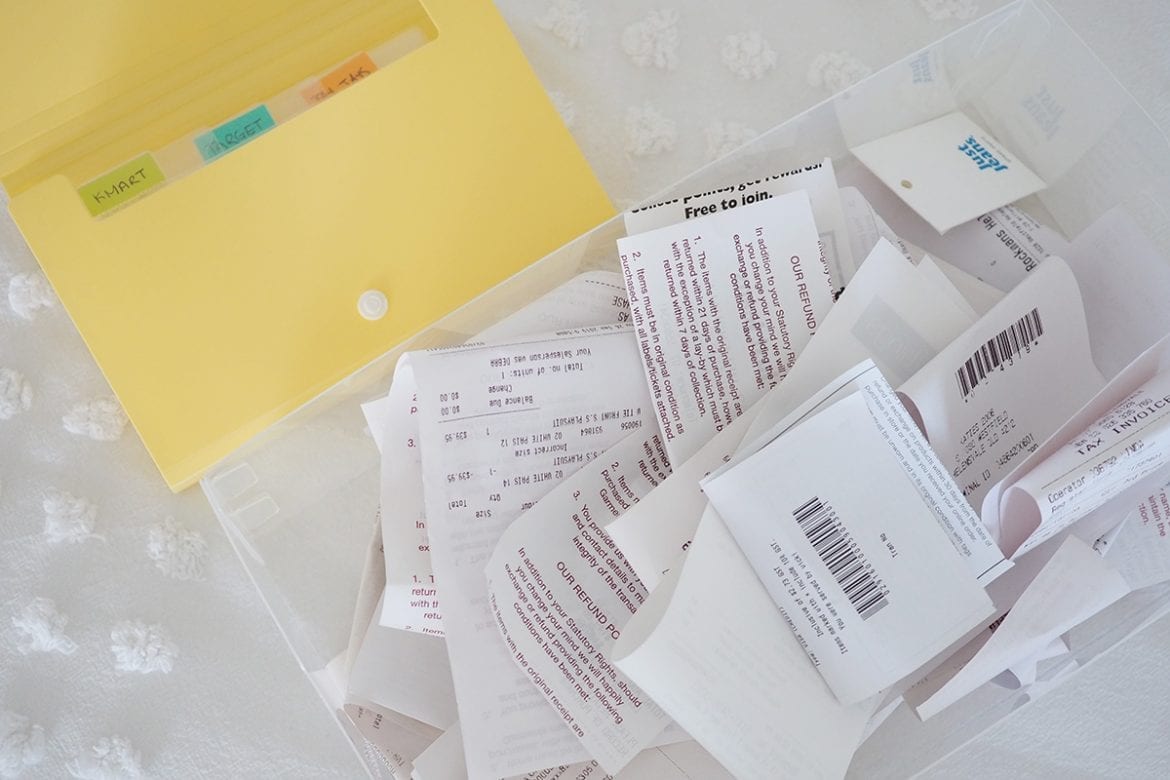 TODAY'S TASK: PURGE AS MANY OLD RECEIPTS AS YOU CAN
Note: My definition of purge – sell, donate, repurpose or throw away items as you see fit
Look at how you currently store old receipts and see what storage solutions aren't working.
Gather all your old receipts together, grouping them into personal and business receipts.
Ask yourself the following questions for each receipt, and only keep receipts that give you at least one 'yes':

Is it needed to reconcile with a bank or credit card statement?
Do you need them for tax purposes?
Do you need it as proof of purchase for a warranty or service agreement?
Might you need to return any of the purchased items?

Consider going paperless with your physical receipts by scanning or taking a photo of them and storing these in a folder in your phone or on your computer.
For receipts that are emailed to you (JB-HI FI do this), create a folder in your inbox to store them in.
Use a storage system for physical receipts that need to be kept, which allows you to easily keep them until a specific period. That way you can easily purge them after this date.
Develop the habit of sorting through your receipts weekly.
Create a central place to store and organise the receipts that you do need to keep, such as in an envelope, a box, or this pocket-sized expandable bill folder. I store mine in this expanding file as there are times I buy something and either change my mind and want to return it, or it is faulty and I am thankful I held onto the receipt to easiily exchange it.  I keep the receipts sorted by shop, and clean this out every few months throwing away old receipts.  I also have a folder for homewares and other general purchases.
  SHOP: small expanding file folder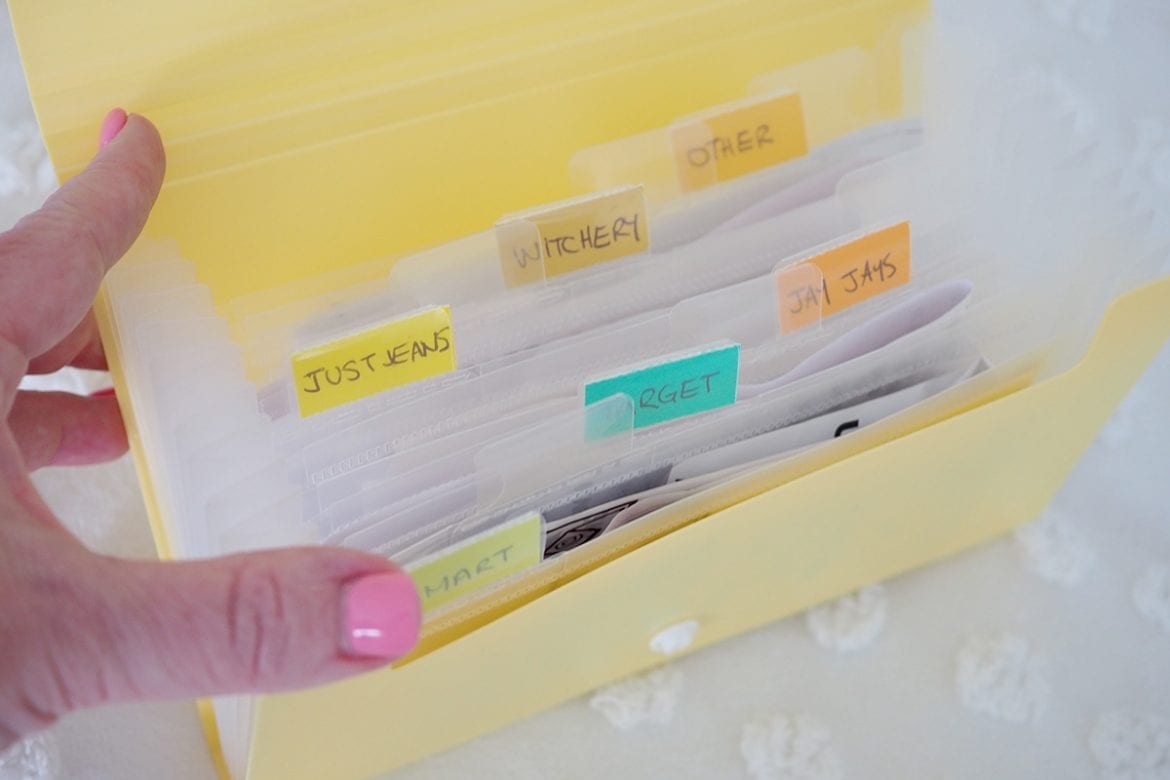 READ MORE: Best 5 Budget Home Organising Hacks (as seen on the Today Show!)
  CREATE A BUDGET: with my Household Budget (instantly downloadable excel file)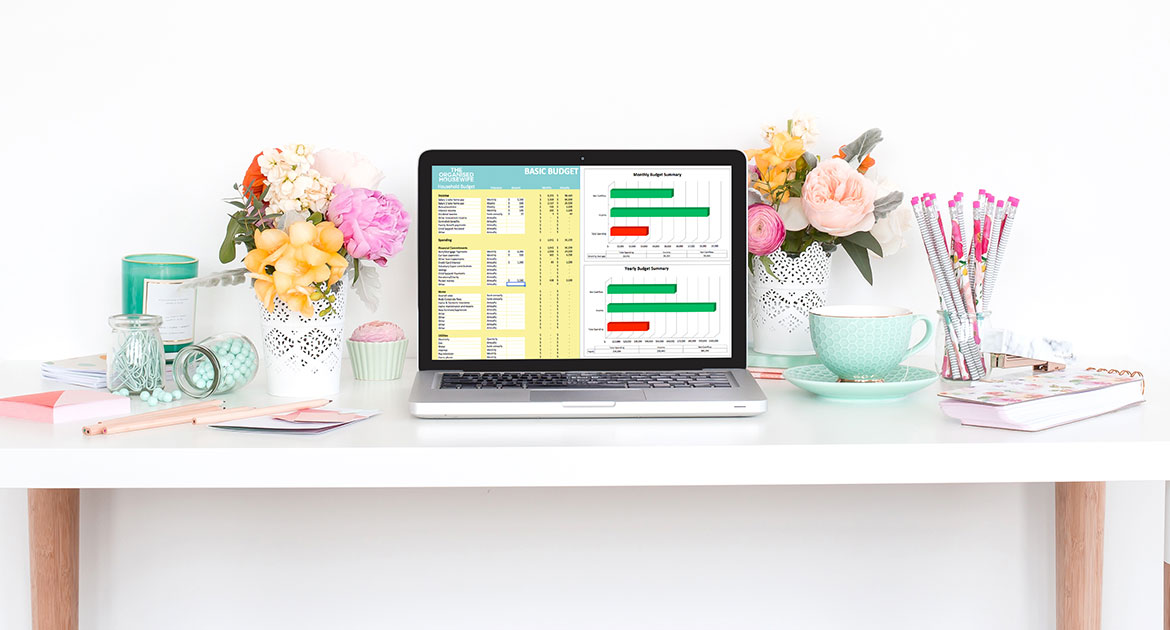 How many items have you been able to purge today?