It's week 38 of my Declutter 52 Things in 52 Weeks Challenge. If you haven't signed up yet, join me today as I help you remove all those things in your home you no longer need or use.
Purging kids artwork would have to be one of the hardest decluttering tasks! When my kids were younger I used to get little scraps of paper with notes, beautiful drawings, huge pieces of butchers paper with scribbles all over, and cardboard creations. Unfortunately I couldn't keep them all – so what did I do with them? I get asked this all the time…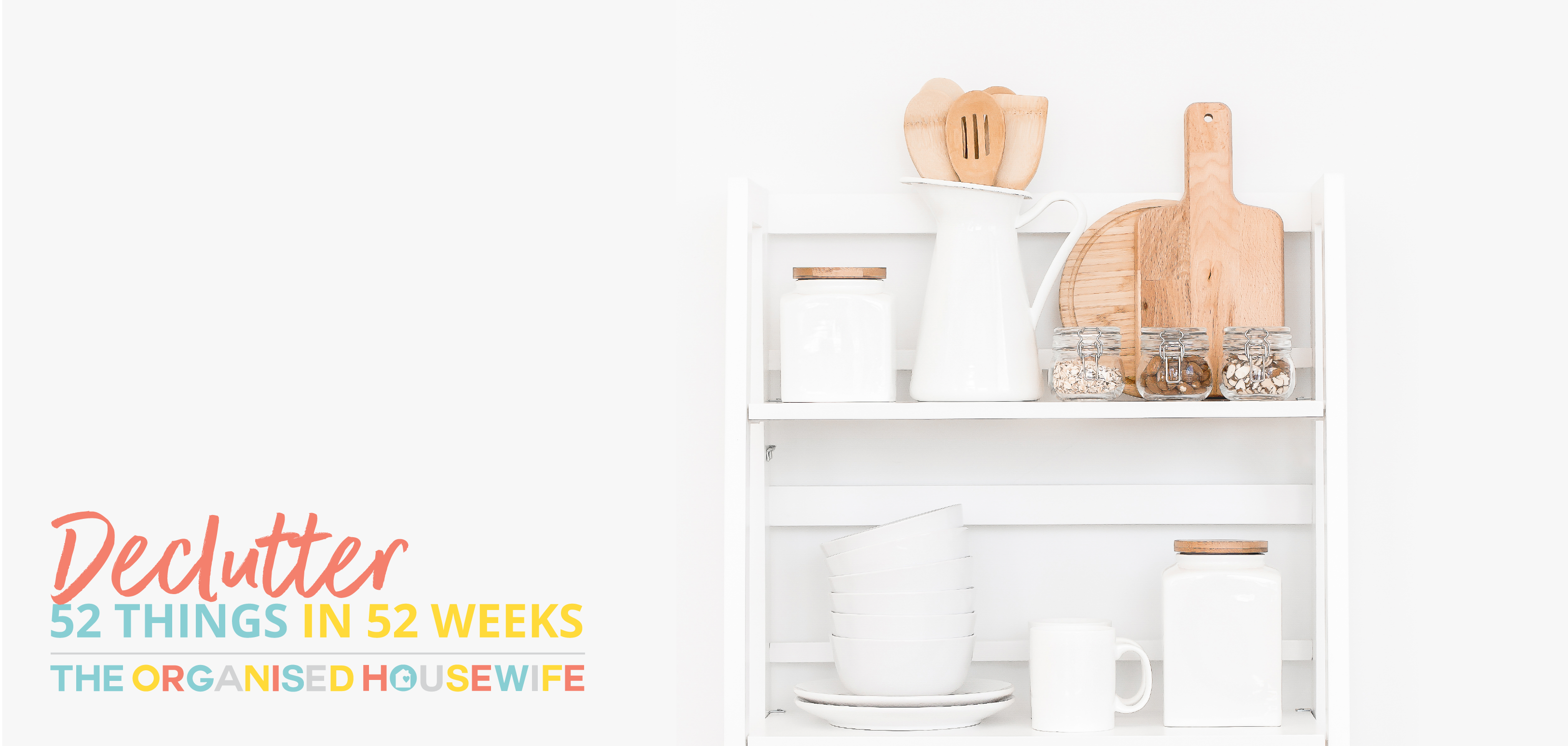 The Declutter 52 things in 52 Week Challenge is completely FREE!! I publish a new task on the blog each Wednesday. Sign up to my daily emails so you don't miss when the next task is live. Alternatively, visit the blog each Wednesday to see the latest task.
Please share a photo of your space each week on Instagram using hashtag #declutter52 and tag @theorganisedhousewife
---
Decluttering Task #38
Kids Artworks, Drawings and Creations
It's hard letting go of your child's creations, but there are often so many artworks and some are simply better than others. When my kids were younger I'd display their art on the wall, and when I took them off I'd decide to keep it or throw it. If it wasn't truly special I'd put it in the recycle bin when they weren't looking. The ones to keep went into a box I had dedicated for each of the kid's artworks (I got these from kikki.K a few years ago).
Get into the habit: When kids come home with their creations, display as you need, purge or place straight into the box allocated for their drawings.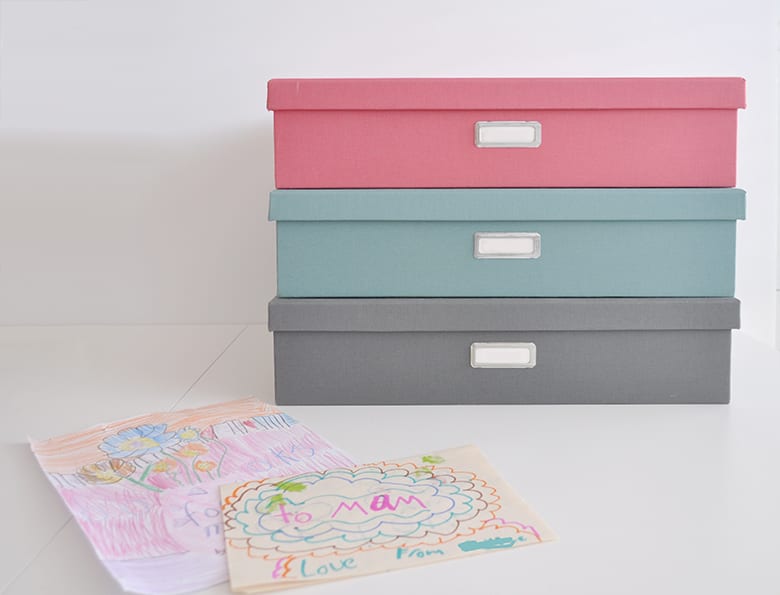 TODAY'S TASK: PURGE AS MANY KIDS ARTWORKS AS YOU CAN
Note: My definition of purge – sell, donate, repurpose or throw away items as you see fit
Look at your collection of kid's artworks, drawing and creations and see what storage solutions aren't working.
Go through each creation and keep only those that you love (be that because it's bright and colourful, has a lovely sentiment, or features a happy memory).
For artworks you're not sure whether to keep or purge, consider taking a photo so you will always have the memory, and then purge.
Consider which ones you want to showcase (check out the ideas below on how you can do this).
Add any new and/or current storage products to your cupboards to help you keep the artworks organised.
My School Years File Box can help you to organise your kid's artworks based on age and year.
IDEAS FOR SHOWCASING KIDS ARTWORKS
I often go through the kid's art boxes when I have time, and use their artworks in fun and creative ways (like this artwork wall!):
When my kids were younger at our old house, I created an artwork wall to showcase some of their creations, but there are lots of other creative ideas too:
Use as wrapping paper
Post to grandparents, aunts or uncles
Laminate and use as a placemat
Scan and save as wallpaper on your computer
I really REALLY loved my artwork wall!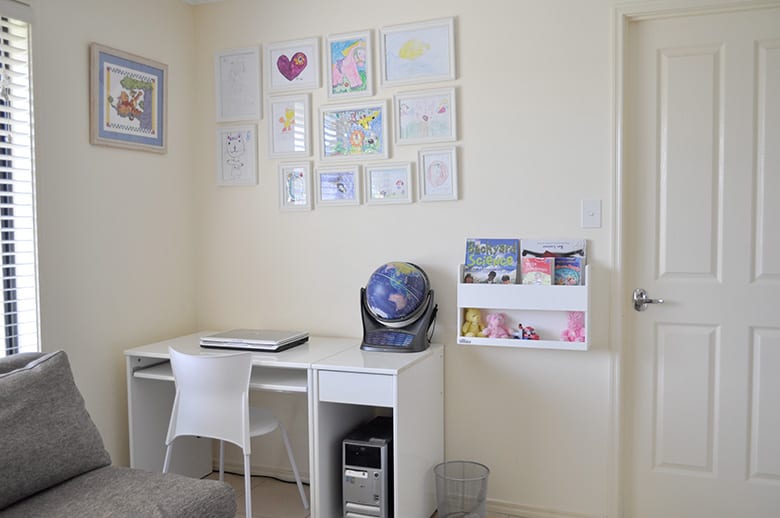 GO DIGITAL
The wonderful people in my community have shared some fantastic tips for decluttering children's artwork by going digital!
"I take a photo of them before they are thrown away. Ive saved them to a Pinterest board… but you can display then all on a digital photo frame." – Rachael C.
"You could try an app like 'Artkive', that lets you scan them in and tag them per child etc." – Andrea F.
"I take photos of all of it and then purge most of it, I have to do this quite regularly so I'm ahead of them." – Sarah S.
  SHOP: School Memories Pack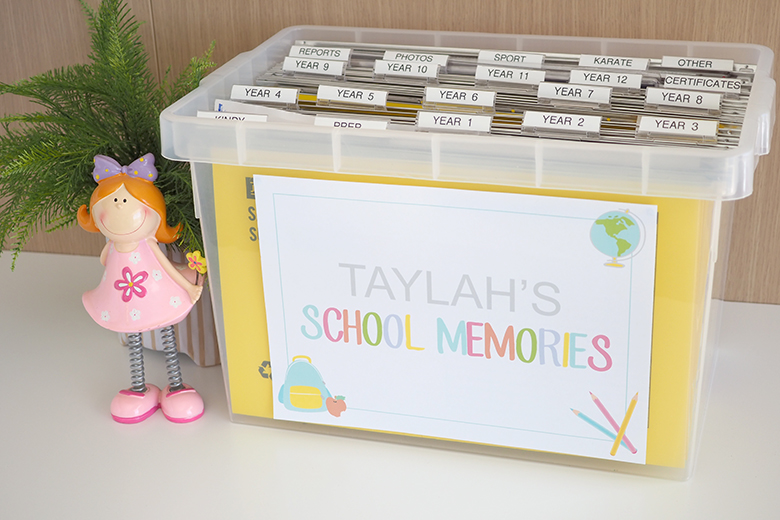 How many items have you been able to purge today?