It's week 32 of my Declutter 52 Things in 52 Weeks Challenge. If you haven't signed up yet, join me today as I help you remove all those things in your home you no longer need or use.
We all have that one drawer that catches all the things that don't seem to have a home – we call it the "junk drawer", and rightly so. This "catch-all", "multi-use" drawer can quickly become an eye-sore and a real pain to negotiate.
Whilst our junk drawers often become home to an array of miscellaneous items, we occasionally need these items in a hurry. A paperclip, pair of scissors, a pizza coupon or that felt tip pen, and sifting through an unkept rummage of random bits and pieces is a hassle, not to mention a waste of time.
Luckily this week's declutter task looks to change all that. So, let's get started…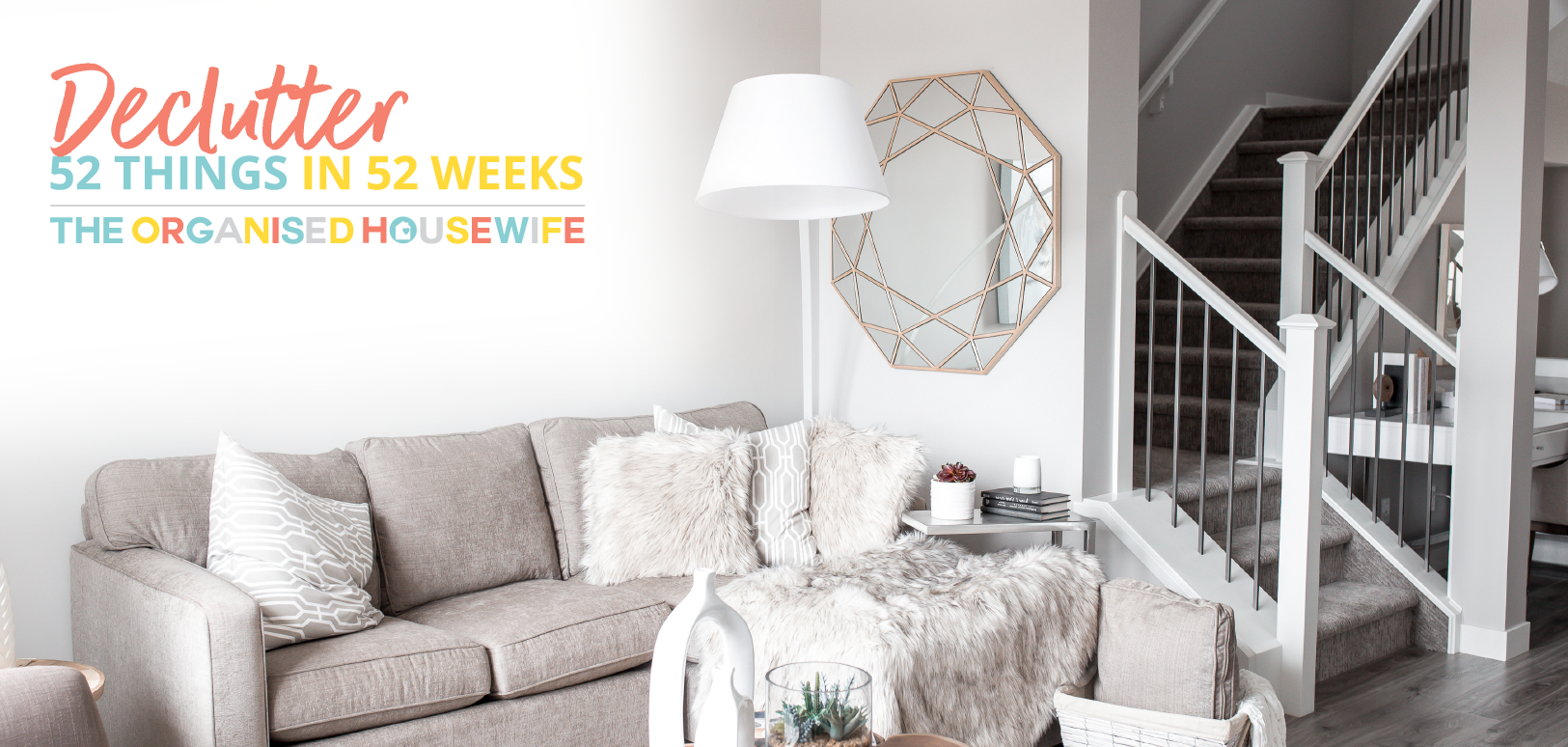 The Declutter 52 things in 52 Week Challenge is completely FREE! I publish a new task on the blog each Wednesday. Sign up to my daily emails so you don't miss when the next task is live. Alternatively, visit the blog each Wednesday to see the latest task.
Please share a photo of your space each week on Instagram using hashtag #declutter52 and tag @theorganisedhousewife!
---
Decluttering Task #32
Junk Drawer
Perhaps the biggest battle with the junk drawer is getting into the mindset that only things you actually need are to go in the drawer. It can be very tempting to have that space we use as a dumping ground. Where we shove a catalogue that should really go in the bin, or a phone charger that has a permanent home elsewhere. This method will quickly turn your well organised drawer into a mess… again. Instead try to get in the habit of continuously purging the things that you don't need to keep, and putting the things that have a permanent home elsewhere, back in their home.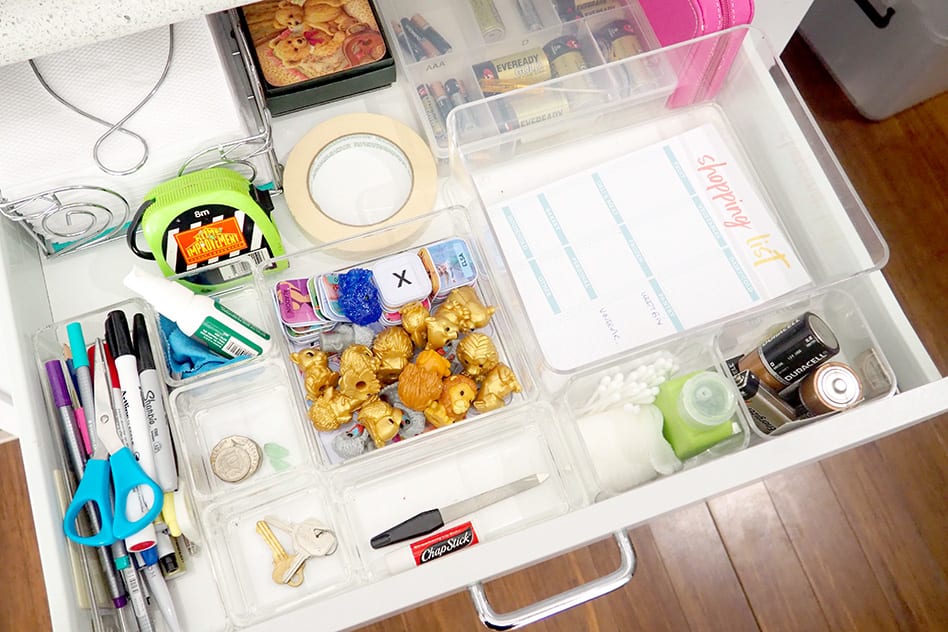 TODAY'S TASK: PURGE AS MANY ITEM FROM YOUR JUNK DRAWER AS YOU CAN
Note: My definition of purge – sell, donate, repurpose or throw away items as you see fit
Look at your junk drawer and see what storage solutions aren't working.
TIP: allocating a shallow drawer is better than a deep drawer which will simply swallow up the contents and make it harder to organise them.
Remove everything from the junk drawer, grouping like items together.
Put any items that live elsewhere in the home, back in their intended place.
Determine what items you haven't used in over 12 months and consider purging them (you don't need to keep those spare soy sauce fishies, or that bill from a year ago).
Add any new and/or current storage products in your drawer to help you keep it organised.
Place items you don't use often towards the back.
I keep our batteries in the junk drawer in a sectioned storage box, which you can find at Kmart, Bunnings etc. I've labelled the box with the battery sizes, just in case a section is emptied I easily know what I need to add to it.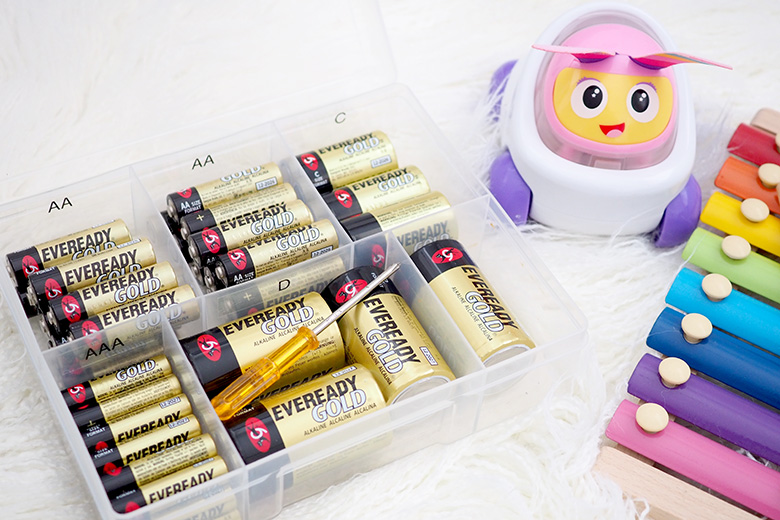 RETRACTABLE DRAWER DIVIDERS: Instantly organise your kitchen utensils, underwear, stationery and paperwork drawers with these retractable and adjustable plastic drawer dividers which will suit various sized drawers. Their low profile design makes them a great fit for shallow drawers. AVAILABLE TO PURCHASE FROM MY SHOP HERE.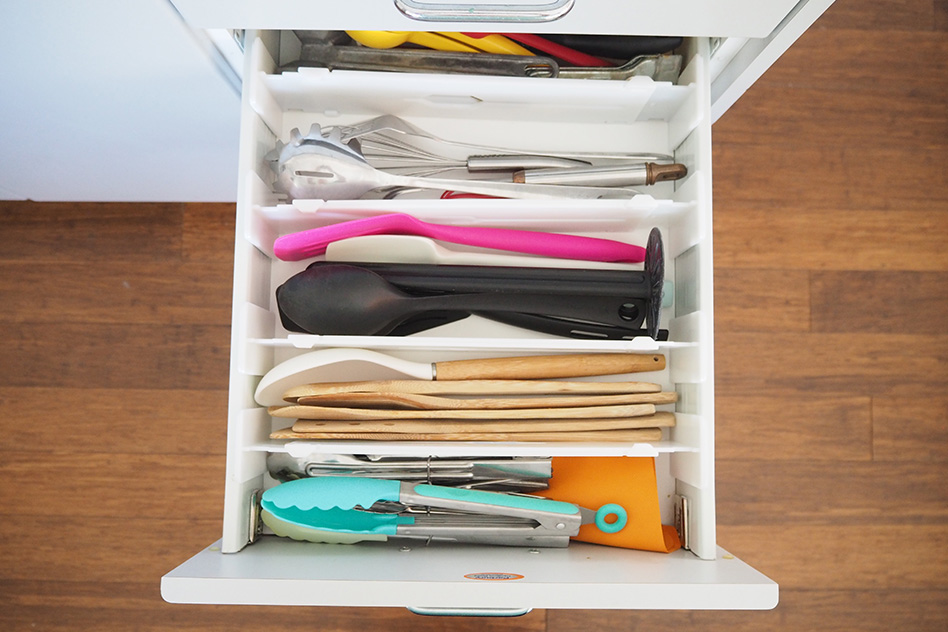 READ MORE: 7 Fantastic Storage Solutions for Kitchen Drawers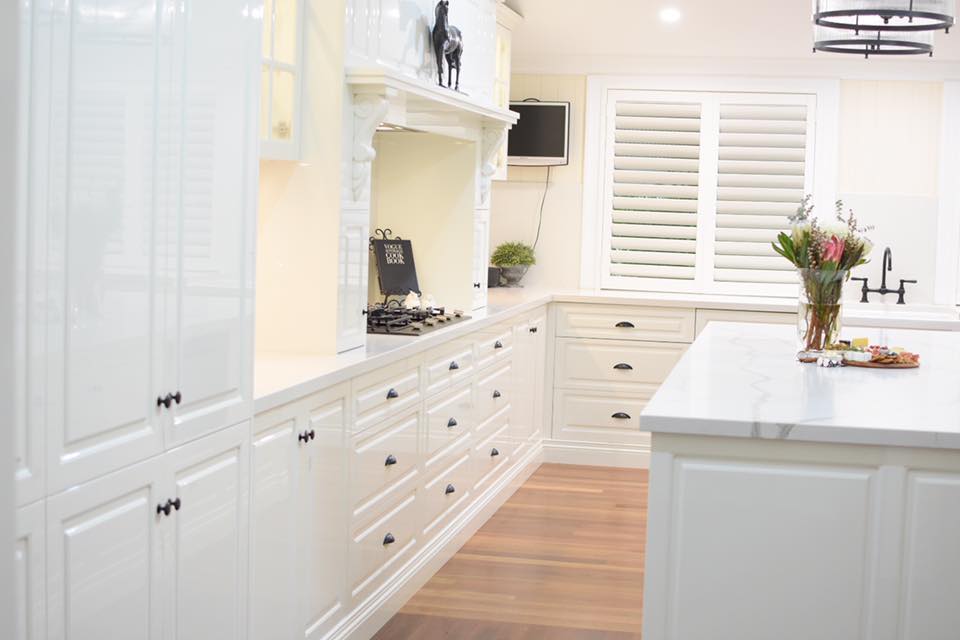 How many items have you been able to purge today?