25 page turning books – courtesy of my readers – that apparently you won't be able to put down!
I recently read my first book ever (crazy right?!) and I loved it. In fact I think it may have kick started a whole new chapter for me (no pun intended).
Whilst I didn't find reading the book a struggle, I did find choosing one to read quite overwhelming. I had no idea where to start looking, so I took to Instagram and asked my followers what they recommended. The responses poured in, and it seems I now have a very healthy book guide to work my way through.
Here's the top 25 books that have made my list of must reads, all courtesy of The Organised Housewife community – thank you!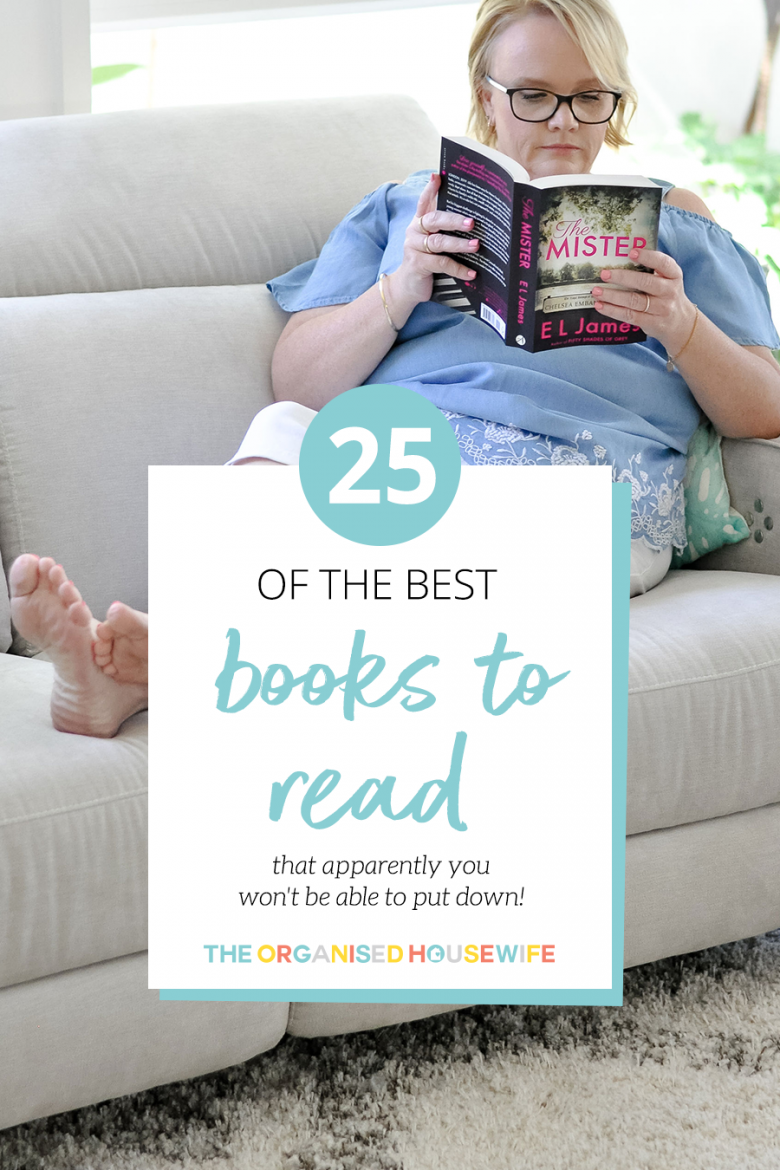 ---
Challenge Accepted!
Author: Celeste Barber
Funny woman, Instagram star and international comedy sensation, Celeste Barber's Challenge Accepted! is a hilarious and outspoken guide to life, unwanted gas and how to rock a sexy scar. It's real, like totally, really real.
Available to purchase here
---
The Dry
Author: Jane Harper
Who really killed the Hadler family? Luke Hadler turns a gun on his wife and child, then himself. The farming community of Kiewarra is facing life and death choices daily. If one of their own broke under the strain, well …
Available to purchase here
---
The Rosie Project
Author: Graeme Simsion
An international bestselling romantic comedy. Don Tillman, professor of genetics, has never been on a second date. Then a chance encounter gives him an idea. He will design a questionnaire—a sixteen-page, scientifically researched document—to find the perfect partner. She will most definitely not be a barmaid, a smoker, a drinker or a late-arriver.
Available to purchase here
---
Big Little Lies
Author: Liane Moriarty
Pirriwee Public is a beautiful little beachside primary school where children are taught that 'sharing is caring.' So how has the annual School Trivia Night ended in a full-blown riot? Sirens are wailing. People are screaming. The principal is mortified. And one parent is dead.
Available to purchase here
---
The Subtle Art Of Not Giving A F*ck
Author: Mark Manson
Backed by both academic research and well-timed poop jokes, Mark Manson makes the argument that improving our lives hinges not on our ability to turn lemons into lemonade, but on learning to stomach lemons better. It's time to recalibrate what it means to be happy: there are only so many things we can worry about, so we need to figure out which ones really matter.
Available to purchase here
---
The Mister
Author: E L James
The thrilling new romance from E L James, author of the phenomenal number 1 bestselling Fifty Shades trilogy – London, 2019. Life has been easy for Maxim Trevelyan. With his good looks, aristocratic connections, and money, he's never had to work and he's rarely slept alone. But all that changes when tragedy strikes and Maxim inherits his family's noble title, wealth, and estates, and all the responsibility that entails. It's a role he's not prepared for and one that he struggles to face.
Available to purchase here
---
How To Be Second Best
Author: Jessica Dettmann
Going from one child to two is never all that easy for a family, but when Emma's husband simultaneously fathers a third child three doors up the street, things get very tricky, very fast. No longer is it enough for Emma to be the best wife and mother – now she's trying to be the best ex-wife, and the best part-time parent to her ex's love child, and that's before she even thinks about adding a new bloke to the mix.
Available to purchase here
---
Boy Swallows Universe
Author: Trent Dalton
Brisbane, 1983: A lost father, a mute brother, a mum in jail, a heroin dealer for a stepfather and a notorious crim for a babysitter. It's not as if Eli's life isn't complicated enough already. He's just trying to follow his heart, learning what it takes to be a good man, but life just keeps throwing obstacles in the way – not least of which is Tytus Broz, legendary Brisbane drug dealer. But Eli's life is about to get a whole lot more serious. He's about to fall in love. And, oh yeah, he has to break into Boggo Road Gaol on Christmas Day, to save his mum.
Available to purchase here
---
The Lake House
Author: Kate Morton
Living on her family's idyllic lakeside estate in Cornwall, England, Alice Edevane is a bright, inquisitive, and precociously talented sixteen-year-old who loves to write stories. One midsummer's eve, after a beautiful party drawing hundreds of guests to the estate has ended, the Edevanes discover that their youngest child, eleven-month-old Theo, has vanished without a trace. He is never found, and the family is torn apart, the house abandoned. Fast forward to decades later…
Available to purchase here
---
My Sister's Keeper
Author: Jodi Picoult
Anna Fitzgerald doesn't want her sister to die. But she's sick of helping her to live. Anna was born to be a perfect genetic match for Kate, who at just two years old was diagnosed with a rare form of leukaemia. For thirteen years, she has acted as donor to her sister. Now, Kate needs a kidney, and nobody is asking Anna how she feels about it, they're just assuming she will donate. Until the Sheriff serves the papers that will rock their family's world: Anna is suing her parents for the rights to her own body.
Available to purchase here
---
Eleanor Oliphant Is Completely Fine
Author: Gail Honeyman
Eleanor Oliphant leads a simple life. She wears the same clothes to work every day, eats the same meal deal for lunch every day and buys the same two bottles of vodka to drink every weekend. Eleanor Oliphant is happy. Nothing is missing from her carefully timetabled life. Except, sometimes, everything. One simple act of kindness is about to shatter the walls Eleanor has built around herself. Now she must learn how to navigate the world that everyone else seems to take for granted – while searching for the courage to face the dark corners she's avoided all her life.
Available to purchase here
---
Outlander – Volume 1
Author: Diana Gabaldon
1946, and Claire Randall goes to the Scottish Highlands with her husband Frank. It's a second honeymoon, a chance to learn how war has changed them and to re-establish their loving marriage. But one afternoon, Claire walks through a circle of standing stones and vanishes into 1743, where the first person she meets is a British army officer – her husband's six-times great-grandfather.
Available to purchase here
---
Water For Elephants
Author: Sara Gruen
A great, glorious, big-hearted novel set in a travelling circus touring the back blocks of America during the great depression of the early 1930s. It's a story of love and hate, trains and circuses, dwarves and fat ladies, horses and elephants – or, to be specific, one elephant, Rosie, star of the Benzini Bros Most Spectacular Show on Earth.
Available to purchase here
---
Becoming
Author: Michelle Obama
An intimate, powerful, and inspiring memoir by the former First Lady of the United States.
Available to purchase here
---
Nine Perfect Strangers
Author: Liane Moriarty
The ten-day retreat at boutique health-and-wellness resort Tranquillum House promises healing and transformation. Nine stressed city dwellers are keen to drop their literal and mental baggage and absorb the blissful meditative ambience while enjoying their hot stone massages. They are all on a path to a better way of living. Or at least a better waistline. These nine perfect strangers have no idea what's about to hit them.
Available to purchase here
---
Am I Doing This Right?
Author: Tanya Hennessy
Tanya Hennessy can't tell the time on an analogue clock, was once employed as a stilt-walker and still sleeps with Morris, her childhood teddy bear, so naturally, she is the most qualified person to write a guidebook for growing up. Tanya has compiled an entire alphabet full of hilarious, horrible, humbling and happy experiences that will make you laugh, cry and ultimately leave you feeling less alone in this complicated world.
Available to purchase here
---
The Woman In The Window
Author: A.J. Finn
It's been ten months since Anna Fox last left her home. Ten months during which she has haunted the rooms of her old New York house, lost in her memories, too terrified to step outside. Anna's lifeline to the real world is her window, where she sits, watching her neighbours. When the Russells move in, Anna is instantly drawn to them. A picture-perfect family, they are an echo of the life that was once hers.
Available to purchase here
---
Slow. Live Life Simply.
Author: Brooke McAlary
Once upon a time, Brooke McAlary thought she was close to having it all. Married to a wonderful man, mother to a lively young daughter, and pregnant for a second time, she'd acquired all the things she'd once thought important – holidays, cars, a renovated home. Yet despite this, she found herself utterly despondent. Realising that they wanted a simpler, more fulfilling existence, Brooke and her family gradually created their own way of living, with an emphasis on depth, connection and experiences.
Available to purchase here
---
The Nowhere Child
Author: Christian White
On a break between teaching photography classes in Melbourne, Kim Leamy is approached by a stranger investigating the disappearance of a little girl from her Kentucky home twenty-eight years earlier. He believes Kim is that girl.
Available to purchase here
---
Me Before You
Author: Jojo Moyes
Lou Clark knows lots of things. She knows how many footsteps there are between the bus stop and home. She knows she likes working in The Buttered Bun tea shop and she knows she might not love her boyfriend Patrick. Will Traynor knows his motorcycle accident took away his desire to live. He knows everything feels very small and rather joyless now and he knows exactly how he's going to put a stop to that. What Will doesn't know is that Lou is about to burst into his world in a riot of colour. And neither of them knows they're going to change the other for all time.
Available to purchase here
---
The Book Thief
Author: Markus Zusak
It is 1939. Nazi Germany. The country is holding its breath. Death has never been busier, and will become busier still. By her brother's graveside, Liesel's life is changed when she picks up an object, partially hidden in the snow. It is The Gravedigger's Handbook, and it is her first act of book thievery. So begins a love affair with books and words, as Liesel learns to read. Soon she is stealing books from Nazi book-burnings, the mayor's wife's library, wherever there are books to be found.
Available to purchase here
---
The Sparkle Pages
Author: Meg Bignell
Susannah Parks – wife, mother, cleaner of surfaces and runner of household – is a viola virtuoso. Except she hasn't picked up a viola for over a decade. She has, however, picked up a lot of Lego, socks, wet towels and other exhibits of mundanity. She has also picked up on the possibility that her husband has lost interest in her. (And frankly, she's not very interested in Susannah Parks either.) But this year, she has resolved to be very interesting. Also thoughtful, useful, cheerful, relevant, self-sufficient, stylish, alluring and intelligent.
Available to purchase here
---
The Mother-In-Law
Author: Sally Hepworth
From the moment Lucy met Diana, she was kept at arm's length. Diana is exquisitely polite, but Lucy knows, even after marrying Oliver, that they'll never have the closeness she'd been hoping for. But who could fault Diana? She was a pillar of the community, an advocate for social justice, the matriarch of a loving family. Lucy had wanted so much to please her new mother-in-law. That was ten years ago. Now, Diana has been found dead, leaving a suicide note. But the autopsy reveals evidence of suffocation. And everyone in the family is hiding something…
Available to purchase here
---
The Bronze Horseman
Author: Paullina Simons
Leningrad 1941: the white nights of summer when the sun hardly sets on the beautiful palaces and stately avenues that still speak of a different age, when the city was known as St. Petersburg. The Metanov family live in a crowded apartment, the two sisters Daria and Tatiana sharing a bed, their parents and brother crowded in another room, their grandparents nearby. It's a hard life, but one with room enough for love and romance. However, when Tatiana first sets eyes on Daria's boyfriend, Alexander, she knows immediately that for her, the path of love will never be easy, but rather, one of sacrifice and denial.
Available to purchase here
---
The Girl With The Lower Back Tattoo
Author: Amy Schumer
In The Girl with the Lower Back Tattoo, Amy shares stories about her family, her relationships, her career, good – and bad – sex, recounting the experiences that have shaped who she is today: from the riches to rags story of her childhood to her teenage quest for popularity (and boys) to becoming one of the most sought-after comedians on the planet and an outspoken advocate for women's rights.
Available to purchase here
---
The Lost Flowers of Alice Hart
Author: Holly Ringland
After her family suffers a tragedy, nine-year-old Alice Hart is forced to leave her idyllic seaside home. She is taken in by her grandmother, June, a flower farmer who raises Alice on the language of Australian native flowers, a way to say the things that are too hard to speak.
Available to purchase here
---
What Book Are You Reading At The Moment?