Top Foundation recommendations for women in their 40s. Make-up application tips and tricks for women over 40 from an expert make-up artist and the top reader recommended foundations to use!
Once you reach your forties, your skin starts changing quite significantly, and what used to work as part of your make-up routine might not work anymore. It can be tricky to know what make-up to buy and use and the best way to apply make-up to suit your changing skin. I don't like to wear make-up every day, and often struggle with getting it right on the days when I do wish to wear it.
Recently I asked the Organised Housewife community for their recommendations on what foundations they use and love for more mature skin. Check out the top suggestions from our readers below.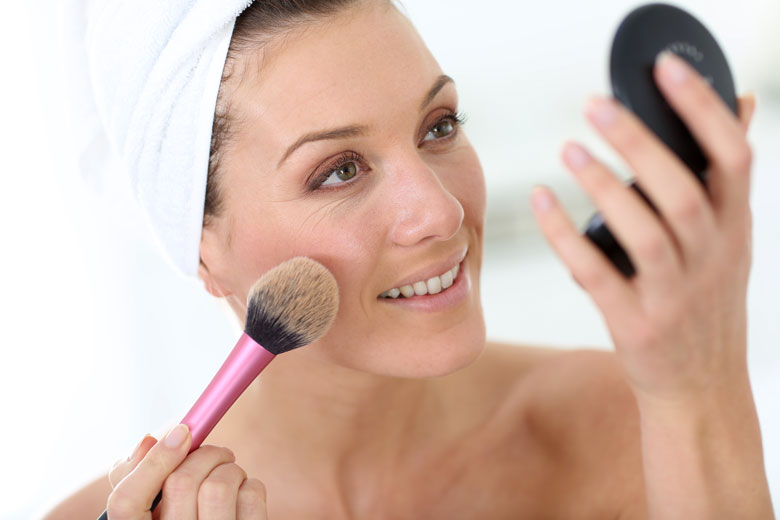 I also had the pleasure of speaking with Amanda Ramsay, who is a professional make-up artist and educator extraordinaire, whose specialises in make-up for women in their 40s and over. She kindly shared some of her top tips with me:
Keep your make-up simple, it doesn't need to be complicated. Make-up should be doable and achievable, and make you feel confident.
Liquid or Powder?
It depends on your skin type, but most mature skin suits a luminous liquid. If you have oiler skin, try a mineral powder. If you have normal to dry skin, then use luminous liquids.
Foundation Application – should you use a brush or sponge?
Neither; you should apply your liquids and creams with your fingers, the warmth of your body helps the product to become part of your skin.
Then use your brush or sponge as a finishing or polishing tool
If you're using powder, then you have to use a brush to apply it.
Suggestions on how to avoid makeup sitting in fine lines?
Wear less product = less product sitting in the crinkles. Make sure your skin is well prepped, and use skin care first before make-up application. Make sure you are using nutrient rich skin care.
Use luminous light weight cream-based makeup products, as these will sit more lightly on the face and not show the crinkles and wrinkles as much.
What order should you apply makeup?
Eyes first
Layer all your cream products – foundation, cream concealer comes after foundation, cream blush
Brows
Mascara
Powder or Setting Spray
What products do you REALLY need? There's so many options. Do you need primer, highlighter, etc?
Everyone is all really different, and all have different levels and amounts of makeup they want to wear. I suggest that people start with a simple routine, which is why I created my Essentials Beauty Box – which contains five core makeup must haves along with step by step instructions on how to use each product and where to apply it:
Foundation
Lip to Cheek Colour
Brow Builder Gel
Eye Crayon
Mascara
Once you have these five core products and are happy using them and applying them, then you can build on your collection from there. No you don't need primer – it just depends on what is going on for you with your skin. Highlighter you don't "need" it but you might like it, it's fun and adds sparkle.
How to apply makeup around the eyes
Number ONE makeup tip for mature skin?
I'm going to be cheeky and say book in for my Shine Sessions program – it has step by step how to videos tailored for women over 40.
Number ONE skin tip for mature skin?
The most important skin care tip I can give anyone is wear SPF high broad spectrum every darn day, rain hail or shine. This is your number one preventative for premature skin ageing.
Amanda has kindly offered TOH readers 10% off from her online shop. Simply enter the promo code TOH10 at www.amandaramsay.com.au/shop. She also offers a free colour matching service, if you need or want help or guidance getting the right shades.
When I asked The Organised Housewife community on Instagram recently what foundations they used and recommended for women over 40s, the below is the top products you all recommended again and again:
What foundation do you use?
---
Pin this image below to Pinterest!