My top 5 best budget hacks for creating an ordered, tidy, and stress-free home, as seen on the Today Show on Channel Nine.
I was delighted to be featured on the Today Show once again this week, this time sharing my best 5 budget hacks to tackle the clutter in our homes.
I personally get so much enjoyment out of helping others take back the control of those troublesome clutter-prone areas of their homes, and breathe a little calm into the everyday chaos. Better still, if I can help you all do this without breaking the bank, well that's icing on the cake!
Here's a breakdown of my top 5 inexpensive organising hacks, as featured on The Today Show, with a little more information to help you easily replicate these solutions at home.
Hack 1: Kitchen Sink
Tension Rod – Daiso $2.80 – to use the room at the top of the under sink cupboard
Under the kitchen sink is one of the cupboards that many of my followers have trouble keeping tidy. I keep my under the kitchen sink cupboard fairly minimal because t's easier to keep clean, find what I need, and there is less clutter as I'm using less commercial cleaners.
READ MORE: How To Organise Under The Kitchen Sink Cupboard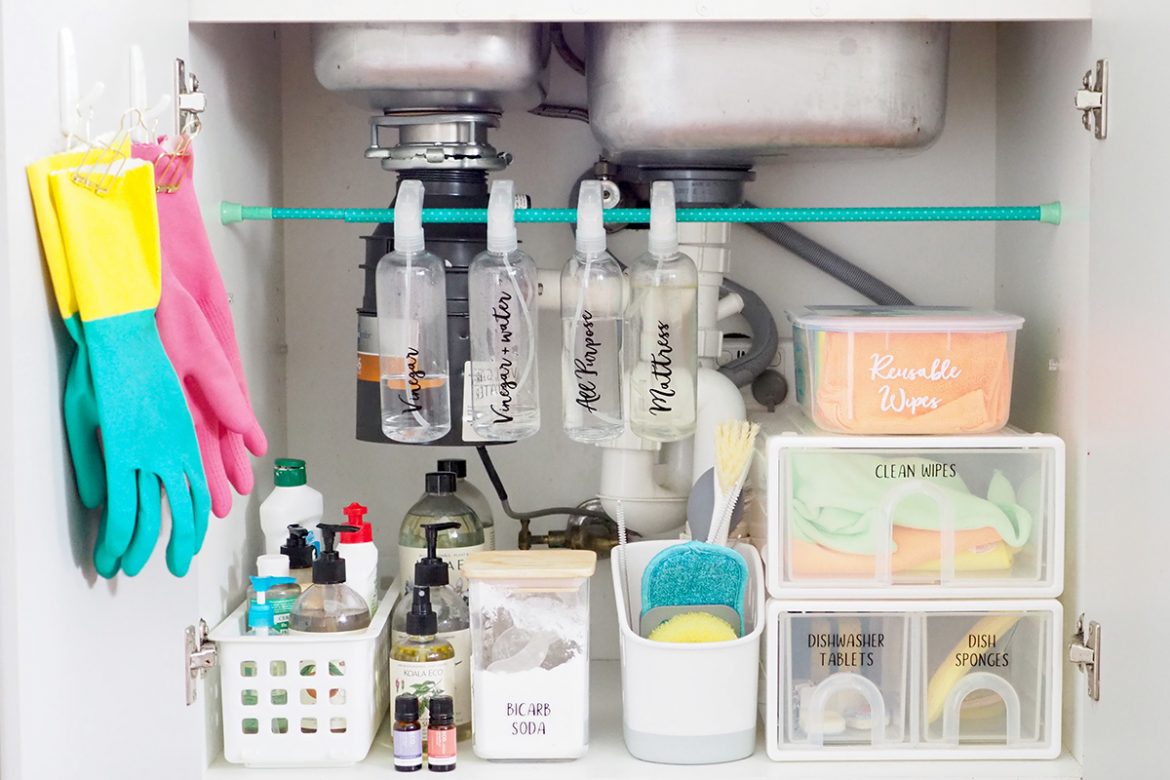 Hack 2: Pantry
Shoe Rack – Kmart $7 – to store excess tupperware
The pantry is one of the smallest rooms or cupboards in the home, but is used daily and often generates a lot of traffic. Pantries come in all different shapes and sizes so it's important to utilise the space you have effectively. Keeping it practical, tidy and organised needn't be expensive, plus it will mean you can easily find what you need and see when items need replenishing.
READ MORE: Organised Pantry Inspiration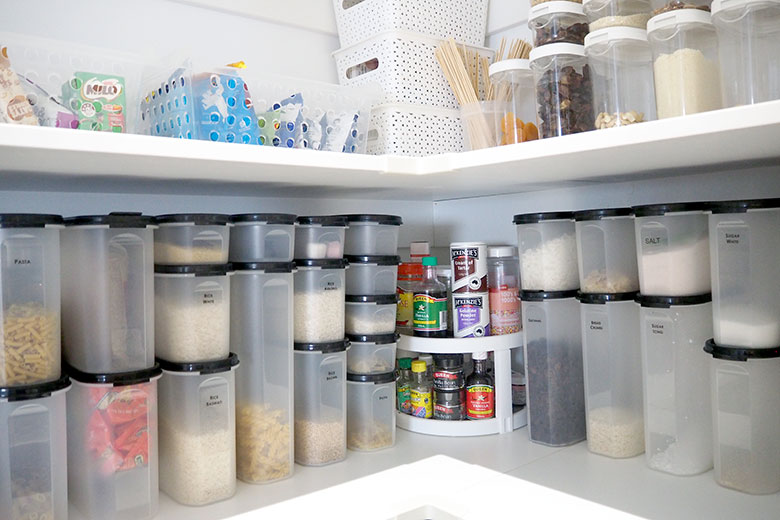 Hack 3: Laundry
Baskets – Target $10 – to organise dirty laundry
Laundry is just one of those tasks that we love to hate… it's never ending and can easily take days to get on top of once it gets out of control. Here are some tips to get through the laundry pile chaos faster, to make the process a little bit easier, and to make this 'ground-hog day of a task' more efficient!
READ MORE: Tips To Get Through The Laundry Pile Chaos Faster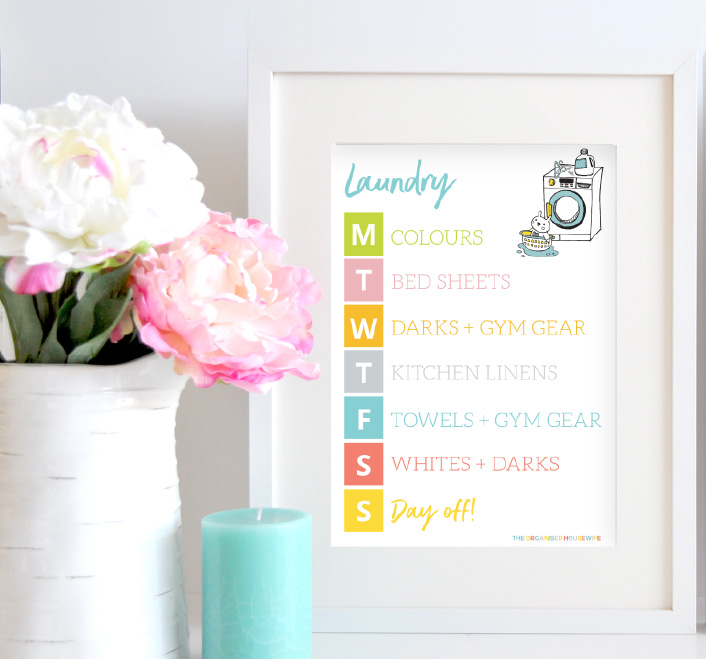 Hack 4: Wardrobe
Coathangers – Bunnings $8.50
I do a de-clutter task every week to help you break down the areas of your home that you want to get on top of – and the wardrobe is definitely a spot that can quickly and easily get out of hand. Luckily for you though, my home hacks will see you just as easily get it back under control.
READ MORE: Declutter Task – The Wardrobe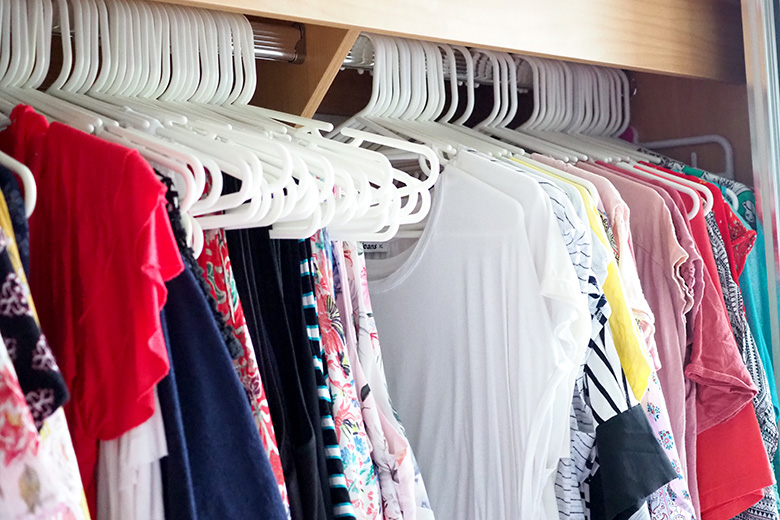 Hack 5: School Memories
School Memories Pack – The Organised Housewife Shop $12.95
I am a very sentimental mum, so struggled with what I was supposed to do with all my children's old school book pages, report cards, certificates, school photos and artworks. That's when I created my own school filing organising system, which helps keep everything tidily organised.
READ MORE: Back To School Organising: School Years File Box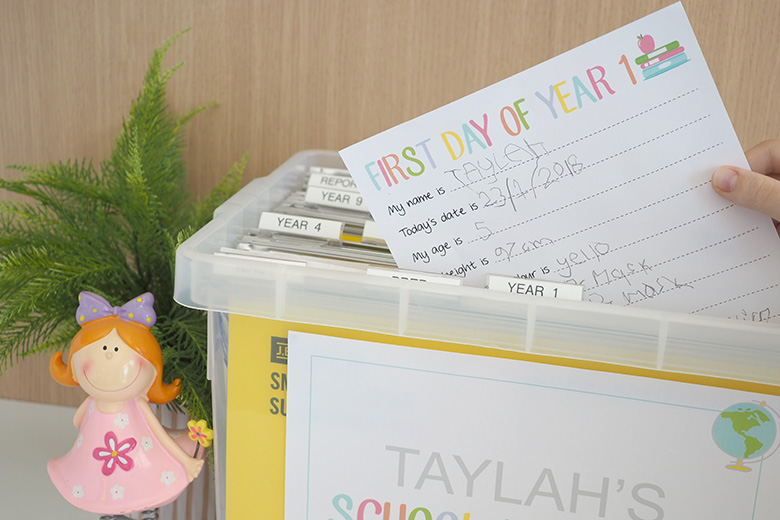 WHICH PART OF YOUR HOME GETS THE MOST CLUTTERED?