The corner cupboard can be one of the areas that is very hard to keep tidy. With items easily getting lost. I've got some tips to help you organise your corner cupboards. 
Corner cupboards can be the trickiest space in the kitchen end up being the space which gets overfilled with stuff. Whether you have an L-shaped or U-shaped corner cupboard, you can make use of it so it's not a wasted space. 
Corner cupboards which are above the kitchen bench can be used to store herbs and spices and vinegars and oils. You can use a 2 tier turntable organiser to maximise space and have easier access to everything so nothing gets lost in the back. 
One way I think corner cupboards are good for, are small appliances or special occasion dishes, lazy susan's or turntable servers which you may not use often. This means you don't have to go into too much. If you don't have any shelves in your corner cupboard, you can use a 2 tier storage shelf to create useful space as I have done in the photo below. 
Create a system which works for you. Our facebook community shared below, how they utilise their corner cupboards. 
Corner cupboards on the ground are usually near a sink or oven so an idea could be to put an over the cabinet towel bar so you have quick access to a hand/tea towel 
WHAT OUR COMMUNITY HAD TO SAY
Put all the extra large Tupperware that your husband stacks in the pantry in a rolling tub in that back corner space.. whatever else you keep in there keep in a smaller basket or tub so it's easy to take out to get the back tub out – Melody Jain
I use my corner cupboard for tupperware & plastic containers, once I tidy it everything stacks nicely, I have two baskets…1 for round lids & 1 for square lids. Within a few weeks it is a matter of throw things in & quickly slam the door lol. I put things I use often on the door side that opens 1st so the other half of the door holds everything back. Hubby refuses to stack things where I have them & for me to tidy it I have to get down on the floor & then its impossible to get back up – Kylie Beck
Not sure the best way but this post gave me the incentive to tidy mine out. Got rid of some things and actually used old take away plastic cartons for things like ramekin dishes that get lost at the back! – Sue Brookes (photo below)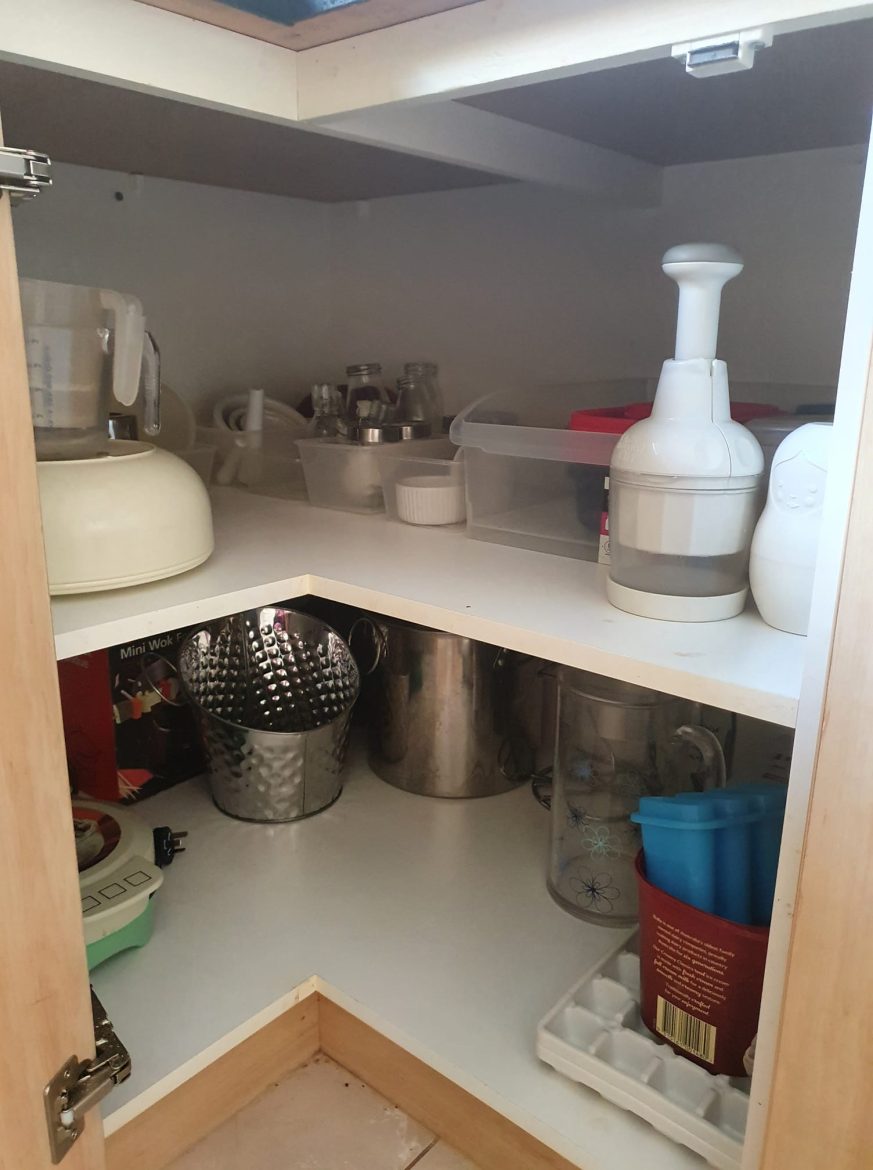 Remove everything, sort what u use n need to keep, then buy lazy Susan n boxes n arrange- Neelam Daryanani Chugh
Put a Lazy Susan in and you will be using the space efficiently – Julie Stamatialis
We have one of these things in our corner cupboard and it works great and is pretty sturdy. You can buy them at Bunnings or ikea – Nicole Brown (photo below)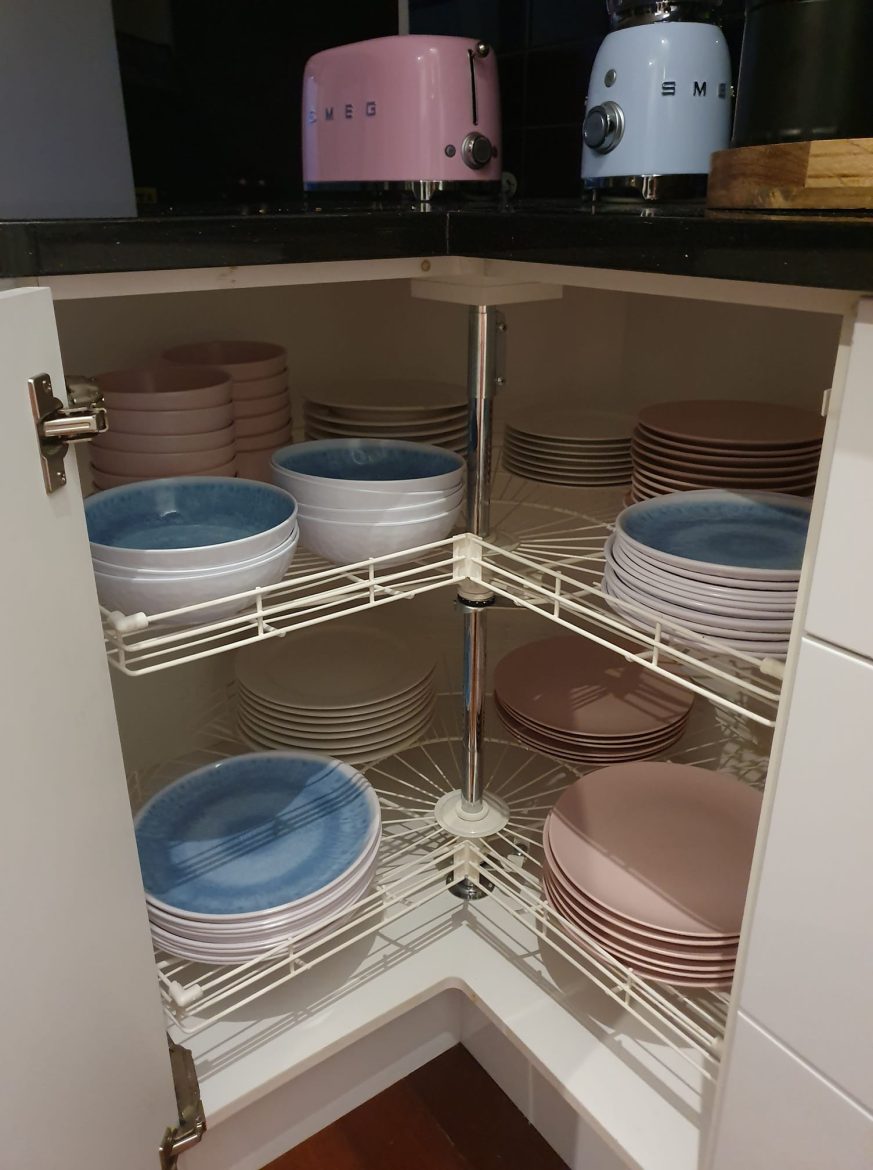 I have two corner cupboards. When I renovated & put in a new kitchen I had pull out swinging shelves by Principal installed. They're amazing, I love them! – Caroline Phillips
I have a corner pantry cupboard and use 50cm Lazy Susan's in corners and either side on the 3 shelves where I store foodstuffs. Works well! – Lorraine O'Sullivan
Shelves that pull out the full way. They can also support a fair amout of weight. At least this way the cupboard is fully functional. they were supplied by the kitchen fitter – Beverley Powell (photo below)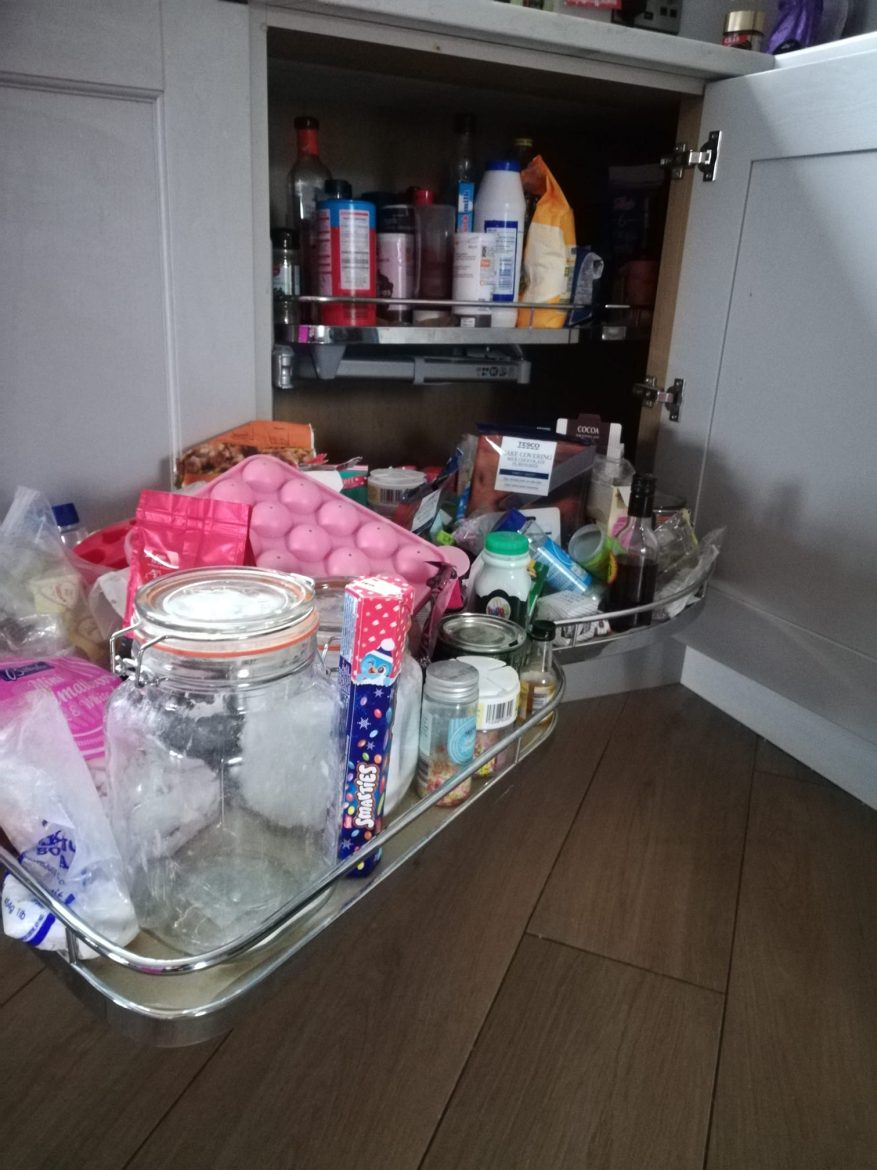 Mine has been since we moved here 13 years ago. I'm in another group that does a yearly challenge and just redid mine for like the 6th. For my top cabinet I ended up taking the one shelf out, moving the one shelf up a bit and now I think I love it. Liquor on a lazy Susan on top and mixing bowls and measuring cups and spoons on bottle. (Kitchen aid right below in counter and that is the area I do all my baking. My bottom coroner cupboard is already a full pull around lazy Susan. I only have used it for plastic containers as I never thought it would hold heavy stuff well. I never changed that but have been purposely trying buying nesting pieces to save space and less clutter look – Paula Sue Linsey-Troutman
They are a real pain but we do the best we can right – Tenneal Kiernan (photo below)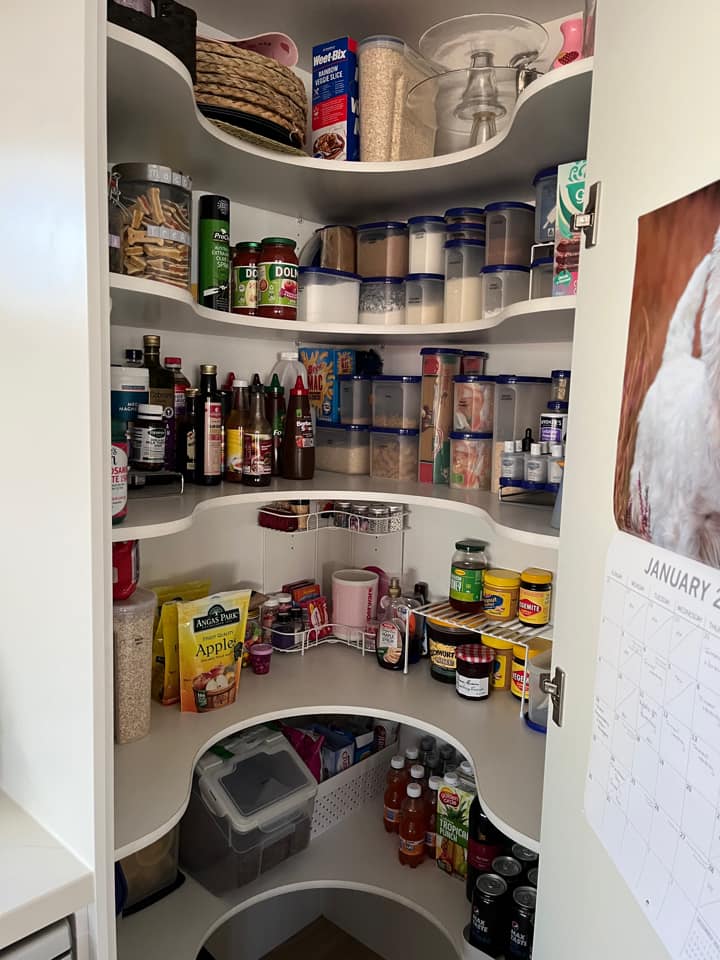 I had a corner cupboard in my old kitchen. I stored items I didn't use often in there because getting them out is a pain.

I found storing stuff in containers worked well because I could pull the tubs out as needed quickly and easily. When we renovated our kitchen we put a spinner in one corner and a hidden cupboard under the breakfast bar in the other corner. (It's not accessed from the kitchen side and i store platters in it.) – Emma Hassam
Not pretty, but this system works for me and was cheap. I put one of those stackable pot racks on its side for my different sizes skillets. A raised rack to put my sauce pans with space for a baking dish underneath. A plastic basket for all my lids and another raised shelf for all my baking dishes. The space to the back is lesser used items. The fruit basket I usually store onions in. Like I said, it's not pretty, but it's efficient for me and in total it was about $30 – Teresa Taylor-Smith (photo below)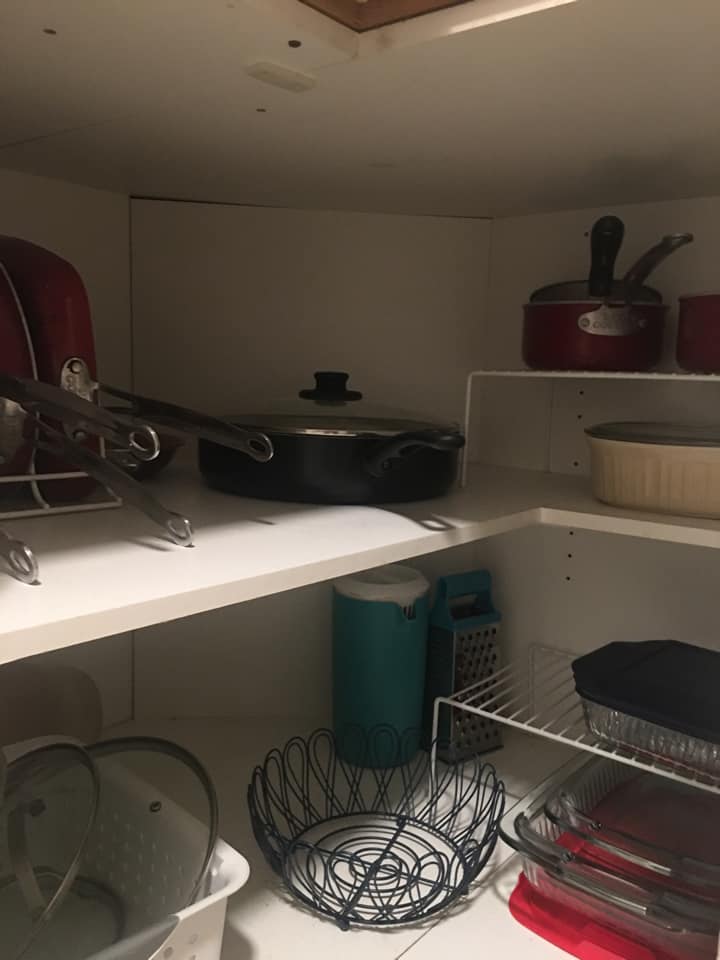 I have 3 rectangular tubs in mine. 2 pull out, the third one in the middle is for stuff I use once a year – Linda J Piper
We have 2 corner cupboards in our kitchen. In one is a 2 shelf lazy susan. In the other, I put things into large plastic baskets I got from either Woolies or cheap store, they are then easy to lift out and put back in – Lana Racquel Wilson
I bought little lazy Susan's from Walmart and it's been a game changer – Sally Belle Wheeler (photo below)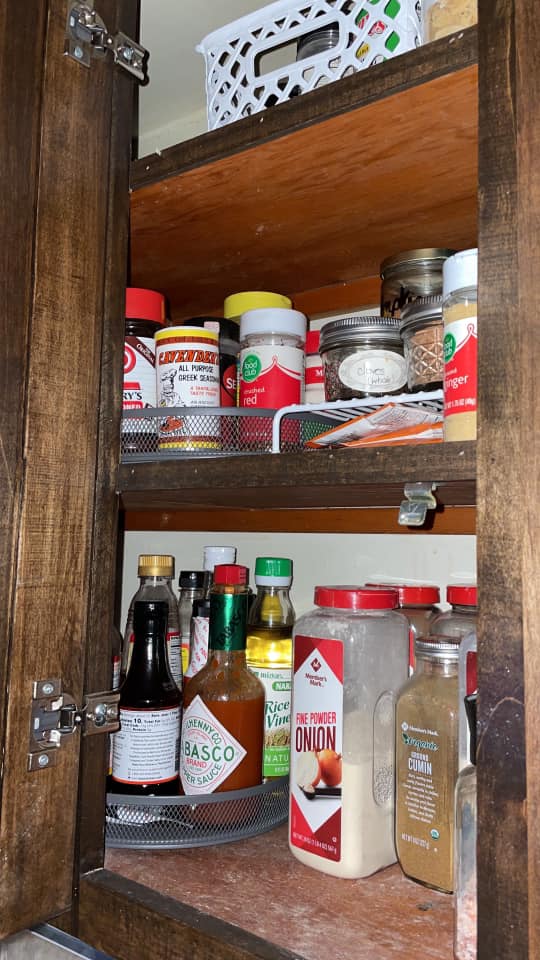 HOW DO YOU ORGANISE YOUR CORNER CUPBOARD?